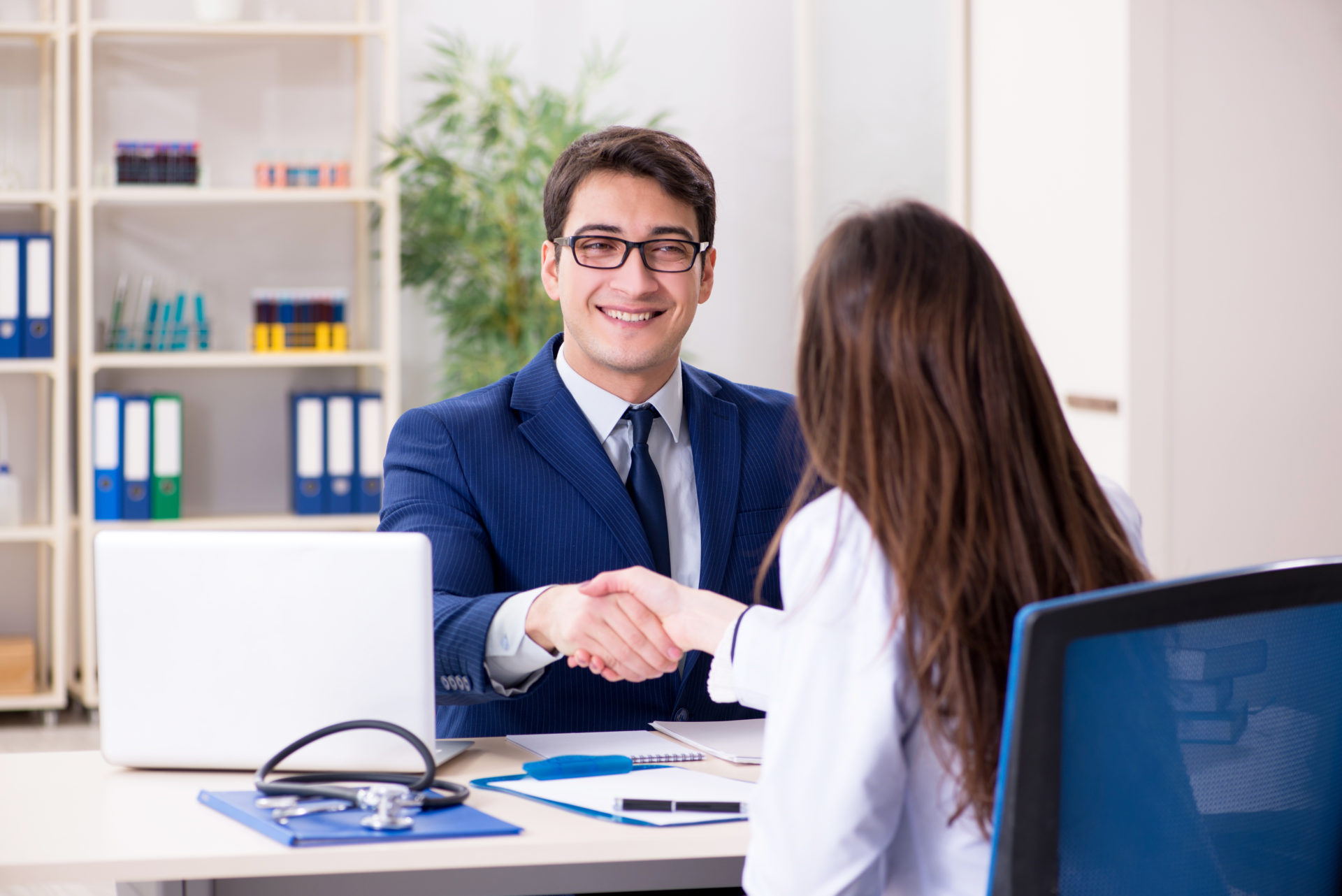 Healthcare is notorious for being one of the trickiest industries for recruiters. There's lots of red tape that doesn't exist in other industries, and the field is currently experiencing one of the worst staffing shortages of our lifetime.
If you want to recruit the best healthcare talent in an ultra-competitive market, maintaining a high level of candidate engagement is key. Here are 8 healthcare recruitment strategies that will help you tighten up your hiring funnel and keep candidates interested from start to finish, making them more likely to reach the offer stage and say 'yes' to joining your team.
Healthcare Candidate Engagement Strategies
Shorten your time-to-hire
Healthcare is known for having a lengthy time-to-hire. In fact, it's the longest time listed of all fields covered in a cross-industry survey of hiring indicators, with an average vacancy length of 49 days. The longer your time-to-hire, the greater the likelihood that you'll lose out on a top candidate to someone else, or worse, the candidate will lose interest in the position. Shortening your average time-to-hire is one of the most impactful things you can do to improve your chances of landing top talent.
While you don't want to cut corners when performing your due diligence on candidates, there are some steps you can take to cut down on logistics to accelerate the hiring process. Whenever possible, coordinate schedules among interviewers to book all necessary meetings with a candidate on the same day; especially those that require the candidate to be on site. Automate your pre-screening process (more on this below) so that you don't have to screen candidates manually, one-by-one, which can be incredibly time consuming.
Keep a close eye on your time-to-hire and other recruitment metrics on an ongoing basis to make sure you're consistently improving them—and importantly, to make sure your time-to-hire isn't getting longer.
Related: How to Leverage Data to Improve Your Recruitment Process
Provide interview follow-up quickly
The fastest way to send your candidate engagement tanking is to leave the candidate in the dark during the hiring process. According to one recent study, 70% of job seekers said they lose interest in a role if they haven't heard back within a week after the first interview.
In addition to being kept in the loop, candidates expect things to move quickly. 66% said they expected to go through no more than two rounds of interviews before finding out whether they got the job. If your hiring norms fall well outside of these expectations, it could mean you need to make serious changes to the way you communicate with candidates.
Whether your hiring process is typically a lengthy one or you're just hitting roadblocks in moving a certain candidate through the funnel, it's in your best interest to let the candidate know where things stand. Even a "no update to report" update is better than going radio silent.
Improve your onsite experience
For many candidates, the first impression they have of your organization will be your website. Improve recruitment engagement by making your onsite experience as seamless and enjoyable as possible.
Make your Careers page easy to find. Don't hide it at the bottom, buried in your footer. Instead, give it a designated section on the home page and make it easily discoverable within your main navigation.
On your Careers page itself, ensure that you're clearly communicating your value proposition to candidates. Use things like positive employee testimonials and videos to boost engagement on the page.
Finally, work to eliminate friction from your onsite application process. There's nothing more groan-inducing than an application system that requires the candidate to upload their resume, then manually input the exact same information from their resume line by line. Simplify the process, condensing it to as few steps as are practical to gather the information you need.
Employ automation 
Recruiters have more technology at their fingertips than ever before. Are you fully harnessing its power to maintain consistent candidate engagement? Improve your recruitment engagement by automating repetitive but necessary steps in your hiring funnel.
Automatically send prescreening surveys to candidates as soon as they complete an application to cut down on the time spent screening candidates manually. If you use surveys to gather feedback from multiple interviewers, use automation to send out those surveys following the candidate's scheduled interview slot and use email reminders to ensure timely completion. Rather than playing phone tag with a top candidate's references, automatically send reference surveys via email as soon as they're submitted to get the ball rolling, then use phone calls for optional follow-up.
Develop relationships with colleges and universities
In today's healthcare industry, there are more vacant positions than there are professionals to fill them. The nursing field, for example, currently graduates an estimated 155,000 new nurses each year, yet the Bureau of Labor Statistics projects the nation will need more than 1.3 million new nurses by 2026.
In the competitive healthcare landscape, new graduates are a key candidate demographic you'll need to tap into if you want to fill vacancies in a timely manner. Once graduation day hits, the best new candidates are often inundated with messages from recruiters and even direct offers from companies, so it's important to reach them before they even walk across the stage.
You can begin positioning your employer brand among students in healthcare by developing relationships with colleges and universities. Participating in job fairs, sponsoring on-campus events and collaborating on an internship program are all ways to reach up-and-coming healthcare talent.
Of course, you'll want to be sure to balance your healthcare recruitment strategies targeting new grads, with efforts to reach candidates who are more seasoned, as well.
Take it off email
Email may be the communication platform where we spend the most time (the average American worker devotes a staggering five hours per day to checking and responding to emails), but it's certainly not the one where we're the most engaged. The average email open rate is around 20%, and a mere 6% of emails elicit a response.
Text messages, on the other hand, get our attention nearly every time, with open rates close to 100% and a response rate of 45%. Competitive healthcare recruiters can benefit by reaching candidates on platforms where they're more engaged, like via text message. You can boost candidate engagement by using texts to communicate on various parts of the hiring process, like:
Confirming the receipt of applications
Scheduling interviews
Sending status updates
Following up about missing information, like references or background checks
Just be sure to get candidates' permission to contact them via text during the application process (like via a simple yes/no toggle button) and provide ample opportunity for them to opt-out.
Continue to engage your talent pool
Remember, your talent pool isn't limited to the candidates who apply for your position directly. Professionals who have applied in the past but do not yet work for you can also be a promising source of talent, like candidates who came in as a close second place for a position or who were great in interviews but not quite the right fit for the role they applied for.
Boost candidate engagement by maintaining an ongoing line of communication with this segment of candidates. Send them alerts when new positions open up and check-in from time to time to see if there's a fit between your vacancies and their skills. You might even collaborate with your marketing department to create campaigns targeted specifically to this passive candidate audience.
Focus on your employer brand
The importance of your employer brand is a topic we come back to again and again, but it bears repeating. Companies with a strong employer brand hire faster, keep employees longer and spend less on hiring.
Focusing on your employer brand goes hand in hand with developing a strong candidate experience—which, in turn, improves recruitment engagement. They're all pieces of the same overall recruiting puzzle. You can stay on top of how you're doing in these areas by sending—then actually using the feedback from—candidate feedback surveys.
Related: The Case For Creating A Great Candidate Experience
Improve Your Candidate Experience by Partnering with 4 Corner Resources
If you want to shorten your time-to-hire, create more positive candidate experiences and ultimately win the best talent in the business, turn to the staffing professionals at 4 Corner Resources. We help companies like yours stay ahead of the hiring curve in competitive fields like healthcare, sourcing professionals in medical billing, coding, claims, pharmacy tech, patient customer service and more.
Adding a professional staffing firm to your healthcare recruitment strategies can give you a leg up in the current candidates' market. With contacts across the nation, from entry-level to the c-suite, we can build a wider candidate pool and cut out the time you spend on sourcing and screening. We have a decade of experience working with organizations of all sizes, from small businesses to enterprise-level, and we can create a staffing plan that works within your budget and time frame.
Contact us now to open the conversation and start hiring better candidates today.