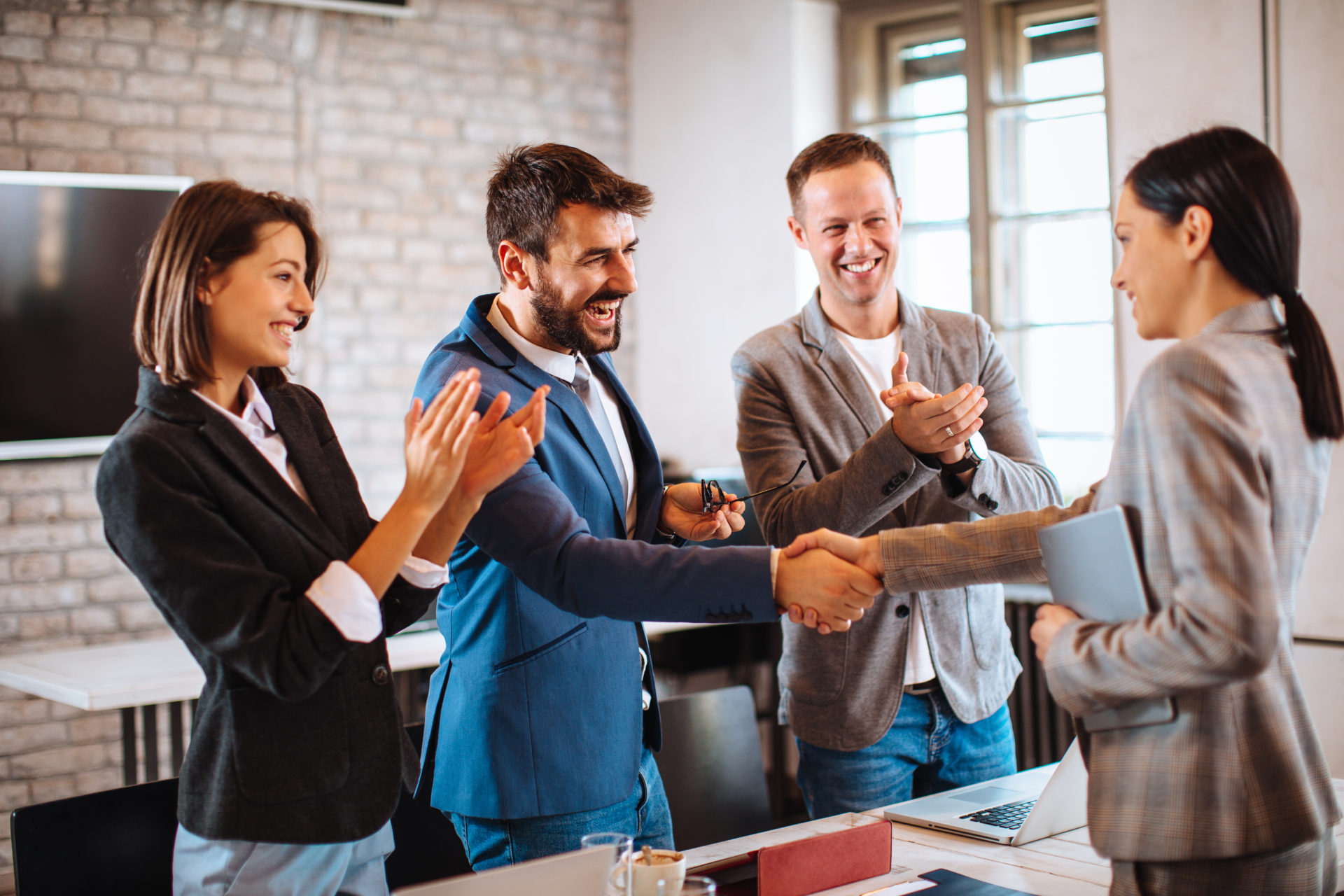 Today's market has more jobs and fewer candidates, which makes attracting excellent talent a top priority for ambitious companies. In a CEO Benchmarking Report that asked business leaders what keeps them up at night, CEOs collectively said finding the right talent is the number one challenge they face, followed directly by aligning talent with company strategy.
These two challenges are directly tied to productivity, revenue growth, and employee retention. So what can leaders do to overcome them? One highly effective solution is to invest in strong employer branding.
Here, we'll explain the role of employer branding in recruitment and share four tips to use it to attract outstanding talent aligned with your company culture and business goals.
What is Employer Branding?
You probably already have a general understanding of branding—the steps you take to distinguish your company in the eyes of consumers. Employer branding is similar, but the target shifts from consumers to prospective employees.
Employer branding differentiates your company from competitors among the talent you hope to recruit. It's determined by factors like your industry reputation, company values, and benefits program, among other things.
Employer branding concerns one simple question: Does this seem like a great workplace? If the answer isn't a resounding 'yes' among qualified candidates, investing in strengthening your employer brand might be a good idea (more on how to do this below).
How to Determine Your Employer Brand
Understand the value and mission of the company
The framework of the employer brand needs to be the organization's values. Look at any mission statements and vocabulary used on profiles and company literature. If these are outdated, it's essential that this information is all updated before you get started on the employer branding because everything should be consistent. Once you have a strong knowledge of the values and mission of the company, you'll be able to move through the outside layers.
Conduct internal and external research
Employer branding cannot just be created from thin air. Conduct polls and interviews with current employees to understand what they love about working with the company and their experience. There might be perks and benefits that employees love more than the leadership team even realizes. If important pieces are missing with employee experiences that you want to be part of the employer branding, introduce them and allow them to sink in.
External research is also important to understand the company's current reputation in the marketplace. What are the reviews on Glassdoor saying? Have there been published pieces online, either positive or negative? Get a read on what people are saying and what the perception is so you know where you are starting.
Draft an employee value proposition
The employee value proposition is the set of employee benefits provided. There are five pillars of the proposition that should be considered and documented. Compensation is the most obvious and can be a huge factor in why candidates accept a job offer. The other pillars include the benefits (health, family, flexibility, etc.), promotion/development opportunities, contribution to the world, and the organization's culture. Document the employee value proposition and use it as your guide for employer branding.
Communicate with current employees
Your current employees are your strongest mouthpiece. Be transparent and communicate your efforts with them. You've already done your internal research, so continue the conversation and see how the current team members feel about the changes. Incorporate their feedback to boost your employee satisfaction numbers, and the team will be more likely to share their positive experiences with friends, family, and others in their network.
Audit onboarding and marketing practices to ensure alignment
Complete an onboarding audit and review each step of your current recruiting process. Make sure that employer branding and value propositions are clear and consistent throughout. You'll likely find places and ways to add more references in the overall process. If anything doesn't align with the message you want to send to potential future employees, this is the time to make those changes.
Follow up and monitor success
Any changes to the process require follow-up. Even with a fantastic execution, steps and points will be missed along the way. Review your progress, and see how your online reviews change and shift. Poll your employees after a few months and see if they notice changes. Conduct research with applicants that didn't move forward in the process (if they are willing) to find out what made them go with another offer. Be open to making changes as you learn more about how the branding is perceived and as the needs of the marketplace change.
The Importance of Employer Branding in Recruitment
Positive employer branding makes a big difference for recruiting teams. When an organization has put the work in to make sure the employer branding matches the mission and values of the company, it will be much easier to find candidates who are a good match. Finding top talent can be challenging, but candidates are more likely to apply for job openings if the company has a strong presence and a good reputation.
According to a study from LinkedIn, companies with a strong employer brand attract 50% more qualified applicants, experience a 28% reduction in turnover, and cut their hiring time in half.
What's more, they spend 50% less on hiring costs. With employee-related expenses accounting for a sizable portion of overall budgets, this metric makes it a sound financial decision to invest in your employer brand.
Employer branding has a big impact on current employees as well. The recruiting team can focus on filling fewer positions if the employee retention numbers are strong. When employees resonate with the branding and culture, there is a lower employee turnover rate. Your employer brand has three key players: leadership, employees, and industry. Leveraging all three in a coordinated manner will help you build a positive reputation that attracts candidates who will thrive at your company, stick around for the long haul, and help you make more money.
How to Enhance Your Employer Brand Strategy to Attract Top Talent
To position your company as a place top candidates want to work, follow these steps to strengthen your employer branding strategy.
1. Get friendly with Glassdoor
Many company leaders hate Glassdoor because it gives disgruntled employees an unfair platform. That may be so, but instead of viewing Glassdoor in a contentious light, you'd be better served to approach it as a mirror. If you have disgruntled employees on Glassdoor, why are they disgruntled in the first place?
Glassdoor's own user guide for employers recommends, "Improve your candidate recruiting process with a visible concern for your company's culture and human resources by showing, through actions, that you are listening to what the employees say." Turn Glassdoor into a platform for constructive conversations and take action on the feedback from your own current and former employees.
If you receive negative Glassdoor reviews, don't just let them sit there. Create an employer account or enhanced company profile, allowing you to leave an official company response to detractors. Instead of launching a counterattack, be courteous and professional, focusing on the positive steps your company is taking to build a healthy and fulfilling workplace.
Also, be proactive in building positive reviews by encouraging employees to use Glassdoor. Enlist HR to target key company departments and assist with the proper language to engage staff. You might even consider making Glassdoor part of your onboarding process, asking new hires to leave feedback as one of the steps to complete their probationary period. New hires are a great source of reviews because they bring enthusiasm and a fresh perspective.
2. Be a presence in your industry
Keep your friends close and your competitors closer. Develop a strong reputation among others in your field—and the talent they employ—by having a consistent presence at your industry's major conferences, conventions, and events.
This is a great chance for company stakeholders to sit down and assess your industry-facing image. In what direction is your brand headed? What kind of company culture do you value? Like attracts like, so to recruit people who are aligned with your brand values, you must clarify what those values are and what steps you're taking to communicate them to your peers.
In addition to being a valuable opportunity for employees to learn and network, industry events are a key chance to position members of leadership as thought leaders via speaking opportunities and slots on expert panels. Regarding recruiting, industry events can be a treasure trove of high performers—many of whom are there specifically to make connections that will lead them to their next role in the field.
3. Invest in employee engagement
If your employer brand represents how job candidates see your company, your existing employees are your walking, talking brand ambassadors. Make sure the message they're delivering is a positive one by investing in their professional engagement.
The numbers supporting employee engagement are so dramatic they almost don't seem real, but they have been tracked and recorded by the American public research firm Gallup for the last 15 years.
Gallup's most recent report found that businesses with highly engaged employees experienced 17% higher productivity and 21% higher profitability than their non-engaged counterparts. Absenteeism was 41% lower, and turnover was reduced by anywhere from 24% to 59%, depending on the type of company. The numbers show there are virtually no downsides to investing in employee engagement.
Employee engagement can take many forms:
Providing thorough onboarding training and ongoing opportunities for development
Recognizing employee achievements and rewarding strong performance
Giving employees the authority to make decisions and actually letting them use it
Being transparent about company performance and keeping open lines of communication
Getting clear on your company culture and investing in activities that will strengthen it
4. Turn employees into an asset
If you're seeing a theme here, that's no accident. Your employer brand as it pertains to would-be employees is largely determined by the people who already work at your company. Put them first, and everything else will align with your employer brand.
One of the best ways to learn where you're succeeding and where you're falling short as an employer is to ask the people who work for you. Consider offering an anonymous, all-staff survey to gauge employees' perception of the company and gather feedback on opportunities for improvement. This is something powerhouse companies like Google, Amazon, and Intel do regularly (it's no coincidence that they're also consistently ranked among the most desirable places to work).
Once you've surveyed your staff, don't just keep the data to yourself. Share it! Communicate that you've heard your employees and value their input, then tell them what you're doing as a result. This helps to establish a climate where feedback is encouraged, not stifled—another important component of an engaged workforce.
After you've enacted the above measures to engage your employees, mobilize them. Give employees incentives for taking an active role in recruiting new talent. Offer bonuses like cash or PTO for qualified referrals. Remember, too, that recruiting isn't limited to submitting formal referrals. Your employees constantly advertise your employer brand in their day-to-day activities: conversations with friends, over coffee with colleagues, and even via social media updates.
Help them spread the word about you by advertising your open positions internally. Company- or department-wide emails work well for this. Convey specifics—not just the job title, but the qualities and skills you're looking for in a candidate—to help your team connect you with the right people in their network.
Related: Ways to Invest in Employee Development
5. Utilize social media
Social media is a simple way to reach a wider audience. A successful employer brand needs to be communicated to people. With so many active users on social media, it's one of the easiest ways to get your message out to more people. Using photos, videos, and text, you can highlight your values, missions, and benefits in many creative ways. Share photos of employee events, call out your top performers, and share any accomplishments that align with your employer brand.
When candidates search for companies to work for, many turn to social media to learn more about a company and what it's like to be part of the team. In addition, many millennials are actually learning about job openings directly on social media, so you can use it to attract talent and communicate your brand. It's a great way to communicate with your current employees as well.
Successful social media campaigns require consistent, high-quality content. Create a content calendar and work on engaging content. Share the look of your office spaces and cool employee corners. Highlight benefits and perks that employees get to enjoy. Post some cool projects your groups are working on and celebrate successes. Ask for engagement from your followers by asking questions, sharing polls, and jumping on fun, trending audio.
Related: How & Why to Use Social Media to Showcase Your Company Culture
Employer Branding Examples
Google
Some companies are constantly in the news for both positive and negative happenings. Google successfully combats the negative press and still attracts new talent. Using transparency in the hiring process, the company can attract high-quality candidates. The employer brand incorporates bright colors and reminds everyone to "work hard, play harder." If you haven't seen The Internship, starring Vince Vaughn and Owen Wilson, it's an excellent example of employer branding, and Google's own production company made the movie. 
Chipotle
Despite many companies' struggles during the pandemic, Chipotle grew during this time. This growth is partly thanks to their employer branding that attracts and retains talent. The three main focuses are employee benefits, promotions, and inclusion. The company is working hard on the brand by enhancing parental leave programs, adding mental health programs, and consistently shouting out employees who have moved up the ranks. 
Salesforce
When a company is recognized multiple times for being the best workplace in the United States, it obviously has a strong employer brand. Salesforce uses the term "ohana" when referencing team members and clients. Teams are encouraged to have ohana gatherings and ensure that no ohana members are left behind.
Netflix
Work-life balance is something that so many job searchers are looking for. Netflix works hard to care for its employees' balance. With a parental leave benefit for up to a full year, Netflix continues to show employees that they are listening to feedback and incorporating ideas that their team members say are the most important.
Chewy
Caring about the community is important to attract new talent. Chewy is a company in the pet industry, and they showcase charity work and donations they make to animal-related organizations. Employee volunteer events and donation drives are constantly featured and celebrated on social media channels. It demonstrates Chewy's genuine commitment to animal welfare.
Attract More Candidates With the Help of a Recruiting Agency
Employer branding is more than just a positive image. It's a veritable business strategy contributing to increased productivity, stronger profit margins, less turnover, and lower hiring costs. It's a recruitment engine that can attract the right people who share your vision and goals for your company's future.
4 Corner Resources is a nationally recognized professional staffing firm with over a decade of experience helping companies like yours recruit for growth and success. We offer diverse staffing services to suit your needs, including direct hire recruiting, temporary staffing solutions, and contract-to-hire. Ready to take the next step and meet qualified candidates in your field?
Contact us today, and let us connect you to your next amazing new hire.
FAQs
Why is employer branding so important?
Employer branding is the business identity of your company. It's important with recruiting because you want to be a place where candidates want to work to help find top-quality talent.
How can I develop an employer branding strategy?
The most important step is to define company values and missions and then draft your employee value proposition. Once you have your goals, make sure to engage your current employees.
What are the best ways to get current employees involved in employer branding?
Leverage your current employees to write testimonials and share their experience working at the company. Employees must agree with the employer branding because they are examples and will share their experiences.
How can I improve my employer branding on a low budget?
There are great resources to work on employer branding without spending much money. Social media is a powerful tool with a large reach. Craft the brand you want for the company and then communicate it through different online channels.
Discover how our award-winning recruiting process can deliver the perfect hire for your team.