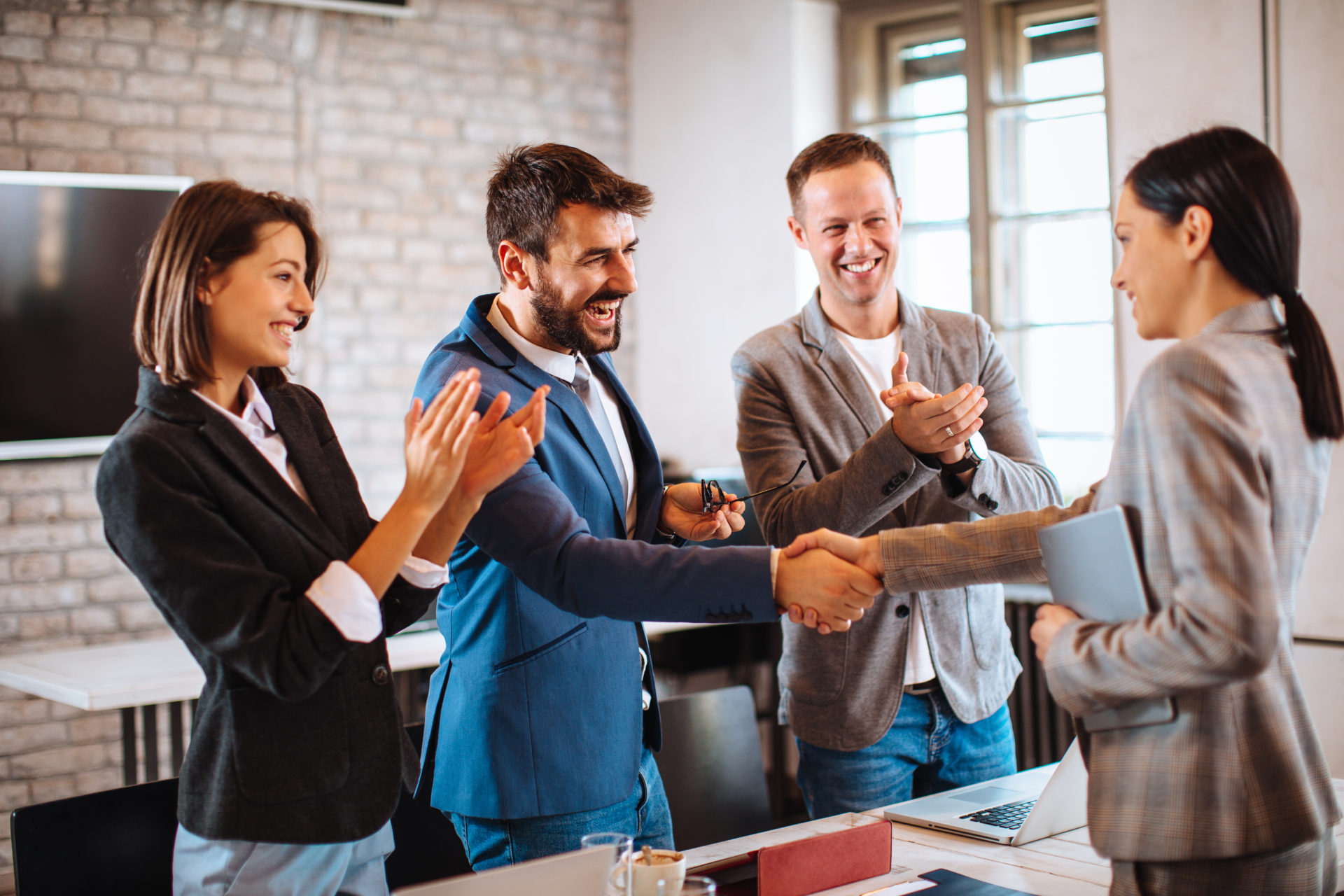 Today's market has more jobs and fewer candidates, which makes attracting excellent talent a top priority for ambitious companies. In a 2019 CEO Benchmarking Report that asked business leaders what keeps them up at night, CEOs collectively said finding the right talent is the number one challenge they face, followed directly by aligning talent with company strategy.
These two challenges are directly tied to productivity, revenue growth, and employee retention. So what can leaders do to overcome them? One highly effective solution is to invest in strong employer branding.
Here, we'll explain the role of employer branding in recruitment and share four tips to use it to attract outstanding talent that's aligned with your company culture and business goals.
What is Employer Branding?
You probably already have a general understanding of branding—the steps you take to distinguish your company in the eyes of consumers. Employer branding is similar, but the target shifts from consumers to prospective employees.
Employer branding is how you differentiate your company from competitors among the talent you're hoping to recruit. It's determined by factors like your reputation in the industry, your company values, and your benefits program, among other things.
Employer branding boils down to one simple question: Does this seem like a great place to work? If the answer isn't a resounding 'yes' among qualified candidates, it might be a good idea to invest in strengthening your employer brand (more on how to do this below).
Employer Branding in Recruitment
Having a strong employer brand strategy sounds nice, but it's far more than a vanity metric. According to a study from LinkedIn, companies with a strong employer brand attract 50% more qualified applicants, experience a 28% reduction in turnover, and cut their hiring time in half.
What's more, they spend 50% less on hiring costs. With employee-related expenses accounting for a sizable portion of overall budgets, this metric alone makes it a sound financial decision to invest in your employer brand.
Your employer brand has three key players: your leadership, your employees, and your industry. Leveraging all three in a coordinated manner will help you build a positive reputation that attracts candidates who will not only thrive at your company, but stick around for the long haul and help you make more money.
How to Enhance Your Employer Brand Strategy to Attract Top Talent
To position your company as a place top candidates want to work, follow these steps to strengthen your employer branding strategy.
1. Get Friendly with Glassdoor
Many company leaders hate Glassdoor because they feel it gives an unfair platform to disgruntled employees. That may be so, but instead of viewing Glassdoor in a contentious light, you'd be better served to approach it as a mirror. If you have disgruntled employees on Glassdoor, why are they disgruntled in the first place?
As Glassdoor's own user guide for employers recommends, "improve your candidate recruiting process with a visible concern for your company's culture and human resources by showing, through actions, that you are listening to what the employees say." Turn Glassdoor into a platform for constructive conversations and take action on the feedback from your own current and former employees.
If you receive negative Glassdoor reviews, don't just let them sit there. Create an employer account or enhanced company profile, which will allow you to leave an official company response to detractors. Instead of launching a counterattack, be courteous and professional, focusing on the positive steps your company is taking to build a healthy and fulfilling workplace.
Also, be proactive in building positive reviews by encouraging employees to use Glassdoor. Enlist HR to target key company departments and assist with the proper language to engage staff. You might even consider making Glassdoor part of your onboarding process, asking new hires to leave feedback as one of the steps to complete their probationary period. New hires are a great source of reviews because they bring enthusiasm and a fresh perspective.
2. Be a Presence in Your Industry
Keep your friends close and your competitors closer. Develop a strong reputation among others in your field—and the talent they employ—by having a consistent presence at your industry's major conferences, conventions, and events.
This is a great chance for company stakeholders to sit down and assess your industry-facing image. In what direction is your brand headed? What kind of company culture do you value? Like attracts like, so in order to recruit people who are aligned with your brand values, you must clarify what those values are and what steps you're taking to communicate them to your peers.
In addition to being a valuable opportunity for employees to learn and network, industry events are a key chance to position members of leadership as thought leaders via speaking opportunities and slots on expert panels. When it comes to recruiting, industry events can be a treasure trove of high performers—many of whom are there specifically to make connections that will lead them to their next role in the field.
3. Invest in Employee Engagement
If your employer brand represents how job candidates see your company, then your existing employees are your walking, talking brand ambassadors. Make sure the message they're delivering is a positive one by investing in their professional engagement.
The numbers in support of employee engagement are so dramatic they almost don't seem real, but they are—they've been tracked and recorded by American public research firm Gallup for the last 15 years.
Gallup's most recent report found that businesses with highly engaged employees experienced 17% higher productivity and 21% higher profitability than their non-engaged counterparts. Absenteeism was 41% lower and turnover was reduced by anywhere from 24% to 59%, depending on the type of company. The numbers show there are virtually no downsides to investing in employee engagement.
Employee engagement can take many forms:
Providing thorough onboarding training and ongoing opportunities for development
Recognizing employee achievements and rewarding strong performance
Giving employees the authority to make decisions and actually letting them use it
Being transparent about company performance and keeping open lines of communication
Getting clear on your company culture and investing in activities that will strengthen it
4. Turn Employees Into an Asset
If you're seeing a theme here, that's no accident. Your employer brand as it pertains to would-be employees is largely determined by the people who already work at your company. Put them first and everything else will fall into place with your employer brand.
One of the best ways to learn where you're succeeding and where you're falling short as an employer is to ask the people who work for you. Consider offering an anonymous, all-staff survey to gauge employees' perception of the company and gather feedback on opportunities for improvement. This is something powerhouse companies like Google, Amazon, and Intel do regularly (it's no coincidence that they're also consistently ranked among the most desirable places to work).
Once you've surveyed your staff, don't just keep the data to yourself. Share it! Communicate that you've heard your employees and value their input, then tell them what you're doing as a result. This helps to establish a climate where feedback is encouraged, not stifled—another important component of an engaged workforce.
After you've enacted the above measures to engage your employees, mobilize them. Give employees incentives for taking an active role in recruiting new talent. Offer bonuses like cash or PTO for qualified referrals. Remember, too, that recruiting isn't limited to the submission of formal referrals. Your employees are constantly advertising your employer brand in their day-to-day activities: in conversations with friends, over coffee with colleagues and even via social media updates.
Help them spread the word about you by advertising your open positions internally. Company- or department-wide emails work well for this. Convey specifics—not just the job title, but the qualities and skills you're looking for in a candidate—to help your team connect you with the right people in their network.
The Bottom Line
Employer branding is more than just a positive image. It's a veritable business strategy that contributes to increased productivity, stronger profit margins, less turnover, and lower hiring costs. Most of all, it's a recruitment engine that can attract the right people who share your vision and goals for the future of your company.
Find More Recruitment Strategies to Build an All-Star Team on Our Blog
4 Corner Resources is a nationally recognized professional staffing firm with more than a decade of experience helping companies like yours recruit for growth and success. On our blog, you'll find a wealth of helpful information on hiring, workplace culture and other hot topics to strengthen your approach to staffing.
4 Corner Resources offers a diverse set of staffing services to suit your needs, including direct hire recruiting, temporary staffing solutions and contract-to-hire. Ready to take the next step and meet qualified candidates in your field? Contact us today and let us connect you to your next amazing new hire.