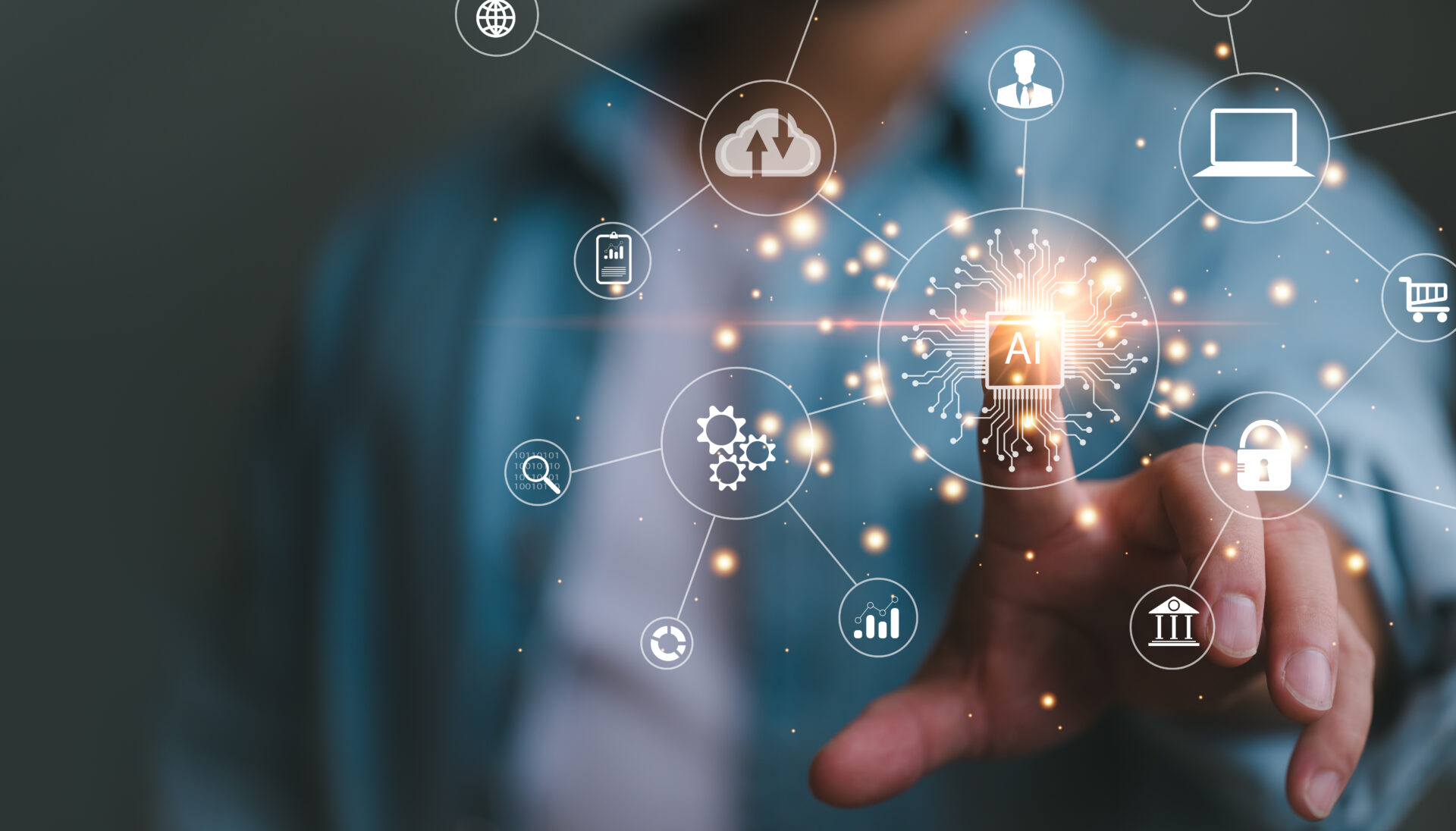 Recruiters are dealing with a unique series of challenges in 2023. Employers are still recovering from the talent exodus of the Great Resignation while also facing a looming economic recession that's spurred layoffs from some of the biggest and most influential companies. Anything that can make hiring managers' lives easier in the face of these challenges is a welcome addition, such as recruiting technology.
We've picked our team of recruiting experts' brains for the top technology they're leveraging now and plan to use in the months ahead to simplify, streamline and speed up their hiring efforts. 
Recruiting Technology That Will Improve Your Hiring Process
1. Video interviewing
With conferencing tools like Zoom becoming commonplace, most hiring managers have embraced video interviewing in one form or another. But conducting interviews via video call becomes much simpler with apps like SparkHire and VidCruiter, which are designed specifically for remote hiring.
Video interviewing platforms have convenient candidate evaluation and note-taking tools built right into the conference interface, making it easier to complete post-interview tasks before you even close out of the chat window. This saves time and ensures that interview follow-up, which is a critical step in keeping the hiring funnel moving, actually gets done.
Video interviewing apps integrate with the most popular scheduling programs like Google and Apple Calendar, which streamlines the process of finding and setting a time to connect with candidates. It's easy to loop in multiple interviewers remotely or record the session and share it with as many stakeholders as you want to involve in the decision-making process. 
Remote hiring platforms also facilitate one-way interviews, which are useful for reaching many candidates while preserving hiring managers' time. In a one-way interview, candidates are asked a series of questions and are given a set amount of time to answer them on camera. You can also record your employer-branded video messages and distribute them to candidates to help with things like pre-interview preparation. 
2. Candidate listening
Today's top candidates are paying more attention to the candidate experience–a set of factors influencing how an applicant feels when moving through your hiring funnel. For in-demand talent, it can make or break their decision to work for you. Some candidates, for example, will drop out of the running completely if they feel an employer has "ghosted" them.
For this reason, it's more important than ever to have specialized tools for gathering information on the candidate experience. There are the old standbys like SurveyMonkey for creating and sending candidate feedback surveys, then there are newer, feature-packed platforms like Trustcruit that automate and optimize the process of gathering feedback at every stage of the candidate journey.
Pre-built Q&A templates can help you gauge candidates' feelings after the application, interview, rejection/hire and onboarding process, offering customization capabilities to fit your employer brand. Analytics tools allow you to benchmark your performance by department, city, or individual recruiter and even compare your performance to that of your competition.
Related: Sample Candidate Experience Survey Questions
3. Competitor intelligence
Keeping an eye on what other top employers in your field are up to is important to stay competitive in the hiring market. Sure, you can do this manually (and probably already do) by following your competitors on social media and keeping tabs on staff moves on LinkedIn. What you may not yet be leveraging, however, is the power of technology to monitor and assess industry rivals. 
First up is media monitoring, which is a service that follows media like television, print, and blogs for mentions of your competitors. A tool like Meltwater lets you sift through thousands of brand mentions and sort out the most relevant ones for recruiting purposes, like news of mergers, acquisitions, and layoffs. 
Next up is social listening, which turns you into a private investigator of sorts using competitors' social channels. You can assess their brand posts and interactions with others to learn when new jobs are being promoted and how they engage with candidates and employees online. SproutSocial and Brandwatch are two good options to check out for social listening. 
Finally, one of the biggest sources of competitor intelligence is publicly available for all to see: your competition's website. Thanks to technology, you don't need to keep clicking a bookmark and refreshing the site to try and spot changes. A tool like Visualping automatically tracks entire websites or just the most important parts–like a company's careers page–then alerts you when noteworthy changes are made.
4. Candidate assessments
Most recruiters recognize the usefulness of assessments, which can help verify a candidate's technical skills and culture fit with a high degree of accuracy. Yet most organizations aren't deploying the available assessment technology to its full potential. Modern assessment tools go way beyond a basic multiple-choice test.
Virtual job tryouts let you see a candidate in action performing job-specific tasks or interacting with their prospective colleagues in real-time. This can give you a highly realistic sense of what they might be like to work with and how they react when confronted with certain situations. 
Visual scorecards make it easy to compare candidates' assessment performance side by side, apples to apples. This not only helps you choose the most technically qualified candidate but helps eliminate personal bias that can influence hiring decisions. 
Modern assessment tools are built with a mobile-first approach, empowering candidates to complete pre-hire testing on their time from anywhere. Native features like live chat boosts engagement, enhancing the candidate experience. 
Related: How to Use Pre-Employment Assessments to Make Better Hires
5. Automation
Automation can do more of the heavy lifting of recruiting than ever before. Candidate follow-up, for example, can be almost fully automated with a tool that integrates your calendar, email marketing platform and video interview app. The same is true for post-interview tasks like scheduling reference checks and conducting background checks.
The more you can automate manual tasks, the more time you'll free up to focus on innovative, big-picture thinking to improve your recruiting. 
Related: What is Recruitment Automation and How Can You Use it to Hire Smarter?
6. Artificial intelligence
AI takes automation one step further, adding a layer of human-like intelligence to the simple completion of tasks.
AI tools can screen candidates, rank them and prioritize them for human outreach. Chatbots equipped with natural language processing can have entire conversations with candidates, helping move them along the hiring funnel. Machine learning tools can assess candidates based on their skills and background to identify the best-fitting job, which is useful when recruiting passive talent or dealing with applicants who have applied for multiple positions. 
We've only scratched the surface of what AI can do for recruiting, and it's one of the most exciting areas we'll be watching in the 12 to 18 months ahead. 
Related: Everything You Need to Know About AI Recruiting Techniques
7. Employee engagement
Stellar recruiting is just one side of the staffing coin; employee retention is the other. The great news is that there have never been so many tech tools available to help us manage and engage existing employees.
Onboarding software like Workday and BambooHR set employees up for success and create a positive employee experience starting from day one. Coworking tools like Slack and Teams bring staff "together" and instill a sense of camaraderie even when workers aren't physically in the same place. Powerful employee analytics apps allow you to assess productivity, performance, and engagement with a high degree of nuance, helping you continually improve candidate success and satisfaction. 
We may be in uncharted waters in the world of recruiting right now, but we also have an unprecedented number of tools at our disposal to help us navigate them. The right technology will be key to weathering the storm and coming out stronger, faster, and more accurate on the other side.