Submit to Interview Ratio
Professional Recruiting, Headhunting, and Staffing Agency Services
4 Corner Resources (4CR) is a nationally-recognized recruitment, headhunting, and staffing agency that helps businesses of all sizes meet their hiring needs. Headquartered in central Florida, 4CR consistently ranks as the leading Orlando staffing agency. We support companies and organizations of all sizes across the United States; from Los Angeles to New York, by recruiting and placing the talent they need.
4CR works with clients to fill everything from high-volume jobs to permanent positions that require advanced degrees and qualifications.
To meet the needs of businesses and professionals locally and nationally, we offer a variety of staffing solutions, including: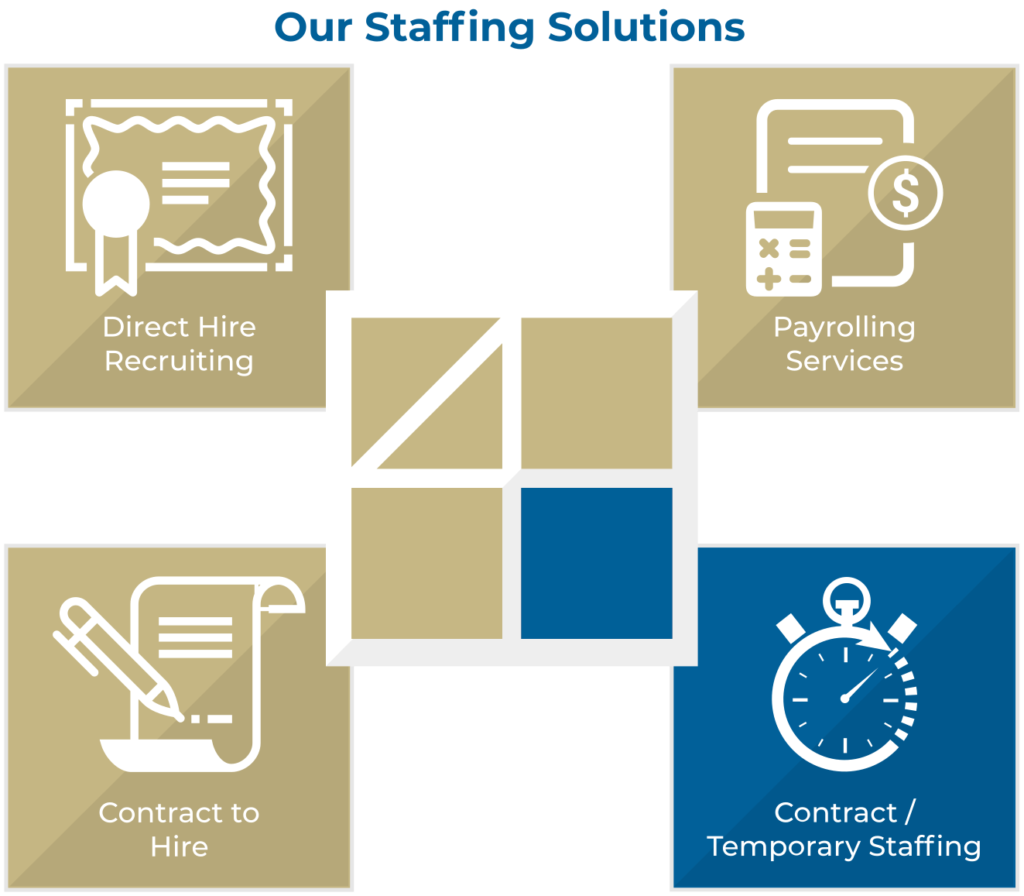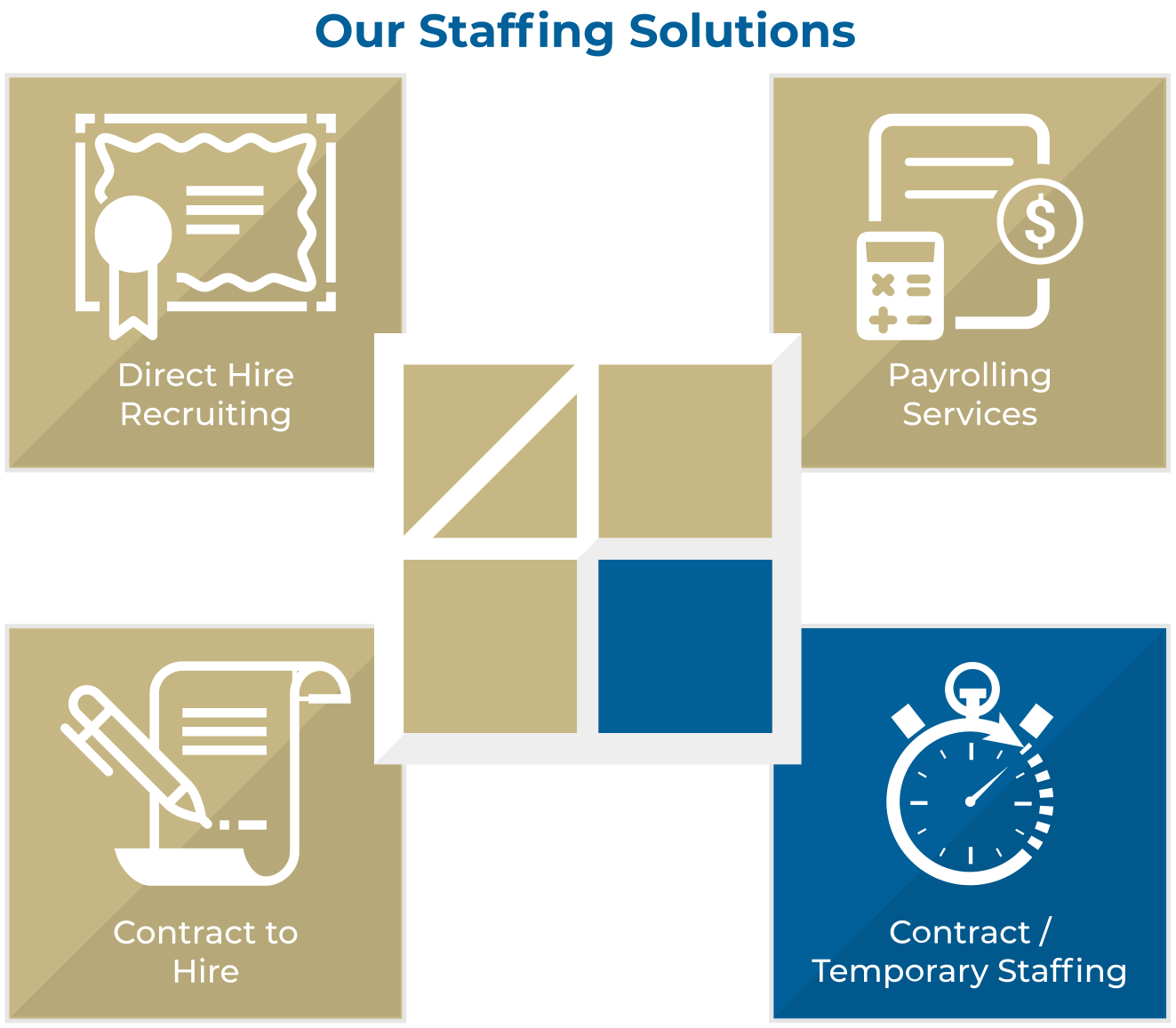 Our staffing agency is fully committed to placing the right candidate into the right job every time — earning 4 Corner Resources a reputation as a highly trusted recruiting partner to our clients and candidates across the U.S.
Don't Just Take Our Word for It
Jennifer L
Florida - Healthcare Industry
Our partnership with 4 Corner Resources is just that—a true partnership. They have a desire to learn about our needs to help us find the best talent to not only support our operations, but our culture and mission as well. Our Shared Service operations has grown dramatically over the past year and has plans for substantial growth this year. 4 Corner Resources has played an integral role in helping us build a sustainable staffing model that provides us with real-time talent to address short term urgent needs and long term talent management planning.
Joe S.
New York - Healthcare Industry
What I like most about 4 Corner Resources is that while we have a process of farming out requests to many different partners, 4 Corner Resources partners with various parts of the business to better understand the requirements for the position which is often not something that one can properly articulate with a job posting. Other providers we've worked with in the past tend to send resumes in mass, requiring hours of pouring through the information that yields very little potential in fulfilling the position. 4 Corner Resources receives the information, partners with us to find out what is most important, and sends us only the candidates that fit not just the positions posted, but also matches candidates to our company culture.
Jason D.
Florida - Education Industry
To be completely honest, I feel that Crystal Lang & the 4 Corner team, ALWAYS goes above & beyond for us. I truly love & appreciate the relationship that I have with her & her team. There have been multiple instances where I've been given a deadline to fill multiple positions in a short amount of time, and I love how they always find and provides us with amazing quality candidates that not only meet, but exceed our expectations, which in turn, helps us achieve our organizational goals.
Steve B.
Colorado - Technology Industry
With 4 Corner I have been getting very qualified temporary staff members from them. They go the extra mile to do a good background check and make sure they have the skills that are needed so to help reduce training on site.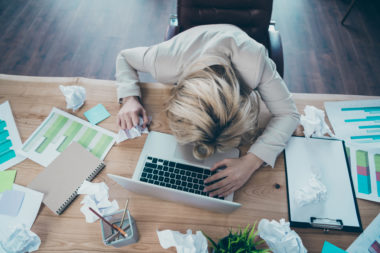 When you hire a new employee, the last thing on your mind is whether or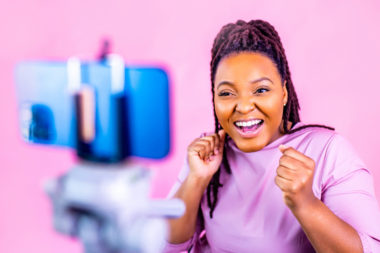 Since the dawn of time, or, at least, since the invention of pen and paper,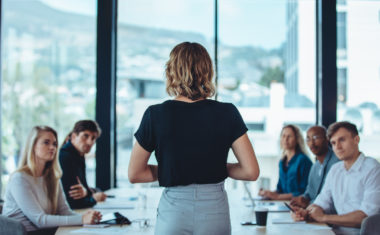 Some people are born leaders, instinctively stepping in to take charge during moments of crisis,