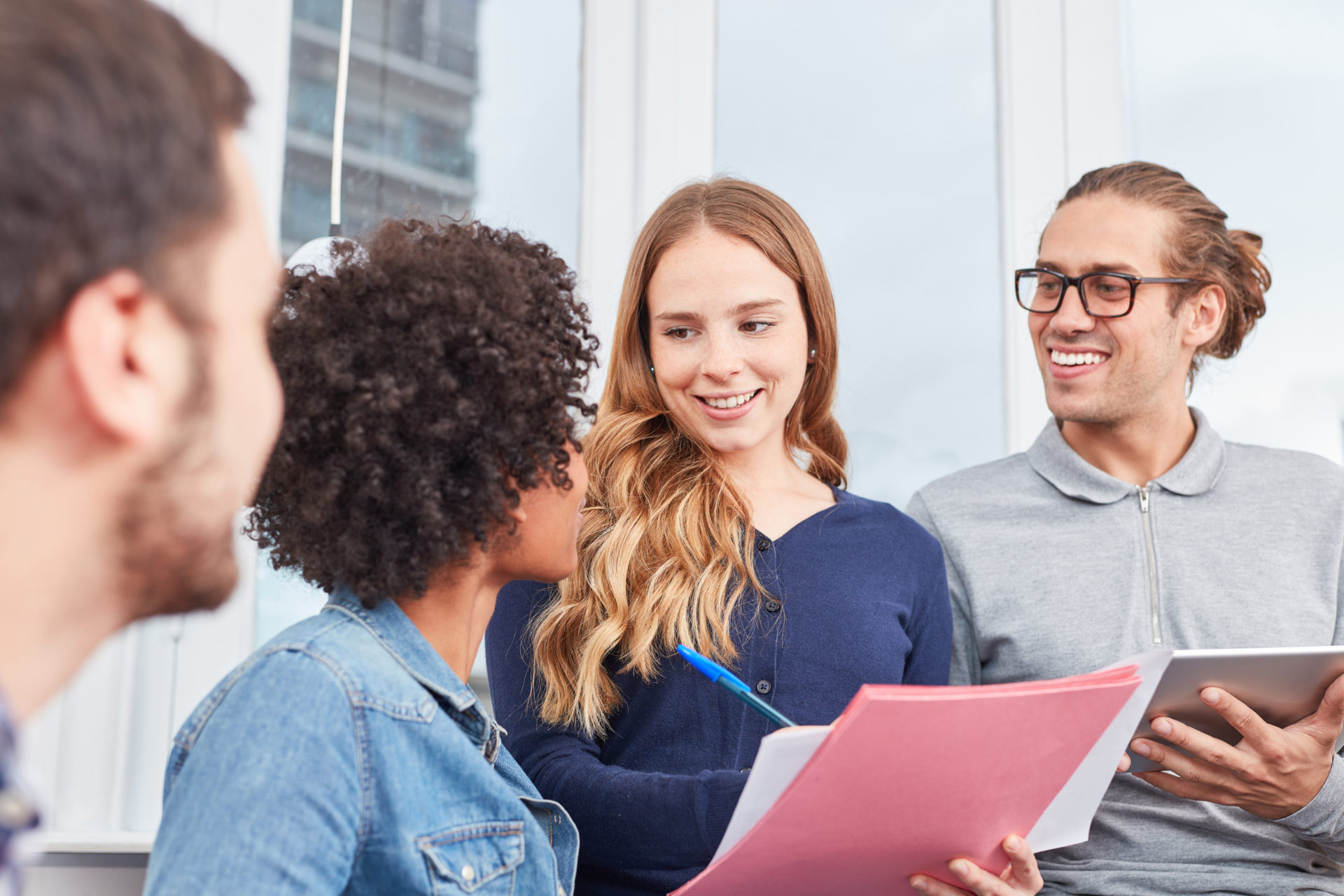 For students, internships are an invaluable opportunity to explore potential career paths and gain practical work experience, not to mention the possibility of getting hired into a full-time role upon completion. But the benefits of internships extend beyond students. For employers, an intern recruitment program can offer a reliable channel for training skilled workers and sourcing future talent.
Internships have persisted even in the COVID era, with many companies opting to shift to virtual internship programs. With more people in the market for a job, internships are arguably even more valuable to both workers and employers as a means for building talent relationships and identifying strong-fitting candidates.
If you're thinking of launching your own intern recruitment program or want to leverage your existing one more effectively as a recruitment tool, here are eight benefits of doing so.
How an Internship Program Can Help Your Future Recruitment Efforts
Build a Steady Pipeline of Young, Qualified Talent
We're big advocates for the 'pipeline' approach to recruiting, where you work to develop a consistent flow of candidates regardless of the volume of open roles you have. This helps you nurture ongoing relationships and stay top-of-mind for candidates, which makes it easier to hire at any time rather than if you only started looking when you had an open role.
An intern recruitment program can be a strong contributor to your talent pipeline, helping you reach young, ambitious candidates who are ready to put their skills to work.
The great thing about internships is that even when they don't result in an immediate hire, they yield positive, long-lasting relationships that can benefit you in the future. After spending a few years in the workforce honing their skills, for example, many professionals return to work for companies they interned with years prior. They often make stronger candidates because they already have an inside perspective of the company's culture and values while also bringing additional skills they've gained working elsewhere.
Train Prospective Candidates to Your Liking
We've talked in the past about hiring for potential rather than experience and why it can be a good strategy to ensure future job performance. Internships are one example of how to apply this practice.
When you hire for potential, you're able to prioritize culture fit while training for specific technical skills, which ensures the job duties are performed to your standards. Additionally, you don't have to counteract bad habits candidates picked up in prior jobs.
Training your interns in the skills they'll need to work at your company is also an effective strategy for closing the skills gap, which is a big hiring challenge organizations in all industries are currently struggling with. Working to close the skills gap through training not only benefits interns in the immediate future, but contributes to a stronger workforce overall.
Ability to Try Out Different Candidates Before Committing to Hire
It's not every day you get a chance to see a candidate in action on the job before deciding whether to hire them. Contract-to-hire arrangements are one way to accomplish this, but they're not feasible for every role nor do they lend themselves to trying out multiple candidates in one position.
Internships give you the benefit of seeing a person—or multiple people—in day-in-the-life setting of working for your company before you make a decision to bring them onboard. You can get a feel for how they make decisions, how productive they are, how they interact with other members of the team, and more. It's a valuable piece of insight you'll be hard-pressed to get in nearly any other hiring situation.
And, if you do decide to hire one of your interns into a full-time role, you'll already have a good idea that they're a strong fit with your company culture. Because they've already spent time in your organization, they'll have a head start getting up and running since they're already familiar with some of your norms and processes.
Increase Productivity at a Low Cost
Gone are the days of sending interns to fetch coffee or forcing them to alphabetize files. Instead, the modern internship sees students immersed in productive, critical-thinking-focused tasks. According to a study¹ by the National Association of Colleges and Employers, the majority interns spend very little time on administrative and clerical tasks and the bulk of their time on duties requiring analytical and problem-solving skills.
A talented intern can make a real difference on your team, helping tackle low-stakes tasks so more senior staffers can focus on projects that require their higher level of expertise. And they can do it at a low cost—the average hourly wage for interns² who are college students is around $19.50 an hour, compared to the average $29.50 hourly wage³ for full-time employees. Plus, you don't have to cover additional overhead costs like benefits that you'd have to cover for a full-timer.
Cheap labor certainly shouldn't be your main goal for implementing an internship program; in fact, a high-quality internship program takes a significant amount of time and resources to run. However, there's great value to the work interns do, and when coached effectively they can be an asset that increases productivity for your teams.
Improved Retention of New Hires
Want to improve your new-hire retention rate? Hire interns.
Candidates who have completed any type of internship program are more likely to stick around through their first year on the job than non-interns, and those whose internship resulted in a job offer are even more likely to stay with the company. The one-year retention rate⁴ for hires with internal internship experience is 71%, compared to 59% for candidates who interned anywhere and just 42% for those who did not complete an internship.
The results carry on past the first year on the job, too; after five years, employees who were once interns have a 44% retention rate, compared to 27% for employees without previous internship experience.
Foster Relationships in the Community
To cultivate applicants for your internship program, you'll need to build a network of channels for intern recruitment. This includes developing relationships with high schools, universities, trade schools, workforce training programs, and other community organizations who will help spread the word. It turns out, these are the same organizations and people who are good to know when you're looking to recruit full-time talent, so building these relationships serves a dual purpose.
Furthermore, having an internship program gets your name out there in the community and the industries you work in. This helps to build brand recognition, which is an asset in your overall recruiting strategy.
Develop Leadership Skills in Existing Employees
Students aren't the only ones who reap the benefits of internship programs. They're also a great opportunity to help your existing employees hone their leadership and management skills.
The most successful intern programs are those that follow a structure, give participants meaningful projects to work on and provide useful, regular coaching. This, of course, requires an active team of participants on the company's side to oversee the program and deliver the coaching.
Your more junior team members can be particularly good candidates for this task. Not only are they close in age to your interns, serving as an effective bridge between the student experience and the professional world, but their job duties might not typically offer many chances to lead. Giving them the reins to coach and guide interns helps them flex their leadership muscle, which is a good way to foster engagement.
Gain a Fresh Perspective
A wide body of research has demonstrated that diverse teams are more innovative and more profitable than homogenous ones. Interns can bring a fresh perspective to your work not only from an age standpoint, but from the experience and viewpoint of a different generation.
Today's interns are part of 'Generation Z,' the age group following millennials whose members were born after 1996. Members of Gen Z are more racially and ethnically diverse⁵ than any previous generation and are on track to be the most well-educated generation ever.
How does this characterization compare to your existing staff makeup? Depending on your organization, chances are it's at least somewhat different from how the majority of your teams look. Incorporating interns into focus groups and brainstorming sessions can yield surprising new insights that can be used to improve your services, strengthen your marketing strategy and streamline your workflows.
Recruit for Future Growth with 4 Corner Resources
Looking for new places to source qualified talent? Need to hire for niche skills or leadership roles? The team of staffing experts at 4 Corner Resources can help. With over 15 years in business, we've helped organizations of all sizes overcome their staffing challenges and build teams that withstand market changes and ensure future growth.
We take hiring tasks like attracting, screening and interviewing candidates off your plate so you can focus on coaching your staff and running your business. Our convenient onboarding and payroll services make getting new hires up and running a breeze. To talk more about your unique staffing needs, schedule your free consultation with our team today.
---
Resources and Sources
https://www.naceweb.org/talent-acquisition/internships/interns-co-ops-spend-most-time-on-problem-solving-tasks/
https://www.naceweb.org/job-market/compensation/current-benchmarks/
https://www.bls.gov/news.release/empsit.t19.htm
https://comparecamp.com/internship-statistics/
https://www.pewsocialtrends.org/essay/on-the-cusp-of-adulthood-and-facing-an-uncertain-future-what-we-know-about-gen-z-so-far/