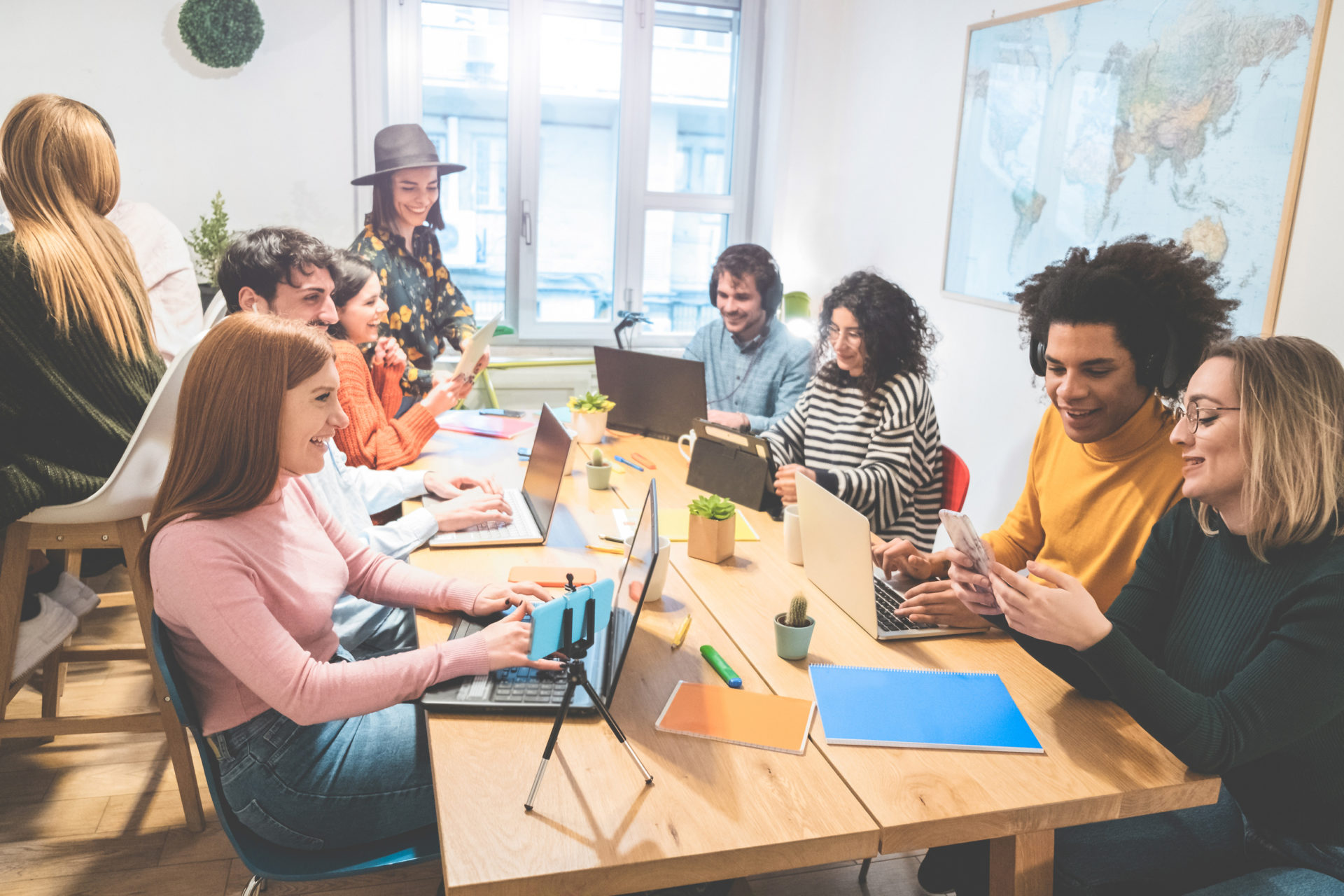 In recent years, the conversation on generations in the workforce has centered primarily around millennials. Just when you thought you had finally gotten a handle on what makes millennials tick, there is a new crop of young workers right behind them, and the eldest of them are starting to enter the workplace: Generation Z.

Members of Generation Z were born between 1996 and 2010, although some sources extend the bracket all the way up to 2015 since we do not know for sure where the next generational divide will fall. That means while some members of Gen Z are still in kindergarten, those on the upper end of the spectrum are graduating college and settling in as members of the workforce.
So what does Gen Z in the workforce mean for your organization? It might be tempting to lump them in with millennials, but this would be a mistake. While Gen Z workers share similarities with their millennial siblings, there are some key differences to working with Generation Z that you'll need to accommodate in the workplace and account for in your recruiting efforts.

Here, we'll discuss the primary Generation Z characteristics and tell you what you need to know to attract and retain the newest segment of the workforce. 
What Are The Key Generation Z Characteristics?
It's first important to understand the divide between millennials and Gen Z.
In 2020, the members of Generation Z are as young as five and as old as 24. The older Gen Z members are pursuing higher education, starting their first jobs, and getting their feet wet in the professional world. The oldest millennials, on the other hand, are entering their 40's. They are buying homes and raising kids. They are established in their careers. There is a clear distinction in the mindset and priorities of these two adjacent age groups.

Like millennials, Gen Z has grown up with technology. It is their default option for finding information and connecting with peers. Unlike millennials, who forged the way on platforms like Myspace and Facebook, Gen Z leans heavily on interactive video-based platforms like Instagram, Snapchat, and TikTok.

Gen Z has been described as the most socially conscious generation. Having grown up "plugged in," they are more keenly aware of issues like mental health, cyberbullying and the political landscape. A primary focus on empathy plays heavily into this generation's attitudes and beliefs about career and professional life.

While millennials largely put passion first when pursuing their ideal career, Gen Z places a larger emphasis on the financial upside of professional life. They view work as a means to an end; enjoying what they do is a nice-to-have rather than a need-to-have as it is for their more idealistic millennial peers.

With an estimated 10,000 to 12,000 baby boomers reaching retirement age every day, employers face a mounting challenge to attract and retain qualified young talent. Gen Z is eager to step in and fill those shoes—but they will do it on new and different terms. Here are some of the most important things
What To Expect And How To Adapt To Gen Z In The Workforce
Flexibility is paramount
Like millennials, this generation strongly values flexibility and views it as a make-or-break factor when deciding where to work. The 24/7 connectedness of Generation Z means the line between work and home life is more blurred than ever before. Members of this age group are willing and excited to work hard, but they want to do so under flexible conditions.
For employers, this means it becomes more important than ever to consider non-traditional work schedules and environments like remote work options, less rigid work hours, and ample flex time. 
Consider an office update
With Generation Z, your physical space matters as much as your culture. Like their millennial predecessors, Gen Z suffers when forced to work in tight rows of cubicles under artificial lighting. They flourish in open-concept offices with ample natural light and flexible workspaces. If you did not update your space with the influx of millennial workers, now may be the perfect time to do so.
Also, embrace opportunities to make updates to your technology. Generation Z turns to technology first when doing everyday work and solving problems. Consider technology upgrades with 'smart' capabilities that will increase connectivity, with infrastructure that makes it secure and seamless for employees to work from anywhere. Cloud-based project management apps, digital timesheets, and the like are the norm for this group of workers.
Promote stability and advancement opportunities
This is the generation of young people that saw their parents struggling to climb out of the great recession. While they are entrepreneurial in nature, they crave stability more than their millennial peers. Gen Z seeks job security and approaches their careers pragmatically, more likely to choose a steady paycheck over the excitement of working in an unproven startup.
Its members are averse to debt and want to work hard to achieve financial independence. This makes them great candidates for future leadership roles in a company. As such, they need to see clear pathways to professional advancement in order to stick around. They also need regular feedback; according to an EY survey of 1,400 gen Z individuals, 63% percent of them prefer to receive timely, constructive feedback throughout the year.
Lean on learning
After watching their millennial predecessors crumble under crippling student loan debt, members of Gen Z have been more likely to self-educate or pursue alternatives to the traditional four-year college degree, like online college or self-led coding programs.

This generation is quick to adapt and open to learning new things, so you will not have to hold their hands through training or worry about them pushing back to change. 70% of them say they believe it is more important to be seen as having a curious, open mindset than to have a specific skill set or expertise. In other words, they view the ability and willingness to learn a new skill as more important than having already learned it. 
Embrace a fail-first mentality
Unlike earlier generations that view failure as the enemy, Gen Z accepts that failure as part of the process when trying something new. Instead of outsized worries about whether they will succeed the first time around, these young workers embrace the lessons that come from failing early.

Gen Z professionals prefer work environments where they can bring forth new ideas, so organizations that want to attract this age group should strive for a culture that welcomes and facilitates team input. 
Incorporate a human element
Though technology use is second nature to Generation Z, workers in this demographic crave a face-to-face element to their work interactions. With a childhood spent largely behind screens, they have been described as the 'loneliest generation,' ranking highest in surveys that study the lack of connection. Perhaps that's why more than 90% of Gen Z workers say they prefer to have a human element within their professional teams, either working solely with innovative co-workers or with co-workers and new technologies paired together.

To facilitate this person-to-person collaboration, set team goals in addition to individual goals and check in regularly on their progress. Foster a non-judgmental atmosphere where challenging the status quo is not only accepted but encouraged. Consider implementing assessments that will help you identify each team member's strengths and weaknesses so they can be factored in when delegating responsibilities. 
Move millennials into management
Gen Z workers prefer having managers that most closely mirror them in demographics. 77% of Gen Z said they would prefer a manager from the millennial generation rather than a Gen X-er or a Baby Boomer. While this is a great reason to help millennials rise through your ranks, it also means Gen Z will need some support in bridging the gap with older generations, and you'll need to provide the information and resources to help more tenured staffers adapt to working with Generation Z. Top employers will prioritize finding solutions for successful cross-generational work. 
Employer branding matters even more
While the concept of brand building as a candidate attraction strategy is a newer one in the recruiting world, it is natural and even expected among Gen Z. This is the generation whose members have had a handle on the concept of personal branding from the moment of their first Instagram post.

As an employer, having a strong and well-defined employer brand should take a front seat in your Gen Z recruitment efforts. Lead with the aspects of your company culture that matter most to this demographic (many of which we've covered above) and create materials that are specifically designed to target this audience. Use the platforms that are mostly native to Gen Z, like social media, to communicate that messaging.

Related: Why Showcasing Your Company Culture on Social Media Matters
Adapt To a Changing Workforce With Help From The Staffing Experts
 As the workforce evolves, so too should your approach to attracting the best talent. Let the experts at 4 Corner Resources create a staffing strategy for the modern workplace. Our headhunters will help you define what you are looking for in an ideal candidate, then use our nationwide network and proprietary sourcing methods to narrow down the best talent that meets your unique criteria.

Get a head start on attracting and working with Generation Z by contacting us today.