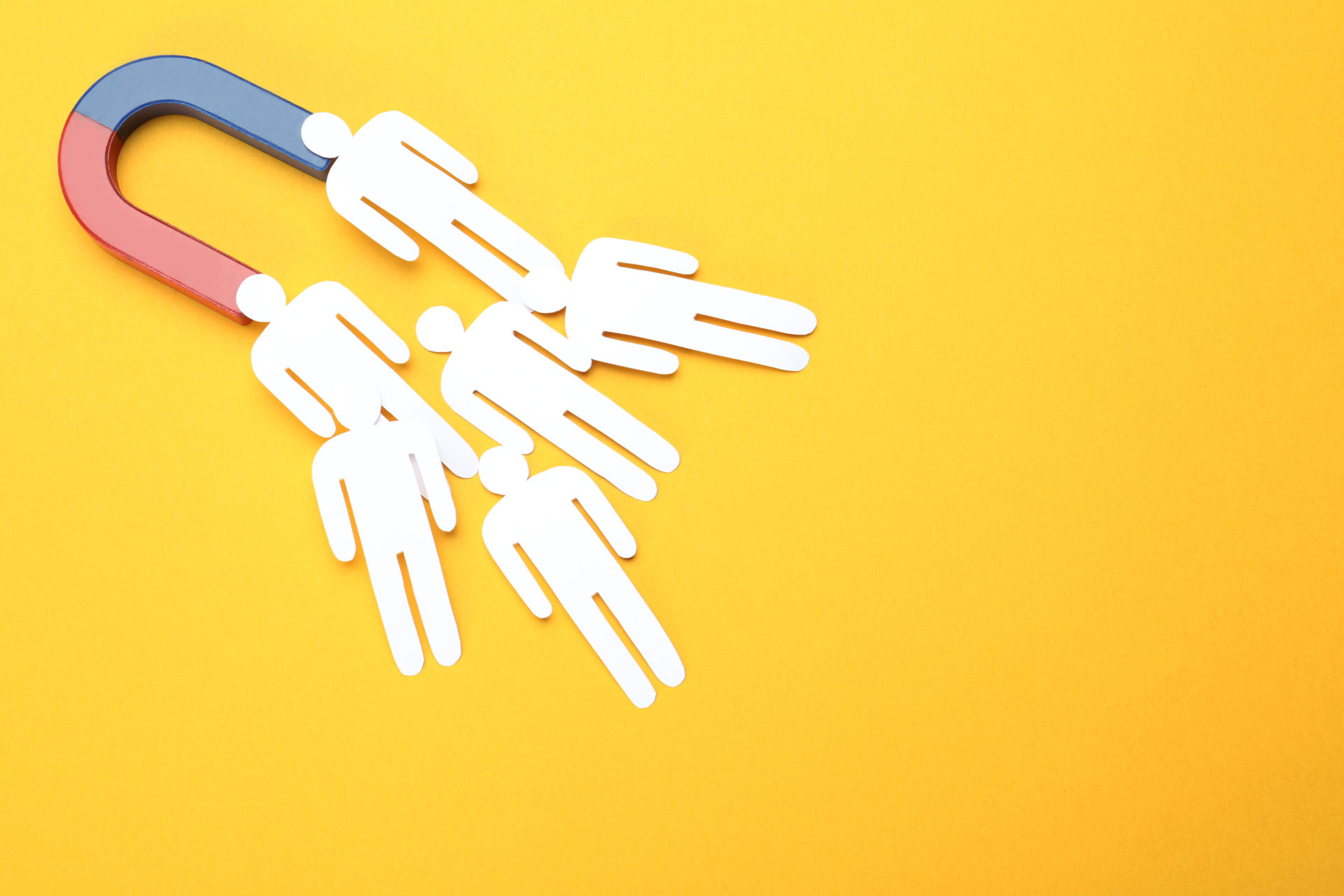 Recruitment marketing is the process of using marketing techniques to promote the benefits of working for your company. It's both a strategy employers can use to reach candidates and a means by which job seekers discover employers.
Learn more about what recruitment marketing is, why it's so important in today's competitive labor market, and examples of how to use it to attract stellar candidates. 
Recruitment Marketing Background
There was a time when job seekers would eagerly await the arrival of the local Sunday newspaper so they could study the open positions in the classified ads and promptly submit their cover letters and resumes. Those days, however, are long gone.
Technology has transformed the way employees make career moves, and today they act more like shoppers purchasing a product. They research potential employers with the same depth that they do while looking for a home, an automobile, and any other significant purchase. Whether they use a smartphone, a tablet, a laptop, or a desktop, prospects are on a mission to find companies they deem an ideal fit. They have a plethora of resources available to learn everything they can about your company before they apply.
Candidates have access to tools like Indeed.com and Glassdoor, which offer insight into a company's typical compensation and benefits, interview process, and culture. Social media forums like LinkedIn, Twitter, and even Facebook are outlets job seekers peruse when determining whether or not to pursue a position.
This means recruiters and employers have to think like marketers, leveraging a variety of strategies and channels to "sell" not just their open positions, but their employer brand. The way to do this is through recruitment marketing that defines who you are as an organization and why a candidate should want to work for you.
What is Recruitment Marketing?
Recruitment marketing is a strategy employers use to publicize job openings, build brand awareness, and persuade candidates to apply for positions.
A company's recruiting and marketing departments once worked separately from one another. Now, because the battle to attract and retain talent is more challenging than ever, professional recruiters and internal human resources departments alike are implementing recruitment marketing strategies.
Just as it is a seller's market in the real estate industry because the inventory of homes for sale is less than the volume of prospective buyers, the job market favors prospective talent since there are millions of positions employers are looking to fill. Considering this, it makes sense that employers have to work harder to reach quality prospects.
Recruitment marketing provides a blueprint for employers to build and showcase their employer brand and enhance brand awareness. Just as it is important for businesses to elevate brand awareness for consumers, it is equally vital to promote the brand to prospective team members. This is why recruitment marketing strategies are created to reach and interest individuals who are actively searching for opportunities, as well as experienced talent who is currently employed.
Related: How to Elevate Your Employer Branding to Attract Top Talent
Why Does Recruitment Marketing Matter?
Traditional recruiting tactics alone are no longer effective. Today's job seekers are just as interested in the culture and mission of the organization they will join–if not more so–than what's offered for compensation and benefits. Salaries and benefits are relevant, of course, but in a competitive marketplace, it is becoming more important for organizations to implement and communicate a meaningful purpose. Simply put, candidates want to know why a company is in business beyond the purpose of making money.
Recruitment marketing also has practical purposes, helping you maximize the visibility of your job listings and get the most out of every dollar you've allocated to talent acquisition. Here are a few key benefits of recruitment marketing.
Reach more candidates
If you want to get your listing in front of as many qualified candidates as possible, you can't rely on simply posting the position to your website and some job boards. You need to actively promote your openings where the right candidates spend time, like on select social media channels. Recruitment marketing can help you determine what those platforms are and where to spend money to expand your reach when it makes sense.
Establish trust in your organization
Today's top candidates are highly selective. They consider more than just money when making the decision about where to work, weighing things like an organization's culture and values heavily. Recruitment marketing helps you convey these important aspects of your company to candidates so that when it's time to accept an offer, working for you is a no-brainer.
Convert candidates into applicants
Earlier we touched on how modern candidates think more like shoppers making a purchase. It's a well-known principle of commerce that it takes multiple touchpoints with a customer before they make a decision to buy. Recruitment marketing helps you make these all-important touchpoints with candidates, inching them closer to buying–or in this case, applying–with each new interaction.
Developing a Recruitment Marketing Strategy
When determining a recruitment marketing strategy, think about your own preferences as a consumer. The internet is an integral part of nearly everyone's lives, and there is stiff competition for your attention and time. What happens when you visit a site and it does not captivate your interest? Chances are, you venture to another site. Perhaps you peruse Facebook, check your favorite sports blog, or click on a YouTube video. Job seekers have the same mentality. If your recruitment marketing is subpar, you will likely lose visitors' interest, and an ideal candidate for your open position may end up on another company's team. This is why it is essential to not only invest in surface-level recruitment marketing, but to also implement an exhilarating recruitment marketing strategy that keeps prospects interested throughout every stage.
Recruitment marketing also allows companies to tap into the passive market; namely candidates who are not actively searching but are open-minded about new opportunities.
Today's candidates prefer, and even expect recruiters to communicate with them in a personalized manner. Recruitment marketing allows companies to deliver a personalized experience that entices prospects at every stage of the hiring process.
How Can Recruitment Marketing Help Employers Connect With Qualified Candidates?
Recruitment marketing is important, but even a clever and engaging campaign will not have a significant impact without an effective employer brand, which includes an employer value proposition.
Attract candidates through employer branding
Your employer brand is your reputation with prospective, current, and even former employees. Employer branding impacts every aspect of your company. Outstanding employer branding helps attract and retain noteworthy talent.
Amid all the competition, prospects want to know why they should join your team over other companies. Multiple studies indicate that employees will not remain with an organization long-term if a healthy salary and benefits package is not accompanied by an inspiring mission and an inviting culture.
When you create a strong employer brand and introduce a creative recruitment marketing strategy, you will attract a high volume of attention from qualified candidates. At this point, it is critical to effectively assess the prospects and build relationships with them. Email drip campaigns are among the ideal ways to initiate relationships that allow you to convert interested job seekers into valuable team members.
Reach appropriate audiences
Recruitment marketing is also valuable because a cookie-cutter approach to finding qualified team members is not ideal. A recent college graduate with minimal professional experience is different than an executive who has climbed the corporate ladder and has extensive leadership skills. They are at different stages of their respective careers, and they do not speak the same language. A well-planned recruitment marketing strategy will pinpoint ways to reach all audiences at every level for your job openings; from an entry-level position all the way to a C-level executive.
Baby Boomers and Millennials have drastically different preferences for consuming information. The industry you are hiring for also determines your recruitment marketing strategy, such as inbound recruitment. Advertising agency professionals, for example, usually have different mindsets than engineers. In most cases, people in the legal field think differently than health care professionals. Recruitment marketing that directly targets your intended audience is more effective than a one-size-fits-all campaign.
Recruitment Marketing Examples
Optimizing your job listings for the search terms candidates in your field are most likely to use, like 'entry-level admin jobs' or 'sales manager jobs [your location]'
Implementing a chatbot that prompts visitors to your Careers page to ask questions or fill out an application
Using a sequence of emails to engage candidates by sharing positive information, like awards you've won or testimonials from some of your happy employees
Using Facebook advertising to extend the reach of your posts to select audiences
Managing your brand's reputation by monitoring and updating sites like Glassdoor and Yelp
Creating videos on YouTube that showcase what it's like to work at your company
These are just a few of the many types of recruitment marketing strategies that can be used to attract candidates.
Key Takeaway
We are an experienced and innovative leader in helping companies like yours find skilled and qualified team members for your vacant positions.
We offer staffing solutions for businesses of all sizes – from startups to SMBs and large corporations throughout the United States. Our knowledge and passion for what we do, and our flexible terms and conditions, set us apart in the world of headhunting and recruiting.
If you need help identifying the right candidates for your vacancies, we welcome the opportunity to connect! We're on standby to help you transform your workforce and find the ideal candidate today!