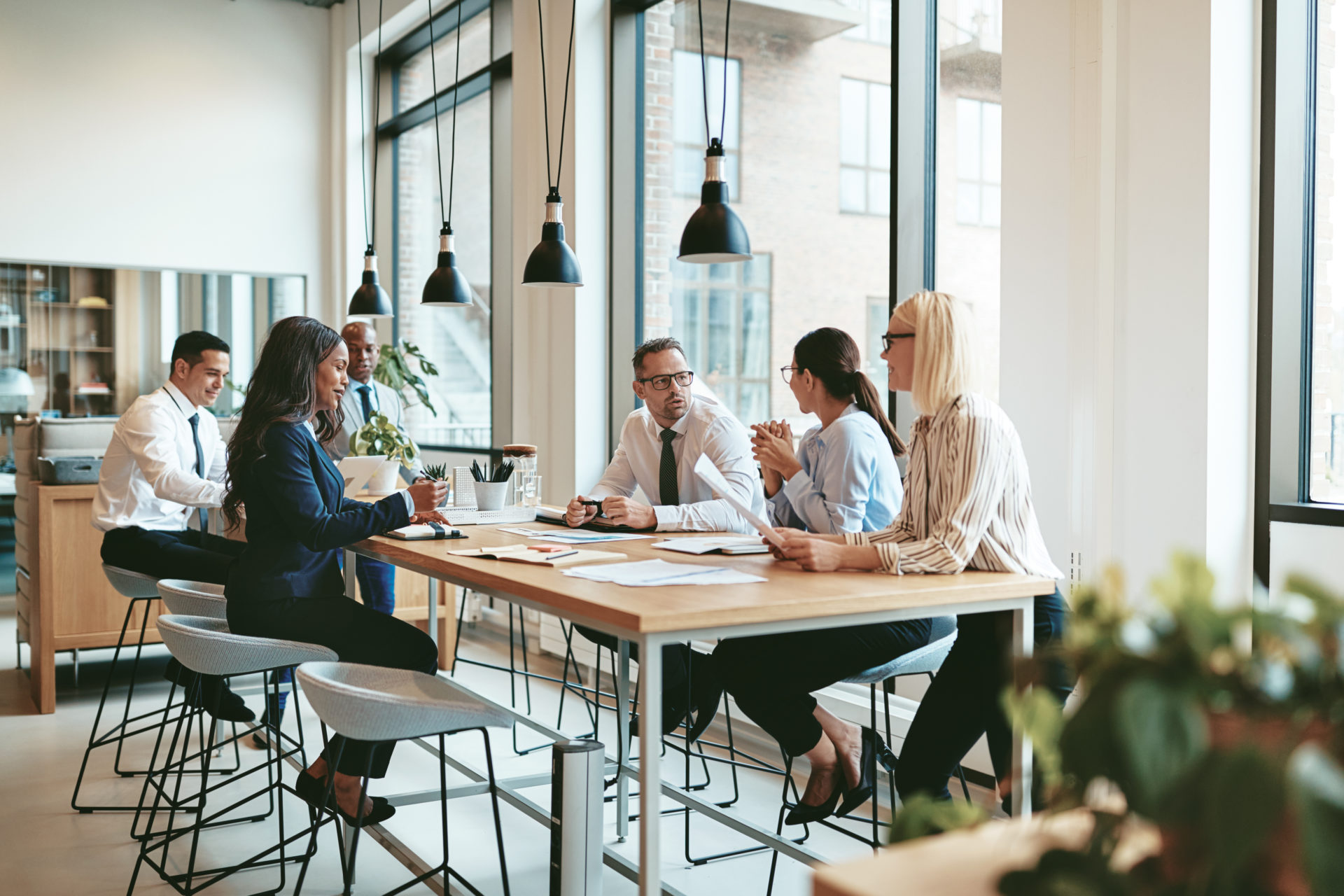 Through our more than 17 years in business, we've seen the pendulum swing widely back and forth between candidate and employer markets several times over. Companies come and go as industries change, technology evolves, and consumer priorities shift. And yet, through it all, a handful of mainstay companies consistently attract and retain the best talent, earning recognition for being some of the best places to work in the world—they are called employers of choice. Trader Joe's, Southwest Airlines, Google, and Marriott are a few examples.
So what exactly is it that sets these companies apart? If we look at them individually, they're quite different in terms of their characteristics and the work they do. Yet each of them could be described as an employer of choice—a term for companies that can hire and retain superior talent through a fantastic culture, attractive benefits, and a reputation for high levels of employee satisfaction.
Here, we're taking a closer look at this unicorn-like category of organizations: what is an employer of choice, how does being one benefit you, and how can you become one to enjoy unmatched access to the best talent available?
What is an Employer of Choice?
Simply put, an employer of choice is a company that candidates, by and large, want to work for. Some of the defining characteristics of employers of choice are strong leadership, competitive pay, engaged workers, meaningful work, and attractive company culture.
There is no one-size-fits-all strategy for becoming an employer of choice. One company's approach may look very different from another's, and yet they can both meet the criteria for the distinction. The overarching theme of becoming an employer of choice is being the best employer you can be for the types of employees you want to attract and retain.
Characteristics of an Employer of Choice
Growth opportunities
Companies that offer plenty of growth opportunities will have an easier time attracting ambitious candidates. Knowing that the organization has the potential to grow can motivate and inspire employees. Candidates are more likely to choose a company where they can stay longer and grow within the organization while learning new skills and furthering their development.
Job security
Employees want to know that a company is financially stable. If there are news stories or rumblings about financial troubles, it might impact job security for current employees and make future candidates less likely to apply.
Appreciation
An employer of choice has a great reputation; a big part is employee satisfaction. Recognition is the easiest and most effective way for a company to boost employees' happiness. Having a good system set up to encourage consistent employee appreciation is a characteristic of an employer of choice.
Related: Unique Employee Recognition Ideas
Meaningful work
Another characteristic of an employer of choice is providing meaningful work opportunities for everyone. Routines are great, but people want to continue learning and trying new things. In addition to job growth, there should be opportunities to rotate jobs, assign cross-functional tasks, or shadow other people to learn more.
Work-life balance
Many studies have shown that employees who feel refreshed are the most productive. Companies that emphasize work-life balance will be able to attract more candidates. People are searching for more flexibility and autonomy. Offer the balance for employees, and you'll see a boost in productivity and longevity.
Related: Innovative Ideas to Promote Work-Life Balance
Positive relationships
Company culture greatly impacts the employees and potential candidates for job openings. People who can connect with their coworkers and have strong relationships will be better at their jobs and more likely to enjoy coming to work every day. This includes having strong leaders that set examples.
Fairness
There must be no reports of anyone being treated unfairly at the company. There should be clear and strong guidelines and equal treatment of all employees. This will help protect your company, teams, and prospective employees.
Access to information and empowerment
Transparency is something employers of choice have in common. Ensure your employees feel empowered in their roles and have the information they need to make good decisions. If there is open communication and access to information, your teams will feel more engaged and see the company's commitment to them.
Community envolvement
Reputation is important for companies. One way to boost your reputation is to become more active in the community. Organize volunteer opportunities, do community outreach, or work with community leaders to find ways to help. Engage your employees in the decision-making and set up a committee to help coordinate activities.
Have fun!
People spend at least 40 hours a week at work, so some of it should be enjoyable. Find small ways to have fun at the office. Activities can boost employee engagement and help them get to know their coworkers simultaneously.
Benefits of Being an Employer of Choice
Being an employer of choice comes with many benefits, most of which pertain to hiring and retention. Here are some of the biggest arguments for becoming an employer of choice.
Higher retention
Workers at employer-of-choice organizations are engaged in their jobs and feel invested in the company's success, which breeds loyalty. That sense of loyalty and connection to their employer means they're less likely to jump ship than someone who's disengaged with their work.
Related: Highly Effective Strategies for Employee Retention
Ability to compete on factors other than salary
Glassdoor's Informed Candidate Survey found that budget constraints and difficulty competing with other firms' compensation packages were two of the biggest challenges companies faced when recruiting the right talent. Although offering competitive salaries is an important characteristic of employers of choice, strengthening your company in other areas (which we'll discuss briefly) can help you recruit strong talent even when you can't match your competitors on pay.
Ease of hiring
That same Glassdoor survey also found that 76% of hiring decision-makers have trouble connecting with and hiring passive job seekers, who are known for being some of the most attractive candidates. When you're an employer of choice, you don't have to spend as much time or money-making inroads with great candidates. People already know your company as a great place to get hired, so your reputation does much of the recruiting work for you.
How to Become an Employer of Choice
Pay workers fairly
Competitive salaries are one of the most useful and direct tools for attracting top talent. When you pay your workers fairly, they feel more valued, trust the organization, and are more engaged with their jobs. It's a simple but important step to becoming an employer of choice.
It's important to note that there's a distinction between "high" and "fair" regarding salaries. In a PayScale study of more than half a million workers, employee satisfaction was more influenced by the worker's perception that they were paid fairly rather than the actual amount of their compensation. The perception of fair pay comes down to two main factors: being paid a wage that's on par with the market rate for the work being done and a wage that's comparable to what other workers at a similar level are being paid in the organization.
The basics are a must – health insurance, retirement, paid time off, and sick leave. Other things are quickly becoming musts – flexible work, family leave.
Related: Hiring & Salary Guide
Respect and empower employees
Employers of choice foster workplaces where employees are given clear direction on what's expected of them and feel confident in their ability to make decisions to meet those expectations. Employees are treated equally regardless of their job title or level of seniority, without the perception that anyone is given preferential treatment.
You can foster a culture of empowerment by awarding recognition where it's deserved and giving clear and constructive feedback when expectations aren't being met.
Related: Empowerment in the Workplace: What it is and Why it Matters
Provide opportunities for growth
Investing in employee development, like training and industry conferences, helps boost retention and promote innovation. But formal programs like these aren't the only way you can help employees grow and thrive within the company.
Offer workers the chance to get involved with activities that go beyond their normal scope of work, like speaking at company events, being involved in focus groups, or taking part in candidate interviews. All of these things engage workers on a different level than their primary job function, extending their connection with the company and contributing to employer-of-choice status.
Be transparent
Now more than ever, employees crave transparency. According to the NeuroLeadership Institute³, which studies the relationship between brain science and leadership effectiveness, the brain perceives ambiguity as inherently threatening. When employees feel a sense of ambiguousness—be it about their job security, the company's direction, or their manager's decisions—they trust their colleagues less, feel less loyalty to the company, and are less motivated to perform.
The solution is to create transparency by keeping employees informed. Employers of choice share information openly and frequently with employees, from the company's financial performance to the reasoning behind organizational decisions to its long-term growth strategy. Rather than feeling like the "last to know" when it comes to workplace news, they feel like an active, engaged team member, which makes them want to stick around.
Be a leader, not a follower
Google is often held up as a shining example of an employer of choice. One of its defining characteristics as a company is that it's not afraid to go its way, even if that means taking a different path from everyone else. For an illustration of this, take a look at X Development⁴, the so-called "moonshot factory" of Google's parent company, Alphabet, tasked with focusing on radical technologies that will literally change the world.
While not all employers of choice are shooting rockets into space or solving world hunger, they all do share the common thread of fearlessly paving their own way independent of what the rest of the industry or market is focused on.
Focus on the benefits that matter
Basic benefits like health insurance, employer-sponsored retirement, paid vacation time, and sick leave are given to employers of choice. Other in-demand benefits like flexible work schedules and paid family leave are also becoming must-haves.
What's interesting to note about employers of choice is that there's often little flash in their list of perks. While things like an onsite beer fridge or Friday afternoon ping pong tournaments are fun and trendy, they do little to build real meaning, which is a core characteristic of
employer-of-choice brands. Instead of catering to flavor-of-the-week perks, employers of choice focus on the benefits that actually matter and bring measurable value to the employees they wish to attract.
Give back
The most engaged employees feel a sense of connection with their organizations that goes beyond everyday job duties. In a survey of 1,000 workers⁵ on charitable giving, 37% of employees said they felt more connected to their company culture when they had an opportunity to participate in charitable events through their workplace. Fifty-seven percent said such events made for happier teams.
Employers of choice have missions that are driven by more than just profits; rather, their efforts contribute to a greater purpose that benefits the community or society as a whole.
Partner with a Team of Experts
If you want to be the best, you have to work with the best. That includes your employees and the partners you choose to aid in your recruitment efforts. Our team has over a decade of experience helping companies build strategic, growth-minded recruiting programs that produce a consistent pipeline of the best talent.
Whether you're a small business looking to hire for one or two key positions or an enterprise-level organization needing a hiring strategy to see you through a rapid growth phase, we can help you hire the skilled, dependable workers you need to achieve your goals.
Schedule your free consultation today to learn more about what a professional recruiting partner can do for your organization.
FAQs
How can a company improve its reputation as an employer of choice?
Companies need to make serious investments in their current employees to become an employer of choice. Boosting employee satisfaction and engagement and offering strong pay and benefits packages are essential. It takes time and consistency.
How should a company communicate its employer of choice status to potential candidates?
Employer branding is important when looking to attract top talent. Use employee ambassadors to share their experiences on social media and the company website. Highlight company culture and values and let them speak for you.
What should companies do to continue the employer-of-choice status for the long term?
Companies can keep their employer-of-choice status by continuing to put a high value on their employees. Stay competitive with pay and benefits packages and revisit employee satisfaction measurements often. Ask for feedback and stay engaged with your current employees.