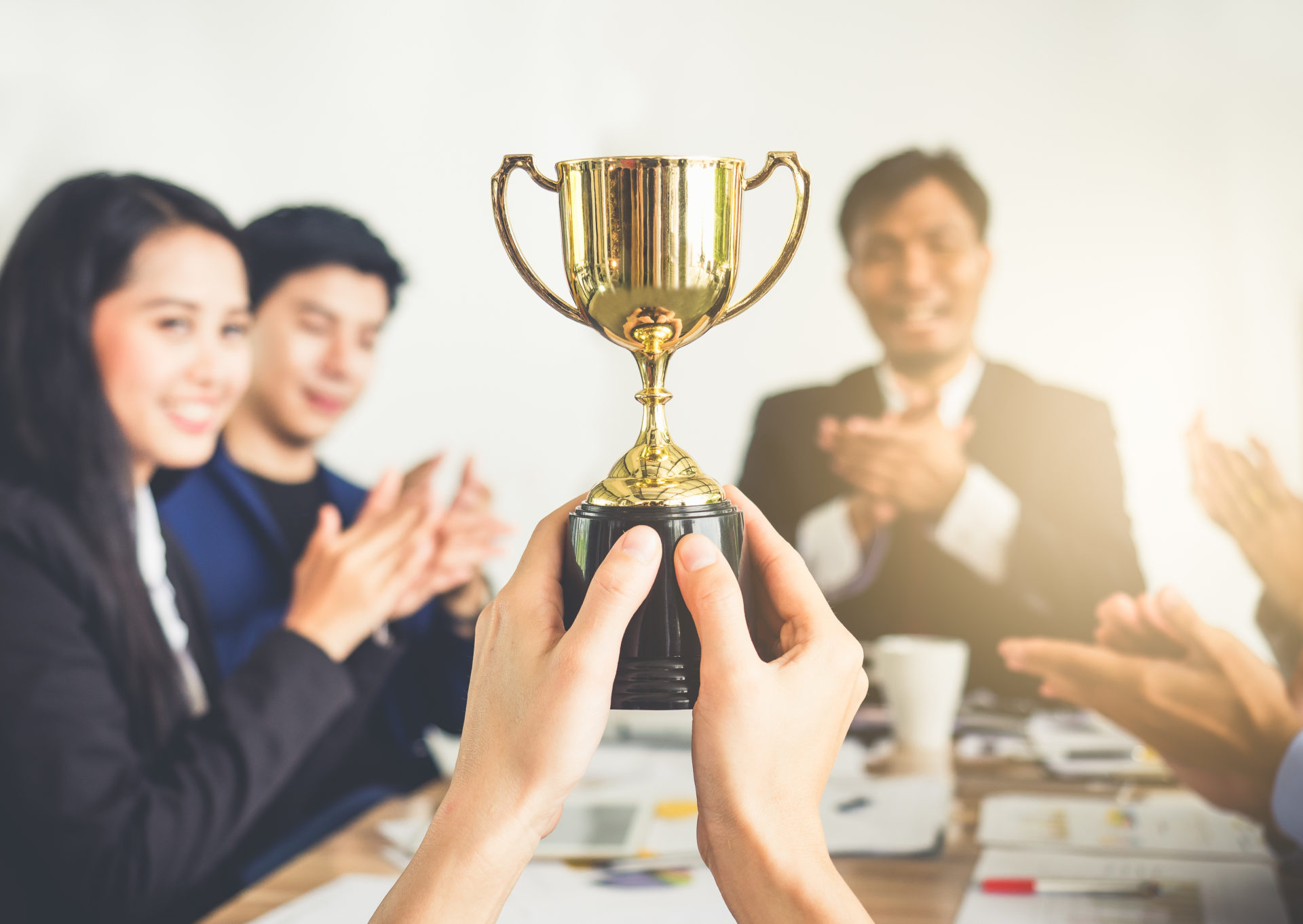 Companies are always looking for ways to retain their top performers while increasing the growth of the organization and boosting employee productivity. Good employees who are engaged and happy at work will be more motivated and productive and less likely to become discouraged and disengaged and seek work elsewhere. How do you keep your top talent engaged, happy, and producing? One way is through employee recognition.
Why is Employee Recognition Important?
Studies show that as many as two-thirds of employees¹ feel unappreciated in the workplace, and many employees believe they were not properly recognized for the extra hard work they put in. This is why an employee recognition program is so important. Recognizing your employees for a job well done is an effective way to show them how much you value the time and effort they give to you and to the company. Also, employees will be more apt to contribute to the company's success if they believe they will be recognized for their work.
What does a successful employee appreciation program look like? The answer is different for every company. What works for one might not be successful for another. The important thing is that recognition of your employees should be meaningful, relevant, and specific.
Another important part of a recognition program is timeliness. If you wait until your employee's annual performance review to recognize exceptional work they've done, it's too late. To keep employees motivated and engaged, give out employee recognition when it's earned. As regular recognition becomes part of the culture in your organization, it will stimulate employee happiness and engagement.
Here is a list of 20 employee recognition ideas to motivate and engage your employees.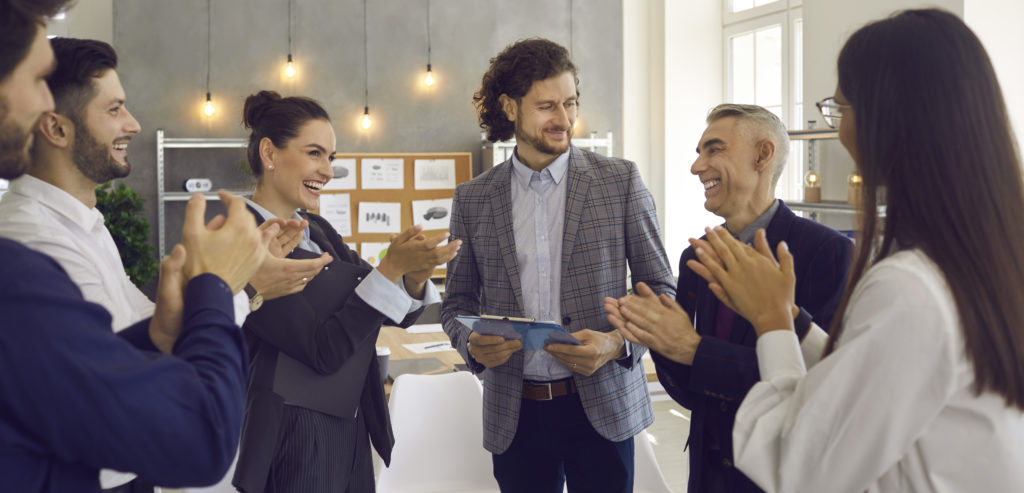 Employee Recognition Ideas for Individuals
1. Positive feedback
This is a great, simple, and effective way to show employees that you think they're doing a good job. Don't hesitate to tell them when they do exceptional work. Words are powerful! They can either build you up or tear you down. Choose to build up your employees with a good word on a regular basis.
2. Notes and cards
These are small gestures like a quick sticky note on their desk, a card, an email, or an instant message. This type of recognition is easy to do and shows how much you value your employees without a lot of time and effort on your part.
3. Monetary awards
Money can be a great motivator. Giving out a gift card for $25, $50, or $100 is a great way to show how much you appreciate your employees for things like doing quality work, taking the lead on crucial projects, showing initiative, etc. This incentive will drive your employees to be more engaged and put in extra effort, doing a better job for you and the company in the process.
4. Public recognition
Some employees like to be singled out, as in a team meeting or a town hall meeting, for the exceptional work they've done. They feel appreciated, and others can be inspired by them to work harder. So take a minute or two to put the spotlight on them and let them shine. They'll thank you by giving you 110% when they get back to their desk.
5. Lunch
For those employees who don't like the spotlight and are uncomfortable with public recognition, taking them to lunch one-on-one can make them feel special without all the eyes and attention on them. You can take the opportunity to share with them how much you appreciate their hard work in a setting where they feel comfortable.
6. Free education
Allow your employees to advance their careers by paying for their continued education. That could be in the form of night classes at the local university, a conference, a seminar, an online course, tuition reimbursement, or allowing them to cross-train in another department to develop new skills.
Related: How To Invest In Employee Development
7. Company gifts
Employees love mugs, hoodies, cups, and t-shirts with the company logo on them. They're good, practical gifts and they are a great way for you and the employees to show pride in the company. Giving your employees a choice of which gift they want will make them feel that much more special.
8. Celebrate birthdays
Making your employees feel appreciated on their special day goes a long way toward keeping them happy and productive. Go all out with a cake, singing Happy Birthday, decorating their office or cubicle with balloons and streamers, etc. Present them with a Birthday card signed by the whole team. A gift card to a restaurant or their favorite store will be icing on the cake. This type of recognition can also be used for weddings, anniversaries, job anniversaries, etc.
9. Surprise party
Surprising an employee on their birthday is one thing, but surprising a top performer unexpectedly can have an even greater impact. Find out what their favorite snacks or desserts are and arrange a mandatory "meeting" where everything is prepared for them.
10. Ask for help
Your employees will appreciate you coming to them for help or advice. It shows confidence in them and makes them feel valued. It might not be a tangible recognition, but it works.
11. Special rewards
For those willing and able to invest extra money into employee recognition for your top performers, you can consider extremely good rewards like a cruise, skydiving, or a weekend in Vegas.
12. Use social media
Everyone spends time on social media these days. Praising employee achievements on social media sites or the company's website will reach a lot of people, making your employee feel special. Let everyone know how well they did, how much you appreciate the hard work they put in, and how they earned the recognition. Your employees will most likely share their social recognition posts with their followers, serving as brand ambassadors that put your company in a good light.
13. Time off
If possible, granting employees time off work for a project well done is a great way to say thanks. Everyone loves a free, paid day off, especially when it comes as a surprise.
14. Employee wall of fame
The nice thing about posting photos of employees on the wall in recognition of accomplishments is that your team will see them every day. These are constant reminders of how going the extra mile is appreciated. Besides, most people like to see themselves up on the wall. It's a great incentive for those who want to get their photo up there.
15. Peer appreciation
A great way to promote healthy relationships on your team is to establish a peer recognition program. Recognition from a peer can sometimes carry more weight than one from a supervisor. Peers work closer together than an employee does with their manager. Most of the time, they know better who is putting in extra hours and lots of effort on a project. Peer-to-peer recognition promotes a healthy and enthusiastic workplace.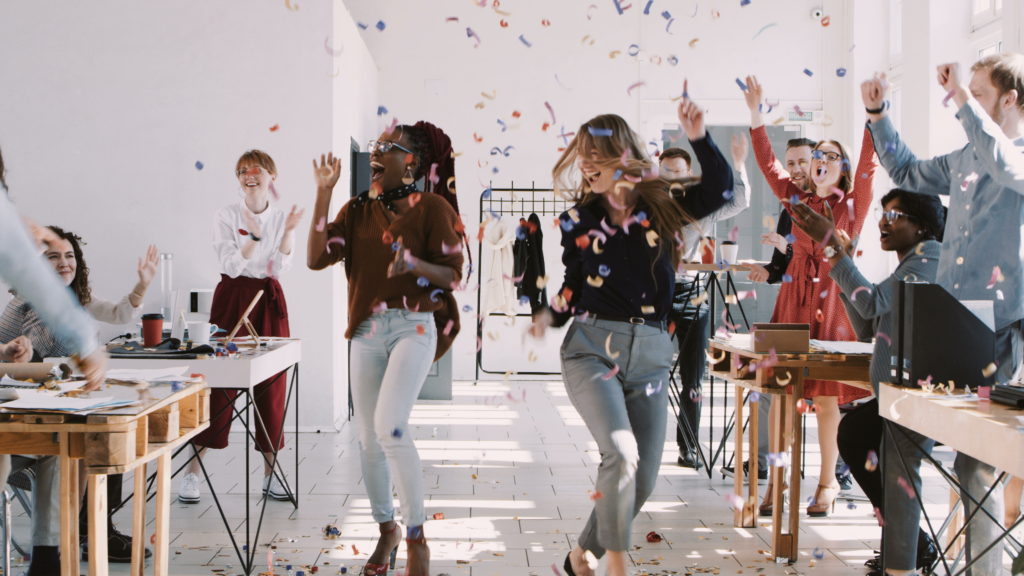 Employee Recognition Ideas for Your Team
16. Catered meals
Who doesn't like a catered lunch? It's a good way to relax and have fun with your employees and let them feel like they've earned something. You don't even have to do lunch. Setting up a snack bar or a popcorn stand are a few other ways to celebrate employee efforts with food.
17. Sponsored volunteer day
If your company is passionate about giving back to the community, you can sponsor a volunteer day where your team can help out at an animal shelter or a soup kitchen.
18. Off-site team building
Take your team to an amusement park or the zoo or the aquarium for the day. Mini golf or museums are other options. If you can, what about a team trip to the Caribbean for the weekend? A relaxing, casual trip out with your team will build relationships and foster a sense of teamwork.
19. Wellness day
Wellness in the workplace is a popular topic right now. One way to reward employees is to offer self-care activities in the office, such as on-site massages, mindfulness sessions, or fitness classes for your team.
20. Virtual party
With so many remote workers these days, a virtual party for those employees who aren't in the office every day is a great way to include them. Get together on a Zoom or Slack call. Send gift cards in advance for pizza, too, so they can eat while they enjoy the virtual party. Or just have popcorn or other treats sent to their homes.
Related: Virtual Team Building Activities
Benefits of Showing Employee Appreciation
Employee recognition is an excellent tool that every company should be taking advantage of. Even though some of these employee recognition ideas are easy to do and might seem insignificant, each one can have a big impact on your employees and your team. It's sometimes the littlest things that motivate employees and keep them engaged. Incorporating a variety of recognition ideas, such as these, will make the gesture more meaningful. Your employees will show you how much they appreciate you recognizing the work they've done by working harder, faster, and smarter, and they'll do it with a better attitude. This benefits you, the company, and your employees.
Related: Employee Incentive Programs to Motivate and Engage Your Staff
Connect with Professional Staffing Experts in Your Field
Let our team of headhunters help you build an engaged and motivated workforce! We take the time to get to know our clients so we can identify candidates who have the right mix of skills and personality traits to be successful at your company. Our staffing experts will source and screen on your behalf, so you have more time to focus on other important tasks.
Learn more about the services we offer by scheduling your free consultation.