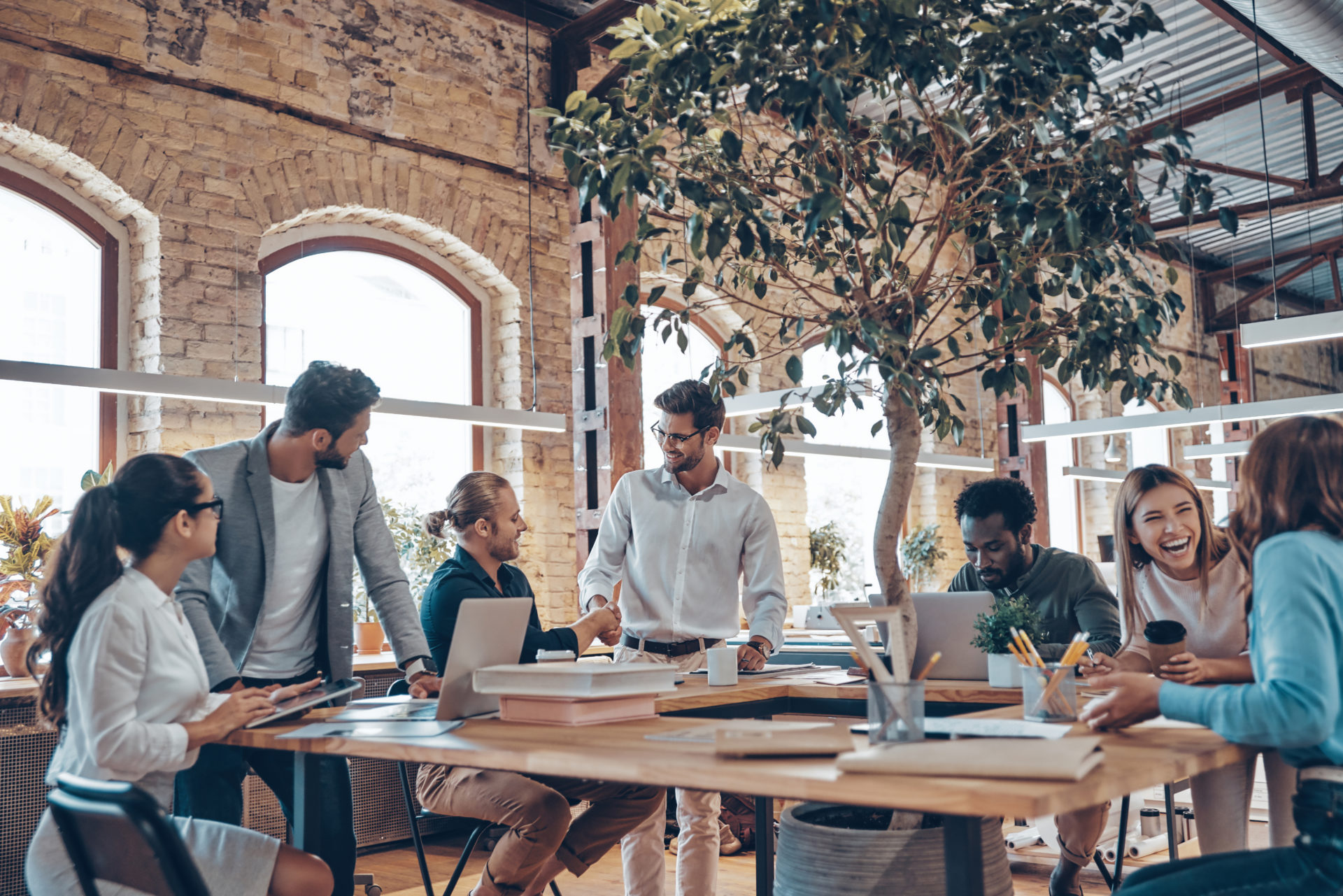 In many ways, it feels like the pandemic is behind us, but the labor market is still feeling its crippling effects. Despite high unemployment numbers, companies across all industries report difficulty finding and hiring competent workers.
At a time when hiring is such a challenge, it's important to make retaining your top employees a key priority.
What is Employee Retention?
Employee retention refers to a strategic set of actions taken by an organization to keep its employees motivated and engaged, the ultimate goal is to keep them on the job and focussed. Motivated staff are more productive at work, while engaged employees are more likely to stay at their place of employment longer; together, both of these things spell positive outcomes for any business.

Impacts Retention Has On Organizations
First and foremost, losing employees is costly. Voluntary turnover comes with a price tag of about $1 trillion a year for U.S. businesses, according to Gallup¹. For an organization with 100 workers, that shakes out to anywhere between $660,000 and $2.6 million per year in costs associated with lost productivity, stymied innovation, and recruiting and hiring replacement workers. Taking steps to mitigate turnover can come with a big financial upside.
Second, employees who like their jobs are good for both morale and business output. A survey of studies² that covered nearly two million employees across 82,000 business units found that higher employee wellbeing is strongly associated with both higher individual productivity and overall firm performance. In other words, it pays to keep your employees happy.
Based on its research, the Society for Human Resource Management identifies five factors³ that are the biggest contributors to job satisfaction. They are:
Respectful treatment of all employees at all levels
Compensation
Trust between employees and senior management
Job security
Opportunities for employees to use their skills and abilities at work
It's with these factors in mind and our team's extensive recruiting expertise that we've outlined 10 top strategies for retaining your best and brightest workers.
Decrease Your Employee Turnover With These Powerful Strategies
1. Pay Your Employees Fairly
It's a hot topic for employers and employees alike: money. While it's far from the only factor that influences a staffer's decision to stick around, it's definitely a major one.
If you want to retain top talent, you'll need to account for two aspects of the pay equation: equity and raises. Regularly evaluate your base salaries and assess how they stack up, both in your industry and your geographical area, and make adjustments as needed to stay competitive. With raises, be prepared to offer more than just the annual cost-of-living adjustment. Performance-based salary increases can help show your best employees that you recognize their value and are willing to invest in them.
2. Offer High-Quality Benefits
The pandemic has cast a spotlight on employer benefits packages and their usefulness to employees, forcing many organizations to reassess the services they do or do not offer; along with how they compare with what employees actually need. Programs that serve employees' mental well-being in addition to their physical care, for example, were particularly sought after at the height of lockdown. Demand for virtual services is also on the rise.
The best employees want to work for companies whose benefits do more than just check a box. Retain them with high-quality health, retirement, and wellness benefits that are aligned with their lives and needs.
Related: Attract Top Candidates With These 11 In-Demand Perks and Benefits
3. Be Transparent
Gone are the days of guarding insider information close to the vest. Today, such practices make employees feel distrustful and wary. Transparency, on the other hand, is essential to create a culture of trust, so much so that the workplace thought leaders at Slack⁴ called it "the new gold standard" for companies looking to succeed in our interconnected world.
When it comes to employee retention, transparency means the open sharing of information between company executives, managers and their reports, with accountability at all levels.
4. Promote from Within
Does your corporate ladder provide ample opportunities for advancement? In a survey⁵ of more than 3,000 workers, employees said a lack thereof was their number one reason for looking elsewhere for a new job.
To help curb the appeal of outside job openings, map a clear upward trajectory for ambitious employees within your organization. Prioritize internal promotions and transfers before seeking external candidates when you have a position to fill, and offer mentorship opportunities that will help younger team members envision their long-term future with your company.
5. Offer Cross-Training and Upskilling Opportunities
Ongoing professional development goes hand in hand with promoting from within. It's an especially worthwhile pursuit for smaller companies that have a more limited range of upper-level positions available–and therefore fewer promotion opportunities–than larger organizations.
Providing such opportunities not only demonstrates an investment in your employees' continued tenure with your organization, it's also a proven strategy for boosting engagement. According to Gallup⁶, employee development is one of the seven critical stages of the employee journey that contributes to strong engagement.
6. Provide Clear Feedback
Constructive feedback sets expectations and helps employees grow, which is necessary for their continued success within a company. What's more, it helps address any performance challenges before they become an issue that will cause an employee to leave. And yet, providing clear, direct, ongoing coaching is an area where many organizations fall short.
Keep your top performers on the job–and help others grow into their full potential–by setting regular check-ins for assessing performance, providing feedback and setting future goals.
Related: 10 Tips for Conducting Successful Employee Performance Reviews
7. Give Recognition
It may seem like a small thing, but sincere recognition for a job well done goes a long way to keep employees satisfied in their roles. A survey⁷ of 1,500 workers found that 82% of them were happier when they received professional recognition, while 63% of those who received recognition at work said they were very unlikely to look for a new job in the next three to six months.
8. Allow for Flexibility
With millions of employees suddenly forced to cover work, childcare. and personal responsibilities simultaneously, Covid-19 has brought the need for flexibility to the forefront in the American workplace. According to a survey⁸ by Deloitte, nearly all professionals–94% of them–said they benefit from workplace flexibility, repairing benefits like lowered stress levels, improved mental health, and a better balance between work life and personal life.
Flexible options, like non-fixed work hours or the ability to work from home at least occasionally, are no longer a nice-to-have if you want to keep your best employees on board. For many top performers, flexibility is non-negotiable.
9. Build a Strong Culture
A strong workplace culture helps employees thrive. Not only that, it can cement the firm as a positive element in its workers' lives.
In terms of retention, the bigger danger is letting a toxic workplace culture run rampant. A negative culture leads to unhappy, disengaged staff members, sub-par work, and higher turnover. What's more, it makes it all the more difficult to recruit new employees that will stick around.
Related: 7 Reasons Why Culture Fit is Important for Your Hiring Strategy
10. Recruit to Retain
So far we've talked about strategies to retain workers once they're already on your payroll, but the best employee retention strategies start before that, with recruiting. By recruiting candidates who are a precise fit for a role, they're more likely to excel in their jobs and remain with the company longer. Thus, it's important not to let urgency to fill a role overcome the need for a strong fit.
Build A Recruiting Strategy That Fosters Retention With 4 Corner Resources
Retaining your best employees starts before their first day on the job. It should be a consideration in every phase of hiring, from writing the job description to screening prospective candidates. We want to be your partners in long-term staffing success, helping you attract highly qualified, motivated workers who will stand the test of time. Start the conversation about your company's hiring needs by filling out our contact form today.
---
https://www.gallup.com/workplace/247391/fixable-problem-costs-businesses-trillion.aspx
https://blogs.lse.ac.uk/businessreview/2019/07/15/happy-employees-and-their-impact-on-firm-performance/
https://www.shrm.org/resourcesandtools/tools-and-samples/toolkits/pages/managingforemployeeretention.aspx
https://slack.com/blog/collaboration/transparency-in-business-company-evolution
https://www.shrm.org/hr-today/news/hr-news/pages/lackofcareeradvancement.aspx
https://www.gallup.com/workplace/323573/employee-experience-and-workplace-culture.aspx#ite-323588
https://www.surveymonkey.com/curiosity/employee-recognition-and-retention/
https://www2.deloitte.com/us/en/pages/about-deloitte/articles/workplace-flexibility-survey.html