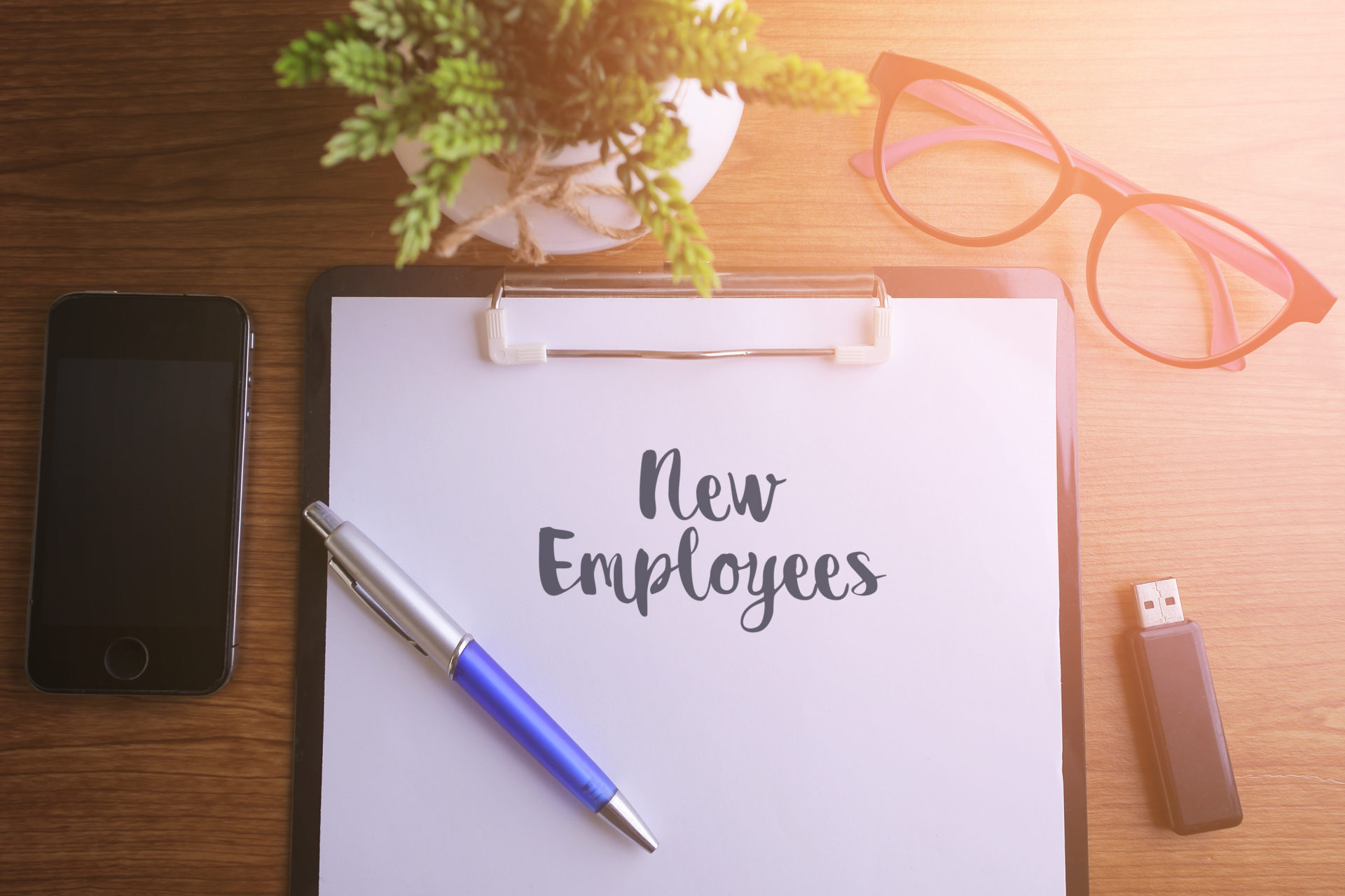 After the interview process is complete, you've made an offer to the top candidate, and they've accepted the job, what's the next step? Hiring a new employee and onboarding them involves many details that will need to be worked out. You'll want to make the onboarding experience pleasant and relatively seamless for you and your new recruit. If done properly, the onboarding steps can help assimilate a new hire faster, and the employee likely will become a productive part of the team much sooner! Here is a new hire checklist that can assist you in the process!
Follow These Steps To Seamlessly Integrate New Employees
Step 1: Complete all new hire documents
The forms your new hire will need to complete will vary from state-to-state, country-to-country, or if the employee is in another state or country and will be working remotely. The basic forms include the W-4 employee's filing status form (W-9 form for contractors), the I-9 Employment Eligibility Verification form, the State Tax Withholding form, insurance forms, and anti-harassment documentation.
Your company might also require a new hire to complete non-disclosure and non-compete agreements, which restrict what a new employee can say or do under certain scenarios to prevent them from revealing certain information about your company to competitors or using proprietary information to compete with your company.
Other commonly used forms are alcohol and/or drug test consent agreements, security and confidentiality agreements, emergency contacts, and medical history and food allergy forms.
The HR department will also run a background check on a new hire prior to final acceptance for many positions to ensure the safety and security of clients and colleagues.
Step 2: First day checklist
You'll want to make sure your new hire knows the workplace address, the start date, any parking arrangements, and the start time in advance of their first day. Your new employee should also be aware of the dress code, including things like tattoos, jewelry, shoes, etc.
Discuss the company culture and how your new hire is expected to act at work, as well as how others in the workplace should behave. Also, go over the disciplinary policy. Any equipment needed specific to the job like tools, safety gear, laptop, etc, should be available on the first day, so take care of these beforehand. Let your new recruit know what to expect on day one, including things like workplace tours, facility tours, introductions, and training.
Set up employee computer, software, and account access
On day one, your new hire should have the proper login credentials for all equipment and software they will need access to. Clearly state the guidelines for using company computers, Internet and email access, copiers, and other office equipment. Many jobs require a training period to bring the employee up to speed. Make sure the new hire is scheduled for relevant training programs, such as learning work-related software. Go over your company IT rules and procedures with them as well. Make sure to add your new employee to all relevant email groups, so they don't miss any essential correspondence. If you use scheduling software, add them to it and make sure they can access it.
Create an onboarding packet
An easy way not to miss anything your new hire will need is to present them with an onboarding packet when they show up on the first day. What to add to the packet will vary depending on the job function, industry, location, etc., but might include a company badge, a key card for any restricted access in the building they will need, a name tag, a uniform, headgear, footwear, and any other safety items needed. If applicable, the packet can contain keys, passcodes, alarm codes, and more. Include in the packet a welcome letter, essential contact names, and numbers.
Show your new hire around
Show your new recruit their desk or workstation and familiarize them with the space they will be working in. Take them around the workplace and let them know where the restrooms, break areas, coffee machine, kitchen, and/or the cafeteria are. If needed, show them the storage rooms, supplies, offices, and any other locations that will be relevant to their day-to-day duties.
New hire introductions
Don't forget to Introduce your new employee to the team and to all managers, supervisors, and other leaders. You might even schedule a welcome lunch or dinner for them.
Clearly state job responsibilities
Review the job description and the responsibilities of the position with your new employee. Let them know what they will start doing on the first day, as well as future projects or things they should plan to work toward. Explain the normal working hours, even though they should already know them. State the importance of arriving on time and any company expectations on overtime, weekends, etc. Go over with them how their job fits into the big picture for the company. Discuss policies for time off, sick time, holidays, vacation, and other policies.
Discuss performance tracking
Let your new hire know the performance metrics that you will be tracking so they are aware of what is expected. Schedule weekly or monthly meetings with them to keep them engaged and on track. A new employee who feels lost or overwhelmed will be searching job boards during their free time.
Benefits
Your new hire should have either received a benefits package or discussed benefits in the hiring process, but it's good to go over them again to avoid any confusion over what is and isn't covered. Things you'll want to discuss with your new employee include life and health insurance, a mobile plan, company car plan, retirement plan, disability insurance, wellness benefits, and tuition reimbursement.
Step 3: One week check
A critical part of the onboarding process is to check in with your new hire after the first week. Make sure they are assimilating into the company culture and becoming a productive member of the team. Sit down with them one-on-one and clearly restate expectations and short-term goals. Elicit feedback from your new hire on the job, goals, and the company. Address any red flags that might have come up. If you haven't already, now is the time to get your new hire into training. An important aspect of keeping your new hire engaged is equipping them with the tools to do their job properly. Don't overwhelm them, though. Make sure the work and training you assign are doable.
This is also a good time to plan a social event, such as happy-hour drinks or lunch, to help build relationships between your new hire and the rest of the team.
Having your new hire complete a short survey at this time regarding their onboarding experience can help you identify areas that need improvement, as well as show that your new employee's opinion matters.
Step 4: One month check
The next important milestone to integrating your new employee into the team and the position is to have a one-month check-in. You want to ensure your new hire is comfortable, happy, and engaged. Review their contributions over the first month and give insightful, encouraging feedback. Communicate clearly what they are supposed to be doing. Let them know if they are doing a great job, and tactfully tell them about areas they might need improvement on without discouraging them.
Step 5: Three to six-month check
Check in with your employee again within three to six months, depending on the employee and the position. This is the time to schedule a comprehensive evaluation of your new hire's performance. Review the performance objectives and job description with the employee and adjust goals as needed to keep the employee on a path to success within the company.
Step 6: First-year check
Meet with your employee for a formal one-year review. Recognize any achievements they've made. If the employee is performing at or above expected levels by the end of the first year, then they are typically happy and engaged and aren't looking to go somewhere else. If not, discuss ways to improve and get them back on track. Make sure your employee is satisfied with the company, the position, the team, etc. The first-year point is generally where on-the-job training transitions to continuous development. Your new hire is now well on their way to becoming a seasoned employee.
The quicker you can acclimate your new hire to their new environment, the quicker they will become a productive member of the team. Studies show that 30% of new employees leave their job within the first six months¹. After spending weeks or months in the recruiting process, the last thing you want is for your new employee to quit months later. The reason most people give for leaving so quickly is poor onboarding. Companies are not paying enough attention to integrating new hires into the company and the position by giving them proper training.
Let Us Help You With Your Onboarding Process
With this new hire checklist, you can help keep your new recruit engaged and happy from the very beginning by making sure they have a clear understanding of their responsibilities and what is expected of them. They'll have a better feel for the company, the management, the culture, and the team they work with. Struggling to find the perfect employee? 4 Corner Resources is here to help! Contact us today to see how we can help you find the new hire of your dreams.
https://www.yeself.com/2020/10/16/why-do-new-hires-quit-their-job-so-quickly-they-lack-training-and-acknowledgement/#:~:text=They%20lack%20training%20and%20acknowledgement,-October%2016%2C%202020&text=30%20percent%20of%20new%20hires,within%20the%20first%20six%20months.&text=According%20to%20BambooHR's%20survey%2C%20about,from%20a%20poor%20onboarding%20process.