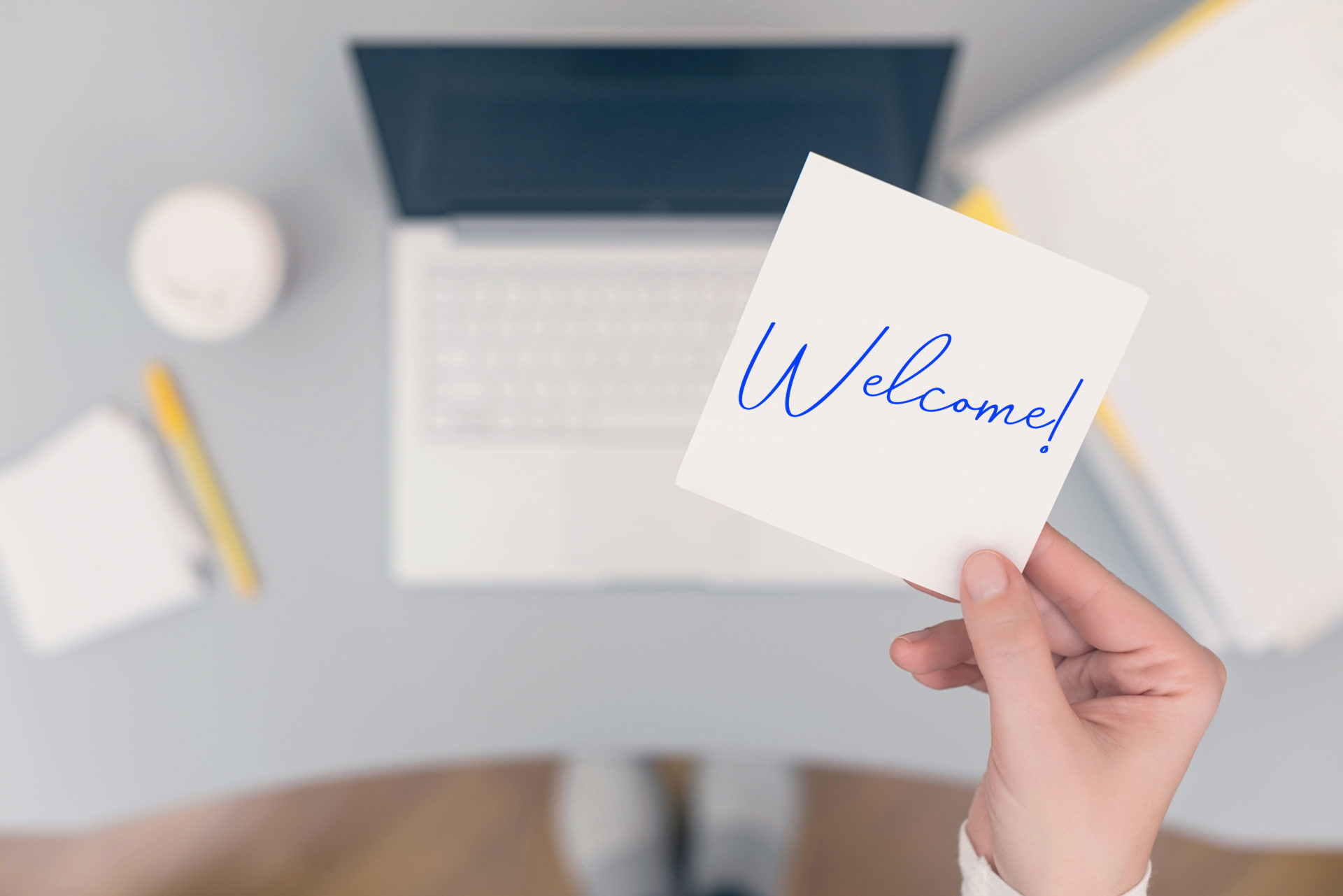 An employee welcome letter sets a positive tone for your new hire's first day on the job while offering helpful information to get them off to a strong start. It may seem like a small gesture, but it's exactly the kind of detail that organizations with an excellent culture obsess over. If your company were a person, your new employee welcome letter would be their firm but a friendly handshake.
So, let's dive into some of the reasons for drafting a new hire welcome letter and then cover some tips to help you write one that makes a great first impression.
Why Write a New Employee Welcome Letter?
It's a little thing that goes a long way toward making new hires feel at home. Here are some of the other benefits of writing a letter or email for new employees.
It sets the tone
A cohesive new hire onboarding process is an important component of your overall employee experience, and the welcome letter is one part of that. It helps convey a sense of structure–that they're part of a well-thought-out system and not just being thrown into the deep end–and sets a tone that will make your new hire feel confident they can expect their onboarding to go smoothly.
It eases anxiety
No matter where you're at in your career, a new job always comes with a few first-day jitters. A personal letter acts as a warm welcome and helps ease some of the anxiety. Remind your new employee why you thought they were the right fit for the job and convey that you're glad to have them on the team.
It gets them excited to get to work
The faster you can help your new employee reach full productivity, the better. Foster high engagement from day one by calling out some of the things you're most excited to work on with your new employee or the areas that will benefit from their expertise. Offer some context about the projects they can look forward to contributing to. Having clearly defined goals is a hallmark of highly engaged employees, and your welcome letter can be a tool for setting them.
Related: Is Your Top Talent Having a Knockout First Day of Work?
It instills a sense of belonging
Employees who feel connected to their colleagues are not only more collaborative but more likely to stay longer at the company than those who don't feel a sense of belonging. Use your welcome letter to bring new additions into the fold and make them feel like they're part of the team even though they're new.
It can be a source of helpful information
You've likely already talked at length with your new hire about the job and its responsibilities during the interview process. What you probably haven't covered, though, is how to get into the parking garage and whether there's a vending machine on your floor. Working these useful tidbits into your welcome letter can help make the first day go a little more smoothly. It can also be a helpful document for them to hang onto and refer back to if needed.
Related: How to Conduct Virtual Onboarding
New Hire Welcome Message Tips
A standard form letter is better than nothing, but a little extra effort can make your new employee welcome letter really stand out. Follow these tips to take it to the next level.
Make it personal
You'll obviously want to lead with their name, but it's also a great idea to personalize the letter with some details specific to each new employee. For example, 'our COO was very impressed by your past client list and can't wait to pick your brain about where the industry is headed.' Just like personalization helps customers feel more connected to your brand, it can also help your new employees feel like they matter to the company right from the start.
Offer first-day instructions
Parking, ID badges, wardrobe, food and drink…these are just a few of the things new employees don't usually think to ask about before their first day on the job, but they can really make things less than comfortable if they're not prepared. Use your welcome letter as a sort of how-to guide for getting started on the right foot.
Here are some things you might cover:
Hours. What time are employees expected to arrive, and what time does the workday end?
Parking. Where do employees park? Does it cost money? Does the company cover all or part of it? Will they need a pass?
Transportation. Which public transit options are nearby? How long does it typically take to get there from different parts of town?
Getting inside. WIll they need to provide identification? Stop somewhere to pick up an ID badge?
Point of contact. Where should they go and who should they ask for when they arrive?
Lunch. Do most employees bring lunch, go out, order in, or is there food available onsite? Are lunch plans part of their first day's itinerary?
Share a basic itinerary
Though your new employee is probably itching to hit the ground running, the first day is usually filled with logistics like new hire paperwork and meet-and-greets with various team members. Help them get through it with ease by giving them an idea of what they can expect.
Is there anything they should come prepared for, like a campus tour that would require comfortable walking shoes? Will they be spending time outdoors? An hour-by-hour breakdown of the day is great, but just a line or two about what they should expect works as well.
Welcome Letter Samples
Here are two sample new employee welcome letters to use in your onboarding process.
Short and sweet
Dear NAME,
Welcome! We're excited for you to bring your deep expertise in widget parts to the Smith & Smith sales team.
On your first day, park in the employee lot on the south side of the building and check-in with Susan at the front desk around 8:45 a.m. She'll get you set up with your ID badge, which you'll use to access the rest of the building.
You'll spend the morning completing your new hire paperwork and then the sales department will take you out to lunch.
On behalf of the entire team, we look forward to having you onboard!
More detailed
NAME,
Welcome to Smith & Smith. I know I speak for all of us when I say we're thrilled to have you on the team. As we discussed during your interview, your experience in the industry and knowledge of the market will give us a huge advantage as we work to roll out Widget 2.0 this spring.
We look forward to seeing you for your first day on March 18. Most employees take the train to work–there's an L stop about two blocks from our building at the corner of 48th and Main. If you plan on driving, park in a Guest spot out front when you first arrive and we'll get you set up with a pass for the parking garage.
Here's a basic itinerary of what you can expect on your first day.
9:00: Arrival, office tour
9:30: New hire paperwork
11:00: Onboarding session with team lead
12:00: Lunch in the conference room (we'll order in, but there's also a great cafe downstairs)
You'll spend the afternoon shadowing various team members and training on our software. This will help you get to know some of your coworkers while getting a feel for our workflows.
We usually wrap up the day around 5 p.m. Our dress code is business casual.
See you soon!
With a few tweaks to one of the templates above, you'll have a warm and personal welcome letter ready to greet your new employees and make them feel right at home.