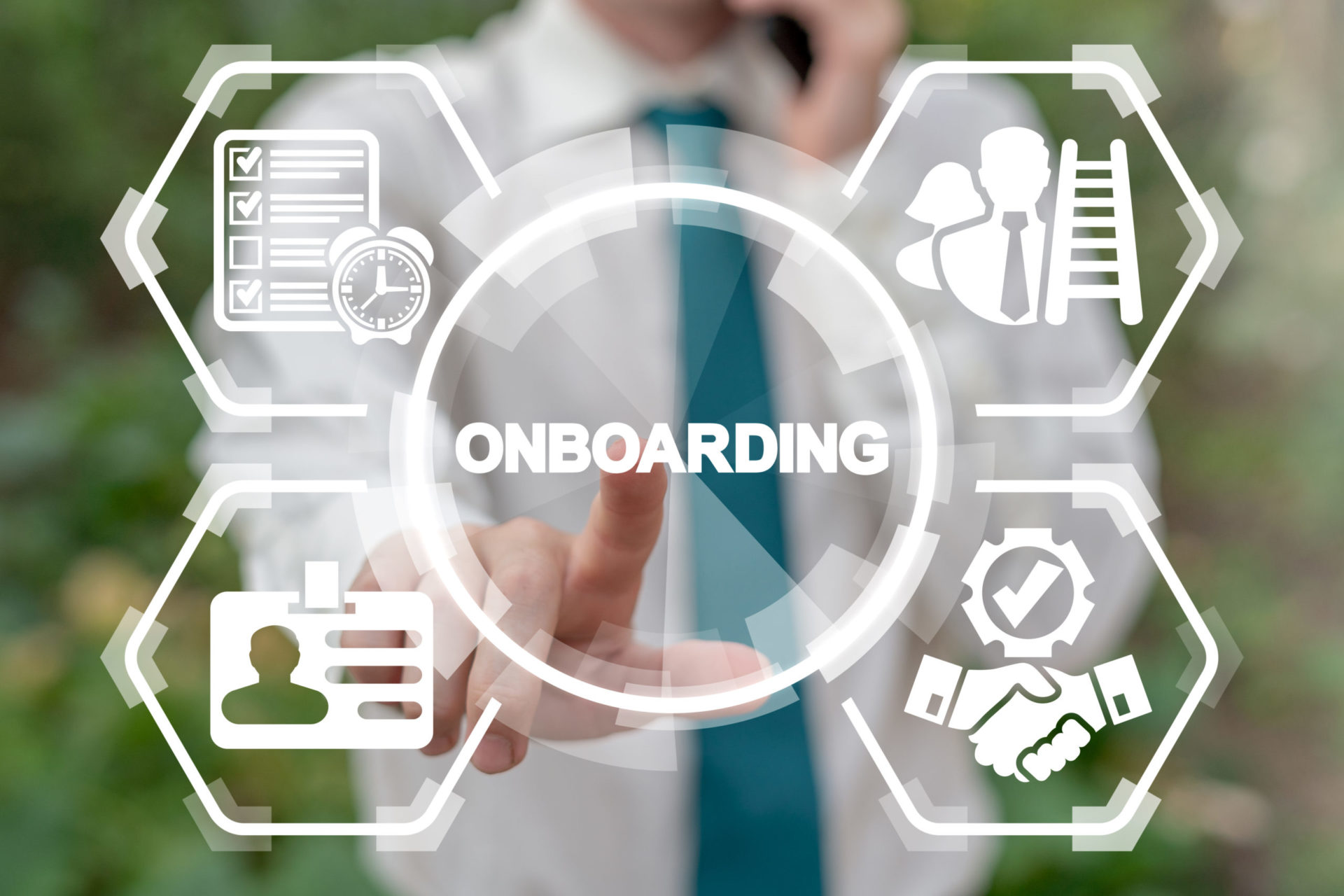 When you're working on winning the best talent, it is easy to get tunnel vision and focus solely on making the hire. This approach, however, neglects a key factor in whether the employee will ultimately be successful within your organization: onboarding.
Companies that implement a strong onboarding process boost new hire retention by 82%, while the early productivity of those new hires increases by 70%. Companies with a weak onboarding process, on the other hand, are much more likely to see new hires struggle with performance and engagement. These employees are ultimately more likely to leave in the first year.
As millions of employees shift to working from home, remote onboarding has become a necessity. Virtual onboarding has the potential to bring new hires up to speed quickly, accelerate the completion of paperwork and cut down on administrative costs.
When onboarding is executed poorly, though, things can go south quickly. An employee who has a negative onboarding experience is twice as likely to start looking for a new job in the near future than one who has a positive introduction.
So how can you make sure all the administrative boxes are checked while bringing a new hire into the fold at your company?
Steps to Make Your Virtual Onboarding Program a Success
Get them the goods they need to do their job
First things first: it is essential to make sure your employee has the physical supplies necessary to hit the ground running on day one. This might include shipping them equipment like a company laptop and headset or providing a stipend to purchase home office gear.
If your company has a process for reimbursing home office expenses, send those instructions via email immediately after the hire and follow up with a phone call to answer any questions.
Send some feel-good gifts
Helping your new hire feel a sense of connectedness is one of the biggest hurdles you will need to overcome in their early days. Bridge the virtual divide by sending a care package of company swag—a t-shirt, coffee mug, hat, or some desk-friendly munchies are all good options.
While it may seem like a small gesture, every interaction contributes to the larger impression your new hire has of the company, which boosts retention. 69% of employees who have a great onboarding experience are more likely to stay with the company for at least three years. Plus, starting a new job is stressful, so anything you can do to make the process a little more enjoyable is sure to be appreciated.
Make paperwork hassle free
Enthusiasm and energy are running high on an employee's first day on the job. The fastest way to take the wind out of their sails is to have them spend half the day doing paperwork.
Use a program like Zenefits to get tedious form filling taken care of before your new hire clocks in on their first day. Such programs allow employees to walk themselves through new hire paperwork like tax forms and benefits selection on their own time. More than 80% of new hires on the Zenefits platform complete the paperwork side of onboarding before their first day, which ensures they're able to put their enthusiasm straight to work on day one.
Complete tech setup ahead of time
Have your IT team set up a new hire's credentials like their company email address, software logins, and slack channel invites before their first day so they feel like a full member of the team from the start. This will streamline communications and prevent technology roadblocks from slowing down your new employee's productivity.
Schedule a series of meetings with key players
The biggest downside of remote onboarding is that you lose the face-to-face component that helps build interdepartmental relationships and instill a sense of camaraderie. You will need to actively work to create virtual alternatives to these important interactions.
One way to do this is to set a series of meetings for your new hire, both one-on-one and in group settings, with people from different departments and levels in the organization's hierarchy. This might include company executives, managers, fellow team members, and other new hires. To avoid interaction overload, space these meetings a few days apart over the course of your new hire's first weeks on the job.
It is also a great idea to set up remote new hires with an existing employee who will serve as their designated "guide," answering questions and providing guidance in their early days. Technology company Dell, for example, has what they call a 'day one success team' that's on standby to resolve any issues new hires might experience.
If you're onboarding multiple people at a similar level, pairing up "orientation buddies" and connecting them through Slack or email also works well. This gives new hires someone in their same boat to chat and share experiences.
Provide ample training
Training is often the most challenging part of onboarding remote employees. When you're not in the same physical place, shadowing a colleague is not feasible and it is tougher for new employees to identify the right person to ask for help or the best channel to use to do so.
To bring new hires up to speed on their job duties and their team's typical workflows, use a combination of training mediums like recordings, live sessions, interactive modules, virtual exercises and written materials. Follow a specific timeline for each piece of the training and set clear expectations for when each item should be completed.
Follow a structured approach
You can have all the informational assets in the world available to help new employees, but where the virtual onboarding experience most commonly breaks down is in how these assets are structured and presented. According to a paper released by Digitate, one out of five new employees were confused about how to proceed during the onboarding process, while one out of six found the systems to be user-unfriendly.
To combat the feelings of frustration that can lead to the negative new hire outcomes we touched on earlier, you will need to be mindful to provide an ultra-clear structure to your remote onboarding process. Digital wellness company Hanno assigns new hires to a designated onboarding track in the project management platform, Asana, which is a great way for them to chart their progress along with a clear roadmap and make sure no steps are missed along the way.
Check-in regularly
Since remote employees do not have the convenience of dropping by their manager's office or sharing a quick word with a coworker in the hallway, you will need to make it a point to check-in frequently to see how they're doing and gauge whether any aspects of their onboarding need more attention.
Do this several times in their first few weeks via email, instant message or a quick Zoom call (or ideally, a combination of all of these). Have more formal follow-ups at the 30, 60 and 90-day mark to assess their initial performance and identify any areas where they still feel out of the loop or are lagging behind.
Taking a proactive approach to pinpointing issues will help you address any bad habits or pain points head-on, before they make a lasting impact on a new hire's productivity.
Use surveys to continuously improve
Like all of your staffing systems, your virtual onboarding process should be a continuous work in progress. There is always room for improvement with the emergence of new technology, better project management tools, faster systems, and communication apps that mimic the in-person experience more closely with each new feature rollout.
To keep your onboarding game strong, use employee feedback surveys to get input from the actual people who just went through the process. Here are a few topics to cover in your survey questions:
Input on the structure of the onboarding process
Quality of onboarding materials
Level of engagement with the process
Initial perceptions of the company and the role
Alignment with the company's values
Level of confidence in their ability to do their job adequately following onboarding
Free-answer input with additional suggestions
Keep in mind that this will likely be your new hire's first time making their voice heard within the company, so how you execute these surveys and what you do with the feedback will further contribute to their positive new hire experience.
Set Yourself Up for New Hire Success with 4 Corner Resources
A bad hire costs a lot of money—up to 30% of the employee's first-year salary, according to some estimates. Add to that the lost time spent on recruiting and onboarding and you have a recipe for ballooning expenses and stretched-thin hiring staff.
Make the right hire the first time with help from the remote staffing experts at 4 Corner Resources. Our team excels at identifying candidates with the right mix of technical expertise and personality fit to succeed in your organization for the long haul. Clients that work with us to source and hire talent see lower long-term hiring costs, stronger retention, and more productive new employees. 
Get started by scheduling your free consultation with us today.