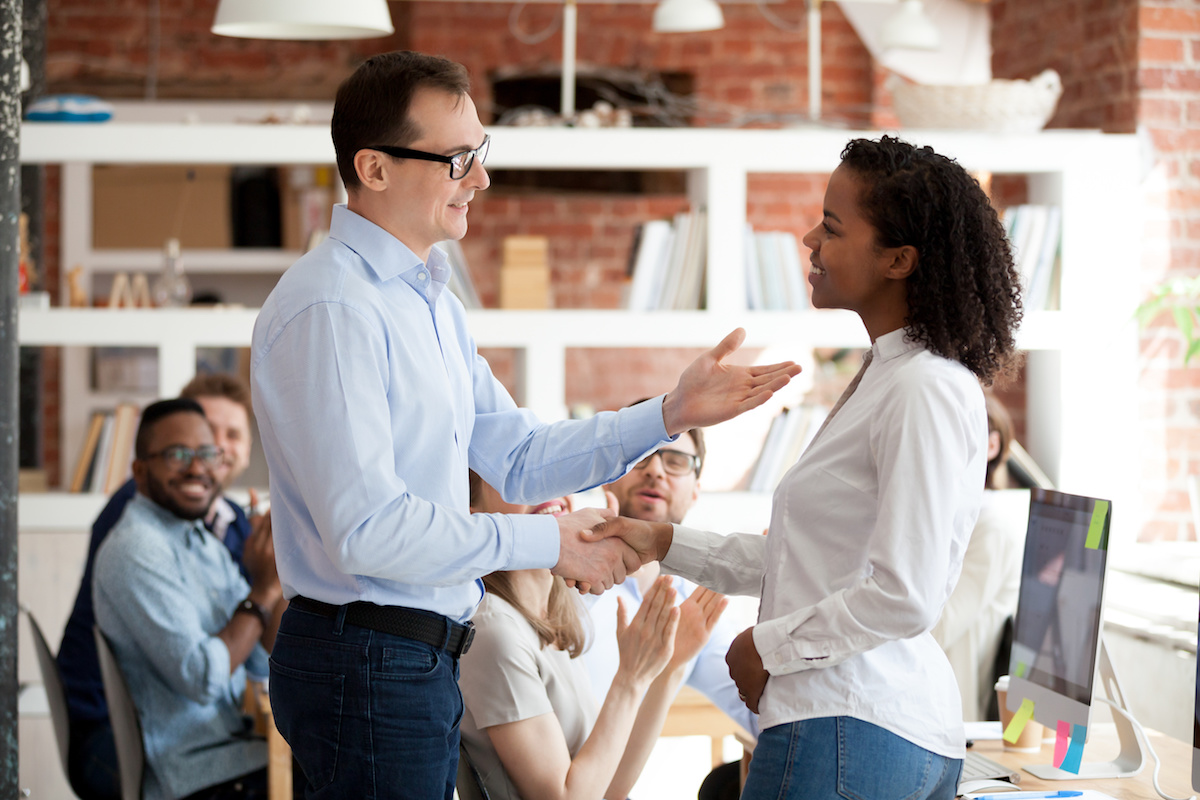 Congrats — you've successfully hired someone who is top talent in their field! You are one step closer to meeting your future business goals! But don't get ahead of yourself; your work isn't over just yet.
Research by Glassdoor found that organizations with a strong onboarding process are able to improve new hire retention by 82% and productivity by over 70%. This means your onboarding process isn't just relevant to your new hire's training period — it's essential to your long-term employee retention strategy, as well as a valuable high employee turnover solution.
If you want to increase the likelihood of your new employee retention, you should place a high importance on onboarding. In return, this can reduce the risk of fast turnover. So, here are a few tips to hit the ground running and give the top talent you've worked hard to recruit a knockout first day.
New Employee First Day Tips
Reach out before their first day arrives
Once the top talent you've worked so hard to recruit has accepted your job offer, they might not actually be starting for a few weeks or months. In this case, the excitement over their new job can easily wear off — especially if they don't hear from you again until they walk through the door on their first day. Thus, it is crucial to continue engaging the new employees from the time of their offer acceptance all the way up until their start date.
One simple, low-cost way to keep the communication flowing is to have their future managers and team members send a personalized welcome email prior to their first day. This should include their name, position, a little bit about what they do, and their contact information. Therefore, the new hire can reach out with any further questions. This small gesture can go a long way in helping future employees feel welcome and eager to get started.
Related: New hire checklist
Handle administrative tasks ahead of time
58% of organizations say their onboarding program is focused solely on processes and paperwork, but an effective onboarding strategy for new employees should be centered around people; not paperwork. While filling out forms is always going to be necessary when starting a new job, no employee wants to spend their entire first day on an endless stack of paperwork — they want to start building connections with their team members and learn the ins and outs of their new role.
So, how can you give your new employees a more meaningful first day that isn't bogged down by boring administrative tasks? One option is to send them the onboarding paperwork digitally prior to their first day. This way, they'll have more time to meet with their team members and become familiar with their new office — while also allowing HR to focus less on paperwork and more on helping top talent have a positive, welcoming first-day experience.
Prepare the rest of the team
Let your team know when a new hire is starting and inform them about the role they will play in the onboarding process. If your new employee will be shadowing multiple team members throughout their first day and week, those being shadowed should be notified ahead of time. Moreover, inform the employees what your goals and expectations are for the shadowing sessions and meetings.
In doing so, you will ensure that this time you've set up to help your new hire become acclimated will be effective and valuable. Plus, your new employee won't feel they've caught their coworker off guard and your current team members won't feel like you've disrupted their daily workflow.
Have a schedule ready
Showing up to an unfamiliar office and not knowing what to do or where to go would be awkward for your new employee. You do not want to give them a bad first impression of your company! So, rather than being unprepared and scrambling to keep new hires occupied, always have a set schedule for their first day.
Be sure someone is there to greet them upon arrival and direct them to their desk or first meeting. You don't want your new hire wandering around the office aimlessly. Your onboarding process for new employees likely includes various meetings with HR, managers, and team members — let them know when these will occur so they have an idea of what their first day will look like. By having a structured schedule in place, new employees will feel welcome and organized while feeling that their time is valued from the get-go.
Provide clear expectations
If you're wondering how to reduce employee turnover amongst new hires, you should know this: 43% of employees who left a job within their first 90 days did so because the day-to-day job role wasn't what they were expecting. Therefore, it's important to be realistic, honest, and transparent with your new top talent about their day-to-day job responsibilities, as well as your workplace policies and company culture.
Therefore, your onboarding process for new employees should cover who they're reporting to, what their workload will look like, and any benchmarks or goals you'll be using to measure their productivity and success.
Schedule time for deeper introductions
On a new employee's first day of work, they're meeting a lot of new people in a very short amount of time. Usually, they're only able to get a name and quick handshake in before they're being introduced to the next person. This can be overwhelming for your new employee and it doesn't give them ample time to build deeper connections with their new coworkers.
So, as part of your onboarding process for new employees, you should consider planning time for your current team members to connect with new ones. This might include dedicating time for coffee chats with various team members throughout their first week or setting up a first-day lunch for the new hire and their team.
Go the extra mile to make them feel welcome
You've put a lot of time and resources into recruiting your new top talent, so you want to ensure they feel welcome and comfortable on their first day and throughout their entire onboarding experience. Go to the extra mile by adding some personal touches to their first day!
This could include scheduling a team lunch, leaving a handwritten welcome note signed by their coworkers, or giving them a company swag bag with items like a branded mug or notebook. These small gestures can make your new hire feel like a valued member of the team from day one which can be incredibly beneficial in the long run — as a negative onboarding experience results in new hires being two times more likely to look for other opportunities.
Have an end-of-day recap
At the end of your new hire's first day, regroup to go over their thoughts, feelings, and any concerns they might have. Ask if they need any additional tools or resources, if they feel comfortable, and if any questions came up throughout the day that they still need answers to. Having this conversation will help that specific employee have a better onboarding experience. You want to show that you're dedicated to setting them up for success in their new role.
Plus, these recaps will allow you to gather feedback that you can then apply to your overall onboarding strategy. This way, your next new employee can have an even better first day and onboarding experience.
Create a Successful Employee Retention Strategy with the Help of a Professional Staffing Agency
4 Corner Resources (4CR) is a nationally-recognized staffing agency that helps businesses of all sizes meet their hiring needs. However, we aren't only concerned with sourcing, screening, and placing the top talent you're looking for — we want to ensure they actually stick around long-term.
If you're wondering how to reduce employee turnover, it starts with putting the right candidate in the right position from the get-go. We can help you accomplish this, but we won't just stop there. We're here to be your long-term partner and guide you through forming an onboarding and continuous employee development strategy that will keep your top talent working for you, not the competition.
To learn more about how strengthening your onboarding process can be a valuable high employee turnover solution, reach out to a 4CR expert today!
Keep rising costs from getting you down with our 'Reducing Labor Costs' eBook.
Learn from our experts on how to streamline your hiring process.