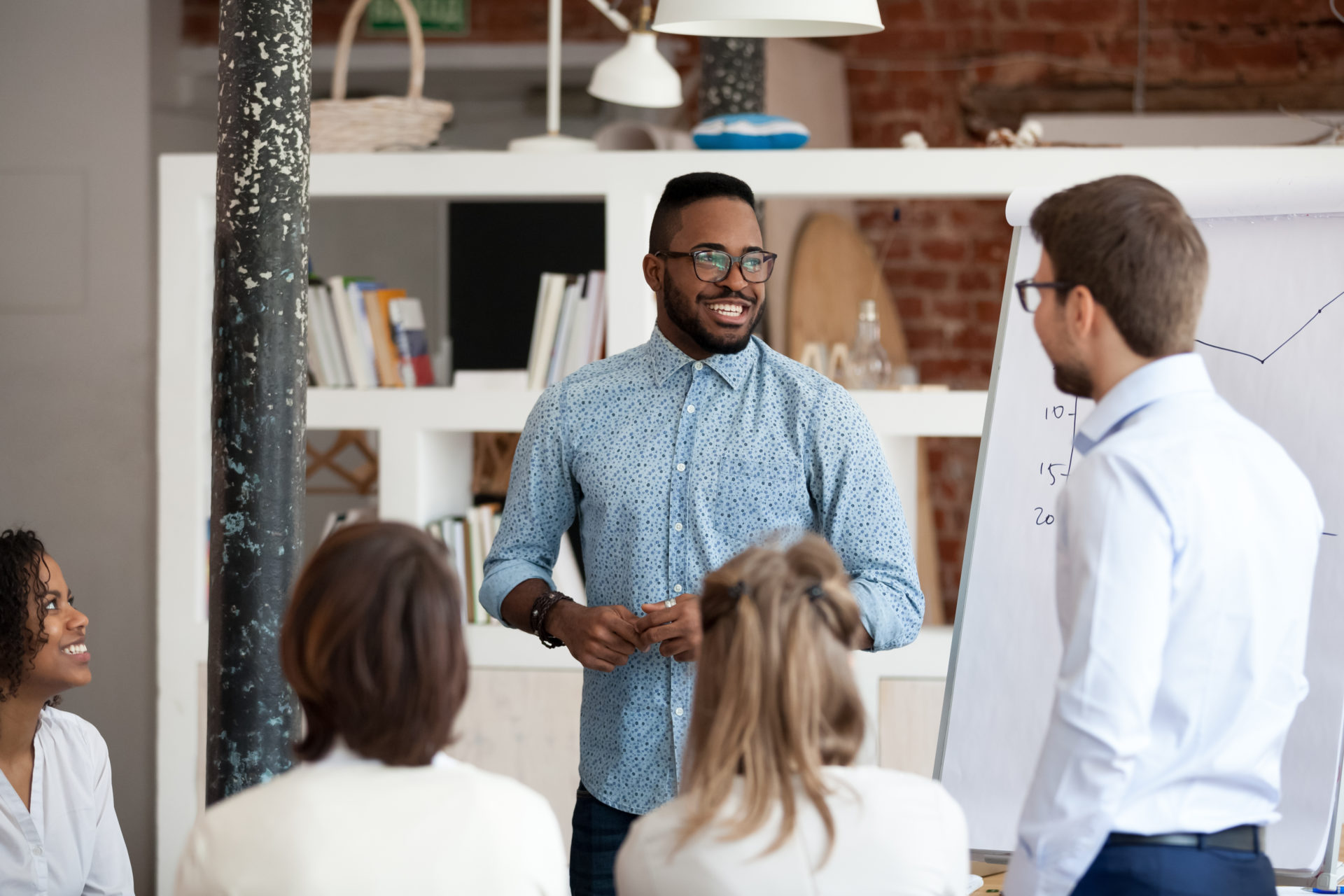 We all start somewhere, and our knowledge expands through the help of others. It makes sense that mentorship programs are becoming more popular in the workplace. Mentoring is a proven way to enhance learning and development for both mentees and mentors. Plus, mentoring comes with many benefits to employers! Some benefits of a workplace mentorship program include increased retention of your best workers, faster promotion rates, and overall employee satisfaction.
A thriving, successful mentoring plan that emphasizes workplace wellbeing and employee development doesn't just happen on its own. So, how do you start growing knowledge in your organization through mentoring? How do you plan it, sustain it, and guide participants through the mentoring process? And finally, how can you continually improve the program you create? Answering these questions is critical to the success of your program.
How Do You Start A Mentoring Program At Work?
Create a purpose and set goals
The first thing to do when creating a mentoring program is to ask why you're doing this. Then, you need to figure out goals to fit that purpose. These goals will depend on who your employees are, what you need them to learn, and what motivates your employees. What will success look like for the mentees and mentors? To attract people to the program, finding out what will motivate them is key to designing a program that will deliver value.
Don't make assumptions when setting goals for your mentoring program. Find out the key reasons why your employees would want to get involved in mentoring. What are they (or your company) hoping to achieve by signing up? This allows you to design a program that will fit your business needs and the needs of your employees. Garnering input from potential participants in advance will do wonders to attract participation.
The next question to ask is what you're trying to achieve as an organization when initiating a mentoring program. Think about how you're going to measure your success as well. Develop those goals into specific, attainable, relevant objectives that you can measure. These key performance indicators (KPIs) will allow you to define the success of your program.
Design the mentoring program
The next step is design. When you sit down to design your plan of action, you'll have several things to think about. You'll want to have a mentorship program that is both structured and flexible. Structure helps participants progress toward defined goals, and flexibility is crucial to encompass a variety of individual mentoring needs, goals, preferences, and learning styles.
Make sure to ask these questions when creating a mentorship program:
Who will be able to participate? (all employees or invite only)
How will you launch the program?
How are mentors and mentees matched? (one on one, a group, project)
How long will the mentoring relationship last? (weeks/months)
What are the expectations of mentors and mentees?
What will the mentoring style be? (traditional, flash, reverse)
How will you monitor progress and report success?
Many of the questions you'll be asking at this stage will depend on the type of organization you have and the objectives you've identified for the program. Try to be as detailed as possible when mapping out your workplace mentoring program by providing details on key actions, timeframes, resources, and criteria for moving to the next phase. Mark areas that will require some flexibility to support employees. Not everything will go as planned, so be sure to give yourself some room in terms of time and expectations!
Find mentors & mentees
What happens frequently is a company will do all the hard work to define their mentoring program, set it up, stir up enthusiasm, kick it off, and end up with low participation rates. That's because a major piece of a successful mentoring program is promoting it. You'll need to make sure the onboarding process is working effectively. So, how do you attract people to your mentoring program? Motivation to participate will vary based on your employees, so to make it truly successful, you have to think outside of the box. Here are a few things to do to ensure success:
‍1. Communicate the benefits for mentors and mentees
Never assume that people will know the benefits of a mentoring program. What drives interest in people is highlighting what's in it for them. Emphasize the positives throughout the mentoring process. It can be especially hard to attract and keep good mentors. One way to do this is to formally recognize them for their involvement or offer an incentive.
Related: 6 Reasons to Have a Career Mentor
‍2. Remove as many obstacles as possible
The easier you make it to do something, the more participation you'll have. People generally don't sign up for activities because they lack the time or don't want the commitment. Make it clear from the start what the expected time and commitment involved is going to be like. Make mentoring as flexible as possible to accommodate a broader range of participants. Be sure to accentuate the benefits even though it might cost people a little extra time.
‍3. Include training and preparation materials
The more informed people are, the more likely they are to participate. Offering training and preparation materials are good ways to accomplish this. You can help mentors and mentees by clarifying their objectives, roles, and the overall mentoring process for them. By continuing to provide training and guidance throughout the mentoring program, you'll help participants stay on track, achieve their goals, and get the most out of the program.
Related: How to Invest in Employee Development
4. Get key stakeholders and leaders on board
A great way to ignite interest in your mentoring program is to invest in key leaders and stakeholders. Let them know the benefits of the program and why they should be involved.
Match mentors and mentees
Matching mentors and mentees can be a tricky process. Success hinges on putting together the right combinations of people, yet matching is often one of the more challenging hurdles you'll face. So, once you've signed up a great selection of participants, how do you match them? It's hard to say because sometimes, a good match for one person could be a bad match for another.
Several options are available. You could allow mentees to choose a mentor on their own or have the program managers match them. Allowing mentees to select a mentor is easier, but it might result in less than desirable matches. Program managers can match participants based on criteria, such as developmental goals, background, skills, location, and/or relevant experience and interests. Another matching option is using a mentoring software, such as Chronus. This method works in much the same way as having a program manager match participants, but it takes away the possibility of human bias from the selection process.
Related: How to Be a Good Mentor
Keep participants motivated
After you've signed up, trained, and matched your mentors and mentees, you'll want to make sure the program is working for them. You're not out of the woods. Mentoring isn't something many people are used to, and without the proper motivation, you could quickly lose the success of your program. So, what can you do to make sure participants and mentors stay motivated throughout the entire process?
Each mentor-mentee relationship should have a solid plan outlined, a clear direction from the start, and checkpoints along the way to make sure specific goals are being achieved. Have them create SMART goals for their mentorship program. This adds accountability and a sense of accomplishment when goals are met. Check-in with participants frequently to ensure they are on track. You can also have them periodically give you reports and feedback.
Another way to maintain momentum in a mentoring program is to keep all participants updated. It may help to have a monthly newsletter or even regular zoom calls with each partnership where you can give them tips on anything they're struggling with. If you meet as a group, make sure you celebrate the successes of the different mentorship partnerships. This can also help keep up motivation.
Measure your mentorship program's success
Measuring the success of a mentoring program against its objectives is an important step. Lots of time and effort goes into starting and maintaining a mentoring program, and participants put in their valuable time in hopes of achieving their goals. In order to have future successes with workplace mentorship programs, you need to report your positive, or negative, results. Look not only at the program, but the connection between the different mentorship partners as well as how the mentees have improved.
Make sure you also gather feedback from everyone who participated. It's important to see if the mentors and mentees were satisfied with how the program turned out. Make sure to ask if the mentees reached their goals. And if not, figure out why that happened. Also, ask the mentors if they'd be interested in mentoring again. If so, you can count on them for the future. If not, you can ask why and try to fix that for future mentors. Sending out a survey is an easy way to gather all of this information.
Start a Workplace Mentorship Program with 4 Corner Resources
A mentoring program at work is a powerful asset for developing, engaging, and retaining your employees. The time, effort, and resources involved are well worth the positive impact on your organization. Following this guide will help you build a successful mentoring program to achieve your organization's goals as well as those of your people. Need help hiring people you can trust to be the mentors in your organization? We're experts in helping employers find the best talent for your organization. Schedule a call with us today to get started!