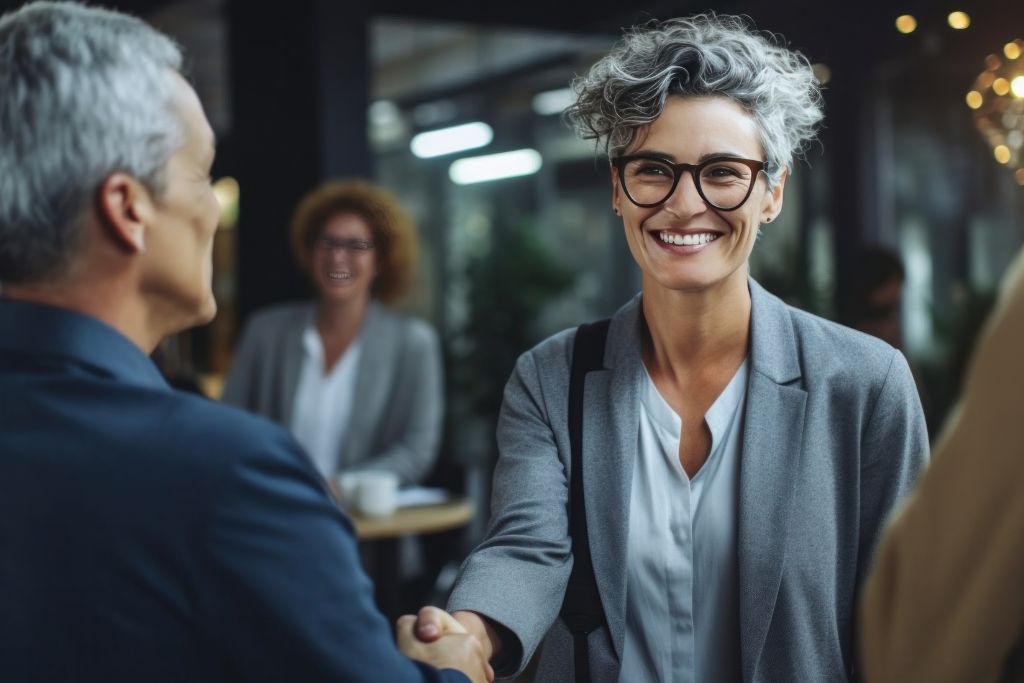 Hiring for any position is challenging. But between the unprecedented economic market, the increasing speed at which companies hire, and a tighter-than-ever talent pool, it's fair to say hiring for the C-suite is harder than it's ever been. Finding tomorrow's leaders means you can't rely on yesterday's hiring methods. These tips will help you think strategically about C-level recruitment and prioritize the most essential qualities to lasting success. 
What is C-Level Recruitment?
C-level recruitment focuses on hiring for executive positions within a company–the people at the highest levels of an organization's leadership.
C-level recruitment includes hiring for roles like:
Chief executive officer (CEO)
Chief operations officer (COO)
Chief financial officer (CFO)
Chief marketing officer (CMO)
Chief revenue officer (CRO)
Chief technology officer (CTO)
Chief information officer (CIO)
Chief information security officer (CISO)
Chief human resources officer (CHRO)
C-level positions vary by company. While some companies may only employ one or two chief executives, large organizations may have all of the above and additional positions not listed.
C-Level Recruitment Vs. Traditional Recruitment
C-level recruiting differs from regular recruiting in a few key ways.
Timeline: Hiring for executive positions involves a wide search and in-depth screening and interviewing. So, it takes longer than hiring for most other roles. 
Requirements: C-level positions have a much longer list of requirements than a standard job. The ideal candidate must have broad skills, extensive background, specific experience, a proven track record, and the right values. 
Talent pool: Because there's such a stringent set of requirements for an executive role, this means the talent pool is much smaller than with a standard search. Geographical constraints may also limit the search. 
Stakeholders: While the hiring process normally includes only a few decision-makers (or even just one), more people are typically involved in an executive search. There are multiple rounds of interviews with various stakeholders, including other company leaders, board members, and representatives from different company departments. 
Risk level: The stakes are much higher when recruiting for a C-level position. In the case of a bad hire, you can't simply replace the person and move on. A hiring mismatch can have negative and far-reaching implications for a company's public image, sales, stock price, and employee morale. So, it's all the more important to conduct a thorough search and make an accurate hire. 
Confidentiality: Open positions are normally publicized far and wide to help a company reach a talent pool as wide as possible. In C-suite recruiting, however, the search is often low-profile, and the participants must adhere to a strict standard of confidentiality. 
The Importance of C-Level Recruiting
Professionals in C-level roles have an outsized impact, not only in their respective roles but on the entire organization. C-level recruiting takes on a higher level of importance because the selected candidate will be responsible for:
Leading staff
Executives must be able to influence employees to achieve company goals successfully. Their attitude and actions greatly impact recruiting, retention, and staff engagement.
Making key decisions
The C-suite guides all of a company's big moves, from mergers and acquisitions to growth to layoffs. Making strategic hires to fill these seats is essential to ensure the company's lasting success.
Influencing company direction
One of the most powerful attributes of a company executive is also the hardest to measure objectively: their values. The C-suite's values must align with the company's vision to guide the organization in the proper direction. 
Strategies for C-Level Recruitment
1. Define explicit objectives
Skills are certainly important when hiring for an executive role, but they're less important than the candidate's ability to get the job done. Thus, it's of utmost importance to clearly define exactly what "the job" is–in other words, the objectives the right person must be able to accomplish. Talented C-level candidates are looking for a challenge, so give them one.
2. Develop internal talent
Sometimes, looking outside the company for C-suite talent is necessary, especially in a company's early stages or if the organization is in dire straits. However, developing leadership candidates from within is a long-term strategy that can make a difference in hiring accuracy and culture fit. 
When you promote an internal candidate to a C-level position, you choose someone who already understands the company's values and operations. You're also sending a positive message–both internally and publicly–about how the company values its employees. This kind of upward advancement can bolster recruiting for all positions. 
3. Reconsider poaching
Hiring an executive from a prominent competitor may seem like a great strategic play, but it often backfires. Different companies have very different cultures and ways of doing business. If a poached hire comes in and tries to run things the way they did at their last company, it can go horribly wrong and harm morale and negative press. 
For these reasons, it's best to think carefully before hiring a C-level employee from a competitor (or even a big-name company in general).
4. Consider public image
The publicity level is another factor that sets C-suite hires apart from the rest of your staff. If you select a candidate with a history of questionable Tweets, you can be sure your new hire will make headlines for all the wrong reasons. 
In addition to considering skills, aptitude, and values, you must consider a C-suite candidate's public image and how it aligns with your goals. Does it make sense to hire someone with a high profile or someone who's more of an unknown? Is your candidate of choice a recognized thought leader in your field? Are they active on social media, and if so, how do they position themself? All of this can influence their fit for the role and the company's needs. 
5. Hire for purpose
The right C-suite hire will be at the helm for many years to come. To make the relationship successful, it's important to ensure that their needs and the company's are met. As you assess candidates, consider each person's goals and what part this job and company will play in fulfilling them. 
6. Look toward the future
A strong C-level candidate should be thinking five, ten, or even fifty years into the future. Incorporate questions into your interview process to assess how they're approaching the long game, like:
What do you see as this company's biggest long-term opportunities?
What would be your five-year goals in this role?
Where do you see the industry headed over the next decade?
What does our future workforce look like to you?
7. Prioritize candidate experience
All of the people you interview for a C-level position–not just the one you hire–are going to get a peek behind the curtain, so to speak. They're going to see the inner workings of your recruiting process (and any dysfunction within it), so you want to devote extra effort to ensure their experience is positive. 
Even if you don't ultimately hire a prospective candidate, you'll likely cross paths with them and maybe even try to recruit them in the future. So, you want to ensure they leave the hiring process with a positive impression. 
8. Consider a fractional executive
A fractional executive is someone hired by a company to fulfill a C-level role in a part-time capacity. This can be a highly effective strategy for startups and small businesses to access high-level expertise at a much more affordable cost than an executive salary. 
In addition to helping you balance operational needs with costs, using a fractional executive broadens your talent pool. Fractional executives may be retirees who previously worked in your field, consultants who can offer diverse perspectives, or technical experts who can help achieve niche business goals.
9. Work with a C-level recruiting expert
An executive search firm specializes in hiring C-level talent. An executive headhunter can help you define the core competencies that are required for the position and access candidates who aren't actively job searching. They may also provide additional relevant services like culture assessments and executive coaching. 
C-suite recruiters may work on a retainer, where they're paid a monthly fee for their services, on an hourly basis, or on contingency, meaning they're paid a percent-based fee upon making a successful hire.
Even if you don't need to hire a C-level employee right now, you should think about how you'll approach it when you need to hire. Making this important type of recruiting part of your business strategy can help you achieve long-term growth while building a strong company culture and minimizing the risk of making a bad hire for such an important position.
Related: Reasons why you should hire an executive recruiter
Ready to hire better talent?
Connect with our recruiting professionals today.