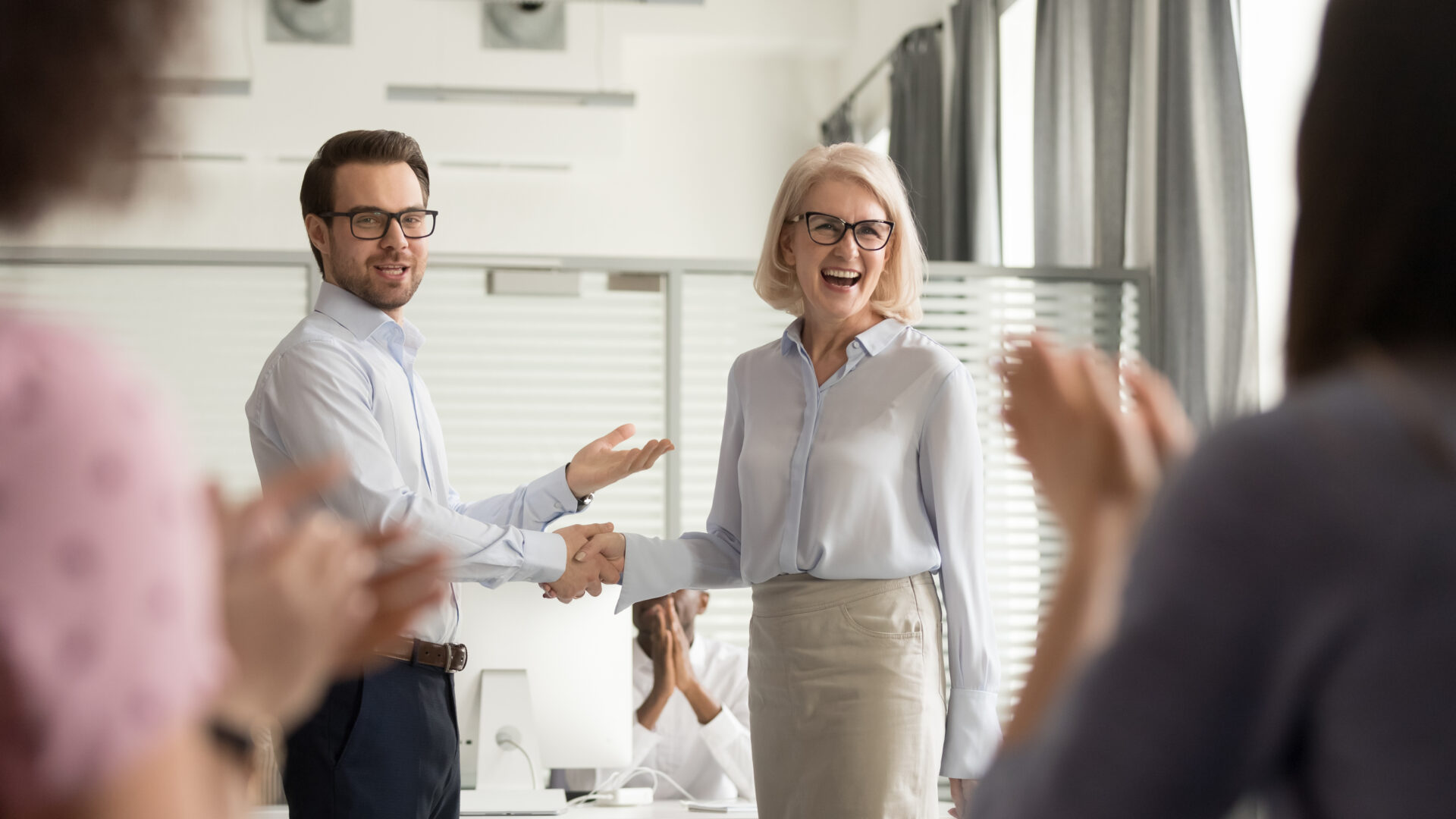 Employee promotions should be a core part of your people operations if you want to hold onto your best performers and establish a reputation as an excellent place to work. This guide will help you set criteria for employee promotions and execute a seamless promotion process.
Reasons to Promote an Employee
In the past, staying with a company for five years, ten years, or more was grounds for an automatic promotion. However, the days of a person working for just one or two companies in their career are all but extinct. 
So, though an employee's history with the company is important to consider, tenure alone isn't an effective criterion on which to base promotions. Instead, promotions should be determined by a combination of seniority, performance, and situation.
Consider promoting a team member if they:
Regularly exceed performance expectations
Step up to take on additional responsibilities
Take initiative to expand their skills
Step into a leadership role during an emergency situation
Help train new members in their department
Acquire a more advanced degree or credential
Bring in a new client
Increase sales
Create a process that strengthens efficiency or saves time
When to Promote an Employee
There's no formula that will tell you when it's time to promote an employee. Some will be ready to assume a higher job title after six months, while for others, it may take six years. Also, be mindful of the fact that some employees are perfectly happy in their current roles and aren't looking to climb the ladder. 
For those who are interested in advancing, though, a good rule of thumb is to promote when an employee is 70-80% ready. This means they have the technical know-how to handle the daily functions of the job and can grow into the leadership components of the role with a little additional development.
Also, it's necessary to factor in how long it's been since an employee's last promotion and the role they play within the organization. If they're a rockstar you want to retain, and it's been a few years since they had a salary or title bump, sometimes it's worthwhile to take proactive measures to make a promotion happen to keep them on your staffing chart. 
Promotion Process Steps
The logistics of a promotion can often be straightforward–a single employee is ready for a more senior role. When such a role becomes available a promotion is a natural progression. 
Other times, though, there's only one role and several potential internal candidates to fill it. If this is the case, following a systematic promotion process is important to ensure fairness and transparency. 
1. Evaluate your needs
First, begin by evaluating the demands of the role. What skills and capabilities will the right candidate need? What duties will they be required to accomplish? If this is an existing role that recently became vacant, these needs may already be well-defined. 
2. Assess your staff
Work with managers to determine who among your staff meets or has the potential to meet the criteria you outlined. Incorporate what you know about employees' career ambitions from their performance reviews and regular check-ins with their managers.
Also, consider employees who may lack the confidence to pursue a promotion but could step into a leadership role with the right training. 
3. Publicize the position
Nothing kills morale quicker than when an employee is promoted, and all of their coworkers are caught by surprise. If you're considering internal candidates for a leadership role, it's best practice to make this process known to anyone who might be interested. 
Set out very clear requirements to apply and outline the criteria you'll be using to make your decision so that all applicants start off on equal footing. 
Related: Hiring From Within: The Dos and Don'ts
4. Evaluate interested candidates
Even if you have a clear handful of top contenders, it's important to interview every internal candidate who throws their hat in the ring. This will eliminate the appearance of bias or favoritism, which quickly creep in when it seems one employee was already pre-selected for the role.
Related: How to Conduct an Internal Interview
5. Make your decision and announce it 
Once you've decided on a candidate to promote, act quickly to confirm their acceptance and share the news with the team. You want the announcement to come from the company rather than being shared through the grapevine–again, it's about preserving transparency in your promotion process.
How to Create an Employee Promotion Announcement 
In most cases, an email is a sufficient way to announce a promotion. The exception would be for someone stepping into a major or public-facing role, like a C-suite position. In this case, an in-person announcement followed by a company-wide email works best.
An employee promotion announcement should contain the following:
Congratulations. Begin the message on a celebratory note.
The employee's full name and new job title. Let everyone know what role they'll be moving into, with a brief summary of their job duties.
Overview of achievements. Give some context on what the employee has accomplished for the company in their previous role(s).
Encourage participation. Invite other employees to congratulate the promotion recipient or to reach out with questions.
Here's an example.
Good morning team,
We're pleased to congratulate John DePaulo on his promotion to Content Marketing Director. John will lead the content team in developing materials that inform, engage and delight our audience.
John was the mastermind behind our 'day in the life' video that went viral last month and gained us 2,200 new followers on social media. We're excited to see what new ideas John and the rest of the content team will come up with next.
Please join me in wishing John well in his new role.
Warmly,
Steve Edwards
Best Practices For Promoting an Employee to a Manager
Start early
Plant the seed for employees to begin thinking about internal mobility from day one. In their early days on the job, have conversations about new hires' career ambitions and make it known that you're invested in being an ongoing part of their growth.
Use mentorship
A mentorship program is invaluable for identifying and developing internal talent for upward advancement. It also gives junior employees a chance to learn about different career paths available to them and understand the steps that are necessary to move up. 
Related: How to Start a Workplace Mentorship Program
Develop over time
Ideally, a move into a managerial promotion shouldn't happen overnight. It should involve structured training, coaching, and ongoing conversations to assess progress and gauge employee's feelings in their new role. 
Related: Strategies for Supporting Employees in the Workplace
Incorporate employee feedback
Promotions are most successful when they involve lots of communication–both before and after the bump in title. Employers should strive to stay abreast of employees' career goals and find or create advancement opportunities that serve those goals.
Additionally, seek employee feedback on where staffers feel under-confident in their skills and what skill areas they're most interested in developing further.  
Prioritize transparency
When a promotion is imminent, it's best to keep the entire team in the loop as much as possible, both in terms of inviting candidates to apply and letting others know how their role will be affected.
Here are some data points that are worth sharing:
How many candidates are being considered
What criteria will be used to make a promotion decision
Whether external candidates are also in the mix
How you'll handle the vacancy if someone internal is promoted
How the team hierarchy will be affected
Understand individual differences
Don't be that manager who assumes all of your reports should take the same path you took. Every employee will have unique professional and personal goals–which is key to understanding. 
Some employees simply aren't interested in being promoted vertically, and that's okay. They might love their work and want to become a subject-matter expert in it or gain experience in new areas through cross-training or lateral career moves. 
Promotions don't have to be limited to upward advances in job title. They can happen across departments and as employees become more specialized in a certain area. Consider all options when deciding how best to engage and retain talent.
Give feedback
Finally, it's important to have a game plan for handling the internal employees who are not selected for a promotion. Provide a clear explanation of why they were passed up for the job and action-oriented feedback to help strengthen their chances for the future.