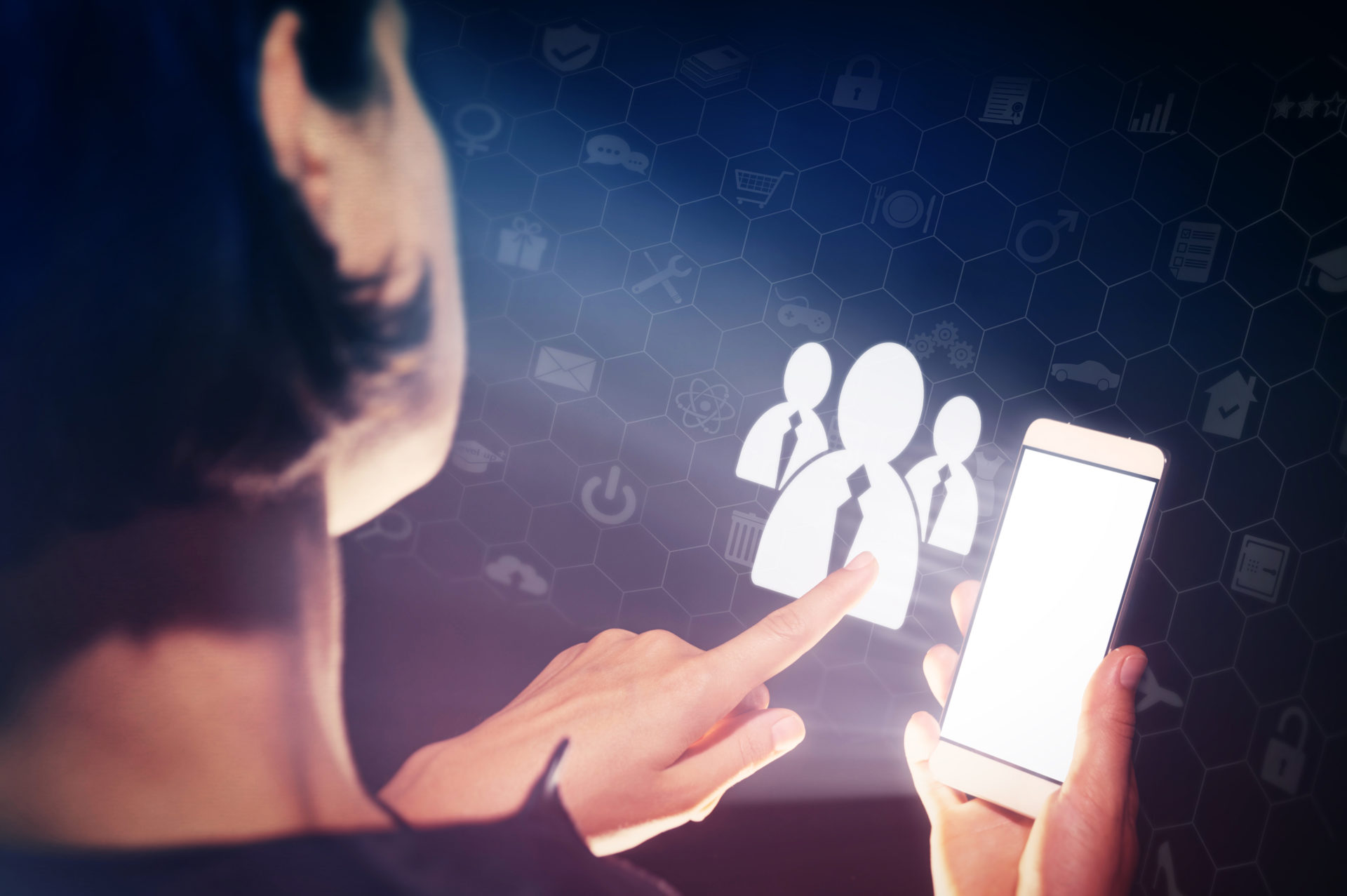 Mobile internet has grown 504% in daily media consumption since 2011. In 2019, internet use outpaced television viewership for the first time. Consumers spend nearly 90% of their time using apps when using smartphones. The bottom line? Everyone is on their phones, including the top-tier candidates you're looking to hire. You're behind the curve if you're not implementing a mobile recruiting strategy. Here, we'll lay out the basics of mobile recruiting and share some creative ways to use it effectively to win top talent.
What is Mobile Recruiting?
First and foremost, mobile recruiting is the umbrella term for recruitment strategies that aim to attract, engage, and convert candidates via mobile devices. If you're one of the 85% of Americans who own a smartphone, you're probably already well-versed in some of the most common mobile recruiting channels like job-posting sites and social media.
Traditionally, recruiters have relied on phone calls and emails to engage candidates, but those mediums have limitations. With 90% of job seekers using their smartphones to hunt for their dream job (and 79% using social media), mobile recruiting represents a significant and growing opportunity for staffing professionals to connect with candidates.
What's even more noteworthy is that candidates expect to be able to use their smartphones to find and apply for a job easily. One in five candidates drops off if the mobile application process requires them to click through more than two to three screens.
Yet even though almost all candidates use their mobile devices to look for jobs, many employers still haven't embraced a mobile recruiting experience.
We use our phones for everything, from researching to ordering products to looking up the nearest pizza place. Can you imagine if you were looking to book a hotel and they didn't have a website? Most of us would immediately look elsewhere, concerned about the legitimacy or turned off by the inconvenience or both. So why would we expect candidates to act any differently?
If your recruiting process isn't mobile-friendly—and not only that but engaging on mobile—don't expect top prospects to stick around hunting for another way to apply.
Benefits of Mobile Recruiting
Now that we've established why mobile recruiting is necessary, let's take a closer look at all the great things it can do for you.
It demonstrates that you're up to date with technology
Having a clunky, outdated process for submitting applications can turn off candidates and hurt your image. A convenient and mobile-friendly application process contributes to a positive candidate experience.
Related: Trending Recruiting Technology: Must-Have Tools
Access is available from any location
If a great application hits your inbox, you don't want to have to wait until you're back in the office to take action on it. With tools like a mobile-friendly ATS, you can approve or reject candidates with the tap of a finger, triggering the next steps like an email response to keep things moving along efficiently.
Shortens your response time and overall hiring timeline
Regarding moving things along, 69% percent of candidates think employers can improve their response times. Anything you can do to greenlight a top candidate more quickly increases your chance of making the hire.
Gives you more ways to keep candidates engaged
Inboxes get cluttered, and phone calls often go to voicemail. Mobile recruiting allows you to engage with candidates through text messaging, social media, and even app-based alerts. You'll create a great candidate experience by simplifying and using the technology.
Makes it easier to keep your team on the same page
Mobile recruiting apps are particularly useful when many hands are involved in hiring. An app allows all parties to easily check in on a candidate's progression through the hiring funnel in real time, closing gaps that can sometimes occur among staffing teams.
Six Steps to Effective Mobile Recruiting
Sure, you post your job openings on LinkedIn, but there's far more to mobile recruiting. To use it effectively, follow these six steps.
1. Audit yourself
The first step is to analyze exactly where you stand in the mobile recruiting game. Begin with your application process.
Using a smartphone, navigate to your website and act as a candidate would act when looking to apply. Is it easy to find where your open positions are listed? Can the candidate take the next step, like applying their smartphone? If so, how long/complex is the process?
It's a great idea to have several people (or, better yet, a focus group) undertake this exercise and share their feedback.
2. Analyze your competitors
Next, take a look at what your competitors are doing. While you don't necessarily want to mimic their mobile recruitment strategy, assessing how you stack up against the companies you're going head-to-head with when hiring is helpful.
Your competitors are also a good source of inspiration for creative recruiting methods. For example, suppose you're not yet using an app for mobile applications. In that case, looking at examples used by similar firms in your field can help you get an idea of the mobile application experience you're looking for.
3. Develop specifically for mobile
This is the best practice for your recruitment efforts and your entire business in general.
The application process Is tedious enough as it is, with candidates often forced to click through multiple screens and enter the same information several times. Add in a website that's not mobile-optimized, and it's enough to make even the most motivated applicant abandon ship.
Instead of trying to finagle your desktop website into a mobile-friendly version, develop a version specifically for users on mobile devices. Alternatively, consider using an app that enables easy mobile applications. Job listing site Indeed has its own mobile app for this purpose, as do many applicant tracking systems.
4. Don't make assumptions about your mobile audience
Some employers resist a mobile-first approach to recruiting because it's only useful for reaching candidates under a certain age. While millennials and their successors, Gen Z, make up the largest segment of mobile users, adults over 40 represent an ever-growing portion of mobile users.
Between 2014 and 2020, for example, the number of smartphone users aged 45 to 54 grew by 40%. During that same time frame, the number of users over 54 grew by 85%.
5. Integrate with your ATS
As mentioned above, choosing an ATS with a corresponding mobile app can be useful. As we all know, applications come in 24 hours a day, seven days a week. On the other hand, the amount of time you're at your desk with a dedicated window to review applications is much smaller. Using an applicant tracking system with a mobile component enables a seamless transition between when you're at your desk and when you're pretty much anywhere else.
6. Consider all the options
Are you making use of text message recruiting? It has the potential to raise your response rates dramatically. One talent acquisition manager reported a consistent response rate near 90% since adding text messaging to its recruiting strategy.
Gamification is another creative option. Brainstorm which elements of your hiring process—screening tests or behavioral assessments, for example—lend themselves to mobile gamification.
Related: How Can Gamification Be Used for More Effective Recruiting?
Mobile Recruiting Limitations
Remember that not every step of your hiring process needs to be accessible by phone. While it comes with many upsides, mobile recruiting does have its limitations.
When posting new job openings, for example, you want the listings to look as good as possible (have you ever sent an email via phone and then been surprised to see some funky formatting when you viewed it later on a desktop?). To put your best foot forward with job openings, the safest bet is usually to post them from a desktop.
Sensitive conversations like discussions about pay are best-done face-to-face or via phone rather than text or an app. The same goes for the most important conversation of all: making an offer.
Remember, mobile is not the be-all, end-all of recruiting. Rather, it's one more tool in a diligent recruiter's toolbox that, combined with other elements of a strong recruiting strategy, can position you for success in the competitive talent marketplace.
Top Mobile Recruiting Apps
There are various mobile recruiting tools available in the marketplace. Some have specific functions, and others cover the entire recruiting and onboarding process. We've compiled a list of a few of the top mobile recruiting apps for your organization.
LinkedIn Recruiter
This app allows recruiters to utilize the information on LinkedIn and filter potential candidates by keywords and specific criteria. It works directly with the LinkedIn platform, so you can reach out and connect with people directly through the app. You can share profiles with others on your recruiting team and use the easy messaging service.
HireVue
If your organization hopes to screen and interview potential candidates using video, HireVue is a great tool. It's an app that allows users to create interview questionnaires and send them to candidates. They can respond at their convenience and record video answers to send back to the employer. The responses are easy to share with other hiring managers.
Jobscience
Track mobile applicants on your phone using Jobscience. The app can search through resume submissions for specific keywords. It's simple for applicants to submit their information digitally through SMS or email and track the status. It helps recruiters organize large quantities of resumes to find the top candidates for an opening.
ApplicantStack Onboard
Mobile recruiting should transition into the hiring and onboarding process. ApplicantStack Onboard is a fantastic application to partner with your recruiting tools. It offers everything new hires need to maintain an easy flow. If you aren't doing an all-in-one platform, make sure to consider your onboarding tools in addition to mobile recruiting.
Workable
The Workable platform can assist in all areas of recruitment. It allows employers to post jobs, reach the top talent, and manage the funnel of applicants with automation. It integrates with social media platforms to make mobile recruiting easier. Many users also appreciate the amount of reporting and analytics available on the platform.
Jobvite
Jobvite provides an entire talent acquisition suite. It utilizes AI-backed automation and helps showcase your organization's brand. Attract top talent and use data insights to build a fantastic and strong recruiting funnel and get the best candidates quickly.
Mobile Recruiting Trends in 2023
Artificial intelligence
AI technology is on the top of trend lists for all kinds of functionality. In mobile recruiting, you can utilize AI tools to send personalized messages, set follow-up tasks, schedule interviews, and screen candidates. Take the tedious tasks off your recruiting team and allow them to focus on the critical steps. Make sure to verify all the information the AI tool has and keep it simple.
Related: Everything You Need to Know About AI Recruiting Techniques
Video recruitment and interviews
During the Covid-19 pandemic, the need for video conferencing became top of mind for most employers, but even as things reopen, it's still proving to be a helpful tool. Minimize the need for travel and delays by setting up video interviews instead of in-person. This can help you easily connect with candidates from other locations and save recruitment costs. Broaden your search and utilize the video tools to complete the necessary tasks. People are often more comfortable at home, so you'll also cut through some of the nerves of an in-person interview.
Related: How to Use Video as an Innovative Recruitment Strategy
Mobile-first recruitment
Instead of traditional job boards and desktop scrolling, many applicants use their mobile devices to search for job openings. This means that recruiters need to put some focus on the mobile interfaces to meet applicants where they are. Create mobile-friendly job postings and submissions for applications and resumes. Utilize texting to connect and communicate with potential candidates quickly.
Social media
90% of recruiters and HR professionals are active on social media, but many aren't using the tool to its fullest potential yet. This will continue to be a growing trend in recruitment as apps make their products useful in all areas of life. Use social media to connect with potential candidates and promote your company's culture. Ensure that all of your links and forms are optimized for mobile use.
Profiles are like resumes
As we mentioned above, social media is becoming one of the most comprehensive summaries of candidates. Set up your applications to invite applicants to link their social profiles. LinkedIn shows endorsements, resumes, and experiences in one easy-to-skim profile. In addition to your standard application and resume submission, you'll be able to gain access to the candidate's public social activity and get a better idea of how they interact with others.
Hire More Effectively with 4 Corner Resources
Amplify your recruiting efforts with our expert recruiters, a nationally recognized professional staffing firm. We have over a decade of experience helping small and large companies recruit for success today and sustained growth tomorrow.
We offer a full-service menu of staffing options to suit your needs, including direct-hire recruiting, temporary staffing, and contract-to-hire. From entry-level positions all the way up to the C-suite, we'll help you attract, engage and hire the perfect candidate to join your team. Ready to take the next step and meet qualified candidates in your field?
Contact us today to get started!
FAQs
What does mobile recruiting mean?
Mobile recruiting is the process of using a phone or tablet to connect with potential candidates during the recruiting process. It can be done through apps or software platforms and utilize texting, emails, FaceTime, and more.
What are examples of mobile recruiting?
Mobile recruiting includes any step of the recruiting process that you are doing from your mobile device, whether it's video interviews or the use of AI to text message candidates and keep them updated on the status of their applications.
Which apps or software are best to improve mobile recruiting efforts?
LinkedIn Recruiter allows teams to work directly with the LinkedIn platform and seamlessly message and source potential candidates. Workable is another full-service option that provides support throughout each step of the process.