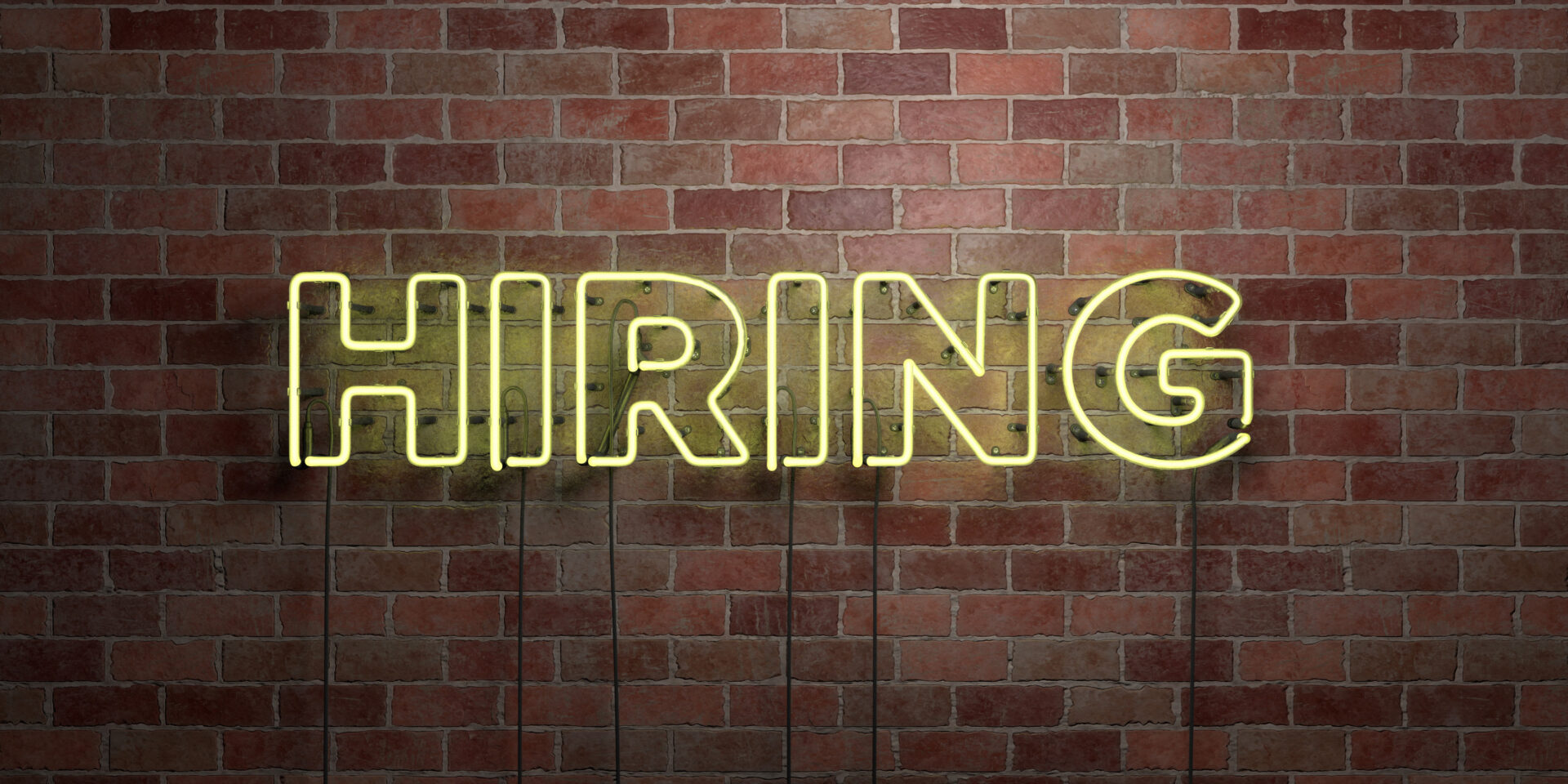 You're hiring, and it's time to tell the world. Getting the word out among the right people will determine whether you attract qualified candidates and, ultimately, make the best hire. Social media is an asset that can help get your 'help wanted' message in front of the targeted, skilled audience you're looking for. We'll explain how to use a we are hiring social media post to publicize job openings and give some winning examples of what to say to get qualified candidates to take the next step in applying.
11 Top Tips For Writing a We Are Hiring Social Media Post (With Examples)
1. Keep it simple
Even if you don't know much about social media, you probably do know that people have limited attention spans. This is especially true when they're scrolling mindlessly on their phone.
This means you have to catch their attention and do it quickly. Don't attempt to share the entire job description in a social media post. Instead, focus on the highlights and offer a link to learn more. Use an eye-catching image, preferably with people or large, bold text.
Example: "We're hiring! Looking for line cooks to join our award-winning kitchen team. On-site training available."
2. Make it easy
As we just discussed, catching a candidate's attention is already a challenge. Once you've accomplished that, don't ask them to do more work. Make the steps required to get from your post to the job application as easy as possible.
Example: This help-wanted post from a hospital in Houston makes it super simple for interested candidates to take the next step.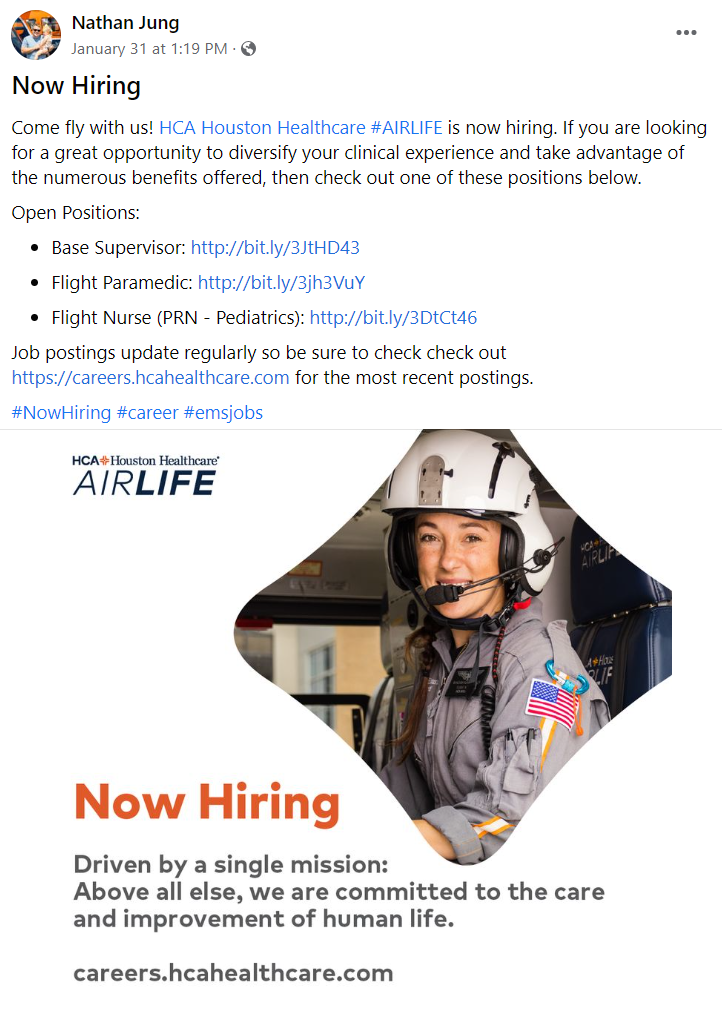 Not only do they offer three different job openings to consider, they include an individual link to each one, so the viewer doesn't have to go searching on their website for the job they're interested in. They also make it easy for those who want to browse other openings by including a link to their general careers page.
3. Detail the position
Help candidates instantly decide if a position is right for them by describing the job duties. This enables people who view the post to opt-in or out, which can mitigate unqualified candidates and aid in screening.
Example: Made In NYC details exactly what they need their new marketing and engagement program manager to do.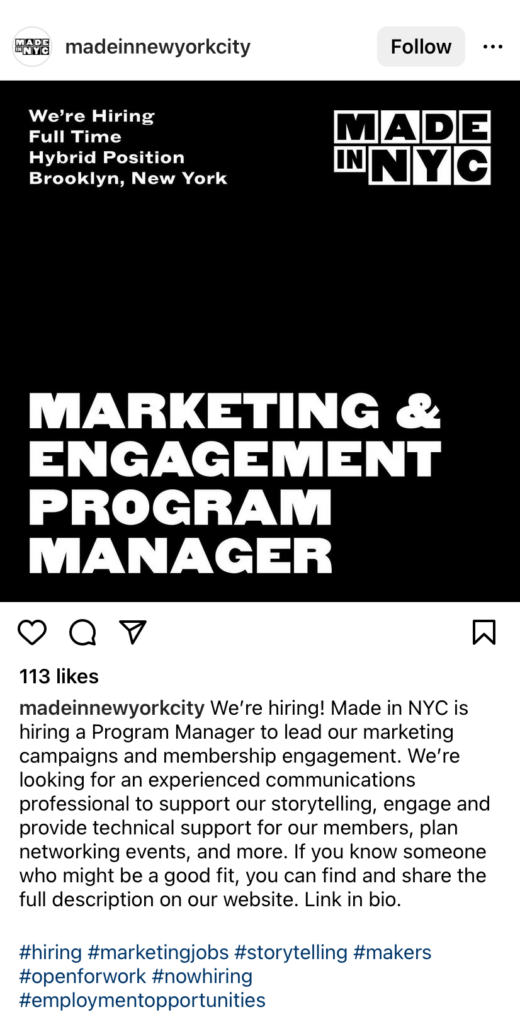 After capturing attention with a simple, bold image, they use the post caption to highlight three of the core job duties: "support our storytelling, engage and provide technical support for our members, plan networking events." This makes it incredibly simple for someone who sees the post to know whether they're up for the job's demands.
4. Call out desired skills
You can also help candidates opt in or out of applying by using your caption to name the specific technical qualifications you seek.
Example: "Graphic designer needed! Seeking creative candidates who are proficient in Adobe Illustrator and Photoshop."
Related: How to Write a Job Description to Attract Top Candidates
5. Introduce the company
If your business isn't a household name (yet), include a line or two in your post that briefly describes who you are and what you do. You can tell people about the kind of services you provide or the products you sell.
Example: This Florida restaurant does a great job succinctly describing itself in its job post.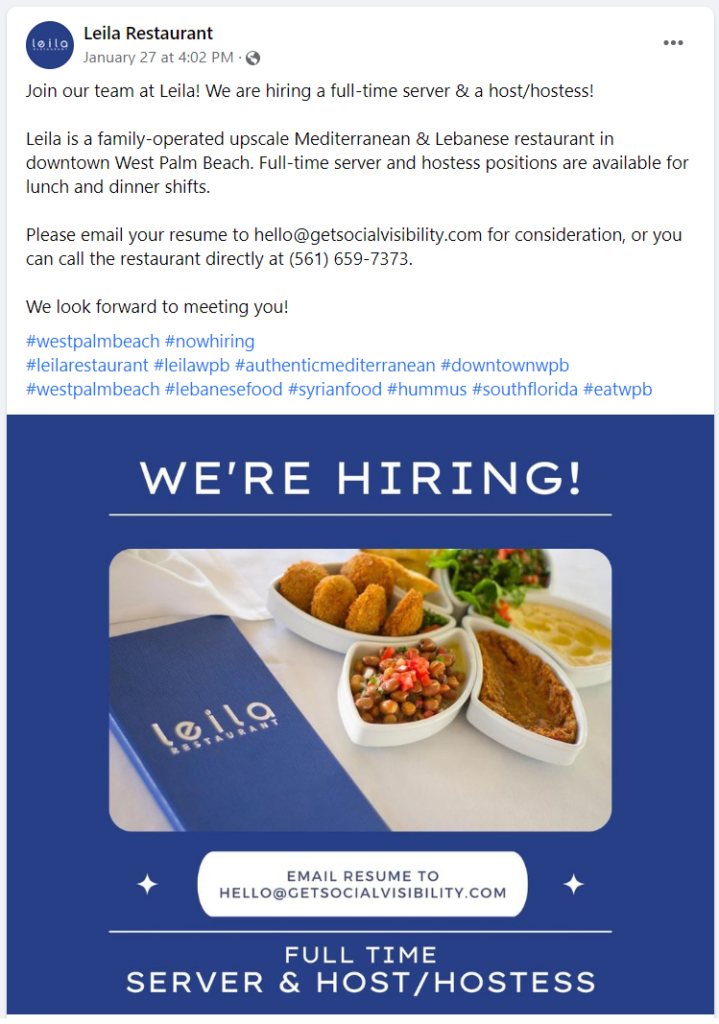 In a single sentence, they summarize all the key details a job applicant needs to know: the type of restaurant they are in, the food they offer, and their location.
6. Highlight your selling points
Take your basic company description one step further by conveying what makes your organization better than the rest. If you've won any awards or earned a reputation in your industry for having excellent benefits, for example, a we are hiring social media post is a great place to showcase those qualities.
Example: "Join the HVAC team named 'Best in the Hudson Valley' for three years in a row! Insurance coverage available for full- AND part-time employees from day one."
7. Put your money where your mouth is
Job seekers care about money, plain and simple. It's consistently the number one factor candidates consider when looking for a new job. If you've got an attractive offer in the form of salary or other monetary perks, including it in your social media caption will go a long way toward getting your post noticed.
Example: The Lake County Sheriff's Office advertises their $10-20k sign-on bonuses loud and clear.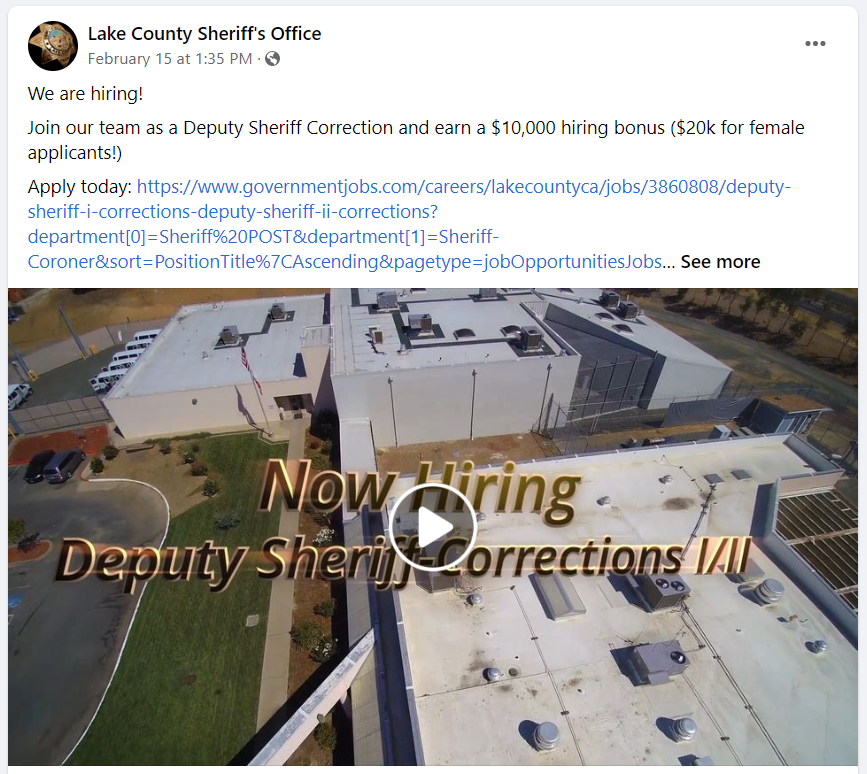 Publishing a salary range with the job description is another way to command added attention.
8. Speak to candidates' desires
Top marketing professionals know the best sales copy and explain how the company solves a problem for its customers. You can apply the same strategy with your 'we're hiring' post by calling out the pain points you solve for candidates as an employer.
Example: This healthcare staffing agency names three specific things candidates will likely be looking for.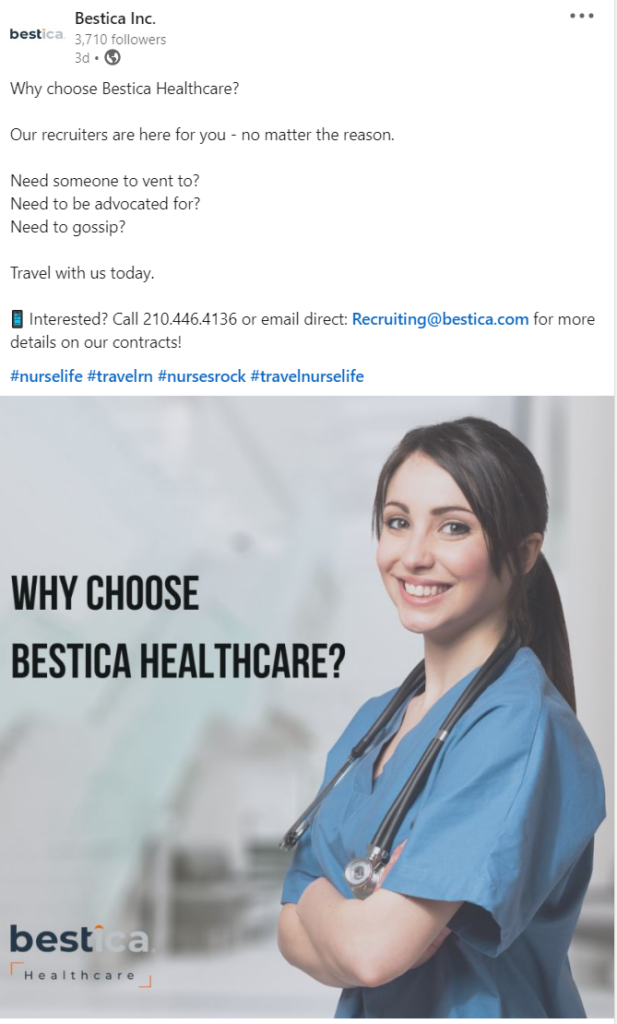 By sharing how they act as a listening ear, an advocate, and even a gossip buddy, the company demonstrates that it clearly knows and understands its contractors.
9. Spotlight happy employees
Who better to convince job seekers to apply than current employees who love their jobs? Use testimonials–videos are great for this–of existing staffers gushing about why they're happy to work for your company and encouraging others to join the team.
Example: "My job with [COMPANY NAME] is the best one I've ever had because the company truly values its employees. My managers are supportive and are always looking for opportunities to help me grow in my career. Whenever there's an open position, I tell my friends to apply because I want everyone to love their job as much as I do."
Related: How & Why to Use Social Media to Showcase Your Company Culture
10. Emphasize your mission
Today's candidates–especially those on the younger end of the spectrum–want more than just a paycheck from their job. They want to feel that their work has meaning or is accomplishing an intrinsic purpose other than just making money. Capitalize on this preference by explaining how your work makes an impact.
Example: Sage Therapeutics engages job seekers by sharing how it touches "millions of lives."
You can also emphasize your mission by spotlighting charitable partnerships and philanthropies you support.
11. Niche down
When posting a job listing, it's only natural to want to reach as many people as possible. But all those eyeballs don't do you any good if they don't belong to people who are right for the role. Instead of casting the widest net possible, use the language in your caption to narrow your focus to the specific type of applicant you're looking for.
Example: The Chesterfield County Police Department has a very particular audience in mind for this post.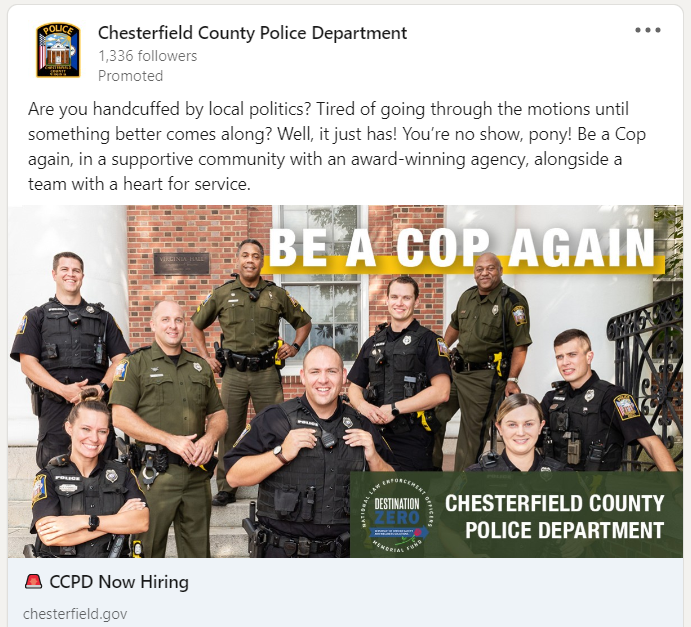 They speak directly to their intended audience–former police officers–and name the frustration (waiting until "something better comes along") those candidates are dealing with.
Finally, when formulating your caption, don't forget to consider the platform. LinkedIn, for example, has a more formal tone than Instagram. TikTok's audience skews younger. These factors will help you craft a post that strikes the right chord with the right audience, bringing you more qualified applicants for your open jobs.