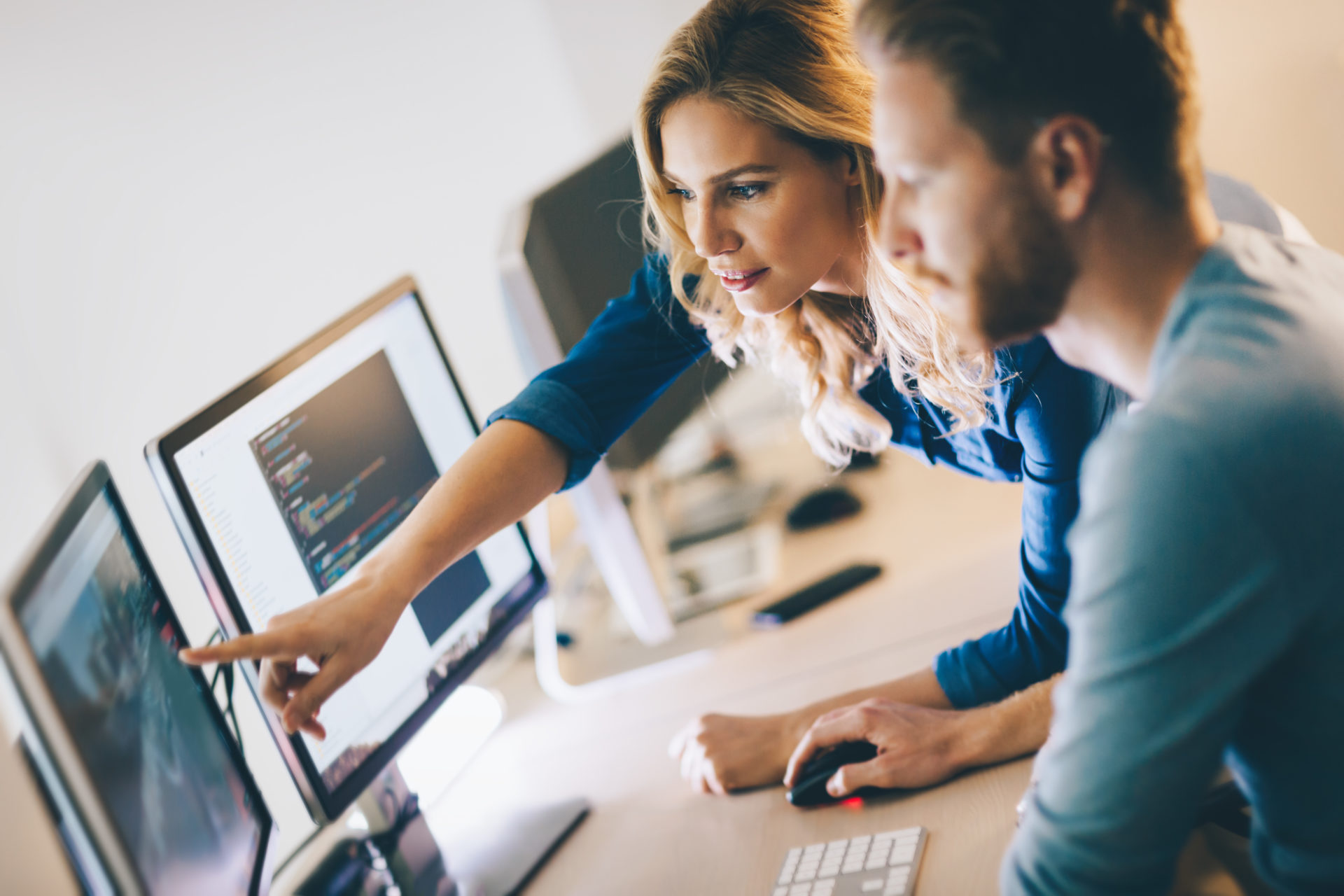 American companies are not alone in their struggle to find tech talent. There is currently a global shortage of experienced technology professionals.
Here are some statistics and information that illustrate the challenges confronting companies in IT recruiting:
According to the U.S. Bureau of Labor Statistics, there will be more than one million computer science-related jobs without qualified college graduates to fill them.
The U.S. Bureau of Labor Statistics also reports that the current tech unemployment rate in the United States is below two percent.
Prompted by a shortage of qualified candidates in the software and IT fields, U.S. multi-national companies are establishing and expanding innovation hubs abroad, researchers at Carnegie Mellon University and Georgetown University learned.
In a survey titled The Global Hiring Landscape 2018, Stack Overflow asked more than 100,000 developers worldwide about their job-seeking status. They discovered that just 16 percent of developers are actively searching for a position, but 75 percent of respondents are interesting in learning about new jobs.
IT Talent Shortage
The tech talent shortage is having a negative impact on innovation. Companies are discovering that the challenge to find qualified team members affects their bottom line. The lack of tech talent prevents businesses from moving into new markets and growing revenue, and it leads to current employees filling the gaps. This leads to high turnover since the lack of timely hiring results in burnout among existing team members.
The IT field is a candidate-driven market, and companies are striving to better understand how to effectively recruit and retain top talent. The vast majority of technology professionals are "passive candidates," which means they are not actively seeking a new opportunity. They already have a job, and you won't find them on employment websites. Partnering with an IT recruiting agency gives companies significantly greater access to exceptional tech talent because of the agency's network of contacts and in-depth knowledge about the myriad of positions within the IT industry.
Tips to Retain IT Professionals
1. Recognize the specific role for which you are recruiting
When human resources professionals and recruiters do not have a background in, and experience with finding tech talent, they understandably struggle to recognize the essential skills required for the exact role that is open. This can result in frustrated hiring managers and positions remaining open for too long. It is vital to know the specific abilities and experience you require in an ideally-suited candidate.
2. Understand the traits of your ideal candidate
Defining what is known as your candidate persona is a valuable ingredient to finding, attracting, hiring, and retaining talented IT professionals. It is also helpful to know the demographics of typical prospects.
Stack Overflow's Global Survey shows that more than 90 percent of tech talent is male. Around three-fourths of professional developers are younger than 35. About 90 percent of developers said they have learned a new language on their own; outside of their formal education. More than 90 percent of developers have at least one part-time job, and frequent job changes for developers are common as approximately half have accepted a new position in the last two years.
Defining your ideal candidate's traits, and understanding the demographics in the industry, better prepare you for your search.
3. What motivates tech talent?
Stack Overflow's Global Survey indicates that the top priorities in a new job for tech talent are compensation and benefits, and specific technologies they will experience. A late 2018 survey conducted by Dice, a tech job website, found that health benefits and the ability to work remotely are more important than stock options, job titles, hardware choices and perks like on-site fitness centers and small bonuses.
A previous Dice study discovered that 11 percent of technology professionals remain in their current job, even if they are unhappy, because of health benefits.
Gaining insight into what is most meaningful to prospective team members is vital because of the tech talent shortage. Benefits that elevate your company from the competition, and the option of working remotely instead of having the time and expense of commuting to an office, can be the difference between your business landing a quality candidate, or your competitor gaining that prospect.
4. Create and maintain a strong employer brand
When most potential employees are already currently employed elsewhere, it is increasingly important to make a positive impression. Effective employer branding is the key to properly representing your company and attracting quality tech talent.
According to an article from Glassdoor, 84 percent of people already employed said they would leave their company for another one that has a better reputation. A favorable employer brand involves creating, and them maintaining a reputation as a great place to work that offers value to your employees (compared to only asking for value from them). Companies with a strong employer brand tend to attract talent organically, meaning that team members flock to them.
Culture is integral. Have you created an engaging and inviting work environment? Is morale at your company high? Do team members feel appreciated and challenged? Do employees see the opportunity for growth and upward movement at your firm? Perception is reality, and an effective employer brand generates both a positive perception and reality.
5. A positive candidate experience is essential
Candidate experience is among the tools to build and maintain a favorable employer brand. It involves the way you treat prospects during the hiring process, from start to finish, and it includes those you hire and those who are not ideal for the current job opening but might be perfect for another role in the future.
If candidates have an unpleasant experience, they are less likely to accept an offer and most likely to let people know why on social media and in face-to-face communication; putting a strain on your employer brand. A positive candidate experience results in more accepted job offers and shining reviews on social media and in person.
Pros With Working With an IT Headhunter or Staffing Agency
With all of the aforementioned factors in mind, partnering with an IT staffing agency or IT headhunter can give your company an edge in finding exceptional tech talent. Here are some advantages of working with a recruiting company that is experienced in helping businesses find top tech talent:
1. They understand the IT industry
Many technology jobs are complex and require a particular set of skills. IT staffing agencies have teams of recruiters and headhunters who understand the specific abilities, education, and experience necessary for the myriad of technology occupations.
2. They have a deep pool of candidates
IT staffing agencies have vast networks of contacts in a multitude of industries. This is especially crucial in finding tech talent since most of the best prospects are already employed and not actively seeking a new job. IT recruiters and IT headhunters have an expansive network of contacts and a deeper talent pool than companies who rely upon recruiting on their own, or staffing firms with limited experience in the IT field.
3. They screen out candidates who are not ideal
Sourcing, interviewing, and hiring quality employees is a time-consuming process. Ideal team members not only have the desired education, experience, and skills for the available opportunity, but they also should fit in with your corporate culture. IT headhunters and IT staffing agencies pre-screen candidates, which weeds out prospects who are not a good fit. This increases the chance that you will find and hire employees who will be happy and productive for the long term.
4. They are invested in your company for the long term
Not only is it important to find talented team members who want to stay with your company for the long term, but it is also valuable to partner with a recruiter that is genuinely committed to your firm's success. A reputable and devoted IT staffing agency can be a valuable long-term asset to help your company consistently grow.
Key Takeaway
4 Corner Resources (4CR) is an experienced and innovative leader in helping companies like yours find skilled and qualified team members for your vacant positions.
We offer staffing solutions for businesses of all sizes – from startups to SMBs and large corporations throughout the United States. Our knowledge and passion for what we do, and our flexible terms and conditions, set us apart in the world of headhunting and recruiting.
If you need help identifying the right candidates for your vacancies, we welcome the opportunity to connect! We're on standby to help you transform your workforce and find the ideal candidate today!