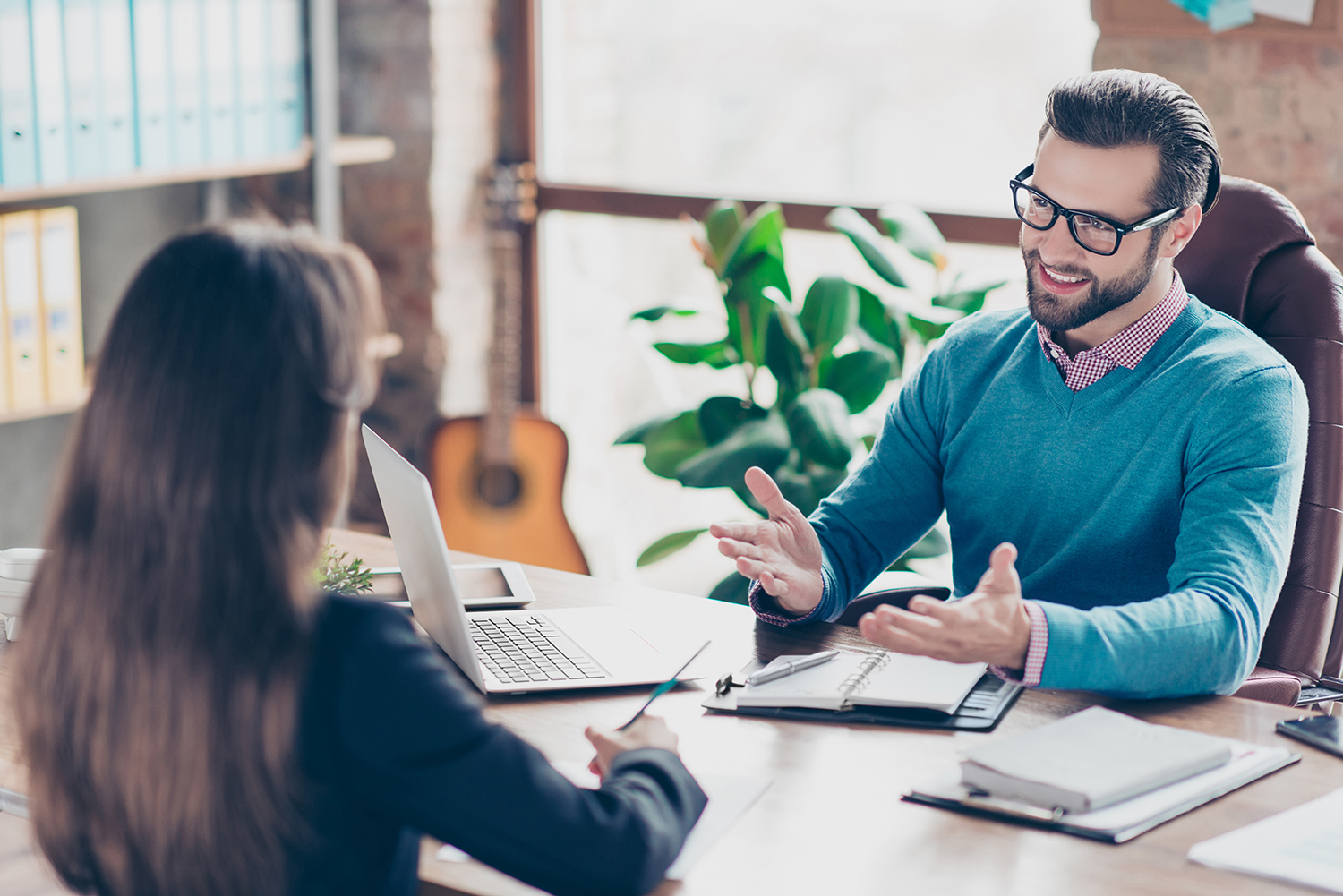 Are you working with a small business recruiter or headhunter who can provide the recruiting and staffing services your organization needs? How can you tell whether you have an excellent recruiting partner for your small business or need a new vendor?
If you work consistently with a headhunter or recruiting firm, they should become familiar with your people, policies, and practices. As a result, they will develop a profile of the ideal employees for your organization. The right small business recruiter will know how to use this familiarity and knowledge to your benefit – they will understand your company culture, and know how to leverage it in the recruiting process.
The wrong recruiter, however, will simply take a one-size-fits-all approach that doesn't evolve along with your ever-changing needs.  This article will help you identify whether the small business recruiter you're working with is either good or bad for your staffing and hiring goals.
When you're trying to figure out how to staff and recruit the best employees for your small business, you can use an in-house human resources team, manage the time-consuming recruiting tasks yourself, or explore third-party headhunter options. When outsourcing your hiring to a headhunter or recruiting firm, it's imperative to know that they have your company's best interests in mind and are working towards the goal of providing you with the best candidate who can help your small business scale.
In the U.S. alone, there are about 20,000 recruiting and staffing agencies operating around 39,000 offices, according to the American Staffing Association (ASA). However, not all recruiting services are equal. What qualities or traits should you be looking for in a high-quality recruiting agency?
5 Signs You're Working with the Right Small Business Recruiter
1. Your small business recruiter demonstrates trustworthiness, reliability, and accessibility
Entrusting the responsibility of qualifying and screening your company's next executive, manager, or staff member to a third-party recruiter or headhunter is not easy. After all, you want to make sure your business is properly represented, and that you will end up with only the best candidates. As such, make sure the recruiting agency or headhunter you choose is one who is honest, reliable, and available when you need them.
To help you determine the quality of a prospective recruiter or headhunter, ask yourself the following:
Do you have to chase information, or does the recruiting agency readily provide it?
How quick are they to respond to your phone calls and emails?
Do you have a good feeling about them, or do you feel like they are hiding something?
Are they consistent in both their communication and results?
Are they willing to confirm and disclose all relevant information in writing?
What is their online reputation?
2. Your small business recruiter has access to a large pool of resources and candidates
Partnering with just any recruiting agency or headhunter isn't going to best serve the needs of your organization or candidates. When it comes to recruitment for businesses of all sizes, you need to be selective and choose a recruiting firm that:
Is well suited to staff your vertical and understands your industry;
Understands the nuances of the role(s) you need to fill;
Is equipped to handle your volume without sacrificing quality;
Has a wide array of human and technology resources at its disposal; and
Has access to an extensive network of prospective candidates.
Whether you need a headhunter who can handle direct hire, contract, or contract-to-hire services, be sure to choose a recruiting agency that can adequately provide the particular services you require for your small business.
3. Your small business recruiter demonstrates strong communication skills
Third-party recruiters and headhunters a reflection of the company they work for concerning reputation, standards, and the impressions they make. A recruiting agency that is transparent and continually employs excellent communication practices is going to be received more positively by candidates than a company that is unresponsive and leaves them in the dark.
When assessing prospective recruiting firms for your small business, you'll want to evaluate:
The quality of their email, phone, and face-to-face etiquette;
Their recruiting process when it comes to screening and interviewing candidates;
Their plan for candidate communications not only before and after an interview but once a candidate has been selected and hired;
How well they listen and then communicate your needs externally; and
How well they present themselves on social media.
4. Your small business recruiter follows proven practices
A solid structure and refined process are significant indicators of success in the recruiting and staffing world.  You need a headhunter who is poised to deliver consistent and reliable results that can only be achieved by having solid and documented practices in place.  When evaluating the recruiting agencies in your area, it's vital to assess each company's processes, values, and small business recruiting strategies. This way, you understand where they stand and how they align with the vision, values, and strategies of your company.
To determine the quality of your recruiter's processes, you'll need to understand:
How they train new recruiters;
The steps involved in their recruiting process, with supporting documentation to include

Sourcing methodology
Candidate screening
Reference checks
Drug and background checking
Communication policies and practices

Their escalation path for problem resolution
Your recruiting firm should have thorough documentation for the above that they are not only willing to share but eager to do so upon request.
5. Your small business recruiter can accommodate your unique and evolving needs
While the benefits of following strict procedures and best practices are clear, it's also as important — if not more so — that a recruiting firm can be flexible when necessary. A recruiting agency or headhunter that can adjust course and adapt to your needs is critical to providing you with the best outcome from the recruiting process. Through our fourteen years supporting businesses of all sizes, we've learned that exceptions often are the rule.  Here are a few things to consider when determining whether your small business recruiter offers the flexibility you need:
 Do you have access to the decision-maker within the recruiting firm?

If not, can you receive a quick response to any and all questions that may arise?

Are they willing to change contract terms to accommodate a specific situation?
Are they able to adjust payroll or invoicing to meet your individual needs?
Now that we've identified several traits that a good recruiting firm or headhunter will possess, let's look at some signs that should give you cause for concern. 
5 Signs You're Working with the Wrong Small Business Recruiter
1. Your small business recruiter is inaccessible
Staffing and recruiting is a 24×7 business, and you should expect timely access to the headhunter who supports your small business.  Needs change and problems can arise on a moment's notice, which means your recruiting firm or headhunter must be available to respond quickly and react accordingly. Here are a few questions to consider when it comes to accessibility:
Do you have a relationship with a primary point of contact?
Can you always reach a live representative of the recruiting firm during business hours?
Do you have access to your recruiter or headhunter's mobile phone?
Can you receive a timely response during nights and weekends?
If the answer to any of these questions is "no", then you likely aren't receiving the level of support your small business deserves.
2. Your small business recruiter has a negative online reputation
For better or worse, perception is reality – especially when it comes to online presence.  While you shouldn't be overly concerned by a few negative reviews, you should absolutely look for a trend when considering what others are saying about the headhunter or recruiting firm you're working with.  Google, Glassdoor, and Indeed are among the most popular sites that offer current and former employees an opportunity to share their feedback and experiences. A little smoke is OK, but where there's a lot, you can safely assume there's a fire.
3. Your small business recruiter has a difficult time explaining their process
The right recruiter or headhunter will eagerly explain their process and will likely even take you through the various steps in writing.  Lack of a documented, refined process is a strong indication that your recruiter will not be equipped to address your small business staffing needs.  Here are some questions to ask regarding the stages of the recruiting process
Describe your sourcing activities and tools?
How, exactly, do you screen and qualify candidates?
How do you document candidate communication?
Describe your process for checking references?
How do you handle drug and background screening?
4. Your small business recruiter undervalues quality
In the not-so-distant past, it was a given that third party recruiters and headhunters were expected to be thorough and diligent when qualifying candidates.  While technology has created increased efficiency in many areas of recruiting, it has also brought about the introduction of vendor management systems, which exist to automate much of the recruiting process.
The unfortunate (and surely unintended) byproduct of this automation, however, is the creation of bad recruiting habits among firms who embrace this way of doing business.  Specifically, vendor management systems promote quantity and speed over quality, which is the last thing a small business needs when it comes to recruiting and staffing.
I can't stress this enough:  Drill down with your recruiter to find out what, exactly, happens before a candidate's resume is presented for your consideration.  As referenced in point #3 above, if your recruiter hesitates at all when responding to this question, run away immediately!
5. Your small business recruiter isn't a partner in your success
Although we sometimes wish this wasn't the case, recruiting firms and headhunters are a dime a dozen these days.  There's simply no reason to work with a recruiter who isn't willing to invest in you and your small business. For this final example, I will leave you with a few subjective questions to ask yourself:
Do you trust your recruiter?
Do you like working with your recruiter?
Can you rely on your recruiter?
No need to answer these out loud:  You'll know in your gut whether your recruiter or headhunter acts as a partner or just another vendor.
Wrapping up
At 4 Corner Resources, we understand that things come up and circumstances change. We view flexibility, reliability, and consistency among our most important traits — we strive to be as agile as possible for our clients and to just make their lives easier by producing the right quality at the right time. Need to make a last-minute change to a contract or change directions on the fly? No problem. Just pick up the phone and give us a call.
Headquartered in Orlando, 4CR is a recruiting and staffing agency that places the needs of our clients above everything else. We're all about relationships and are fully committed to delivering the best person for the job. As a member of the ASA, we use all available resources to provide responsive and expedient small business recruiting services that drive the results you desire. Our team of experts puts to use the expertise they've gained through 13 years of helping companies and organizations of all sizes attract, qualify, and screen large networks of candidates. We work with local and national clients to connect them with the best candidates in the fields of administration, marketing, finance, healthcare, legal services, call centers, and technology.
To explore partnering with 4CR, contact our team of recruiting and staffing headhunters today.