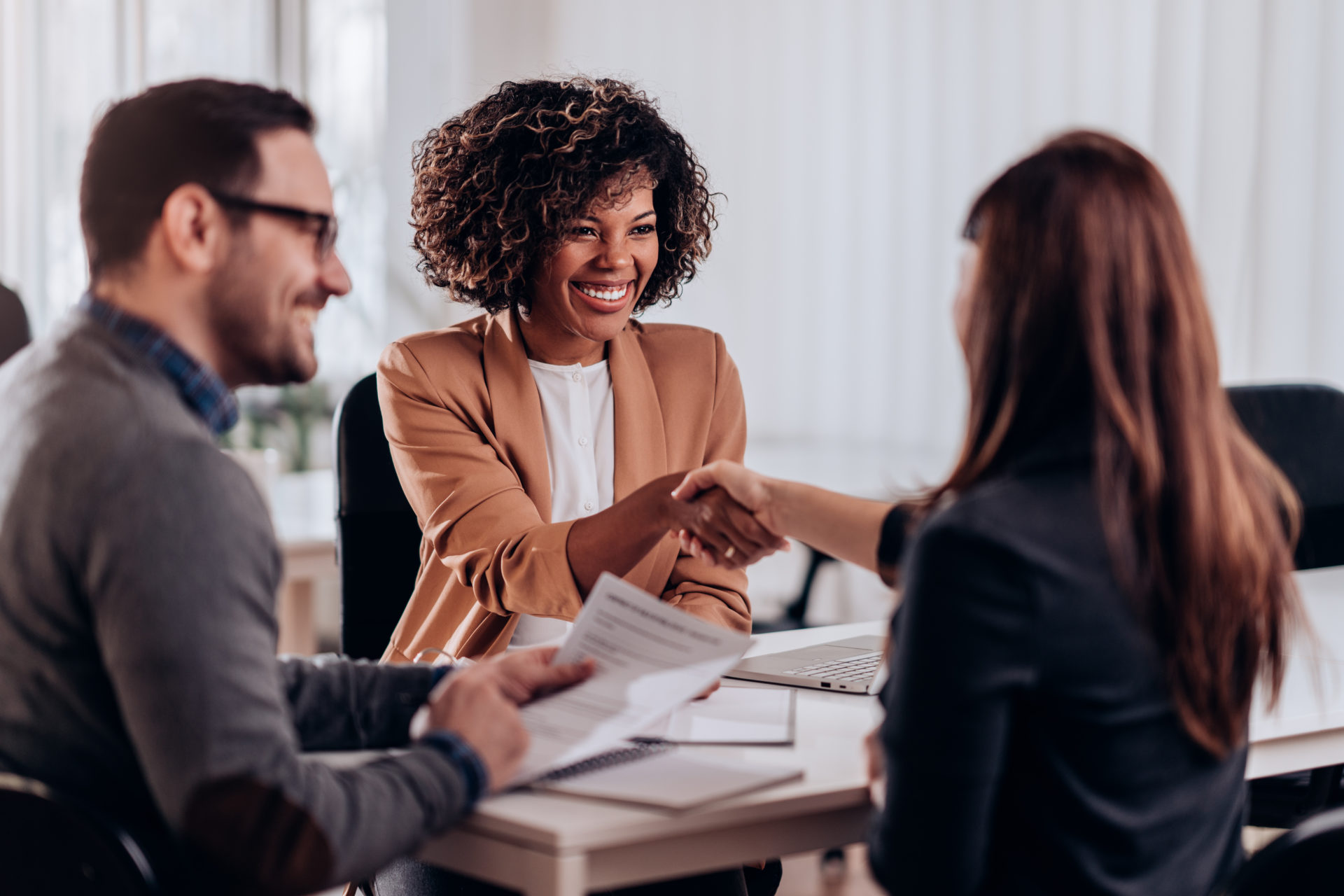 For most companies, interview formats look a bit different than they did a year ago. Whether you've started using Zoom to screen candidates or you've switched to a fully remote onboarding process, you've probably made some adjustments to how you hire as a result of Covid-19.
Even as many businesses resume in-person operations, we anticipate that we'll be seeing more companies embrace alternative types of job interviews in the years to come. Deviating from the traditional interview format can offer many upsides, including lowering your hiring costs, shortening your hiring time frame and dealing with a higher-than-normal volume of applicants.
As you continue to adapt your hiring process for speed, quality and safety, here are five different types of job interviews to consider using.
Types of Alternative Interviews
1. Traditional interview
This is the interview format we're most familiar with: one interviewer, one interviewee, and a period of questions and answers lasting roughly 30 to 60 minutes. The traditional interview format is the most-used style of interview for many reasons. It's straightforward, it gives you a chance to build rapport, and in most cases it gets the job done in terms of figuring out whether a candidate knows their stuff.
The traditional interview, however, isn't without its share of drawbacks. For starters, the short window of time you spend with the candidate gives you a limited chance to assess them. You're also limited to the views of a single stakeholder—the person conducting the interview—which can be subject to bias.
There are all kinds of outside factors that could influence how the interview goes, from the setting to how long you've had to prepare to the candidate getting in a fender bender on their way over. You're required to make a pretty big judgment call based on a small moment in time.
Traditional interviews work best when you're a seasoned hiring professional, are working with a manageable pool of candidates and have a solid understanding of the role you're hiring for.
Pros of traditional interviews
Predictable; candidates are comfortable with the format
Ability to build rapport with a candidate
Opportunity to assess body language
Setting and time frame can be adjusted to meet your needs
Cons of traditional interviews
Time-consuming to hold with every viable candidate
More prone to hiring bias
Limited interaction on which to base your decision
Tips for using traditional interviews effectively
Screen candidates ahead of time so you don't waste time interviewing unqualified or ill-fitting applicants
Don't just re-hash what's in a candidate's resume. Use the interview as a chance to dig deeper and probe how well they'd fit in the role
Allow time for the candidate to ask questions
2. Video interview
We have the pandemic to thank for the explosion of video interviews in recent months, but this interview format comes with many more advantages than just keeping everyone socially distanced.
If you're interviewing candidates from outside your geographical area, video interviews can save you a considerable amount of money on travel expenses. They can also save time, since they can be conducted from pretty much anywhere. It's easy to fit them in between meetings or outside of normal business hours and to accommodate candidates in different time zones.
Video interviews are highly useful when you have a large pool of applicants; use them as a screening tool before bringing candidates in for an onsite meeting.
There are two major downsides to video interviews. One, you miss out on body language and other nuances you can gain from meeting a candidate in person. And two, they're subject to technical difficulties and user error. It's not uncommon to spend the first five minutes of a video interview-getting everyone on the same page with audio and video, which can be frustrating.
Pros of video interviews
Convenient, can be conducted from anywhere
Saves on costs
Useful as a pre-screening tool before in-person interviews
Compliant with social distancing
Cons of video interviews
At the mercy of technical difficulties
Lacking body language, other in-person cues
May put some candidates at an unfair disadvantage (they're inexperienced with the technology, have a poor internet connection, etc.)
Tips for using video interviews effectively
Send clear instructions for the video conferencing platform ahead of time so candidates can adequately prepare
Choose a quiet, well-lit setting with a dependable internet connection
Use a desktop or laptop rather than a smartphone
3. Group interview
A group interview consists of one interviewer and multiple candidates in a round-table-like setting. These types of interviews are great for when you're hiring to fill a number of slots at once, like seasonal hiring for retail positions, or in cases where you want to see how the candidate interacts with others. 
In a group setting, the interviewer might direct different questions to individual candidates or pose a question to the group and put it up for general discussion. In roles that require teamwork, this interview style can be a nice way to gauge whether applicants feed off the energy in a group setting or close themselves off when confronted with a collaborative environment.
When conducted efficiently, group interviews can be a highly effective way to engage with multiple candidates in one sitting, which is especially useful if you've had a high volume of applications. Seeing the candidate interact directly with one another can also give you a clear picture of who might be a stronger fit for the role.
Pros of group interviews
Saves time by meeting with multiple candidates at once
Can fill multiple openings for the same role quickly
Opportunity to see how candidates behave in a group setting
Cons of group interviews
Requires an experienced, proficient interviewer
Aggressive candidates may get more time/attention than others
Tips for using group interviews effectively
Go in with a plan so the interview doesn't get derailed by too much chatting
Don't let big personalities dominate the interview; be sure to give each candidate time to speak
4. Panel interview
In a panel interview, the candidate sits down with multiple interviewers at once. The panelists typically represent different parts of the organization or may even be from outside the organization. Panel interviews are an excellent tool for getting multiple perspectives on a candidate, which is a great way to minimize hiring bias. It can also be helpful when hiring for a niche role, as you can bring in a panel member with specific expertise to address the technical portion of the role.
Though panel interviews can be more intimidating for candidates than a one-on-one setting, they offer the opportunity for them to get to know more than one person, which is useful in identifying culture fit. For senior roles that necessitate candidates meeting with multiple stakeholders, a panel can save you the time of scheduling two or more separate interviews.
Pros of panel interviews
Minimizes personal bias
Allows an expert to address technical skills
The candidate gets to meet multiple team members
Saves time when you need to involve multiple decision-makers
Cons of panel interviews
Can be intimidating for candidates
Greater risk of disagreement over who to hire
Tips for using panel interviews effectively
Designate one panelist as the "leader" of the interview so you're not competing with one another
Confer ahead of time so everyone is on the same page about the role's requirements and the desired characteristics
5. All-day interview
As its name suggests, the all-day interview brings the candidate to your headquarters for a full day of meeting with various team members and participating in the types of activities they'd be doing as part of the job if they were hired. Obviously, this style of interview necessitates an in-person visit, so will require a greater financial investment for long-distance candidates and much more advance planning to make sure the time is used efficiently.
An all-day interview is one of the most effective interview formats for assessing the candidate from both a technical and a personality standpoint, giving you plenty of time to gauge their skills and get to know what they might be like as a colleague. However, having so much time with a candidate also presents challenges; you'll need to secure the participation of many different parties who will each take responsibility for a chunk of the candidate's time during the day.
Pros of all-day interviews
Plenty of time to gauge both technical skills and personality
Best way to identify culture fit
Candidate gets to interact with prospective teammates
Chance to assess applicant in a day-in-the-life setting
Cons of all-day interviews
Requires extensive planning
Higher cost for non-local candidates
Tips for using all-day interviews effectively
Stick to a schedule; lack of structure can make the candidate feel their time is being wasted
Switch up the day's activities between traditional interviews, group settings and hands-on work to get a holistic view of the candidate
Hire More Efficiently with Help from the Staffing Pros
Choosing the right types of interviews to use with candidates is one path to hiring success. Working with a trusted staffing partner is another. 4 Corner Resources is an Orlando-based staffing agency that can help you hire more efficiently and at a lower cost than recruiting, screening and interviewing candidates on your own. To learn how working with a professional headhunter can benefit your organization, schedule your free consultation today.