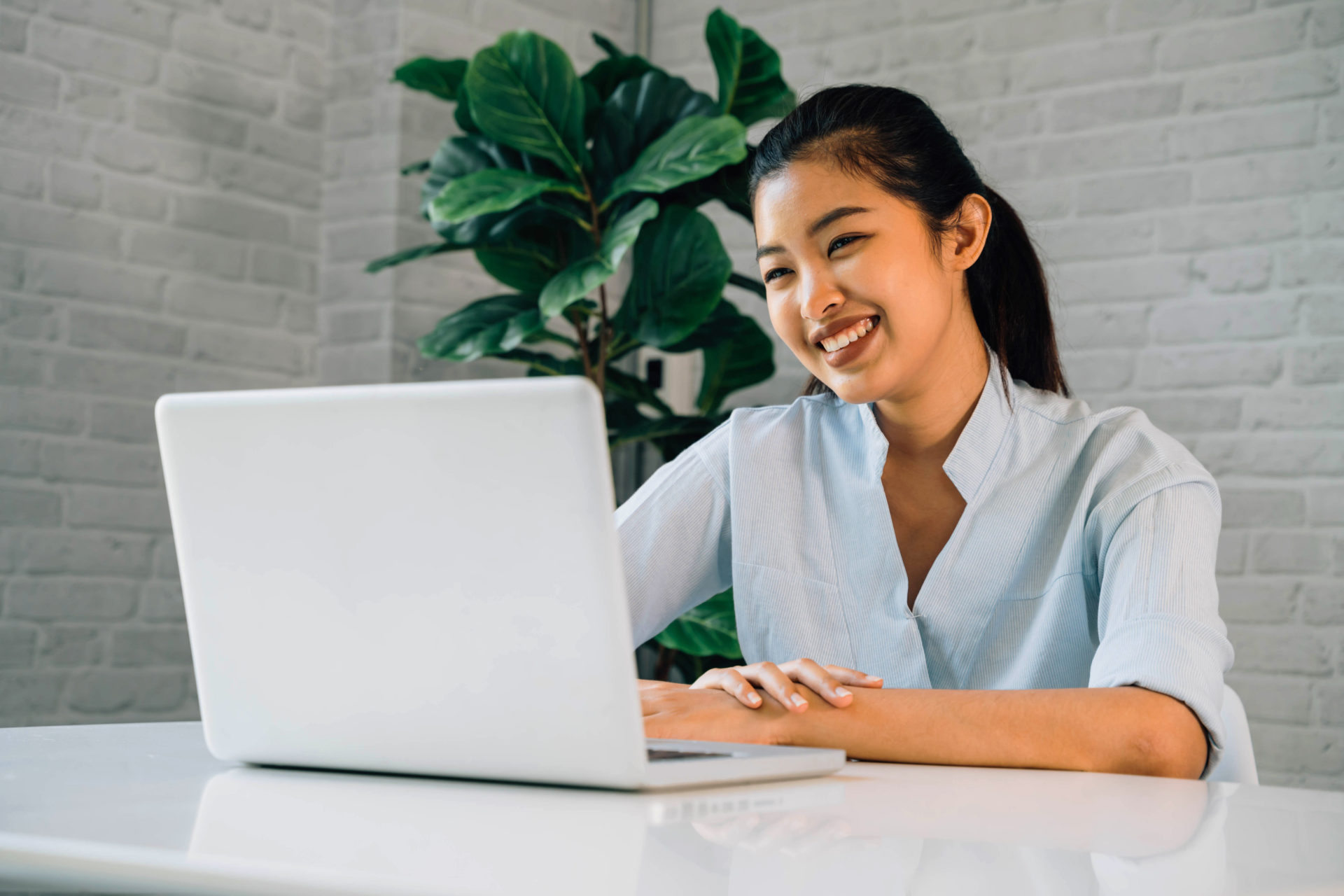 With the pandemic's continued influence on how we all live and work, many businesses are navigating the challenges of implementing predominantly remote hiring processes. A recent survey by Gartner HR reported that, because of COVID-19, 86% of organizations are using virtual technology to conduct interviews.
Virtual job interviews allow companies to maintain social distancing during the hiring process. They offer other benefits as well. They can help candidates feel at ease by allowing them to be in their own environment without the stress of dealing with traffic jams and other logistics of attending an in-person meeting. Also, the potential for flexible scheduling makes them convenient for hiring managers who need to fit many interviews into a limited time period.
Still, conducting interviews remotely is relatively unfamiliar territory for some businesses. You are not alone if you're wondering how you can manage them to maximize your success in securing top talent for your organization. Fortunately, you can use some best practices for virtual interviews to help ensure you get the most from meeting with job candidates from a distance.
1. Save the Date and Send an Invitation
Suggest potential interview dates that will give everyone involved ample time to prepare. After scheduling the interview at a mutually agreeable day and time, send email invitations to the candidate and other participants to confirm they will attend. If you would like to record the interview, inform the candidate in advance and obtain written consent that they are aware it will be recorded and they have agreed to the recording.
2. Provide Clear Instructions
Give candidates all of the details they need about the online platform you'll use and directions for how they should access the virtual meeting. If they need to download an app or set up an account, they will need to know ahead of time to make sure there are no technical issues to resolve at the last minute.
3. Choose a Quiet Location
Select a peaceful spot away from other people, pets, and other potential interruptions so that you can interview candidates without distractions. You might also consider using a headset to prevent any unexpected background noise from interfering with the video call's audio quality.
4. Prepare for the Interview
You expect that job candidates will show up prepared when they meet with you. You, too, should devote time to making remote interviews as productive as possible.
Minimize the risk of technical difficulties by having reliable technology (desktop or laptop computer instead of a smartphone, strong internet connection, etc.) in place to conduct your interviews. If multiple people from your company will attend the meetings, encourage them to have their technical details in good order.
Before you begin video interviews, make sure you have all of the information and materials you'll need in front of you. Your list of interview questions, the job description, the candidate's resume, and other documentation the interviewee provided in advance should all be readily available.
In addition to your usual list of job interview questions, consider those below as well. When hiring for a remote position, they can help assess if a candidate possesses the right qualities.
Work from home interview questions
Do you believe you're good at managing yourself? Why or why not?
Do you have a space in your home where you can work with minimal distractions or interruptions?
What types of distractions might you face when working from home?
How will you set boundaries between your work and personal life while working from home?
What has attracted you to working remotely rather than in an office?
How much do you rely on work for your social interaction? How will you balance your need for in-person interaction with working remotely?
How do/would you prefer to communicate with your managers and colleagues when working remotely
What online collaboration tools have you used in the past?
What would you do if you lost your internet connection during the workday?
If co-workers will attend the interviews, it may help to establish ground rules in advance so that they don't talk over each other or stray from your agenda. Share with them how you will structure the interview and be clear about when you will welcome their participation during the discussions. Also, remind participants to keep their microphones on mute when they are not talking.
5. Demonstrate Professionalism
Virtual interviews are no less important than those held in-person for allowing candidates to learn about your company and visualize how they might fit there. First impressions go both ways. Even when conducting interviews from home, treat them with the same level of professionalism that you would if meeting with candidates face-to-face in the office. Dress appropriately for your company culture, speak respectfully, pay attention to the interviewee at all times, and maintain eye contact by focusing on your computer's camera rather than the screen.
6. Talk About Your Company Culture
It may be difficult for a job candidate to gain a sense of your business's culture and overall work atmosphere without having the opportunity to experience the physical environment. Below are several ideas to help them gain a better grasp of those things when you're doing remote hiring:
Explain your company's values and vision.
Provide examples of how your company's employees come together for causes (such as organizing fundraisers).
Share what employees have said they like most about working for your company. (Examples from employees in the department or job specialty the candidate would be hired for can be especially impactful.)
Discuss how employees have collaborated to solve several particularly challenging customer problems.
7. Talk About Your Business's COVID-19 Precautions
Job candidates may not feel comfortable asking about this during an interview, so consider proactively sharing how your company is mitigating COVID-19 risks. What policies and processes do you have in place to keep employees and costumes safe? Especially if the job position you're hiring for will be on-site, this information will reassure prospects of your company's commitment to their health and safety.
8. Rate Interviewees Consistently
As when interviewing candidates in-person, use a rating system or scorecard that gives you a consistent way of evaluating prospective employees. By applying the same criteria to each interviewee, you can identify those that meet the desired qualifications and characteristics more easily.
9. Watch for Warning Signs
Many of the red flags you watch for when interviewing job applicants in-person are the same as those when conducting meetings virtually. There are some additional warning signs to watch for when holding interviews remotely, too.
The candidate is late or doesn't show up. Candidates with a genuine interest in the position will join the interview at the scheduled time. Being prompt and present demonstrates respect for your and your company's time. While emergencies can and do happen, prospective employees should contact you as soon as possible to inform you of unforeseen circumstances that will prevent them from attending on time.
The candidate exhibits sloppy behavior or grooming. A virtual interview isn't a license for candidates to show up in their pajamas or sweat pants and ignore speaking in a professional manner. If interviewees act or dress overly casual, it may be a sign that they aren't serious about the job or your company.
The candidate seems uncomfortable with communicating. Being in front of a camera may cause some discomfort for candidates who are used to in-person interviews—still, communication skills matter. Consider if candidates are having trouble expressing themselves clearly or answering questions thoughtfully.
The candidate hasn't minimized noises and distractions during the interview. This, too, can be a warning sign that candidates aren't wholly interested in the position or your company. If they haven't taken the time to prepare their environment for the interview, will they make an effort to reduce distractions if hired and working from home?
10. Communicate What Your Candidate Can Expect Next
Let your interviewee know what the next steps will be. This will enable them to feel more connected with the process despite the lack of a firm handshake after the interview. Share if there is anything else you need from them, tell them when you intend to select a candidate, and explain how you will let them know whether you have chosen them for the position.
We Can Help You Hire With Confidence
COVID-19 has forever changed hiring processes. Fortunately, you don't have to face your HR challenges alone. We are here to help you build a recruiting and hiring strategy that meets your needs, addresses new hurdles brought by the pandemic, and fits within your budget.
Contact us to schedule a free consultation and discuss how we can help you through every stage of the hiring process.
---
Resources and Sources: