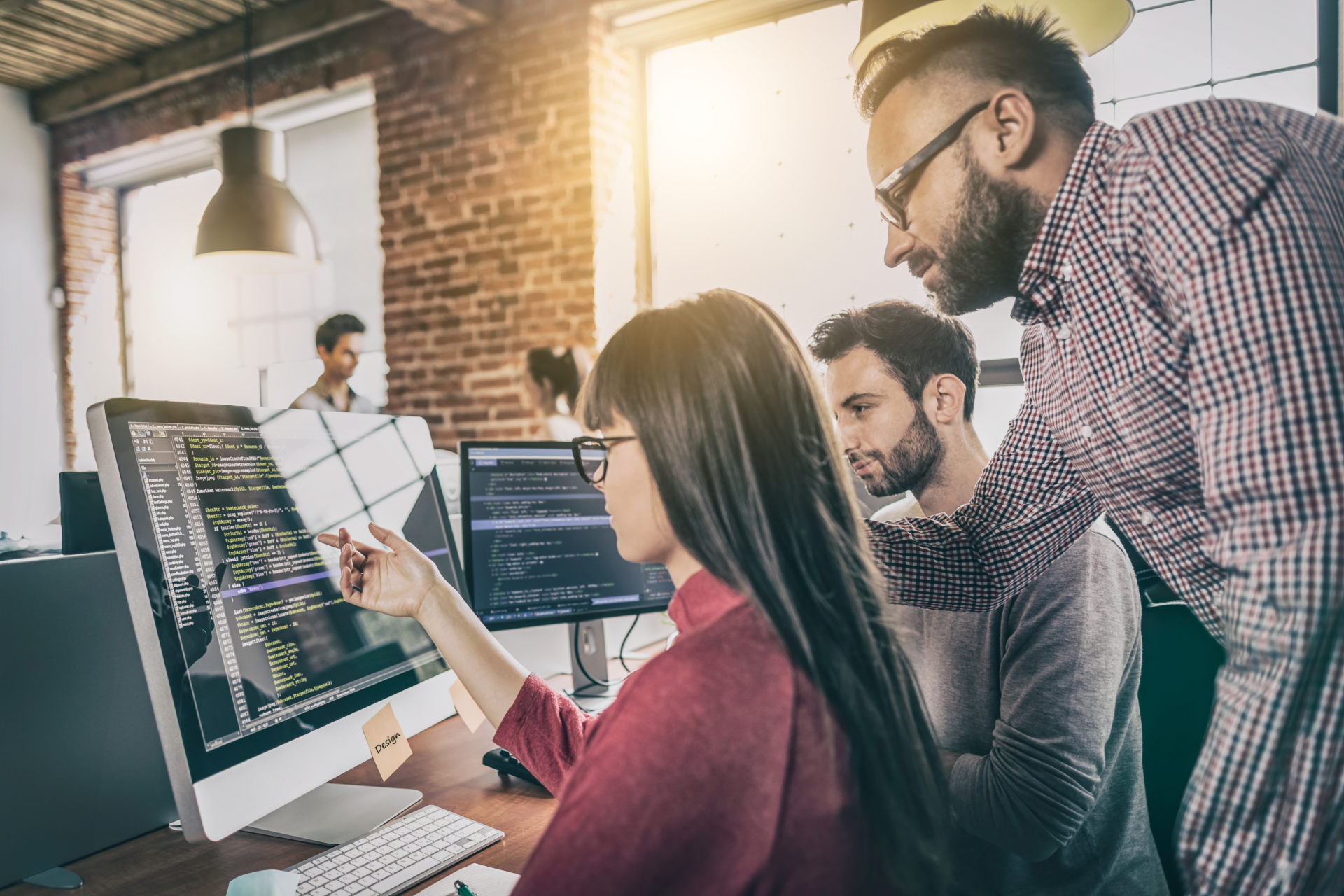 Developers play a critical role in most modern organizations, building desktop and mobile applications that help companies work more efficiently and serve their customers better. A good software developer has a creative mind, a knack for problem-solving, and a healthy helping of patience. 
Are Software Developers Easy To Find?
Though most business leaders recognize the importance of recruiting the best software developers, it's a position that's notoriously challenging to hire for. With an industry unemployment rate of a mere 1.4%¹, developers are in sky-high demand and the good ones are snatched up quickly.
It's especially tricky to source and screen developers if you're not one yourself; with a language all its own and a seemingly never-ending list of acronyms (GUI, CRUD, and SDK, anyone?), even the smartest non-developer can quickly get tripped up while interviewing candidates. Thus, it's important to have a solid strategy in place to attract and hire for this role.
The great news about hiring software developers is that there's a wide pool of talent all over the world from which to recruit. If you're open to hiring remote workers, you can significantly expand your options while simultaneously reducing costs.
To consistently hire top-notch developers, your best bet is to focus on building a talent pipeline so you always have great candidates coming your way, even when you're not necessarily looking to hire immediately. This way, when you do find yourself with an opening, you won't have to scramble to bring in applicants quickly.
Follow these strategies to create your own talent pipeline of software developers.
How To Recruit The Top Software Developers
Ask for referrals
We'll kick things off with a recruiting tip that ranks at the top of the list no matter what job you're hiring for: referrals. Referrals from current and former colleagues are one of the strongest sources to find great talent. For software developers specifically, turn to your existing in-house technology team first to see who they might be able to recommend. Hiring a referral has proven to not only be cheaper than going through other recruiting channels, but it also leads to lower turnover as well.
Related: How to Make Your Employee Referral Program a Powerful Recruitment Tool
Tap into freelance marketplaces
Contract work platforms are ripe with talent and have exploded in popularity in recent years, with Upwork alone boasting over 18 million registered freelancers². These platforms allow you to browse the digital resumes of hundreds or even thousands of software developers, then send out invites to those you think might be a good fit for your job. And since a freelancer's past clients can give them a rating, there's a vetting system built right in, which may save you some time during applicant screening or reference checks.
Open source data mining platforms
On open-source platforms like Github, software developers from all over the world can collaborate to build applications. But they're more than that–they also function as a professional social network of sorts, much like a developer-centric LinkedIn. When you view a developer's profile on Github, you can see the various projects they've contributed to and peruse their code, which should give you a good idea of the type of work they're comfortable with. 
An added bonus: since coders on these platforms contribute their time freely, you can be sure you're dealing with someone who's truly passionate about what they do. Stack Overflow, a Q&A site for coding, is another good place to look.
Give them a trial run
One of the distinctive qualities of software development is that the work often takes place in phases or sprints. This makes it very conducive to giving prospective developers a test run before hiring them full-time via a short-term contract. Software development is also highly collaborative, so a trial run gives their would-be manager and peers a chance to see how they fit in with the team and its workflows.
If a trial run on an actual project isn't feasible, consider using a coding test. This type of pre-hire assessment presents a candidate with an actual problem they'd be likely to encounter on the job, like coding their way to a solution or finding a bug in a program. A coding test is a great strategy to go beyond resumes, which can begin to blur together and measure candidates objectively against one another.
Check out amazon reviews
Here's an unusual method to source development talent: find them while they're studying up on their craft by browsing public book reviews online. On Amazon, for example, you can sort reviews from newest to oldest, letting you see who's recently read a software development bible like Clean Code. Many readers leave reviews using their full name, and some are even accompanied by a picture that can help you in your sleuth work. This method can be particularly useful if you're hiring for a niche skill–just search for popular titles on the topic. 
Attend top tech events
Now that live events are back in action, we expect to see a surge of interest in professional conferences and summits. This is great news if you're looking to hire a software developer, as these events will be packed with professionals who are ready to network. If you need someone with certain expertise, go with a skill-specific conference like PyCon for Python developers. There are also plenty of general conferences like DeveloperWeek for coders of all types.
Host a hackathon
As you might be able to infer from the name, a hackathon is a marathon-like event where developers gather to work together on a collective project. Usually held over the course of 24 hours or a weekend, hackathons are known for their fast and furious nature that draws participants to sacrifice sleep in order to move the project across the finish line.
Hackathons draw developers of all skill levels, from green devs who are new to the field to seasoned professionals. In addition to being a great source for development talent, they're also a lot of fun!
Recruit early
Don't count out students in your search for development talent, especially for junior roles. College kids have the perfect schedules to accommodate night and weekend shifts, which might be just the thing to supplement your more senior full-timers. Plus, hiring developers as students gives them a chance to learn the inner workings of your company while they learn the ropes of the job, so they'll be prime candidates to move up the ranks after graduation.
Related: 8 Benefits of Using Internships as a Recruiting Tool
Use recruiters who know their stuff
Software developers perform a critical function in their respective companies. This isn't a position where a 'fake-it-til-you-make-it' approach works when hiring. To entice the best candidates to work for you, you need to make a fantastic impression. Working with a recruiter that specializes in hiring developers can help.
From writing job descriptions that sell the roles correctly to being able to speak candidates' language during the interview process, a niche recruiter will make your company look great in the eyes of candidates and give you a better chance of reaching top talent the moment they start looking for a job.
Related: How To Select The Best IT Staffing Agency For Your Business
Hire The Best Software Developers With Help From Our Staffing Experts
Our experienced technology headhunters have the industry intel you need to fill high-value software developer positions quickly and confidently. Get in touch with us today and let's talk more about your hiring needs.
Resources and Sources
https://money.usnews.com/careers/best-jobs/software-developer
https://en.wikipedia.org/wiki/Upwork#:~:text=Upwork%20has%20over%20eighteen%20million%20registered%20freelancers%20and%20five%20million%20registered%20clients.