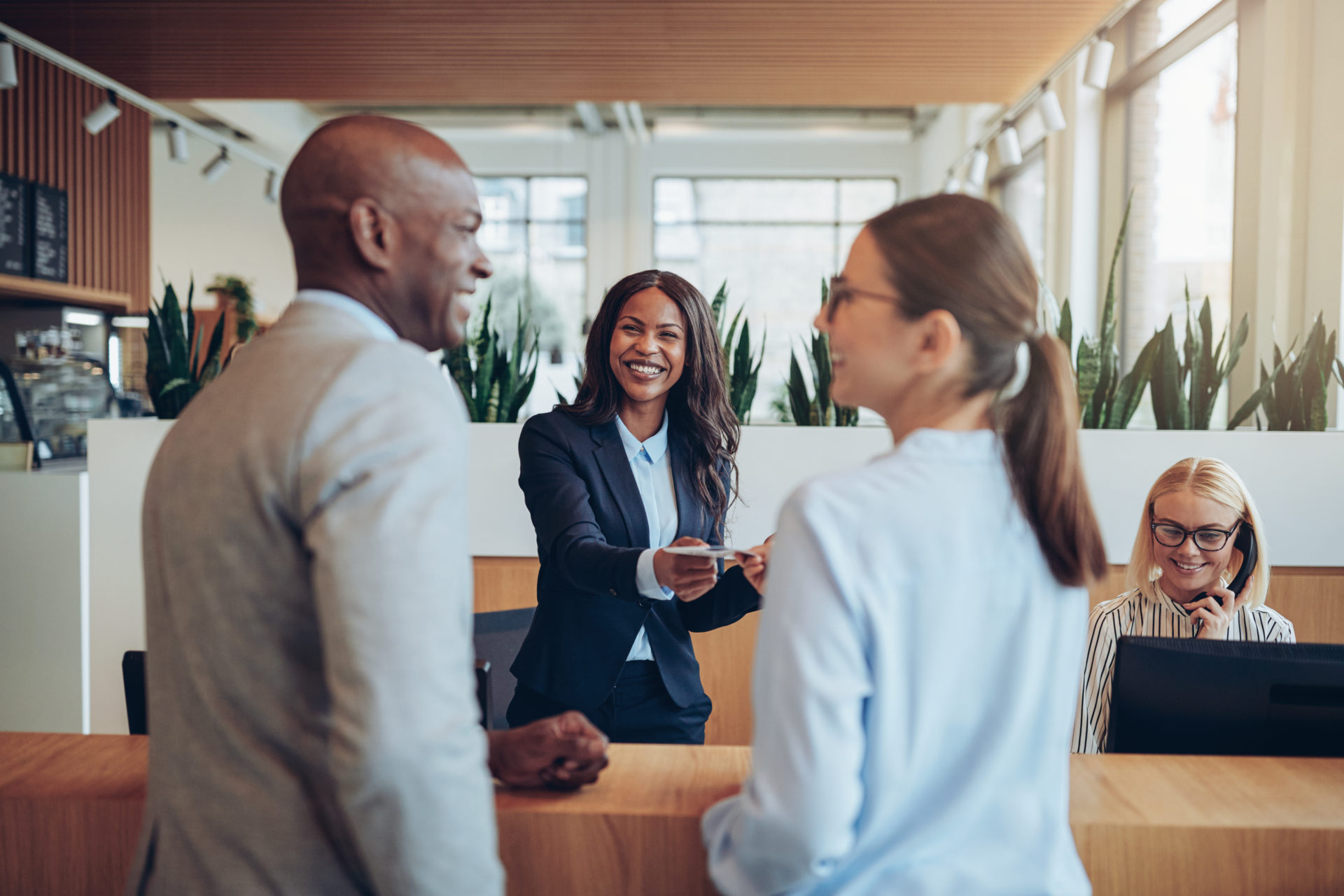 Hiring for customer service roles comes with a double serving of consideration. The candidates you choose must be a good match to not only fit in at your organization but to interface with your customers on a daily basis.
The importance of customer service is only growing in the eyes of consumers; by 2020, customer experience is expected to overtake price and product as the key differentiator when comparing brands. In a sense, when you hire customer service representatives, you're hiring the face and voice of your company. It's no small task.
A strong customer service recruiter is the link between your company and that perfect new client-facing hire. With the right recruiter, hiring for jobs like call center representatives and help desk specialists gets a whole lot easier. So what's the secret to hiring a recruiter who will help you build a problem-solving, customer-pleasing service team? Here are six things to look for.
What To Look For When Choosing a Customer Service Recruiter
1. A genuine curiosity to learn about your company
No matter the industry, the first step when working with a recruiter or staffing agency is the discovery phase. During this time, a good staffing professional will work diligently to learn what makes your company tick and what's required for success in your role so they can match you with the right set of candidates.
In customer service, however, this phase takes on a new level of importance. Culture fit is imperative when sourcing talent that will speak and act on your company's behalf. You need candidates who can embody your values and genuinely believe in the service they're providing to your customers.
Thus, when hiring a recruiter or staffing agency for customer service jobs, their understanding of your organization will be directly tied to their success in sourcing talent. Look for a recruiter who's not just checking boxes or scanning your answers to a questionnaire, but who asks thoughtful questions to gain a nuanced understanding of who you are as a company.
2. High emotional intelligence
Simply put, is the recruiter likable? While it'd be nice to live in a world where candidates weighed all available information equally when making decisions about where to work, that's simply not the case. Scholars have been working for years to understand the factors that influence our decision-making the most, and one of them is likability.
It's known as the 'principle of liking' and it dictates that we're more likely to say yes to people we like than people we don't. What makes someone likable? Science has defined three core factors:
We like people who are similar to us,
We like people who compliment us, and
We like people who cooperate with us towards mutual goals.
A strong customer service recruiter will deploy emotional intelligence to establish these likability factors with their candidates on your company's behalf.
That doesn't mean you're looking for someone who's phony—in fact, far from it. You want someone with the emotional intelligence to find common ground and establish rapport with a diverse range of candidates. A good customer service recruiter should be able to highlight your company's strengths and convey to candidates how they fit in with their criteria for an employer. Candidates should be able to feel like they're working with your customer service recruiter on the shared goal of finding an ideal job match.
When all of these things combine, you have likability, and it's more likely to yield a positive outcome for both you and the candidate.
3. Industry expertise
When you have a toothache, you go to the dentist. When you throw your back out, you might see a chiropractor (or a good massage therapist!). The point is, when something important like your health is on the line, you turn to an expert in that field. The same should hold true for something as important as your customer service hiring.
When choosing a customer service recruiter or staffing agency, look for a recruiting firm with an established track record of success hiring for the job titles you need, like inside sales representative or call center manager. Their past experience will be instrumental in identifying ideal skill sets, overcoming obstacles, and assessing the fit between your company and a candidate.
Recruiters and staffing agencies with specialized experience in the customer service industry also bring another major advantage: long-standing relationships. As you know, relationships are the foundation upon which a successful recruiting program is built. You don't want a staffing firm that relies on cold calling or LinkedIn requests to make connections; look for someone with an established reputation in the field.
4. Resilience
Good customer service candidates are snapped up quickly. Deals fall through, and candidates who seemed like a sure thing change their minds. It happens. Even the best recruiters and staffing agencies deal with setbacks like these. The key is finding a customer service recruiter who can bounce back from challenges without a loss of enthusiasm.
You want a recruiter who's resilient in the face of adversity, who keeps their eyes on the prize with an assuredness that they'll ultimately be able to land the best candidate for the job.
All of that sounds great, but how do you identify it? When hiring a recruiter, ask potential candidates to describe a time when things didn't go their way. How did they respond? Ask specifically about how they handle it when candidates fall through or when an impasse is reached in negotiations. You'll be able to learn a lot from their responses.
Of course, being able to talk openly about these setbacks in the first place rather than glossing over them is another good sign of resilience to look out for. You want a customer service recruiter or staffing agency who can face the challenges that come up during staffing and confidently lead you through them, not act like they don't exist.
5. Someone who is socially savvy
We've discussed the shift toward social media as a broad customer service trend, but the movement isn't limited to customers seeking support on social media. The customer service candidates themselves are also using tools like Facebook, LinkedIn, and even Instagram to learn about potential job opportunities and connect with brands, so you need a staffing professional that's well-versed in social recruiting.
An estimated 79% of applicants use social media in their job search, be it to learn about open positions, research prospective employers or apply directly through an in-app form. Social media is also a critical channel for reaching passive candidates, with a whopping 82% of organizations citing that as the top reason they use social media in their hiring process.
Look for a customer service recruiter who not only understands social media but who has a demonstrated history of using it to source candidates. When talking with prospective staffing firms, ask to see examples of successful social hiring campaigns and talk through what that might look like for your organization.
And don't neglect the most obvious way to gauge a recruiter's social savvy—their own social media channels. A current and cohesive presence on channels like LinkedIn and Facebook is a must for contemporary customer service recruiters.
6. An emphasis on innovation
As the old saying goes, the early bird gets the worm, and nowhere is this truer than in technology adoption. Remember when recruiting on LinkedIn was the big new thing? It was like a gold mine for sourcing talent… until every last recruiter in the world was using it and the space became saturated.
Technology moves fast, and many of the staffing trends of just a year or two ago are already outdated. Work with a customer service recruiter or staffing agency that places a heavy emphasis on innovation, actively seeking out the latest technologies that can supplement their personal relationships and traditional recruiting channels.
To identify forward-thinking recruiting firms, ask about the publications they read and the industry events they attend. It's important to consider the knowledge of trends not only in the recruiting world but the customer service world as well.
Source The Best Customer Service Talent with 4 Corner Resources
If you're still wondering how to find a recruiter for your customer service staffing needs, let 4 Corner Resources be the end of your search. Our professional recruiters have a deep expertise in customer service and call center staffing, built upon our founder's background in enterprise telephony. We pride ourselves on staying on the cutting edge of technology in the recruiting and customer service fields.
When you work with 4 Corner Resources, our call center staffing experts will source and screen applicants on your behalf with the help of our proprietary recruiting methodology, then deliver only the top talent directly to you. We understand that customer service goes beyond national borders; that's why we also specialize in staffing reps in Spanish, Portuguese, Mandarin, Hindu, Arabic, and Russian to meet your needs independent of geographic location.
See why we've been recognized among Forbes Magazine's Most Respected Recruiting Firms in America. Contact us today to get started filling your customer service positions.