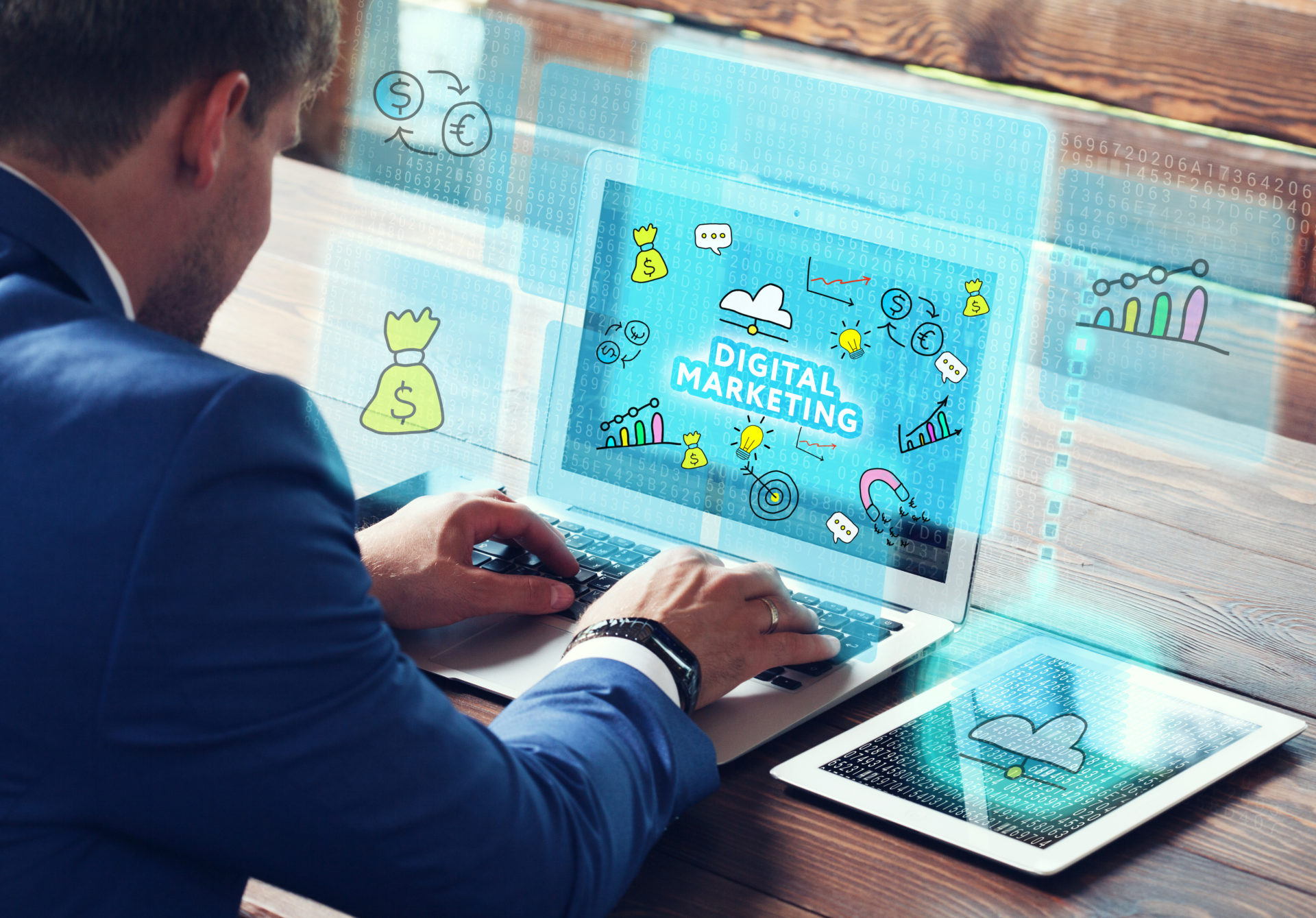 Digital media marketing is now a booming industry with thousands of businesses competing to stand out amongst a sea of competitors. This means that businesses have to quickly adapt to different digital channels to attract and connect with customers.
Consider this: In 2018 alone, an estimated 1.8 billion people from around the world purchased goods online. This number is only expected to increase by 2021, reaching an all-time high of 2.14 billion people shopping online. In turn, this has led to an increase in the number of jobs requiring digital marketing skills.
In fact, as organizations invest more in digital marketing techniques and strategies, there has been an increase in marketing jobs and vacancies – approximately 150,000 jobs are expected to be created by 2020. To help you keep up with this rapidly expanding and evolving area, we have compiled a list below of the top digital media marketing jobs in today's job market.
1. Digital Marketing Manager
Digital Project Managers are required to design, implement, and oversee digital campaigns. The job of a Digital Marketing Manager is to then lay the details of the campaign, including the timeline to be followed, specific milestones, and the overall budget. A Digital Marketing Manager is also tasked with the responsibility of creating brand awareness within the digital arena and driving sufficient traffic to the company's website and social media pages.
Additionally, the role typically requires the Digital Marketing Manager to identify and assess emerging digital technologies using web analytics tools to both measure and drive traffic. As such, they must constantly optimize marketing and email campaigns to help the business build a strong online presence. An ideal candidate for this position, therefore, needs to display strong organization, collaborative, and leadership skills. The current median salary across the US for Digital Marketing Managers with more than 10 years of experience is $97,500.
2. Content Writers and Strategists
Content marketing is an essential tool for many businesses that want to increase their visibility on Google's search engine. This is an important way to ensure increased brand exposure, advertise their product, and generate higher revenue. As one of the top digital media marketing careers, Content Strategists create tailored content for a company's website and pages, to help them reach their target audience and sell their product.
Talented Content Writers are aware of various SEO strategies and can implement them with ease. In addition to possessing excellent writing skills, they must also have a strong understanding of keywords, backlink creation, and experience with analytical tools, such as SEMrush, Ahrefs, Google Search Console, and Google Analytics.
It is important to note that there is a fundamental difference between a content writer and a content strategist. A Content Writer creates original content to engage, educate, and entertain readers. They are familiar with digital marketing techniques and have the persuasive skills to convince readers to take action. Content Strategists, on the other hand, control and devise the company's overall content strategy. They have a clear vision of how the content should be presented to attract the right target audience. The median salary in the US is $70,000 for Content Writers and $80,000 for Content Strategists. Needless to say, for these, and all roles, salaries will vary greatly by geographic market, industry, and company size.
3. Virtual Reality Developer
Virtual reality products are mostly still in the development stages but are poised to become the next big thing in the world of digital marketing. Knowing where the trend is heading, many organizations have started to integrate Virtual Reality into their marketing campaigns. This requires research, evaluation, and implementation of new VR technologies and products. This is a high tech job suited for creative individuals who have experience in technology, creative, and digital arts. An ideal candidate for this position must also be proficient with industry software tools, such as C#, Java and UE4 Blueprints. According to CareerBuilder, the median salary for a Virtual Reality Developer with 6-10 years of experience is $124,800.
4. SEO and SEM Specialist
For businesses to rank high on the search engine results page, SEO (Search Engine Optimization) and SEM (Search Engine Marketing) Specialists must be brought on board. These individuals know how to create quality content that will help the company's website rank higher while reaching the intended audience.
SEO and SEM are fundamental concepts for an effective digital marketing campaign, and the individual who can combine technical knowledge and expertise with marketing strategies can do considerably well in these roles. It is important to note, however, that this is easier said than done since search engine algorithms and the supporting technologies are constantly and rapidly evolving.
SEO and SEM Specialists are therefore tasked with the responsibility of keeping up to date with all such changes. SEO Specialists are extremely sought after by e-commerce sites and businesses that depend exclusively on internet traffic. Not surprisingly, the average salary for SEO Specialists is $70,000, though more experienced specialists can even earn up to $86,000 per year. On the other hand, SEM Specialists average salary for 6-10 years of experience is $85,000 and a high of $110,000.
5. Social Media Marketer
The impact of social media cannot be understated, with 3.2 billion users worldwide. Unsurprisingly, companies are increasingly employing experts to handle their social media activity; this includes updating the feeds, interacting with users and customers, and designing content strategies. More specifically, Social Media Marketers allow businesses to communicate more effectively with their customers via different channels.
Social Media Marketing Managers also help design and implement content campaigns to attract new leads and keep existing clients engaged. In short, social media marketers help create the right outreach for an organization and help build the business's image. On average, social media marketers earn up to $70,000 on an annual basis with 6-10 years of experience.
6. Bot Developer
Recently, the use of virtual assistants and artificial intelligence for customer service has become quite popular. Bot Developers and AI Specialists create and operate programs that use chatbots to present the best user experience while building robust relationships with customers. Many digital marketing strategies and campaigns are designed to include, and streamline, the use of bots to provide the best customer service for the business. Experienced Bot Developers can expect to make north of $100,000, with the median currently around $115,000.
7. Data/Web Analytics
The digital marketing landscape has also seen the rise of Internet of Things (IoT) sector, with an emerging focus on customer data and web analytics. With so many different marketing techniques and strategies to choose from, it is difficult to pick and effectively utilize the best one. A Data Analyst, therefore, helps evaluate the results to derive the best strategy for the business.
The job requires conducting a thorough analysis of the existing marketing campaigns, to ensure better customer retention rates, reduction in bounce rates, and targeted customer services. The insight derived by a Data Analyst allows marketers and salespeople to drive more leads and attract traffic to the website. Not surprisingly, data and web analytics are some of the highest-paid employees in organizations. They typically earn about $100,000 on an annual basis with 6-10 years of experience.
8. UX Designer
Contrary to popular belief, UX (user experience) is about much more than design; it includes making decisions about how best to produce specific customer behavior, such as encouraging a product purchase or entering an email address for future communication. While SEO/SEM and web/data analytics are crucial for running a successful campaign, understanding the science behind consumer behavior with respect to a company's website, products, and apps can create an even more robust marketing strategy.
In fact, research states that every dollar that is invested in UX returns $10 to $100. This is really not surprising since questions related to how customers behave when they visit a site are addressed by UX Designers. For instance, these questions include: Why do customers leave web pages? Why do they abandon their shopping carts without making a purchase? Why do they click on one link or button versus another?
UX experts answer and find solutions for these problems, leading to an increased customer retention rate, better lead generation, and a boost in sales. As the demand for UX specialist increases, they can expect to earn an annual salary close to $115,000 on average with 6-10 years of experience.
9. Email Marketing Specialist
Email marketing is a specialized form of content development and marketing. Those in charge of email marketing also possess excellent copywriting and editing skills. Email is still one of the most robust means of presenting content, especially since it has an ROI of 3,800%. To this end, persuasive writing skills are also a must.
Email marketing strategies are specially designed to generate leads and spread awareness, which means that these professionals must work in collaboration with marketing and content managers to design effective campaigns. Email marketing managers with 6-10 years of experience can expect to earn up to $90,000 annually.
Key Takeaway
With the continuously changing digital landscape, it is important to be aware of the different marketing careers available. The digital marketing field is vast and made up of candidates whose skills and abilities are in very high demand. When hiring for digital marketing roles, it is important that you understand how and where to find, and then recruit the best available talent.
At 4 Corner Resources (4CR), we offer staffing solutions for businesses of all sizes – from startups to SMBs and large corporations throughout the US. Our knowledge and experience, combined with our flexible terms and conditions, sets us apart in the world of headhunting and recruiting.
If you need help identifying the right candidates for your digital media marketing jobs and vacancies, we would love to connect. We're on standby to help you transform your workforce and find the ideal candidate today!