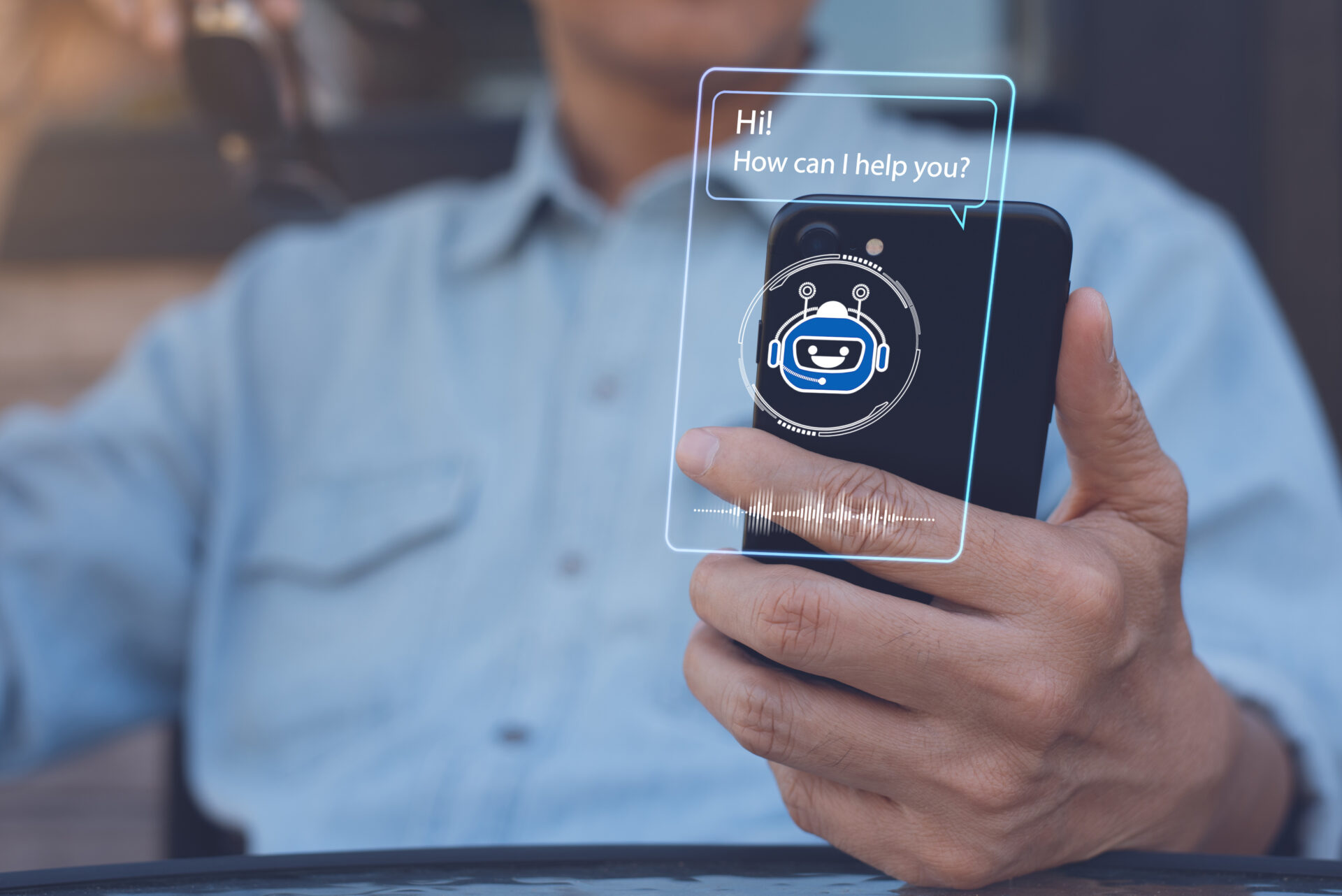 Chatbots have come a long way since their early days of bottom-corner pop-ups that, while intriguing, provided little real value. Today's chatbots are powered by artificial intelligence and grow smarter over time, automating tasks that once required a human to manage and filling an important customer service need for organizations. Using chatbots for recruiting has many benefits and also some challenges.
We're excited about the opportunities HR chatbots create for hiring teams, offering new ways to improve sourcing and screening while saving time, cutting costs, and engaging more candidates. If you're new to the concept, we've gathered all the important information to help you decide if using chatbots for recruiting is the right move for your organization.
What is a Recruitment Chatbot?
At its most basic definition, a chatbot is an application that simulates human conversation in a chat-style interface. With a chatbot, a user can have a real-time, two-way interaction with a device that may provide information or answer questions.
You've probably used a customer service chatbot or two. They've become commonplace for supplementing call centers and helping users get quick answers to frequently asked questions, especially during off-peak hours. But you've probably also interacted with more advanced chatbots—virtual assistants like Amazon's Alexa and Apple's Siri are some sophisticated examples.
HR and recruitment chatbots can help hiring departments tackle repetitive tasks and capture prospective candidates, freeing up human labor to focus on more analytical and creative tasks.
How Does a Chatbot Work?
The most basic chatbots follow a predefined script, where the user asks question X, and the chatbot responds with answer Y. But few chatbots still follow this rudimentary architecture. Chatbot technology has evolved significantly in recent years, and most now rely on some form of machine learning to process the user's question and decide on the best way to answer it.
While chatbots may still begin with a predefined set of data, like a list of frequently asked questions, they can now "learn" at an astounding pace. They use artificial intelligence to pull insights from past conversation logs, harness information databases like user manuals, and use natural language processing to understand better what users are asking. For example, natural language understanding would allow a chatbot to deduce that a user asking "Will it rain today?" and "Is it hot out?" are looking for information about the weather forecast.
If all of this sounds slightly unbelievable, you're not far off base—the general public (and the business world) is just beginning to pull back the curtain on the many applications chatbots can have in our lives and our work. Next, we'll discuss some of the implications of using chatbots for recruiting.
8 Benefits of Chatbots for Recruiting
1. Build your talent pool
Chatbots for recruiting are great for capturing candidates who are interested in your company but who may not be ready to apply for a job just yet. Oftentimes there's no other way for these candidates to enter your system. When they engage with your chatbot to ask a question, you can capture their email address or phone number and import them directly into your ATS for future follow-up.
In this same vein, using chatbots for recruiting gives you a way to leave a conversation and pick it back up at a later date on a different channel; for example, if you receive a chatbot inquiry from a user asking about open positions but they don't complete an application, you can follow up with an email a few days later to show them your most recent listings.
2. Give candidates 24/7 access
Candidates who are currently working a standard 9-to-5 aren't typically job searching during normal business hours. Chatbots give them a way to have their hiring questions answered even when your recruiters are off duty, like on nights and weekends. This can help you save on labor costs while minimizing downtime.
Chatbots for recruiting even offer the capability to respond in different languages, which is ideal if you're recruiting internationally.
3. Connect candidates directly with relevant roles
Job searching is stressful and time-consuming. Chatbots can help make the experience a little easier for candidates by connecting them with open positions that are a good fit rather than making them search through all your listings manually. This is especially useful if you're an enterprise-level organization with hundreds of openings across many different cities at any given time.
Saving users time and shaving a few minutes off the job search process can determine whether a candidate fills out an application or slips through the cracks. Using chatbots for recruiting in this way can help increase your completed application rate.
4. Build greater awareness of open positions
Not everyone who uses your chatbot will be on your site for job search purposes—in fact, the majority will probably be there for something else. Still, HR chatbots can capture the interest of users who aren't necessarily job searching but who might know someone who's a good fit for a role. Chatbots are also useful for helping you connect with passive candidates who stumble upon your website and decide to take a closer look.
5. Save time by automating tasks
The greatest direct benefit that chatbots for recruiting can offer your hiring team is the ability to offload tedious tasks. By setting up a knowledge base on popular topics like salaries and benefits, you can use your chatbot to field and answer frequently asked questions.
Chatbots can be an amazing tool for helping you qualify candidates faster. Via a series of questions like "How many years of experience do you have?" or "Do you have a bachelor's degree?", you can build your knowledge of a candidate and start the screening process immediately. Suppose a candidate meets the minimum requirements for a role. In that case, you can even opt to have your chatbot schedule an interview via syncing with your calendar, then send text alerts to remind the candidate as their designated time slot approaches.
Less labor spent on manual tasks means more time and energy your staff can spend on hands-on activities like interviewing and onboarding.
6. Gain valuable recruiting insights
After they've been used for a while, recruiting chatbots become a treasure trove of valuable information about your recruiting audience. Based on their queries, you can find out which questions candidates ask most frequently and identify opportunities to add more helpful information to your Careers page. Their interactions can also tell you which of your positions candidates tend to be most interested in.
If you use your chatbot for candidate screening, as we touched on in item #5, you can analyze trends to identify if an outsized number of interested candidates are falling short of your requirements. If this is the case, what are they missing? For example, suppose many people interested in a technical role are being screened out because they lack a certain certification. In that case, it may indicate that certification isn't truly relevant to the position or that you're advertising the role to the wrong audience.
Finally, a chatbot for recruiting can be another source to gather data when calculating broader recruiting metrics, like the source of hire and reach for hire.
7. Improve the candidate experience
Using a chatbot for recruiting is just one more tool in your arsenal to engage candidates and make their experience with your brand a positive one. A strong candidate experience feeds into your overall recruiting success, helping strengthen metrics like time to hire and new hire retention, not to mention bolstering your employer brand in the broader candidate pool.
When you set a positive tone from the first interaction, candidates are more likely to complete the application process and have a lower chance of dropping out somewhere in the process.
8. Enable multi-channel communication
Modern candidates, as do the recruiters that work with them, have their attention pulled in countless directions. It's standard fare for a conversation that begins over email from your desk to switch to texting as you run out to grab lunch, interspersed with a Facebook message or two while you wait in line to pick up your order. The point is, recruiting no longer happens on any single channel.
Recruiting chatbots live mainly on your website, but they can also be integrated with social media channels like Facebook, SMS messaging, and even smartphone apps, helping you provide an omnichannel experience that serves candidates on the most convenient platform for them at any given moment.
Challenges of Recruitment Chatbots
1. Unable to understand complex scenarios
Chatbots are great for simple questions and querying databases, but they have challenges with complex questions. When scenarios require critical thinking and problem-solving, the chatbot can get stuck. In recruiting, there is a phase of information gathering, which the chatbot can help with, but assessing qualifications or asking follow-up questions to clarify information would be tricky.
2. Integration issues and technology obstacles
When organizations implement new technology, like chatbots for recruiting, it's important that all the systems and platforms can integrate. Any information gathered by the chatbot will need to be fed back to your systems and databases. Deployment with chatbots and automation can be challenging.
When rolling out chatbots for recruiting and other HR tasks, it's essential to run tests, stay close to the technology as it is deployed, and watch for potential issues. Document how the chatbot will deal with evolving policies and updated recruitment processes, and you can head off potential issues.
3. Lack of human interaction and emotional intelligence
Human resources teams are usually the first interactions applicants have with an organization, and first impressions are important. Chatbots cannot make a human connection with people, so while they are great for answering basic questions, there should also be some balance with real interactions.
Emotional intelligence comes from human experience, so it's unrealistic to think chatbots can completely replace human conversation. Sometimes a chatbot cannot accurately analyze and understand the tone of someone's voice on the phone or the details they provide.
4. Chatbots learn from existing data
Artificial intelligence assists chatbots in their learning journey. This process is constantly evolving, but controls should be in place to ensure the bot isn't giving biased responses. Chatbots may use data that could discriminate based on gender, age, or ethnicity. It's important to consider the impacts of a recruiting chatbot responding to potential applicants with anything that could be considered discriminatory.
Best Recruiting and HR Chatbots
Paradox
The Paradox chatbot for recruiting helps automate tasks and engage with candidates using Olivia, the built-in chatbot. Olivia can help screen candidates and get interviews on the schedule. The language used is conversational and feels human-like. It also gathers feedback from candidates throughout the recruiting process to give companies a better idea of how to improve.
Paradox integrates with many of the leading applications and can converse in over 100 languages. It's a great fit for large organizations that need help covering the basics of recruiting.
Ideal
Ideal is a fantastic chatbot for recruiting. It saves time by sending out questionnaires to screen potential candidates throughout the process. Using a grading system, it gives recommendations based on the candidate's responses to questions. There is a feature that will follow up with previous applicants as well for new job postings and get them back in front of your recruiters.
Humanly
Humanly's chatbot for recruiting is a great fit for mid-size companies. It screens candidates and moves applicants through the system. The bot helps schedules interviews and checks references with pre-determined questions. One of the highlights is eliminating biased factors and using DEI-friendly practices. You can also take advantage of multiple channels, like social media, chat, text messages, and QR codes, to reach more candidates.
StepStone (Mya)
This fast-growing popular chatbot can automate as much as 75% of the recruiting process and streamline things for job seekers and hiring organizations. This application uses AI to ask questions, verify qualifications, and answer any questions the applicant has about the organization. It gives instant feedback on applications and resumes and helps candidates understand what's missing and peel back layers. StepStone feels very conversational and allows applicants to share more information in a two-way interaction. This chatbot helps both the organization and the job seekers.
Reach More of the Right Candidates with Help from 4 Corner Resources
Your recruitment strategy comprises many moving parts—job listings, marketing strategies, messaging, and more. Suppose just one part is out of whack. In that case, it can cause a ripple effect that leads to fewer qualified candidates and longer hiring timelines. We can assemble all the components of a successful hiring strategy to reach a wider talent pool and hire the right fit more often. Work with us to figure out how to incorporate chatbots for recruiting to find the best candidates for your organization.
Contact us to schedule your free consultation with our team of recruiting experts today.
FAQs
What are the best chatbots to utilize for recruiting and screening candidates?
There are dozens of top-rated chatbots for recruiting available on the market. Choosing the best option depends on your recruiting process and the complexity. Humanly and Paradox are great choices with many features and the ability to integrate with other systems.
Can small companies benefit from chatbots for recruiting?
Chatbots can reduce the work of the recruiting team by taking on some of the tedious tasks and filtering candidates. If you have a small operation and aren't constantly recruiting, chatbots that are specific in recruiting might be overkill.
Are chatbots able to do interviews with candidates?
Chatbots can converse with candidates, but there is a lack of emotional intelligence. Utilize them for initial screenings, but a recruiter or HR manager should conduct the interview to learn more about the candidate.
How do chatbots improve the recruiting process?
Recruiting can be time-consuming and laborious. Chatbots can simplify the process and remove some of the tasks from a recruiter's desk. This can speed up response times and keep candidates engaged during the process.