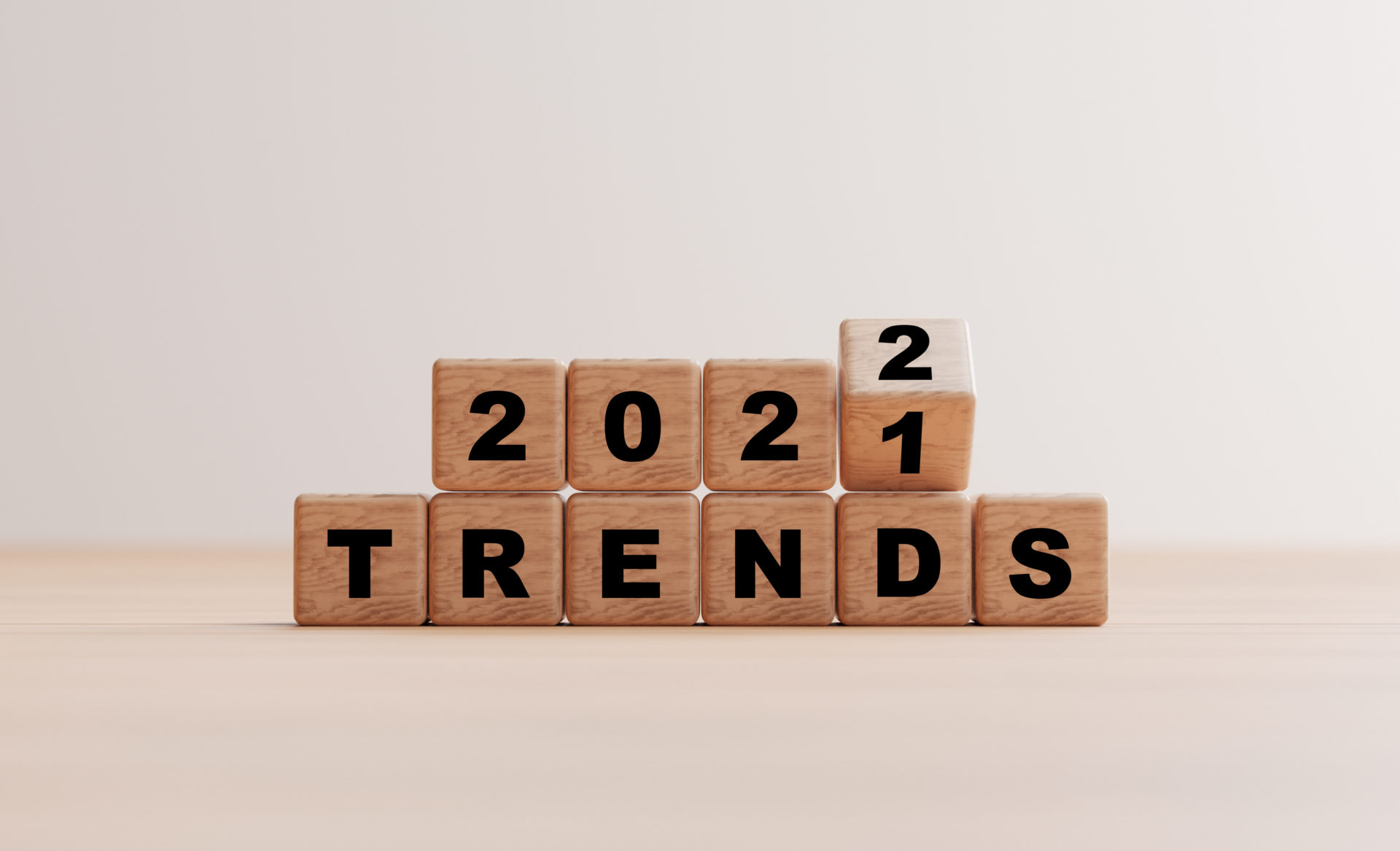 For some recruiters, hiring freezes have meant work has crawled to a standstill. For others, urgent, high-volume staffing needs have ratcheted hiring up to a frenzied pace. For most, the move to remote work coupled with the stress of an ending global pandemic has meant an industry upheaval unlike any we've seen in modern history. Now, with seemingly every company hiring, and having difficulty doing so, recruiting has become the new normal. Companies need to hire and keep good employees, and trends will showcase that. So what will recruiting look like in 2022 and beyond?
What Staffing Shifts to Expect in 2022 
1. It's a candidate driven market
What many of us didn't see coming is that candidates now hold all of the power. With most companies having open positions, there are more available jobs than there are candidates. This means that candidates aren't jumping at the first open position. They're also willing to jump ship on a job much faster if they get a better offer, so recruiters need to work harder than ever for their clients.
2. Quality of recruits is more important than ever
Fifty-two percent of recruiters said improving the quality of their hires is one of their most important goals.
So how does that differ from previous years? While recruiters are interested in growing their talent pipelines, they're more interested in ensuring the talent they have is quality. This is because they don't want talent jumping at the first available job that someone else offers them. They need people who are going to stay and work hard.
3. More organizations adopt diversity hiring goals
A majority of the companies Jobvite surveyed said they're working toward specific goals for diversity in hiring with respect to race/ethnicity and gender, with 22% naming it as the top objective.
It's a topic of growing interest for candidates, too. A third of recruiters say more applicants are asking about diversity and inclusion initiatives than they did in the previous year.
More diverse organizations tend to be more creative and have stronger bottom lines than their more homogenous counterparts, but that's not the only upside to setting and working toward diversity hiring goals. Prioritizing diversity hiring can help you stay competitive, especially in fields like tech where the struggle to win top talent has become ultra-fierce in recent months. 
Related: How to Hire for Diversity
4. Increased investment in social media, employee referral programs, and job boards
With regard to where they intend to find talent, the largest portion of recruiters planned to invest more of their efforts and budget in social media. Not surprisingly, the professional network LinkedIn was the most prominent platform of focus, especially among companies with 500 employees or more.
Employee referral programs and job boards rounded out the top three slots for where recruiters will prioritize spending in 2021.
One noteworthy shift over the last few years is on outside recruiting assistance, like talent agencies. In 2017, just 7% of companies said they planned to prioritize spending with firms like recruiting agencies to aid in their talent acquisition efforts. In 2020, that number jumped to 23%.
In a period of continued uncertainty, a staffing agency can help you set strategic hiring goals meant to promote stability and reduce issues like turnover. With their ability to access nontraditional and passive candidates quickly, a professional recruiter can help you scale your staff up or down in real-time in response to changing market conditions that are likely to persist well into the new year.
5. Competition and persistent skills shortages pose an ongoing challenge
Too many jobs, but too few of the right candidates–that's the biggest staffing woe among recruiters heading into 2022.
Massive companies like Facebook, Amazon, and FedEx have spent the majority of the past year hiring in unprecedented numbers in response to soaring pandemic-related demand. Amazon alone was hiring a record-shattering 2,800 employees a day² at the start of December 2020; experts say no American company has ever hired so many people so quickly. And that has only continued in 2021. As a result, top candidates are getting snatched up at lightning speed, leaving smaller companies in the lurch and struggling to compete.
There are simply too many jobs and too few employees looking for work or holding out for the "best" positions. Competition is crazy, and recruiters will have their work cut out for them.
6. Remote recruiting will remain popular
It should come as no surprise that interviewing isn't remotely the same as it was a year ago (see what we did there?). Though 77% of recruiters believe in-person interviews are the most effective way to qualify a candidate, 61% say they believe video interviews will be the default interview mode moving forward.
Though the vast majority of hiring managers are now comfortable using video interviews, they're still plagued with their fair share of challenges. Poor connectivity, inappropriate candidate attire, and lack of eye contact are the biggest video interview gripes.
The positions companies are looking to fill are following suit in the remote trend, with a third of recruiters saying the majority of roles they're hiring for are offsite. Between 25 and 50% of positions can be onboarded without the employee ever visiting the company's physical headquarters. In some cases, this will be a make or break factor in a candidate choosing whether to accept a role. 
Related: Virtual Job Interview Tips for Hiring Managers
7. More candidates express interest in mental health benefits
One of the most troubling implications of the pandemic is its effect on our collective mental health–implications we probably won't fully grasp the scope of for some time. And yet, candidates have already begun factoring companies' approach to mental well-being into their decision whether to accept a job.
Almost half of the recruiters Jobvite spoke to said job seekers are asking about mental health benefits more frequently since the onset of Covid-19. Now, more candidates are inquiring about employers' flexibility to accommodate working parents, with millions of professionals trying to juggle remote work with managing virtual learning and childcare duties.
Medical and dental coverage and work-from-home capabilities top candidates' list of most desired benefits, while their interest in other perks, like education reimbursement and a casual dress code, has waned considerably since the pandemic's inception.
It's worth pointing out, too, that candidates aren't the only ones grappling with increased demands and the resulting stress; 61% of recruiters say their stress has increased by some level since the pandemic began, while nearly 20% say the amount of stress they're under has increased drastically. 
Related: Ways to Improve Employee Mental Health and Why It Matters
8. Recruiters find new ways to use AI
The use of artificial intelligence in recruiting has been on the rise for several years now, and the trend continues heading into 2022. Hiring managers' top uses for AI this year included job candidate matching, candidate screening, and recommendations for job descriptions. AI-powered tools, like smart applicant tracking systems, are increasingly being used to offload repetitive tasks like sending automated communications to candidates and scheduling interviews.
Though AI and machine learning have the potential to save recruiters time and cut down on tedious tasks, not everyone in staffing is sold on its benefits; just 36% of recruiters definitively say AI makes their jobs better. Twenty-three percent feel it improves their job in some areas but makes it more of a challenge in others. 
Related: Everything You Need to Know About AI Recruiting Techniques
9. Reaching passive candidates is more important than ever
Due to the fierce competition that will continue into 2022, recruiters will need to spend more time reaching passive candidates. This is especially important in tech companies and positions that are high in demand, like developers and social media strategists. Recruiters will need a pipeline of passive candidates who are open to hearing about new opportunities.
Related: How to Attract Passive Candidates
10. Larger focus on retention
Though hiring may be happening on a larger scale, the most important thing companies will focus on in 2022 is retention. Hiring employees is just the start. Keeping them is where it gets even harder. Many companies are introducing longer notice periods, like three months rather than two weeks, for quitting. While this benefits the company, it can make it harder to recruit top talent.
Related: Highly Effective Strategies for Employee Retention
Achieve Staffing Success in 2022 With Help From the Recruiting Experts
From new technology to shifting social trends, the staffing landscape is evolving more rapidly than ever before. Do you have the infrastructure in place to keep up? Stay ahead of the hiring curve by enlisting our team of dedicated professionals for your 2022 staffing needs.
We can help you hire the right person for the job the first time around, saving you time and money. But our services don't end there; when you work with our team of pros, you'll get expert recommendations for improving your hiring efficiency and prioritizing the roles that will make the biggest impact on your organization.
Start the conversation by scheduling your complimentary consultation today.