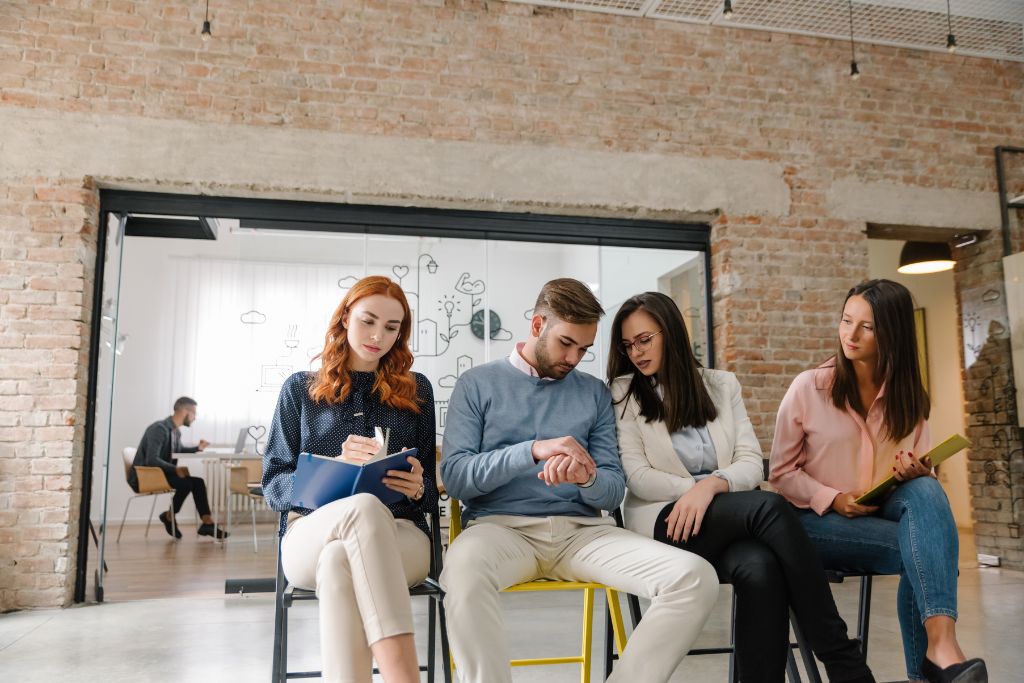 To win top talent in today's fiercely competitive market, you must be on top of your game in every regard. As always, this means being fast, but it also means you need to provide a candidate experience that's better than those of the other companies your applicants are no doubt interviewing with. Your candidate engagement (or lack thereof) can make the difference between getting an offer accepted by your top choice and losing out to a competitor. We'll explain why candidate engagement is so crucial and reveal how to incorporate it into every stage of your hiring funnel. 
What is Candidate Engagement?
Candidate engagement is the strategic process of communicating with your talent pool continuously. It can be conducted via phone, email, social media, messaging apps, or any other communication channel candidates use. 
Candidate engagement aims to simplify hiring and increase your offer acceptance rate. It accomplishes these goals by building positive relationships with applicants and keeping their interest in your company strong from application to onboarding. 
How Candidate Engagement Helps With Hiring
A strategic candidate engagement plan benefits the hiring process in many ways. 
Improves candidate experience
The most prominent benefit of candidate engagement is a better overall experience for candidates who enter your hiring funnel.
When you engage with job applicants in a personal, meaningful way, they're more likely to view the interactions positively regardless of whether they ultimately receive an offer. This makes them more likely to recommend your company to others and decreases the likelihood of negative reviews on sites like Glassdoor.
Reduces application drop-offs
Applications that aren't fully completed or candidates that disappear during the interview process are known as drop-offs, and they're one of the most frustrating things for hiring managers. Candidate engagement nurtures candidates and maintains a strong and consistent interest in your company, which reduces the likelihood a candidate will withdraw from the hiring process prematurely. 
Increases hiring speed
Engaged candidates respond more quickly than those with a lukewarm interest in working for you. This helps you schedule interviews and gather necessary applicant information faster, accelerating the hiring process. 
Improves culture fit
The messaging and other materials you include in your candidate engagement gives job applicants a glimpse inside your company culture. This information allows them to assess whether the match is a natural fit, making for stronger hires and a more harmonious workforce.
Builds talent pool
The candidates you engage with are more than just one-time applicants. Because you've put in the work to build trust and rapport with them, you can keep in touch with them over the long term and consider them for other relevant roles. This reduces sourcing work in the future.
Strengthens employer brand
Candidate experience is closely tied to your employer brand; strengthening one improves the other. Engaged candidates are more likely to hold your company in high regard, contributing to a positive reputation among job seekers that facilitates easier hiring. 
Maintains compliance
Offering all candidates the same level of respect and consistency in your communications can mitigate the legal risks associated with hiring bias and discrimination.
Where to Engage Candidates in the Hiring Funnel
There are opportunities to strengthen your candidate engagement in every stage of hiring. Here are a few examples and ideas.
Sourcing
Begin engaging candidates from the first moment they enter your funnel with customized, intriguing job descriptions. Choose your language and tone to resonate with the type of person you want for the role. Formal language, for example, will appeal to one type of candidate, while plain, straightforward language will appeal to another.
Make sure you're using the careers page of your company's website to its full potential. Rather than merely listing open positions on a static page, engage candidates with interesting media like videos, testimonials, and opportunities to interact with tools like chatbots. 
Tailor the messages you're using to reach out to prospective talent on platforms like LinkedIn, personalizing your communications with details specific to the recipient's background or why you think they're a good fit. You'll find many examples of recruiting messages to use in candidate outreach in this post.
Applications
Job applications are notoriously tedious. You'll be in great shape if you can keep candidates engaged through the application stage and maybe even make it fun for them. 
Ensure that your application process is mobile-friendly and trim it down to include only the data points that are absolutely necessary to gather. Don't make candidates input the same information twice. For example, if a candidate is interested in multiple roles, make it easy for them to submit their resume for both positions without starting the entire application process over again from scratch. 
Avoid making applicants complete additional steps, like downloading a separate app to submit their application. Creating more work for busy candidates is a surefire way to make them disengage.
Screening
Another tedious part of the hiring process, the screening phase, is a great opportunity to add layers of candidate engagement that other companies lack.
Instead of trying to screen candidates by phone (at a time when the vast majority of calls are sent to voicemail), use text messaging to qualify applicants through a series of two-way messages. Incorporate gamification into pre-hire assessments to screen for specific skills. Use job auditions to assess soft skills and give candidates a sneak peek of what a typical day on the job might look like.
Interviews & follow-up
If they've stuck it out until this point, a candidate is invested in getting the job. However, candidates who don't hear back within a week or two after interviewing tend to lose interest fast. This makes it a critically important time to maintain engagement.
Stay in touch regularly, regardless of whether you have an update about their candidacy. Be transparent about your hiring timeline and how soon you expect to make a decision. Let candidates know about important status changes, like if your timeline shifts or hiring is put on hold. Check-in with candidates to ask if they have any questions or if you can provide any further information. 
Onboarding
Candidate engagement doesn't end with an accepted offer. Going strong throughout the onboarding phase will help ensure new hire success and keep retention numbers strong.
Before a new hire's start date, provide engaging materials like a first day checklist or an interactive employee handbook. Be proactive about helping new employees get acclimated with team meet and greets and other opportunities to get to know their colleagues.
Additional Tips For Candidate Engagement
Move quickly
Even the most engaging hiring funnel isn't good if you're slow-moving. Candidates won't wait around forever for your decision, and your chances of hiring your top pick decrease with every passing day after their interview. 
So, move quickly. Your candidate engagement strategy should go hand in hand with an ongoing push to cut down your time to hire. Set a hiring timeline and stick to it. This will also make it easier to communicate with candidates because you have a clear plan for next steps and aren't just moving at whatever pace you feel like.
Leverage technology
When it comes to engaging candidates, technology is your friend. Employ automation to send tailored messages at regular intervals. Take advantage of audience segmentation to help you categorize candidates and create more relevant messaging for their situation. Experiment with emerging tools like AI that can help you hire more accurately.
Related: AI Recruiting Techniques You Need to Know
Use multiple channels
People don't use just one means of communicating daily, so why limit your candidate engagement to a single communication channel? Use a multi-channel approach comprising email, phone, texting, social media, chat and messaging apps (or whichever of these platforms are appropriate for your ideal candidate). 
Gather feedback
There's only one way to know for certain how well you're engaging candidates, and that's to ask them. Conduct candidate feedback surveys to help you understand whether your strategy resonates with the people you're trying to engage. Then, track your progress and results on an ongoing basis. 
To sum it up, candidate engagement is essential to a well-rounded hiring funnel. Building positive relationships with candidates over time can help you improve the quality of your hires, the reputation of your company, and your overall hiring efficiency.
Ready to hire better talent?
Connect with our recruiting professionals today.