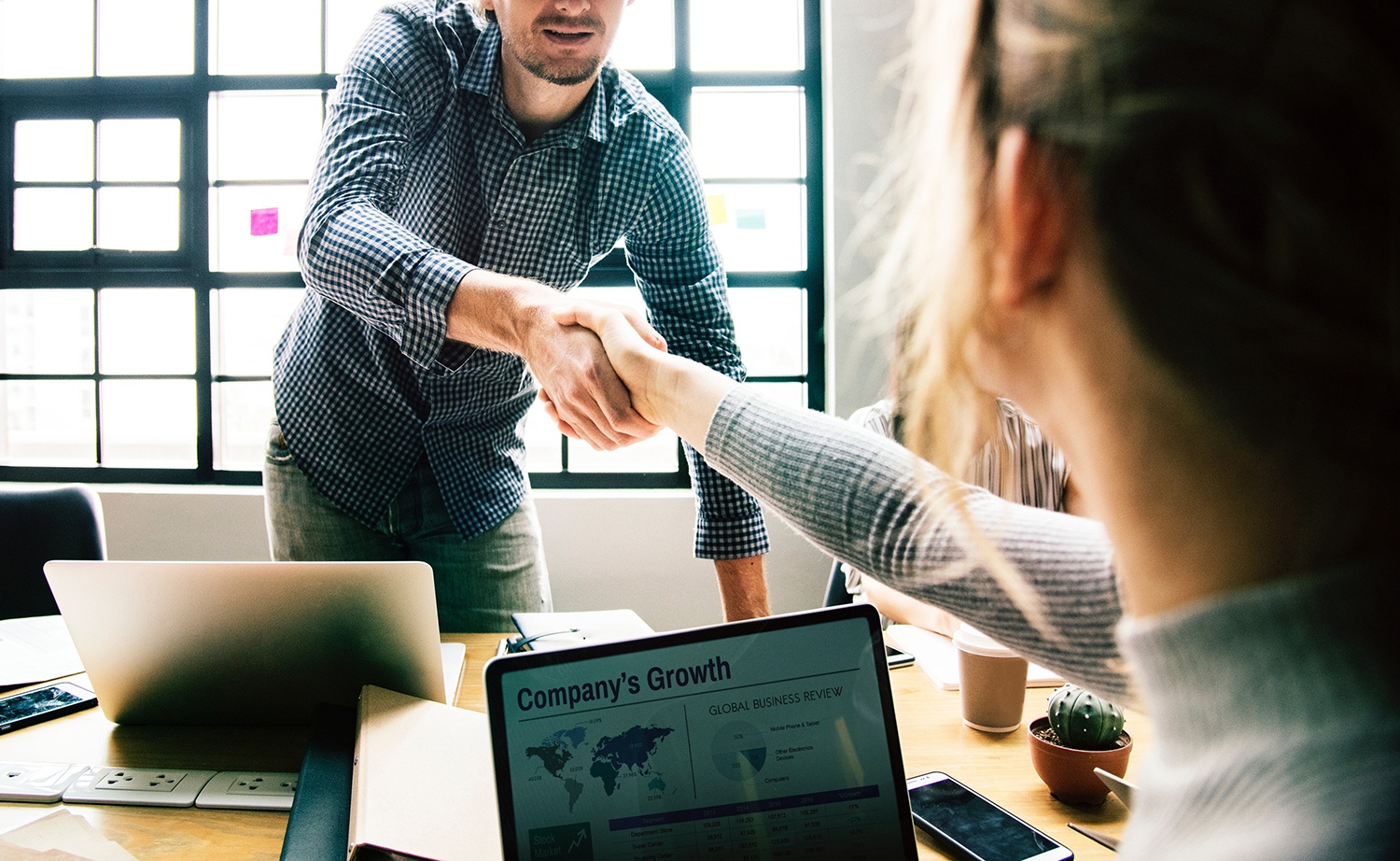 According to research, 56% of small businesses find it 'somewhat difficult' or 'very difficult' to find the right employee for their business. One of the challenges of small business recruiting is that small to midsize business (SMB) employees tend to wear multiple hats and have less time to dedicate to attracting the best candidates.
Other reasons for difficulties in small business recruiting include concerns about being misperceived as having fewer opportunities for professional growth and advancement and candidates viewing SMBs as less attractive than larger companies in tech-related fields.
As a recruiting and staffing firm for large and small businesses, we've come to realize that many of these small businesses hiring concerns can be remedied by implementing the right recruiting strategies. 
Four Trends You Need To Know For Small Business Recruiting
Remote hiring continues to rise
Remote work environments have been steadily increasing in popularity over the years, and as businesses work to adapt to the "new normal" created by the coronavirus pandemic, robust work-from-home policies are even more commonplace.
The growth of remote work isn't slowing down. In fact, it's estimated that 50% of the workforce will be remote by 2020. Businesses are catching on and tailoring more of their open job positions to be partially or completely remote to attract a wider pool of interested applicants.
While companies of all sizes report significant decreases in operating costs thanks to the remote working trend, it can be especially beneficial to small-to-midsize businesses. These businesses tend to have less space and resources to work with — and having fewer employees physically in the office means less desk space, equipment, and utilities are necessary.
If you do decide to include more remote positions in your hiring strategy, be sure that you're also aware of the latest digital recruiting trends. This will enable you to effectively reach potential workers where they actually spend time and look for new jobs: on their mobile devices.
Utilizing freelancers and contractors
Modern employees are increasingly moving away from full-time jobs to pursue more flexible options, like freelance or contract work. According to Upwork, half of all workers are predicted to be freelancers by 2027.
By utilizing freelancers or contractors, you can look beyond your local market and tap into talent that wouldn't be willing to relocate for a job or isn't available to take a full-time, in-office position. This can also save small businesses on both up-front and long-term recruiting costs. With freelancers and contractors, you aren't committing to paying a full-time salary and typically won't have to pay for benefits or match retirement savings contributions. Additionally, if you use a professional staffing agency to fill freelance or contractor positions, those hires typically stay on the staffing agency's payroll for the duration of their contract, not yours.
Employer branding is gaining momentum
Even in an employer's market, you aren't just choosing candidates — they're choosing you, too. It can be hard to set yourself apart from other small businesses in your area or attract top talent over industry giants. According to LinkedIn, 75% of job seekers consider a company's brand before applying for a job, making it crucial to develop a strong brand as an employer.
There are many simple, cost-effective ways for small businesses to build their brand and attract top candidates. For example, regularly engaging with your customers through blogs or social media, clearly showcasing your culture and values through videos or online posts, or sharing information about the causes and philanthropic organizations you support.
Being clear and consistent in all of your communications creates a strong brand image — which can lead to candidates aligned with your goals and values discovering your company. If you're leveraging a professional staffing agency for your recruitment initiatives, make sure they have taken the time to research and familiarize themselves with your employer brand so they are able to source candidates who align with it on your behalf.
Heavier focus on recruiting candidates based on culture fit
For small businesses especially, company culture is incredibly important. Many small businesses feel like a tight-knit family, and when you have fewer people on your staff, each one makes a more direct impact on the overall environment. Bringing in a new hire that doesn't mesh well with the rest of the team can make the working atmosphere uncomfortable or lower morale for everyone — and in a smaller office, this will quickly become noticeable.
Unfortunately, assessing a candidate's culture fit isn't an exact science. However, there are many ways you can gain insight into an employee's personality before committing to giving them a salary and spending further time and resources on hiring and on-boarding. There are many pre-employment assessment tools on the market that fit all needs and budgets which can uncover a candidate's deeper motivations, preferences, and personality traits. Additionally, something as simple and cost-effective as chatting with a candidate over lunch or coffee (or in current times, a Zoom call) can help you get to know them in a more informal setting.
Related: Reasons Why Culture Fit is Important for Your Hiring Strategy
5 Ways To Attract The Best Candidates In Small Business Hiring
Now that you have a grasp on some of the top hiring trends, let's talk about how to go about hiring.
Knowing how to attract top talent to your company (and away from the industry giants) is all about making your company attractive to potential applicants. You must focus on selling your unique value — highlighting what you offer that larger companies don't.
Offer attractive compensation and benefits
One of the most effective ways to attract the best employees is to offer compensation that is commensurate with their skills, knowledge, and experience. Understanding what motivates different age groups and generations is vital for any business who wants to hire the best talent. For example, baby boomers (people born between 1946 and 1964) have different motivations and expectations than employees who fall within Generation Y (also known as millennials).
Related: Important Tips on How to Effectively Recruit and Retain Millennials
If offering competitive salaries or other employee-related benefits isn't an option financially for your business, there are other things you can do to help make your company stand out from larger businesses. Some employees value non-monetary rewards, such as having mentorship opportunities, skills training, and greater autonomy.
Develop a strong employer brand
In previous articles, we've discussed the importance of developing and showcasing a strong employer brand — the values and image your company conveys to the public and prospective employees as an employer. This could involve showcasing the organization's culture, its family-oriented workplace, or its contributions to the community.
At 4 Corner Resources, for example, our employer brand conveys that we are an organization that combines performance and effectiveness to serve our clients while also providing the best training in the industry to our employees. We value the 4R Principles: Relationships, Resources, Responsiveness, and Results.
Related: How to Elevate Your Employer Branding to Attract Top Talent
Offer opportunities for advancement
Growth opportunities are crucial for attracting and retaining talented employees at small companies. Small businesses may have more advancement opportunities than their larger counterparts, according to the Society for Human Resource Management (SHRM).
If your organization offers relevant experiences and challenges, as well as training and hands-on learning opportunities, you can help employees stand out in their professional development. This differs from larger enterprises, where candidates may feel lost in the crowd of employees.
Offer flexible or remote work opportunities
As we mentioned in our discussion of hiring trends, flexible hours and remote work opportunities are often viewed as major selling points by prospective candidates. A significant advantage of being a small business is that you can offer these types of opportunities as hiring incentives.
Furthermore, remote work opportunities provide you with a chance to attract and hire the best candidates who may not live within a commutable distance from your company office.
Streamline the hiring process
An advantage of your small size is that you can be more streamlined in your approach. Every hiring decision doesn't have to go through a long, drawn-out process involving many hands in the pot.
Considering ERE Media reports that the top candidates are often hired within 10 days, it's vital to get the ball rolling as soon as possible. Use your organization's small size to your advantage to ensure the hiring process moves quickly and efficiently.
Related: How To Streamline Your Hiring Process
Write detailed and effective job descriptions
Writing a good job description is essential for finding good employees who will be the right fit for a position. After all, if your job description is ineffective, how do you expect the right people to find your job, let alone want to apply for it?
The best way to find employees is to create job descriptions that attract the talent you need and also clearly state your expectations of those who will fill those roles.
Hold out for the right employees
Don't jump to onboard a candidate that's just "okay" just to get someone in the role. Hiring employees who aren't truly right for a specific job means that in addition to the cost of hiring and training them, you'll also have the additional costs of replacing them and training new candidates. This is particularly worrisome, considering that nearly 75% of surveyed employers hired the wrong person for a position and that companies lost an average of nearly $15,000 on every bad hire they made.
These costs are a significant investment for small businesses — underscoring the importance of hiring good employees the first time around. Don't settle for anything less than employees who always bring their A-game, passion, talent, and energy to your business.
Tap your existing resources
One of the best ways to source new talent for your business is to ask your existing employees for referrals. Because they already work for you, your employees are a recruiting goldmine for your company. They can likely make an educated recommendation because they already know what it is like to work at your company and understand what expectations its employees need to meet. They can also tell if someone in their circle will fit in on your team.
To help motivate employees to provide recommendations, you can offer them incentives — such as a cash bonus, time off, or another benefit — for each referral you end up hiring.
Related: How to Make Your Employee Referral Program a Powerful Recruitment Tool
Turn to your existing network of contacts for referrals
Getting recommendations or referrals from people you know isn't limited to your existing employee pool. Another of our small business hiring tips is to ask your professional network whether they know of anyone who may be a good fit. 
This can be as simple as reaching out to your contacts on LinkedIn or grabbing coffee with another business leader with whom you have a good relationship. You may be surprised to discover they know a few strong candidates who can fill your staffing needs when you are hiring employees for your small business.
Be selective where you list positions for applicants
Some small businesses will make the mistake of listing positions all over the internet on websites like Craigslist, Monster, Indeed, Zip Recruiter, and Glassdoor (to name a few). However, taking the "shotgun" approach by listing information about your job openings everywhere can hurt rather than help your recruiting efforts.
One of the small business hiring practices we recommend is to take a focused approach when posting positions. If you post your positions everywhere, you'll get a wider net of applicants, but the overwhelming majority will not be qualified candidates. This process creates extra resume review work for you or your HR team without providing additional benefits.
Use social media to recruit, research, and qualify candidates
Should social media matter when it comes to hiring employees for your small business? For many employers, it does. According to a study by the Society For Human Resource Management (SHRM), social media is used by 84% of employers as part of their recruiting efforts, and 43% of employers use search engines and social networks to screen job candidates. The study indicates that:
71% believe social media recruiting helps to reduce time-to-fill for non-management, salaried positions;
67% believe it is beneficial to hiring management positions; and
59% believe it is effective for hiring c-level suite employees.
Although staffing experts often have different opinions about whether businesses should use social media to review candidates, reviewing social networking platforms can be an effective way to learn more about each candidate. This publicly-accessible information can tell you a lot about a candidate's personality, values, and skills—as well as any behaviors of concern.
Partner with a staffing agency to recruit reputable talent
Partnering with a staffing and recruiting agency is the last of our small business hiring tips. In addition to a wealth of resources and a significant network of candidates, the right agency will know your specific industry and regularly work with small to midsize businesses like yours. As such, they will bring you the best candidate for any of your job openings.
Why 4 Corner Resources
Our team of experts has been helping small to midsize businesses attract, qualify, and screen candidates for more than 15 years. We are client-driven and have an adaptive, flexible, and personal style that makes us easy to work with. If you don't know how to recruit employees for your small business, our recruiting and hiring experts are here to answer questions and provide guidance throughout the process. If needed, we can take the burden off your shoulders and handle the process from start to finish to match the perfect candidates with your business.
If you have questions about how to recruit good employees for a small business, we invite you to reach out. Contact us to get in touch with our staffing experts today and explore how we can help you hire for success.