Job Description
Software Developers are often needed throughout the lifecycle of a piece of software, updating, patching, and repairing code, whether the task is to develop an app or an underlying operating system. Some Software Developers work with specific platforms, developing apps for systems like Java, JavaScript, C#, and Python. In some cases, Software Developers write code themselves, though they also can work closely with computer programmers who write the actual software code based on the developer's instructions.
In addition to hard skills like expertise in various programming languages, a Software Developer also needs soft skills like communication, teamwork, and critical thinking. Many Software Developers work in teams, so the ability to communicate ideas to other members of the team — as well as to customers, non-technical colleagues, and managers — is critical. Since a Software Developer is also often responsible for repairing issues with software, they also should be able to think through the underlying causes of those problems as well as the solutions for them.
Typical Duties and Responsibilities
Develop, test and implement new software programs
Modify, expand and update applications
Develop software prototypes
Facilitate root cause analysis of system issues
Compile timely, comprehensive and accurate documentation and reports as requested
Education and Background
A bachelor's degree in computer science or a related discipline is strongly preferred for this position.
Skills and Competencies

Excellent problem-solving and analytical abilities
Extremely detail-oriented
Ability to work independently and as part of a development team
Several years of programming experience
Proficient in languages and frameworks such as C#/.Net, Javascript, Java, C++, and SQL Server
Compensation
According to Payscale the median annual salary of a Software Developer with
1 Year of Experience:
Orlando, Florida: $95,000
Tampa, Florida: $91,000
Jacksonville, Florida: $100,000
Miami, Florida: $90,000
Atlanta, Georgia: $100,000
Chicago, Illinois: $103,000
Houston, Texas: $90,000
Los Angeles, California: $100,000
New York City, New York: $100,000
Seattle, Washington: $100,000
Overall: $99,000
5 Years of Experience:

Orlando, Florida: $110,000
Tampa, Florida: $100,000
Jacksonville, Florida: $114,000
Miami, Florida: $104,000
Atlanta, Georgia: $108,000
Chicago, Illinois: $120,000
Houston, Texas: $120,000
Los Angeles, California: $120,000
New York City, New York: $120,000
Seattle, Washington: $115,000
Overall: $118,000
Similar Job Titles

Developer
Senior Software Engineer
Programmer
Coder
Architect
Software Architect
IT Project Manager
Career Path
A Software Developer needs to have a bachelor's degree in computer science, software engineering, or a related field. Students are encouraged to pursue internships with software companies while they are in college to gain some real-world experience in the field. Some companies prefer applicants for more senior Software Developer positions to have a master's degree.
While Software Developers don't always write code, having a strong background in computer programming often makes a candidate for a Software Developer position more attractive to employers. Also, knowledge of the industry for which you want to develop software is essential. For example, potential Software Developers who want to work on software for e-commerce should know the online retail industry.
Software Developers can advance into positions like IT Project Manager or Computer and Information Systems Manager. In those roles, they oversee and guide the software development process, sometimes supervising a team of Software Developers. Software Developers who want to move into management roles should develop soft skills like relationship building, motivating and influencing others, and communication.
Position Trends
The need for Software Developers in the coming years is expected to increase. It's one of the fastest-growing jobs in the IT field. According to the trade publication Tech Times, Software Developers should look at solutions involving artificial intelligence (AI) and machine learning. These technologies are being adopted across industries very quickly; more companies are looking to AI software to make better use of the data they collect.
Increased demand for the Internet of Things (IoT) is another trend for Software Developers to watch in the coming years. Devices that can connect to the internet, from smart appliances to wearable technology, are becoming more and more popular. Many software companies are expected to begin specializing in programming for the IoT sector, so Software Developers who are knowledgeable in creating software for smart technology will be more in demand.
Another trend in the software development field in the coming years is the increased use of progressive web apps (PWAs). They're a kind of website that functions like a mobile app but runs in a web browser. More companies are using them because it can save them money by not having to develop a mobile version of their websites or a mobile app. Instead, PWAs give companies the same benefits as a mobile app and offer faster load times and better functionality for customers.
Job Outlook
As we continue to rely on apps and smart devices for more aspects of daily life, the need for Software Developers to envision and create those applications and programs will only increase.
According to the U.S. Bureau of Labor Statistics, the Software Developer field is expected to grow by 21 percent between 2018 and 2028. That's much faster than average.
Typical Hours
The typical work hours in an office setting for a Software Developer are usually from 9 a.m. to 5 p.m. Additional work hours can be commonplace when approaching project deadlines.
Some Software Developers work remotely on a freelance basis, which allows them more freedom to set their own work hours.
Where You Can Find Jobs
4 Corner Resources
Career Builder
Glassdoor
Indeed
LinkedIn
Monster
Zip Recruiter
IT Career Finder
Are You Interested in Becoming a Software Developer?
We will connect you to one of our headhunters or recruiters to see if you are a perfect fit for one of our job openings. If a job opening does not suit you, we will always keep you in mind as new positions open up. We have vast experience connecting professionals with some of the most well-known organizations in the country. Your next job or career path can be right around the corner. Check out our latest job openings and our blog for career advice.
Feel free to contact us at any time.
Software Developer Role FAQ
What does a software developer do?
A software developer will implement software solutions by building websites, applications, and programs. The four most common types of software developer roles include web developers, systems developers, test automation developers, and mobile developers.
How much money can you make as a Software Developer?
A Software Developer in the U.S will make an average of $110,140 annually according to the Bureau of Labor Statistics. However, depending on the state of the job market, the company, and the sector you want to work in, the compensation for software developer jobs will vary.
What skills are needed to become a Software Developer?
Specific academic qualifications vary from one employer to the next, and there are different routes into software development jobs for school leavers and graduates. Typically, for a graduate position, a relevant degree in software development or computer science is preferred. However, there are opportunities that will not require you to have a specific degree, and there are other entry-level openings and apprentices occasionally offered.
Other skills a software developer should have include:
Accuracy and attention to detail
Collaboration and working within a team
Mathematical aptitude
Time management and organization
Innovation and problem-solving
Knowledge of relevant programming languages
Be up to date with industry trends
What is the best way for a Software Developer to get an interview?
1. Be Resume-Ready
Regardless of how up-to-date you believe your resume is, it's important to make sure you have taken the time to accurately and professionally highlight all relevant skills, experience, and accomplishments. If you find a software developer role you want to apply for, it's important to tailor your resume for each application you make. 
2. Professional Networking
Most employers expect candidates to be present on LinkedIn, as one of the world's largest professional networking sites; it's often a place used by recruiters and hiring managers with vacancies. If you're comfortable with doing this, you can indicate on your profile that you are #OpenToWork. You can quickly select the types of role you are looking for, the location and then tailor your audience accordingly. There is also a new option to notify your network you are looking for work.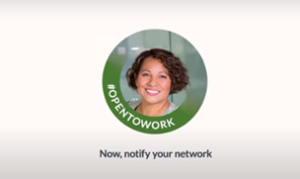 Aside from LinkedIn, make sure you are active on forums, local job groups and that you contact a staffing firm to register your details so that they can proactively contact you should any of their clients need to hire a software developer.
3. Skills Development
When applying for any new role, it's important to make sure you present yourself as a highly-skilled candidate that is well-suited to the job. Investing time into your own skills development can really help you stand out from others and position yourself as a self-starter that is keen to develop and advance. 
What does the hiring process for a Software Developer look like?
With remote hiring having gone the way it has in recent years, the hiring process has changed for many roles. The hiring process will vary between companies and their individual departments, but they mostly follow a similar path.
Resume and Application Screening
Technical Q&A
Pair Programming
Whiteboard Exercises
Architecture Design
Interview via Video Conference
The interview process is designed to test for skills you will need to use frequently, and the interview will help determine your team fit and any other relevant experience or skills.
What types of hours do Software Developers work?
Some employers require Software Developers to work fixed hours; others will measure output and only require specific time commitments to attend team or project-related meetings. Similarly, while many companies allow individuals to work from home, others prefer they commute to the office. 
This is another example of where the role, company, sector, and even the type of projects you work on will impact your hours. The work, a Software Developer, performs is usually split between team meetings, project work, and other varied tasks, with most meetings now taking place remotely.
Do you need to hire a Software Developer?
We can help you find talented software developers with the right skills and experience for your needs.
Are you a Software Developer looking to make the next move in your career?
Make sure you register with 4CR today and subscribe to hear about our latest Software Developer jobs