Job Description
Are you someone who is interested in building a relationship with customers or clients through digital media? In today's culture, many promotional emails are sent out every day, and as a result, a huge majority of those emails get overlooked. Therefore, it is an Email Marketing Specialist's job to create emails that will catch their audience's attention and interest in their product or service.
Besides creativity, an Email Marketing Specialist should have an extensive background in marketing research and analytics. Research will help an Email Marketing Specialist stay up to date with the latest marketing and industry trends, while analytics plays a huge role when it comes to identifying what is appealing and will and prompt a target audience to take action.
With today's technology, an Email Marketing Specialist must be tech-savvy. There are countless technological applications for email blasts, scheduling, analytics, and automation. Email automation is triggered through an individual's action that allows for email follow-up, such as a blog subscriber that receives an email notification of the latest blog post.
Typical Duties and Responsibilities
Identify target audience and grow email lists
Design and implement direct email marketing campaigns
Proofread emails for clarity, grammar, and spelling
Ensure mobile-friendly email templates
Write newsletter including all company updates
Upgrade email templates using graphics, personalization, and advanced features
Ensure prompt and accurate communication with clients via email to minimize unsubscribes
Create and secure email databases for lead generation
Report on sales revenue generated from email marketing efforts
Education & Background
Bachelor's degree in Marketing, Advertising/ Public Relations, Communications, or related field.
Preferred background in marketing research, analytics, customer service, email marketing software/ technology, and/ or writing.
Skills and Competencies
Strong writing skills that attract customers and/ or clients
Hands-on experience with HTML and content management systems
Proficiency in marketing automation technology
Knowledge of SEO/SEM and Google Analytics
Familiarity with analytical and database tools

Ex.) Hubspot, MailChimp, SendinBlue, WixShoutout

Excellent written communication and copywriting skills
Ability to work under tight deadlines
Compensation
According to Payscale the average annual salary of an Email Marketing Specialist with
1 year of experience:
Orlando, Florida: $47,000
New York, New York: $49,000
Los Angeles, California: $52,000
Chicago, Illinois: $49,000
5 years of experience:
Orlando, Florida: $58,000
New York, New York: $59,000
Los Angeles, California: $57,000
Chicago, Illinois: $55,000
The overall compensation average for an Email Marketing Specialist equates to about $53,500 annually.
Similar Job Titles
Marketing Manager
Digital Media Marketing Manager
Campaign Manager
Demand Generation Manager
Email Operations Manager
Career Path
While obtaining a bachelor's degree, it is suggested to participate in internships that involve email marketing, copywriting, or content creation. It is advantageous to build your portfolio of published content before applying to become an Email Marketing Specialist. In addition, receiving certifications in digital media marketing, google analytics, and HubSpot will set you apart as a candidate.
After becoming an Email Marketing Specialist the marketing career paths are endless. You can become a marketing manager or director in charge of a marketing team consisting of graphic designers, copywriters, social media coordinators, SEO specialists, web developers, etc. Eventually, this position will allow you to gain the knowledge and expertise to become a CEO of a marketing agency if desired. Or, if you prefer to work solo, there are a vast number of freelance positions that you could take on!
Each career path can be obtained through years of experience, keeping up to date to date on the latest marketing trends, obtaining new certifications, and, of course, networking with other industry professionals!
Position Trends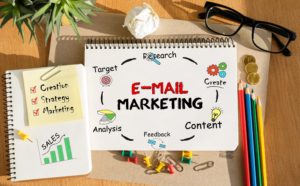 Currently trending in email marketing is the personalization of content. Many emails are left unopened or skimmed because the product or service isn't of interest to the contact. It has become increasingly more important to tailor emails to the needs of the target audience.
Artificial Intelligence is another trend in email marketing. Certain software will assist in optimizing your emails, such as what time to send the message, A/B testing, and predicting user actions. AI technology allows you to identify where a user has clicked on your email, the bounce rate, time spent on the email, the open rate, level of engagement, and unsubscribers.
Interactivity has also been quickly adopted by Email Marketing Specialists. Users prefer to have certain elements, such as video, picture carousels, quizzes, and clickable hotspots that allow them to interact with a brand. Static content has become a thing of the past. After all, the higher the engagement, the higher the chance a customer will purchase a product or service.
Lastly, now more than ever, individuals are viewing emails on mobile devices compared to desktop computers. Therefore, it is essential to compose emails that are mobile-friendly which will allow optimal readability and formatting.
Job Outlook
As technology advances and digital media marketing increases, the job outlook for an Email Marketing Specialist is expected to grow by 10% within the next decade. This is a very attractive position because more organizations are adding this role to their marketing department. Email marketing is looked at as an essential aspect of digital media marketing, which can not be overlooked.
Typical Work Hours
The typical work hours in an office setting for an Email Marketing Specialist is from
9 am- 5 pm.
As an Email Marketing Specialist freelancer, you can choose your own hours and/ or workload.
Where You Can Find Jobs
4 Corner Resources
Career Builder
Glassdoor
Indeed
LinkedIn
Monster
Are You Interested In Becoming an Email Marketing Specialist?
We will connect you to one of our headhunters or recruiters to see if you are a perfect fit for one of our job openings. If a job opening does not suit you, we will always keep you in mind as new positions open up. We have vast experience connecting marketing professionals with some of the most well-known organizations in the country. With our knowledge of the marketing industry, we can help suggest certain skills and certifications to work on or obtain to build your resume! Our headhunters and recruiters have a passion for helping individuals in the community find their ideal job or career! Don't hesitate to contact us with any questions and we look forward to speaking with you!