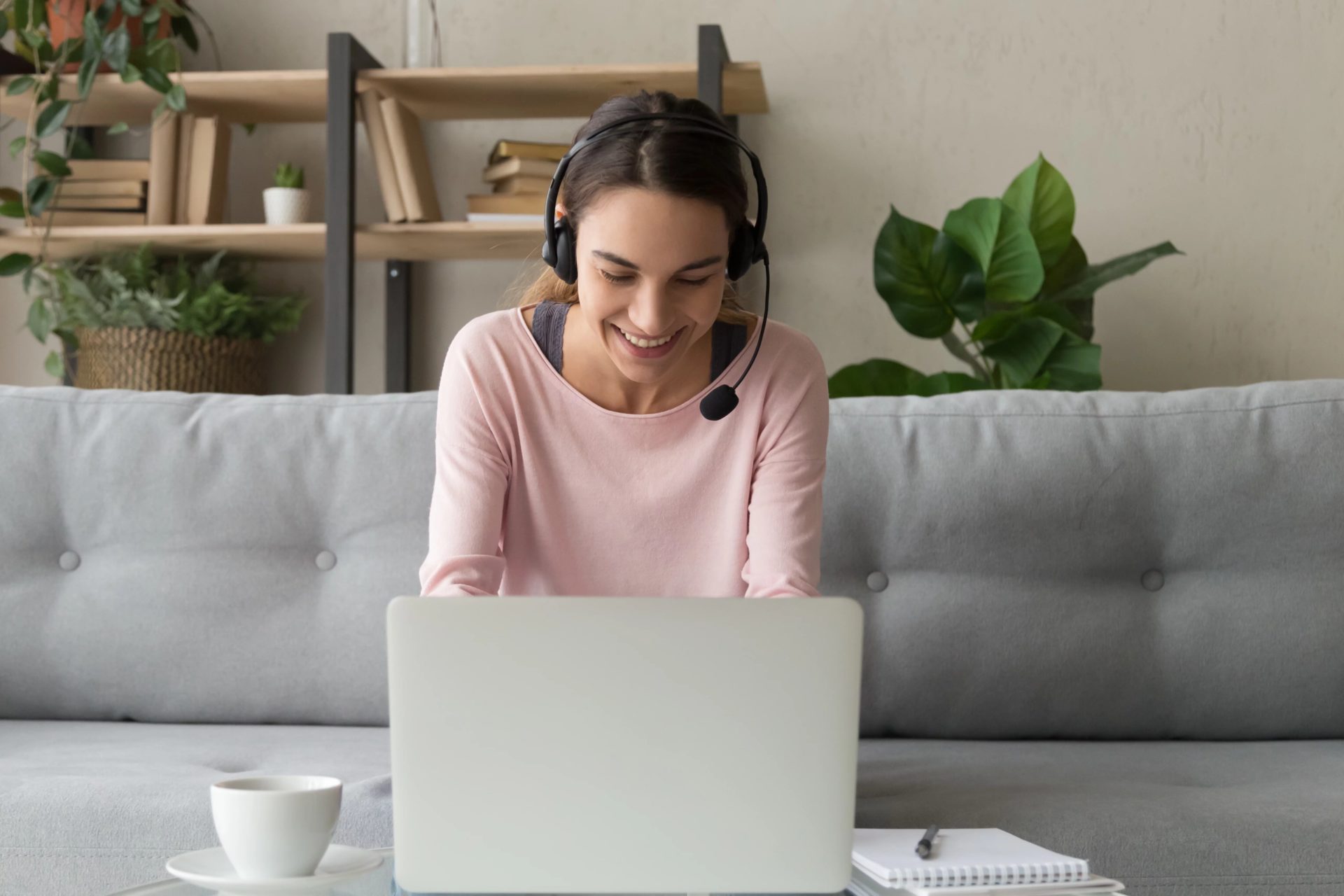 The call center field has been a pioneer in the remote work movement. According to industry estimates, more than 50% of US-based call centers have at least some employees who work from home. But are remote workers the right fit for your call center staffing needs?
Here, we'll discuss some of the pros and cons of remote call center agents that will come in handy as you weigh the best staffing plan for your organization.
Pros and Cons of Remote Call Center Employees
Cost
If you're like most companies, the impact on your bottom line has an outsized role in any decision you make. It's no surprise, then, that many call centers opt to use remote staffers to cut down on costs.
Having a smaller proportion of your call center staffing onsite means you need less space—perhaps significantly less, if you're an enterprise-level organization. Office space is expensive, especially in major metro areas, so having some or all of your staff work offsite can be a major cost saver. A smaller space comes with lower utility bills and a smaller carbon footprint, too.
With fewer onsite workers, you not only need less space, but less equipment. Desks, computers, headsets, and the like all come with costs; remote call center workers, though, typically use their own equipment, eliminating a portion of your overhead expenses.
Remote call center agents can enable you to hire more cheaply, both by increasing the size of the domestic talent pool and by outsourcing overseas where labor is cheaper. Because location isn't a factor in remote hiring, you can choose candidates who offer the best mix of skills and cost-effectiveness.
Productivity
Using remote call center agents will reduce your ability to closely monitor how employees are spending their time. However, some case studies suggest that in spite of this, productivity actually increases when staffers work from home.
One study involved a Chinese travel call center of 16,000 employees. Researchers studied a small sample of agents who were given the option to work from home. They found that when the workers did so, their performance increased by 13%. 9% of the increase was attributed to agents logging more minutes (like by taking shorter breaks and fewer sick days), while 4% resulted from handling more calls per minute. The home workers reported greater job satisfaction and saw less turnover, as well.
The experiment results were so promising that the organization decided to offer the work-from-home option to the entire workforce. More than 50% of them switched, resulting in overall performance gains of nearly 22%.
Another study, published by the American Psychological Association, supports this finding. Analysis of nearly 300 workers across a diverse set of industries found that employees whose work "did not require significant collaboration or social support," i.e. call center work, performed better when telecommuting than when working in the company's office. These examples suggest that at the very least, it may be worthwhile to test the effectiveness of remote work with a small sample of your staff to gauge the impact, if any, on productivity.
Flexibility
Call center staffing plans that include offsite or virtual agents may be better equipped to respond to fluctuations in call volume, both on a regular basis (like days and time slots that are busier than others) and a seasonal basis. By enlisting remote staffers who only work during periods of high demand, you can help keep customer wait times low while controlling costs. For example, instead of paying an onsite staffer to sit at their desk waiting for calls during slower times, you can compensate remote workers on a per-call or per-minute basis, so you're only paying for when you need them.
Because they can span across time zones, remote call center agents can help you cover undesirable shifts, like overnights and weekends, more effectively. This translates into more uptime during which you're available to serve your customers. 51% of consumers expect customer support to be available to them 24 hours a day, seven days a week, so having greater staffing flexibility can help you meet this increasing demand.
Logistics
From a logistics standpoint, there are a few potential downsides to consider when it comes to remote workers. While having fewer onsite staff can free up the time managers would otherwise spend overseeing employees, it brings new challenges on the communication front. It's not nearly as simple to hold an all-staff meeting when your workers are spread out around the country or even the globe. To facilitate effective communication, you may need to invest in additional technology like messaging or task management platforms. You'll also need to invest in establishing a protocol for training virtual staff.
Then there are the added business costs associated with international labor if you decide to take your call center staffing overseas. You may need a lawyer with international labor expertise to make sure you're in full compliance with all relevant labor laws, or a specialized accountant who can make sure you're managing payroll for overseas workers correctly.
Security
One of the biggest considerations of hiring offsite workers is the impact on your organization's security. Data breach numbers are climbing with each passing year; the global number of web attacks blocked per day increased by 56% between 2017 and 2018, with office applications being the most commonly exploited programs.
When your employees work onsite, you have a fair amount of control over the firewalls and other security measures in place on your hardware and networks. When employees work remotely, though, you open yourself up to a whole new level of risk.
Offsite workers might use unsecured networks in their homes or public places like coffee shops. They might work on devices like unprotected laptop computers that are accessible to family members and friends. Multiply this by hundreds or thousands of remote workers and your vulnerable attack surface increases exponentially. If your data is especially sensitive, the security risks may be a deal-breaker for hiring remote employees.
Company culture
The call center industry is notorious for struggling with company culture. The stressful, repetitive work contributes to high turnover, and the nature of the job doesn't lend itself to a lot of opportunity for creative thinking or employee development.
The challenges associated with building a strong company culture are compounded by having a large portion of your workforce located offsite. This can make it even tougher to establish a sense of belonging among your team members and generate buy-in to your company values.
Despite the challenges associated with building company culture, the gains in performance and employee wellbeing might outweigh the downsides. When you weigh the costs against the benefits of having remote call center agents, you might find a strong company culture isn't as important as a productive, satisfied workforce.
Related: Strategies to Build a Stronger Call Center Culture
Customer service
Depending on where your offsite employees are located, you may need to consider how remote call center agents will affect customer service. If you're planning on hiring overseas, it could impact customer satisfaction more than you might expect.
To learn more about the perception of companies with outsourced customer service departments, researchers surveyed a sample of consumers from a database of more than 100,000 people. They found that customers' perceptions of a company were negatively influenced by customer service operations that were clearly based in a different country.
For starters, the language barrier can be an issue, even if the agents you hire are highly proficient in your native language. Customers are turned off when they feel a 'script' is being used on their service call. What's more, offshore call centers can give the impression that you don't value your customers enough to invest in more expensive domestic labor, which reflects negatively on your brand.
Over the last five years, experts have noted a shift in the call center landscape among American companies. More organizations have recognized that saving on call center labor comes at a cost to their customer satisfaction and thus, have moved their call center operations back to the U.S.
And there are other service considerations even if your remote workers are based in the same country where you do business; when you're not in the same physical location, it's more of a challenge to spot-correct performance issues. You also lose the ability to provide one-on-one coaching through complex or difficult service calls. All of these operational challenges are worthy of thoughtful consideration as you decide between onsite and offsite call center agents.
Meet Your Call Center Staffing Needs With 4 Corner Resources
Whether you need a few contract staffers to cover gaps during your busiest call windows or you need to fill full-time seats at a 10,000-agent call center, the customer service and call center staffing professionals at 4 Corner Resources can help.
Call center staffing is one of our core competencies. Our team of headhunters will help you find qualified, enthusiastic workers that will represent your company in a positive light and help your customers find swift and effective solutions, to their service issues. Our hiring solutions include contract staffing, direct-hire, headhunting, contract-to-hire recruiting. 
Contact us now to start building your call center workforce!