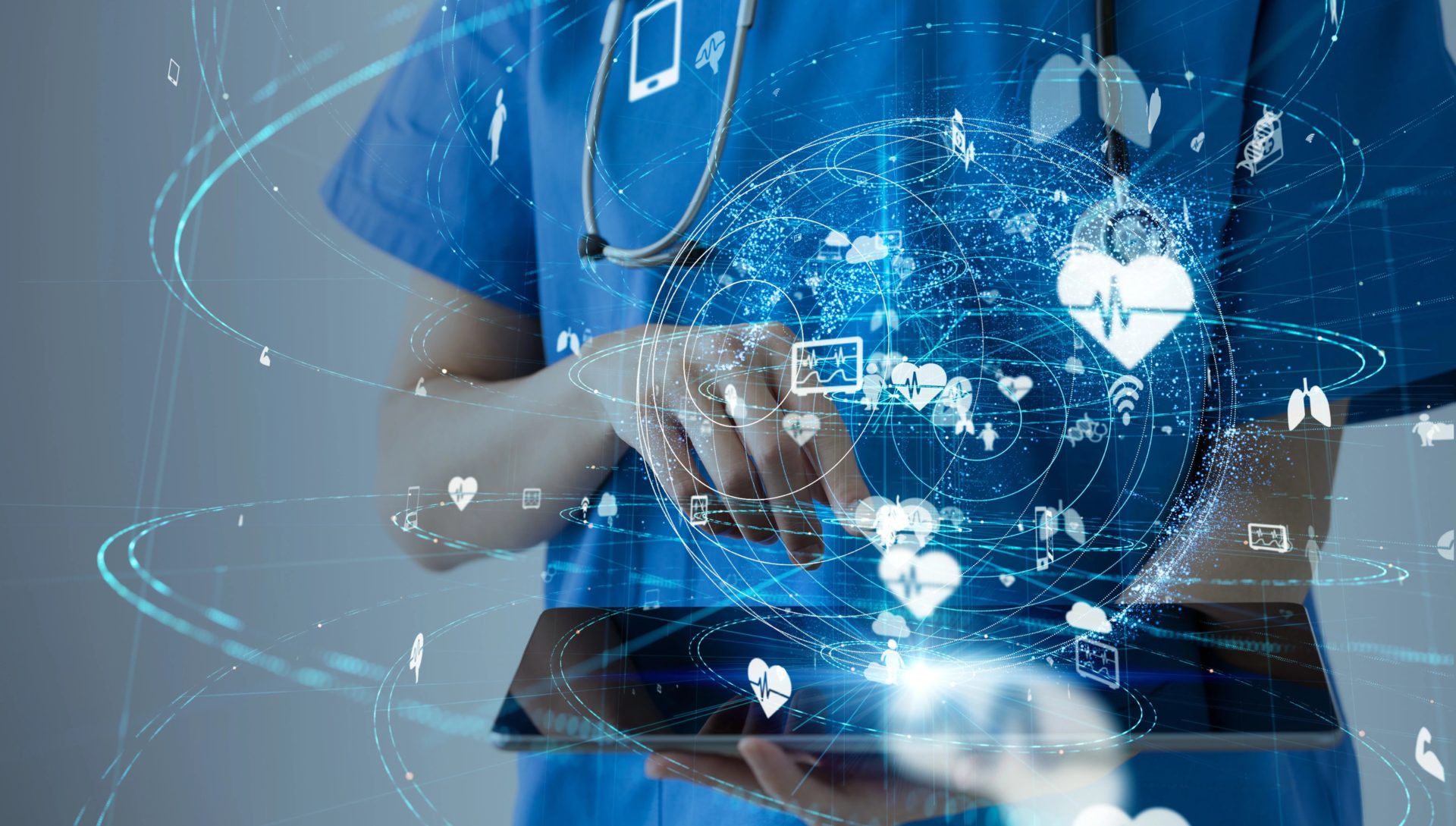 Technology is changing the face of healthcare as we know it, so it should come as no surprise that tech will also have a dramatic impact on healthcare recruiting. Staying on the cutting edge is critical if you want to keep pace in one of the most competitive healthcare markets in modern history.
Here, we'll talk about some of the biggest ways technology is already shaping the future of recruiting in the medical field; from time-saving tools to artificial intelligence, and what to expect in the years ahead. But first, so we can fully understand the implications of emerging technologies, we have to address another looming issue in the healthcare field.
The Healthcare Staffing Crisis
We're no longer facing a mere staffing shortage in the healthcare industry; the likes of Forbes and CNBC are calling it a full-blown crisis.
According to the American Nurses Association, in 2022 there will be more far more available open jobs for registered nurses than any other profession, with a projected 100,000 openings a year. The Bureau of Labor Statistics predicts a whopping 1.2 million nursing vacancies before 2022. Demand for physicians is also growing faster than supply, with an estimated shortage of 122,000 physicians by 2032.
To put it plainly, the staffing crisis in the medical field isn't likely to be resolved any time soon. Add to that a faster-than-average growth in demand for physician assistants, pharmacy techs, physical therapists, and administrative support staff and you've got the hottest candidate job market in the nation.
All of this means that your healthcare recruitment efforts must be sharper than ever. Investing in recruiting technology will help you keep pace with the massive growth of the industry, win top talent in a highly crowded landscape, and save time, which seems to be a more valuable resource than ever before.
6 Ways Technology Will Impact the Future of Healthcare Recruiting
From sourcing candidates to retaining top performers, here are six ways recruiting technology can strengthen your approach to staffing.
1. Recruiting technology widens the candidate pool more than ever before
Tech tools will help us remove geographical barriers in sourcing and screening talent for both clinical and technical healthcare jobs.
VoIP services and video conferencing make it possible to conduct interviews from opposite sides of the country or anywhere around the world, with quality rivaling (and sometimes exceeding) that of an ordinary phone call. We're fans of Skype for international calls and Join.me for video conferencing that does not require a software download.
Digital applications for screen recording and playback are helpful when reviewing and narrowing down candidates after the fact. These tools can also be useful for sharing interviews with multiple parties in the decision-making process, and most video conferencing platforms have the feature built-in.
Employing these and other virtual interviewing applications can trim recruiting travel budgets allocating to both your hiring team and the candidates you're considering.
2. Recruiting technology can help us use search engines to our advantage
We talk about a wide variety of recruiting strategies, both traditional and contemporary, but one of the most underutilized strategies is search engine optimization. You can post on social media and recruit at job fairs until you're blue in the face, but if you're not taking advantage of SEO, you're missing out on a slew of candidates who are searching for the exact roles you're trying to fill. It's low cost, too.
Technology can help us create optimized, more engaging job descriptions that will place higher in search results and capture more active job seekers. Crazy Egg, for example, is one such tool that will help you optimize your individual job listings, craft a search-friendly careers page, improve your website URLs for search engines and gain backlinks from the right job listing sites.
For optimizing job listing components like titles and descriptions, try a free tool like Yoast. When you enter your job listing content, it'll provide real-time recommendations for making it stand out in search results.
Related: Tips For Your Q4 Healthcare Recruitment
3. Recruiting technology can predict which candidates are best for the job
Artificial intelligence is one of the most promising sectors of technology for healthcare recruiting and business in general. According to Gartner, 37% of companies have now implemented some form of AI, a number that has grown by 270% in the last four years.
Through machine learning, applicant tracking systems are already able to match candidates' skills to the job requirements with a high degree of accuracy, which saves time, especially in roles with a high volume of applicants. This can free up hiring staff for more meaningful tasks like conducting interviews, building relationships, and having conversations with references
Now, emerging platforms can also draw upon an unprecedented number of data points to predict culture fit, which has long been the X factor that differentiates a good candidate from a fantastic one. Intelligent chatbots can answer candidate questions instantly, while AI can also be used to remove unintentional bias from the hiring process. It opens a whole new world of healthcare recruiting possibilities.
4. Recruiting technology can save us time by automating repetitive processes
No matter how much you optimize your hiring funnel, there are certain parts of the process that are repetitive and mundane. Still, they must be done. Thankfully, technology can help us automate recurring tasks like scheduling interviews, coordinating skills assessments, sending status update letters, and gathering candidate feedback.
Aside from saving your staff valuable hours each week (and helping you avoid pulling your hair out), adopting recruitment automation tools can also decrease your average time to interview, time to hire, and cost per hire.
Related: How To Leverage Data To Improve Your Recruitment Process
5. Recruiting technology can improve the overall candidate experience
These days, there's no excuse for a poor application process, yet we still see companies with clunky, redundant, and buggy online application systems. Technology can improve your application process on the user end while streamlining data collection and hiring processes on the back end.
A smooth application process contributes to a positive candidate experience, which is a good thing for attracting and retaining the best workers. In a Career Builder survey, 78% of candidates said the experience they have when interviewing with a company is indicative of how the company treats its people.
Still, your candidate experience probably isn't as strong as you think it is. Only 47% of candidates said employers did a good job of setting expectations and communication during the hiring process. Technology—for example, automation of hiring status updates like we mentioned above—can help improve on this.
Your candidate experience is an important component of your employer brand, which, in a competitive healthcare recruiting market, can make or break or chances of winning an in-demand candidate.
6. Recruiting technology can optimize your existing workforce
Up until this point we've been talking about technology as a tool for attracting and winning new talent, but in a market with a staffing shortage, it's equally important to retain and maximize the talent you already have. Technology can help you analyze the efficiency of your existing workforce and identify resource leaks. This will reduce the impact of staffing gaps until vacant positions can be filled.
A healthcare analytics application like Tableau, for example, can help you analyze how much time your staff members are spending on various tasks and how those tasks translate into revenue. This can uncover opportunities to maximize staffing efficiency while also improving cash flow.
Optimizing your existing workforce also includes taking steps to ensure your employees are satisfied so that the best ones will stick around for the long haul. Take advantage of technology that breeds employee satisfaction like apps for working collaboratively, employee appreciation programs, and continued education resources.
Harness The Latest Recruiting Technology With 4 Corner Resources
While adopting new technology can be daunting, it's a non-negotiable if you want to assemble the best healthcare staff in the business. Why not let an expert lead the charge? 4 Corner Resources works tirelessly to stay on the cutting edge of staffing technology, giving companies like yours access to proprietary applications that will help you locate, attract and hire top professionals in the healthcare field.
We specialize in healthcare recruiting, filling positions like claims specialists, customer care representatives, medical coders, pharmacy technicians, and more. Our network of thousands of healthcare professionals spans the nation and ranges from entry-level to the C-suite. Whether you're looking for direct hire recruiting for a hard-to-fill role, contract to hire services for periods of rapid growth, or temporary staffing services to cover seasonal gaps, we have a solution to fit your needs. We also offer convenient payrolling services to help you streamline your payroll and benefits operations.
See why the top names in healthcare have trusted 4 Corner Resources with their staffing needs for 15 years. Get in touch with a healthcare staffing specialist by contacting us now.