When you're on the search for new talent to help your business grow, you'll probably come across a variety of terms used by different staffing agencies and headhunters use to describe their services. For example, some agencies offer direct hire recruiting, while others offer temporary or contract-to-hire staffing services.
The real question is this: "Which hiring process is best for your organization?" To help you answer this question, let's compare "direct hire" vs "contract to hire" processes, defining both as well as their unique advantages or disadvantages for different situations.
Direct Hire Definition vs Contract to Hire Definition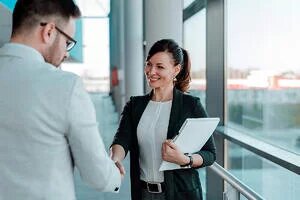 In the direct hire process, or what is also known as direct placement, a staffing agency adds permanent staff directly to another company's payroll. While the staffing agency handles the direct hire recruiting tasks, the prospective hire goes straight onto the client's payroll once an offer is made and accepted.
In a contract-to-hire process, the selected candidate begins their employment contract on the staffing agency's payroll, not on the client's payroll. Whereas direct hire recruiting immediately makes the new hire an employee of the end-user client, the contract to hire processes offer flexibility by providing an option to hire the contractor directly after the end of the contract period. Contract length varies greatly from short-term to indefinite. In nearly all situations, the client will have an opportunity convert the contractor at a time that best meets their individual needs.
Advantages and Disadvantages of Direct Hiring vs Contract Hiring
When comparing direct hire vs contract hire processes, it's important to carefully weigh the advantages and disadvantages of each before settling on one solution.
Pros of Direct Hire Recruiting Processes
Allows new hires to feel that they are "part of the team" from day one.
Sources permanent talent to fill your long-term employee needs faster than you can do on your own.
Often more attractive for passive candidates, as there is a greater sense of job security post-hire—plus immediate access to your company's benefits program.

Attracts a broader pool of prospective candidates.
Allows new hires to take advantage of your employee benefits.
It also may promote employee retention.
Candidates go directly onto your payroll—so you avoid lingering cost markups for the staffing agency to keep the new hire on their payroll. Paying a one-time fee to the recruiting agency is typically a less expensive option.
Using direct hire recruiting is a great option when you want to add permanent staff, have available headcount, and time to invest in a longer hiring process.
Pros of Contract to Hire
It gives you a chance to assess a prospective hire in action without committing to putting them on your payroll.
The interview process is typically shorter than the direct hire process. Hiring a contractor versus a direct employee is typically perceived as less risky, which often reduces the interview cycle.
Contract to hire staffing may provide a greater chance of employee retention since the contract period allows for an extended evaluation period, or a "working interview."
No need to add employees still in the contract assessment period to your benefits program. Contract employees are paid only for hours worked and do not go on your benefit plan until they become a direct employee.
Contract to hire is a good option if you need to add talent a bit more quickly to fill an immediate need that is (or is likely to become) long term. It should not be used purely to fill a temporary staffing need, such as a seasonal or project-based position since candidates who accept a contract to assignment role will expect an opportunity to become a direct employee if they perform well.
If you do end up going with a contract to hire process, it is vital to:
Have a plan up front for assessing the contracted talent before adding them to your payroll. Otherwise, your decision to either hire or let talent go after the contract period may feel arbitrary.
Clearly communicate the timeline in advance to the recruiting firm, so they can properly set expectations with prospective candidates.
Treat the contract employee from the start as if they are a direct employee since that is what you intend for them to become!
Depending on your specific situation, either one of these staffing processes may be better for your needs than the other. Need help deciding between direct hire vs contract staffing solutions? Contact the experts at 4 Corner Resources today to learn more!