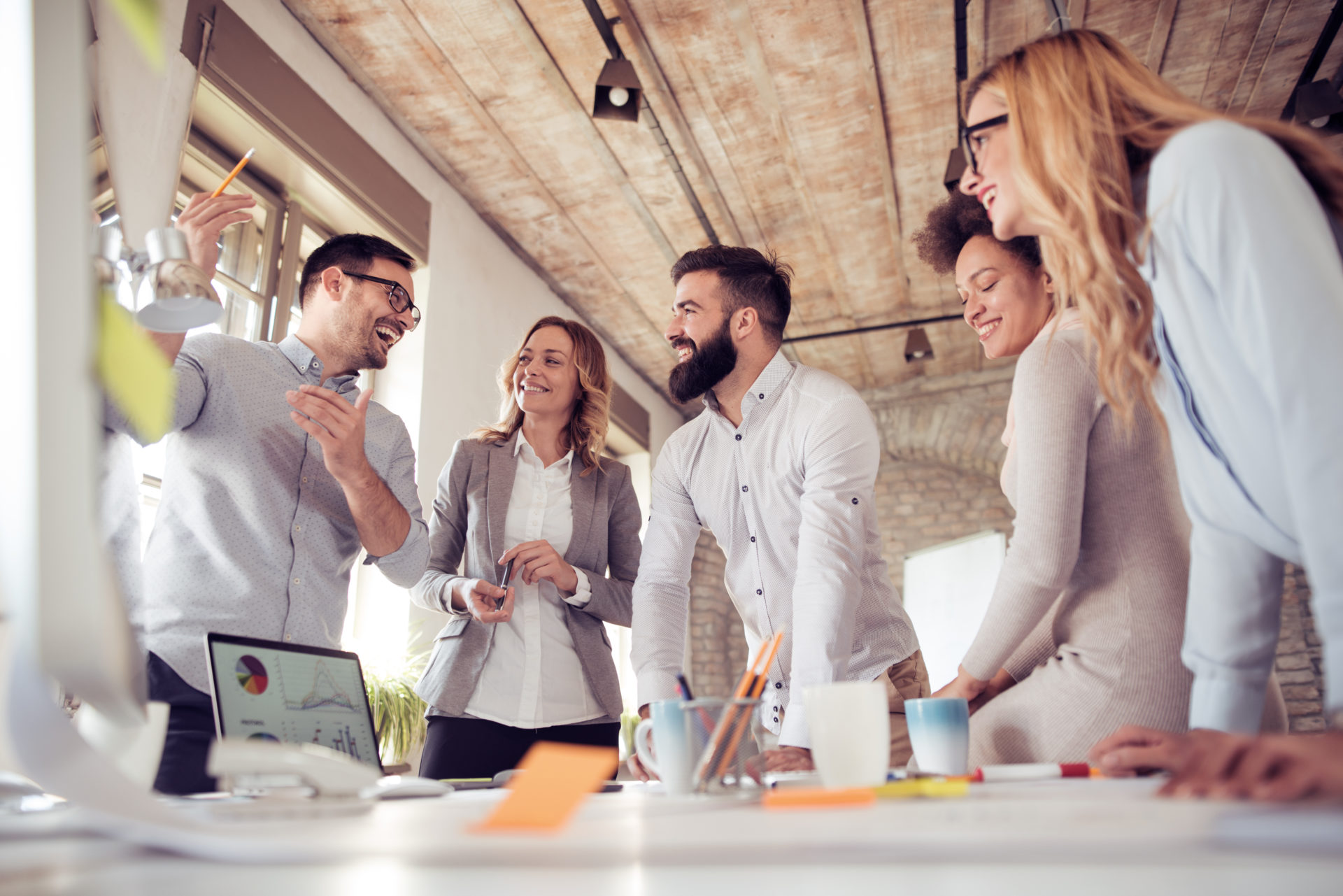 Even as COVID-19 vaccines are rolling out and the pandemic shows signs of waning, many organizations continue to operate with a predominantly remote workforce. According to Gallup, the number of employees working remotely doubled—from 31% to 62%—from mid-March to early April in 2020. Moreover, a majority of employees wish to continue working from home at least some of the time.¹
In a recent PwC survey, 83% of employers said that the shift to remote work has been successful for their company.² However, businesses must stay ever vigilant in their efforts to build and maintain a high-performing remote team.
What is a High-Performing Team?
The specific definition of a team that's "high-performing" may vary depending on whom you ask. However, there are some universal traits that indicate a superior workforce.
Characteristics of high-performing teams
There's a shared purpose.
Employees understand the company's vision.
Workers feel vested in the organization's mission.
Everyone understands their roles and responsibilities.
Employees feel accountable for helping to achieve the organization's goals and objectives.
The company provides opportunities for learning and professional development.
Employees feel valued and listened to.
Ultimately, building a high-performing virtual team involves establishing a set of standards and behaviors company-wide to lead your company to achieve optimal results. High performance happens when all team members embrace those standards and behaviors as they leverage each member's strengths, prioritize collaboration and cooperation, and strive for excellence individually and as a cohesive whole.
Benefits of a team that exceeds expectations
There's much to potentially gain from having a virtual team that performs optimally.
Enhanced employee morale
Increased productivity
Fewer interpersonal conflicts
Customer service improvements
Cost reductions
Increased profitability
Competitive advantages
How to Build and Manage a High-Performing Remote Team
1. Hire the right employees
This will make building and maintaining a stellar team a much smoother, successful endeavor. Consider not only job-specific capabilities and experience but also soft skills that will impact your team's dynamics. Look for job candidates who embody a strong work ethic, have the right skill set for their position, and demonstrate personality traits that fit your high-performance culture. Leverage best practices in interviewing and evaluating applicants to help ensure you choose the candidates who will be the best match for your company.
2. Lead to inspire
Employees' trust in your business's management team is essential for maintaining a high-performance remote workforce. To gain the trust of your virtual team, communicate often and transparently to keep people informed and up to date. Listen to employees' concerns and issues, jump in to help resolve problems when appropriate, demonstrate consistency in your actions, and follow through on what you say you will do.
Leaders must demonstrate commitment, integrity, inclusion, enthusiasm, superior communications skills, and responsiveness to inspire high performance throughout your company. It's also essential to recognize the difference between "inspiring" and "motivating."
3. Communicate expectations and instill accountability
It's critical for everyone to be on the same page and know their deliverables and deadlines. Moreover, remote team members need to understand their role in helping your organization fulfill its vision and accomplish its goals.
Points to consider:
Does each of your team members know what you are holding them accountable for—individually and collectively?
Have you communicated (and agreed on) the timelines for projects and assignments?
Are you checking in with team members regularly to monitor progress and address issues?
Do your team members understand your overall business goals and objectives?
Do team members understand their roles, individually and as a team, in helping your organization achieve its objectives?
Keep in mind that high performers crave feedback about how well they're doing. Consider ways to monitor and report on performance.
Also, consider a system for recognizing and rewarding top performers. The program you create should be well-documented and clearly state:
Eligibility and performance criteria
What rewards will be given
Frequency of administering rewards
How recipients will be selected
Other pertinent details
SHRM offers a helpful toolkit with ideas for managing employee recognition programs.
4. Facilitate interpersonal connections
The geographical distance between your remote employees and managers need not prevent productive and emotionally satisfying work relationships. Brainstorm ways to give virtual team members ways of connecting with each other socially. For instance, communications platforms like Slack and Yammer give a place for people to gather virtually to make announcements, celebrate special occasions, and otherwise communicate with each other in a group setting. Also, video conferencing platforms (e.g., Zoom, GoToMeeting, Microsoft Teams, etc.) can be used for casual intracompany meetups as well as business meetings.
Providing opportunities for interaction can foster a sense of community among your remote workforce and promote a healthy team climate.
5. Embrace cloud-based project management tools
Consider using online technology tools to keep projects, tasks, individuals' deliverables, and timelines in one central place. Updated in real-time, cloud-based project management and collaboration software helps to ensure that all of your team members can see where projects stand. They provide 24/7 visibility of projects and tasks, completion status, project files, user notes, and more.
The ideal platform for your business will depend on your company's needs, size, and budget.
Project Management Tool Examples
Asana
Basecamp
Microsoft Project
Smartsheet
Teamwork
Trello
Wrike
Zoho Projects
Whichever tool you choose, communicate how you want your team to use it. Provide employees with the necessary training, tutorials, and other resources to familiarize them with the platform and explain its features and functionality.
6. Encourage innovation
When virtual team members feel welcome and safe to share their ideas, their unleashed creativity can yield tremendous benefits for your company. By promoting a culture that encourages creative problem solving and innovative thinking, you open the door to positive changes—such as streamlined processes, administrative efficiencies, product improvements, and new revenue streams—that can have a direct and advantageous impact on your organization's bottom line.
Tips for Stimulating Innovation
Have an intake process for ideas and suggestions.
Give employees the license to try new ways to do their jobs.
Consider every idea's merits before approving or dismissing it.
Acknowledge employees' ideas.
Update employees about the status of their suggestions.
Keep in mind that encouraging innovation isn't enough; there must also be a way for individuals to move their ideas forward within your company.
7. Provide opportunities for employee development and continuous learning
A high-performance work culture cultivates employees' professional potential. Remote professionals need pathways to growth and employee development opportunities to upgrade their knowledge and skills. Consider the training and learning tools that will augment employees' strengths and set them on a course toward their professional aspirations at your company. One option that may help advance employees' skills and improve interpersonal connections within your organization is a peer mentoring program. As co-workers offer best practices and guidance to each other, it facilitates open communication and enables remote workers to get to know one another better.
8. Help underperforming team members elevate their performance
For an entire team to perform exceptionally well, it requires everyone to deliver their best. Underperformers can deflate their co-workers' morale, derail your team's productivity, and ultimately prevent your organization from achieving its goals. These are just a few of the reasons why it's critical to identify and address underperformance as quickly as possible.
Assess employee performance by using performance metrics, progress reports, and other internal tools to evaluate employees' proficiencies, skills, and results. Regular performance reviews allow you to let workers know where they stand. They provide a forum for communicating appreciation, reinforcing expectations, recognizing professional strengths, and discussing areas that need improvement. Also, they give managers opportunities to listen to employees' concerns and collaborate on plans for getting them back on track to meeting performance standards.
How Professional Staffing Services Can Help
The professional remote staffing services we offer can remove the guesswork and lessen the challenges of building a high-performing virtual team. Our staffing solutions will help you attract and recruit employees that are an ideal fit for your company. Our recruiting expertise spans numerous industries, and we work with businesses of all sizes to hire top talent to fill their full-time, part-time, seasonal, and project-based positions.
Contact us today to learn how our high-performing team can help you assemble yours.
---
Resources and Sources
https://www.gallup.com/workplace/329726/leading-teams-forward-advised-gallup-remote-work-trends.aspx
https://www.pwc.com/us/en/library/covid-19/us-remote-work-survey.html
https://www.shrm.org/resourcesandtools/tools-and-samples/toolkits/pages/employeerecognitionprograms.aspx