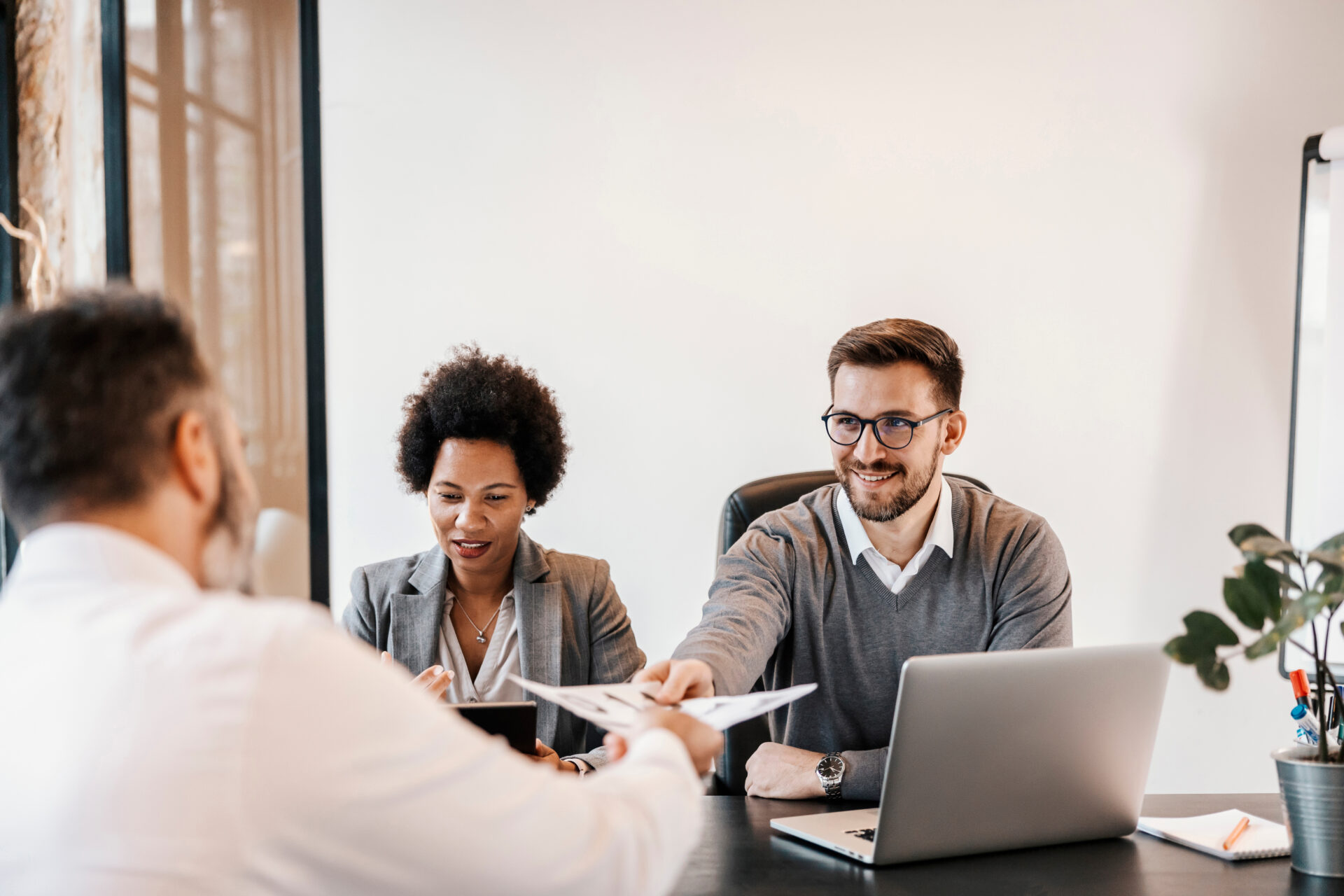 Methods of recruitment and selection are the processes by which companies find and hire new employees. Since an organization's staff is one of the biggest factors in its success, these two processes are at the top of the list of the most important business practices.
What Are Recruitment Methods?
Recruitment methods are the tactics a company uses to find viable candidates and entice them to apply for jobs. Choosing the right recruitment methods will depend on the skills you need, the type of candidate you're looking for, the experience level required, your budget, your time frame, and the hiring resources you have available.
Most companies use a number of different recruitment methods, shifting their recruiting strategy over time to meet their evolving staffing needs.
Internal vs. External Methods of Recruitment and Selection
Methods of recruitment and selection can be either internal or external. Internal recruiting focuses on people who are already company employees, while external recruiting aims to attract new talent from outside.
Internal recruitment methods can be dramatically faster than external ones because the candidates are already within your orbit. You don't have to start from square one and find them; you just have to look closely at their skills and match them to your needs. Internal recruitment can also be less costly and result in employees becoming productive in their new roles faster than a brand-new hire might.
One downside of internal recruiting is that it can put a damper on diversity and fresh thinking since you're not bringing anyone new into the organization.
External recruiting, on the other hand, is more time-consuming because it requires you to source, screen, and interview multiple people, then complete negotiations and onboarding once you've selected a candidate. The selection process, which we'll discuss in more detail below, can be lengthy.
However, external recruitment has the advantage of helping you hire people with specialized expertise or hard-to-find skills. It's a good way to infuse the organization with creative thinking and innovative ideas.
Methods of Recruitment
1. Referrals
Referrals are when existing employees recommend candidates for an open job. Not only do referrals have a strong likelihood of candidate success, but they're also incredibly cost-effective because they eliminate the need for sourcing and require less heavy screening.
Related: How to Make Your Employee Referral Program a Powerful Recruitment Tool
2. Promotions and transfers
Promotions and transfers occur when an existing employee moves into a lateral or more senior role in the organization. These recruitment methods capitalize on your internal knowledge base while reinforcing your company culture. They also demonstrate your commitment to employee development and can aid in retention.
Related: Employee Promotions: Considerations & Best Practices
3. Talent pipeline
Using your talent pipeline involves combing your talent database (i.e., your applicant tracking system) for candidates who are a strong fit for an available or upcoming position. The beauty of a talent pipeline is that it's evergreen; candidates can enter it at any time and be considered for a role months or even years into the future.
Related: How to Build a Talent Pipeline
4. Organic job posts
This is the recruitment method most companies use by default. It involves posting a job listing publicly, usually online via the company's website and job boards. Organic posts are listings you don't pay for. While it's possible for these types of listings to produce qualified applicants, they also tend to bring in lots of unqualified candidates who are scrolling job boards and applying for any opening regardless of whether they meet the qualifications. The old adage 'you get what you pay for' applies.
5. Paid advertising
With paid advertising, you spend money to amplify your job listing to people who are likely to be qualified candidates. For example, when you advertise a position on LinkedIn, you can target your post to users in certain locations with a specific number of years of experience, who have held certain job titles, and more. There are even targeting capabilities that can reach users who are actively job searching, making your ads even more compelling.
6. Inbound recruiting
Inbound recruiting is the process of creating content that draws candidates in and compels them to apply for a job (versus external recruiting, which involves you reaching out to the candidate). Inbound recruiting strategies include blog posts, videos, employee testimonials, and employer branding efforts, just to name a few. While inbound recruiting produces strong candidates, it can take a long time before it starts paying off.
7. Social media
Around 80% of adults in the U.S. use social media, making it a great place to get the word out about your job openings. Social media (with the exception of paid ads) is a form of inbound recruiting where you're creating content designed to get potential applicants to engage with your brand. Like other forms of inbound recruiting, social media is a long game and works best once you've put in the work to build a solid audience by creating great content on an ongoing basis.
8. Job fairs
Career fairs and other events for job seekers put you face-to-face with prospective new hires. In addition to hiring for jobs you currently have open, they can help you build your employer brand and gather applicants to keep in your talent pipeline. Though career fairs come with a fee for employers to attend, they're a good outlet for finding available candidates quickly.
Related: Top 10 Career Fair Tips For Employers
9. Professional events
Conferences, trade organization meetings, and other industry-specific events can help employers connect with candidates in a specific field or skill area. They're a good way to meet passive candidates–candidates who are not necessarily job searching but who may be interested in new opportunities. To recruit using professional events, you'll need a system for following up with the contacts you make, like using email nurturing sequences to stay in touch and share future job openings.
10. Internships
Internships aren't just for helping students gain experience; they're also meant to help employers cultivate a pool of viable young talent. For best results, internships should be well structured and should involve participants in a range of activities within the business. This enables employers to identify interns' strengths while helping interns zero in on their areas of interest.
Related: Benefits of Using Internships as a Recruiting Tool
11. Recruiting agencies
Third-party recruiters are experts in sourcing and screening candidates. They can help companies hire quickly and accurately, especially for specialized roles. A recruiting agency can function as a partner to a company's in-house recruiting resources or completely manage the full scope of a company's hiring needs.
What Are Selection Methods?
Candidate selection is the method employers use to narrow down the pool of all applicants and ultimately choose a top candidate from the list of finalists for a job. An efficient selection process is crucial in making accurate hiring and getting the right person for the job quickly.
Methods of Selection
1. Resume screening
Resume screening is typically the first step in assessing candidates. A hiring manager or recruiter quickly scans a resume to get an idea of a candidate's skills and experience to make a yes or no determination on whether they qualify for a closer look.
Related: Reviewing Resumes 101: How to Select the Best Candidates
2. Phone screening
After narrowing down the initial pile of resumes, a phone screening is used to qualify each candidate better. It's usually conducted by someone other than the hiring manager and involves high-level questions about a candidate's background and experience. Phone screenings are sometimes done via video.
Related: How to Conduct a Phone Interview
3. Interview
Candidates whose phone screening indicates a strong fit will advance to the interview round, which is the most in-depth part of the selection process. Interviews consist of one or more conversations, usually in person, with hiring decision-makers. They cover every aspect of a candidate's qualifications, including their specific job experience and accomplishments in prior roles. While interviews have their flaws (like selection bias), they're generally the best tool recruiters have for assessing candidates and seeing how they compare against one another.
4. Group interview
A group interview is where more than one candidate is being interviewed at a time. These can save time and when you're looking to hire more than one person for a job. They also allow hiring managers to see how candidates interact with others.
Related: How to Conduct a Group Interview
5. Panel interview
In a panel interview, a candidate speaks with more than one interviewer at a time. Panel interviews are helpful when you need to involve multiple decision-makers but don't want to drag the process out over multiple rounds of interviews. They can help you see how a candidate handles themself under pressure and also give you the advantage of incorporating questions from interviewers with different expertise.
6. Skills assessment
There are some jobs where it's difficult to assess a candidate's abilities based on an interview alone. These positions call for a skills assessment, which tests candidates' technical capabilities. In addition to giving you an objective comparison of different candidates (i.e., a score on a scale of 1 to 100), skills assessments can help eliminate bias and encourage candidates from nontraditional backgrounds.
7. Personality assessment
A personality assessment aims to identify a candidate's characteristics beyond their technical skills, like their communication style and work preferences. While personality assessments don't have "right" or "wrong" answers, they can be helpful for zeroing in on strong candidates for positions where certain personalities are more likely to succeed, like sales and customer service roles.
Related: Should You Use Personality Tests For Hiring?
8. Mock assignment / job audition
In a mock assignment or job audition, a candidate completes a task that's comparable to the work they'd be doing in the actual job. One of the biggest pitfalls of hiring is that we can't actually see how a candidate performs until they're on the job; mock assignments are the closest a hiring manager can come to seeing an applicant's skills firsthand before committing to hiring them.
Related: How Job Auditions Can Help You Hire The Perfect Candidate
9. Reference check
Reference checks should happen in the final stages of the hiring process, prior to making an offer (you'd be surprised how many companies wait to check references until an offer has been made!). While references aren't always the easiest or the most reliable tool to help with candidate selection, they can be invaluable in uncovering glaring red flags, like if a candidate fabricated their job history.
Related: Ace Your Reference Checks With These Sample Questions
10. Background check
Background checks are less about helping you select the right candidate and more about preventing you from choosing the wrong one. Once you've honed in on a top choice using other selection methods, you might choose to use a background check as the final hurdle to clear before making an offer.
You may use a few, many, or all of the methods of recruitment and selection we've outlined above, interchanging them as it makes sense for your hiring needs. However, one important thing is to use the same selection methods for all hires. Having a consistent selection process not only improves your hiring accuracy but also helps minimize bias and ensure all candidates come out of the process feeling like they were given a fair shot.