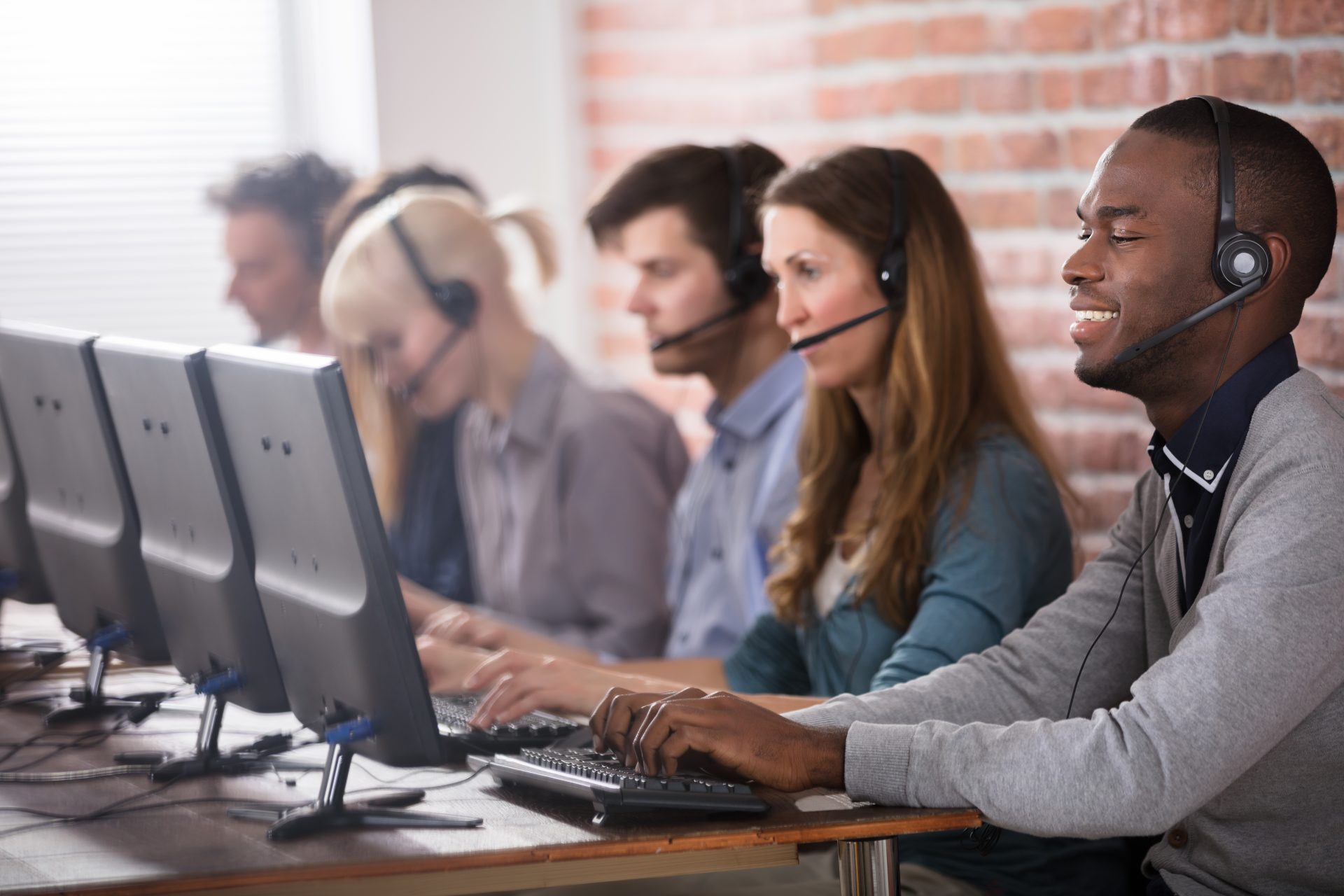 The quality of your service staff has a significant impact your employer branding, image, and sales. As a result, hiring the best customer service staff and providing an excellent customer experience can help boost your revenue by 4% to 8% more than the market average.
Great customer service also plays a significant role in building brand loyalty and retaining existing customers – in fact, seven in ten Americans (70%) say that they are willing to spend an average of 13% more with companies that deliver excellent customer service. With this in mind, businesses simply cannot afford to provide subpar services to their clients; and the first step to ensuring this is hiring professional reps who have the right skills and enthusiasm for the job.
Customer Service Skills & Traits That Matter
Businesses can no longer view customer service as an optional investment. Instead, this is now a core business process that allows brands to differentiate themselves and successfully compete in today's environment. Despite numerous technological advancements, customer service is still largely the domain of human interactions. However, when we talk about customer service skills, vague and generic traits like 'being friendly' are not enough. While such personality traits are important, there are many more skills to consider.
Here, we have compiled some specific skills and traits that businesses and professional staffing agencies should look for when hiring new customer service representatives (CSR).
Emotional intelligence
The job of a CSR requires constant interaction with countless people and personality types. Each interaction is riddled with different emotional wavelengths and frequencies. EI determines how employees manage their behavior and social interaction, and the personal decisions they will make along the way.
Research has consistently posited EQ as the secret weapon for success in business and life. In fact, according to TalentSmart, 58% of success in all types of jobs is the direct result of emotional intelligence.
According to Psychology Today, emotional intelligence includes three skills:
Emotional awareness (the ability to identify emotions – yours and others')
Emotional regulation (the ability to regulate emotions – yours and others' – this is particularly useful when trying to calm a disgruntled customer)
Critical thinking and problem-solving
All these skills are crucial in service staff and explain why EI is predicted to be one of the top 10 job skills in 2020.
According to People Metrics, an emotionally intelligent service professional understands the customer's emotional needs – and, as such, tries to assertively (instead of aggressively) make appropriate suggestions.
Communication skills
A candidate must have effective communication skills. Some people think this is simply the ability to speak clearly and be understood – however, there are other equally important facets, such as the ability to listen and empathize. Research has shown that active listening can make both participants in a conversation feel better. Applying this to customer service, a good rep needs to be a good listener, and able to understand the customer's needs, wants, and concerns – particularly when it comes to dealing with impatient and short-tempered clients.
Another important point to note here is that service reps need to be able to effectively communicate information about the business' products and services. Research has shown that 62% of customers claim that the representative's knowledge and the ability to clearly communicate helped them find viable solutions to their problems.
Time management skills
According to the Customer Service Benchmark Report, 62% of companies do not respond to service staff emails and 90% of companies do not even acknowledge that they have received their customer's email. Clearly, this means that businesses need to rethink the way they approach great customer service, and thus employer branding, customer retention and loyalty. Efficient time management skills can help solve issues like the above; an ideal candidate should display good organizational and multitasking skills so as to ensure efficiency and customer satisfaction.
Hence, it really goes without saying that the best customer service representative needs to display excellent time management skills – and juggle multiple roles at the same time, from attending meetings, gathering information about the business's products and services, making phone calls, and reaching out to leads and existing clients. All of these activities require resourcefulness and some serious organizational skills.
Conflict resolution
Dealing with customers on a day-to-day basis can be hard, especially since they can be highly unpredictable.  This is why professional customer service representatives need to be creative in terms of conflict resolution; research also shows that such skills can help them achieve increased consumer satisfaction and loyalty. Moreover, 85% of employees admit that such skills help them become more proactive and confident – thereby, leading to better service and customer experience.
In the long run, evidence suggests that these skills also have many benefits for the employees, such as:
Successful stress management
Regulating emotions
Effective communication
Adaptability
Dealing with consumers is a demanding job, and service reps need to be adaptable and flexible enough to meet their demands. Adaptability means being able to adjust to changing circumstances and customer requests and handling several interactions simultaneously.
An easily adaptable representative will be comfortable with an unpredictable work schedule and show a willingness to learn new processes and technologies. In fact, the best candidate is one who is tech-savvy and can adapt to the changing nature of great customer service technology; especially since the introduction of real-time messaging, chatbots, and artificial intelligence have brought about major changes in the day-to-day workings of client relations. For instance, businesses are now becoming more mobile, and so, the best candidates are those who can prove their ability to provide services on the go. This also explains why adaptability can help companies achieve a competitive advantage, as professionals integrate with, and adjust quickly to new approaches and technologies.
Work ethic
Customer support also plays a vital role in building robust relationships, as customer service representatives are usually the first point of contact between a business, and clients. A long-lasting relationship can only be built by service staff professionals who have a strong work ethic: in the long run, candidates must have relevant work experience won't be an asset for your company, until they are able to demonstrate traits like diligence and strong determination. This also explains why research has drawn positive correlations between work ethic and employee performance.
According to the Glossary of Human Resource Terms, dedication, commitment, and motivation are all key indicators of a good work ethic. In other words, businesses need individuals who respond positively to constructive feedback, don't take discouragement seriously, and are able to bounce back quickly from setbacks. With 33% of Americans instantly switching companies after a single instance of poor customer service, a strong work ethic is the most valuable trait to look out for when hiring a representative.
Empathy
Empathy is the ability to put yourself in other people's shoes and analyzing a problem from their perspective. In customer service professionals, empathy allows individuals to interact with each other with increased compassion and understanding. Being empathetic doesn't always mean that you are in complete agreement; it simply refers to the ability to view the same situation with different perspectives. It is a crucial trait for service reps to be able to talk to clients effectively and provide viable solutions. Research has shown, for instance, that empathy can mitigate conflicts and engender positive responses from consumers.
Similarly, emphatic communication, such as actively listening to customers and identifying with their feelings, can lead to increased consumer satisfaction and perceived service quality.
This is particularly beneficial since a majority of adults (66%) feel that valuing their time is the most important thing a company can do, when providing online customer experience.
The Final Word
A fundamental way that all companies, irrespective of size, can stand out is by ensuring a personal one-on-one connection with the customer – and this hinges on good quality service.
Companies must dedicate their resources to elevating your employer brand and robust customer experience. In fact, even a moderate increase in the quality of service can generate an average revenue increase of $823 million over three years for a company with $1 billion in annual revenues.
Not all businesses, however, have the resources or the tools to find the right candidates. In this case, they should seek the help of professional staffing agencies to identify and shortlist candidates. A professional staffing agency can help businesses overcome common recruitment challenges, and inefficiencies in the hiring process.
As Kristin Smaby highlighted in Being Human is Good Business, "In an era when companies see online support as a way to shield themselves from 'costly' interactions with their customers, it's time to consider an entirely different approach: building human-centric customer service through great people and clever technology. So, get to know your customers. Humanize them. Humanize yourself. It's worth it."
Partner with 4 Corner Resources to Source and Screen Your Customer Service Staff Needs
Sourcing new customer service staff professionals is one of our recruiting and staffing specialties. A Customer Service Representative should embody the skills and characteristics that allow them to form excellent relationships with their customers. If you are having difficulty identifying candidates with these qualities, consider partnering with a staffing agency.
We find the best-fit candidate for your hiring needs. Our services include direct-hire heading, contract-to-hire recruiting, and contract staffing. We know exactly what to look for when recruiting a new Customer Service Representative. Our job is to present you with candidates that are not just qualified but also a culture-fit. Therefore, our services can eliminate your sourcing process. You can then proceed to the next step- interviewing.
To learn more about what we do, contact one of our recruiting experts today!