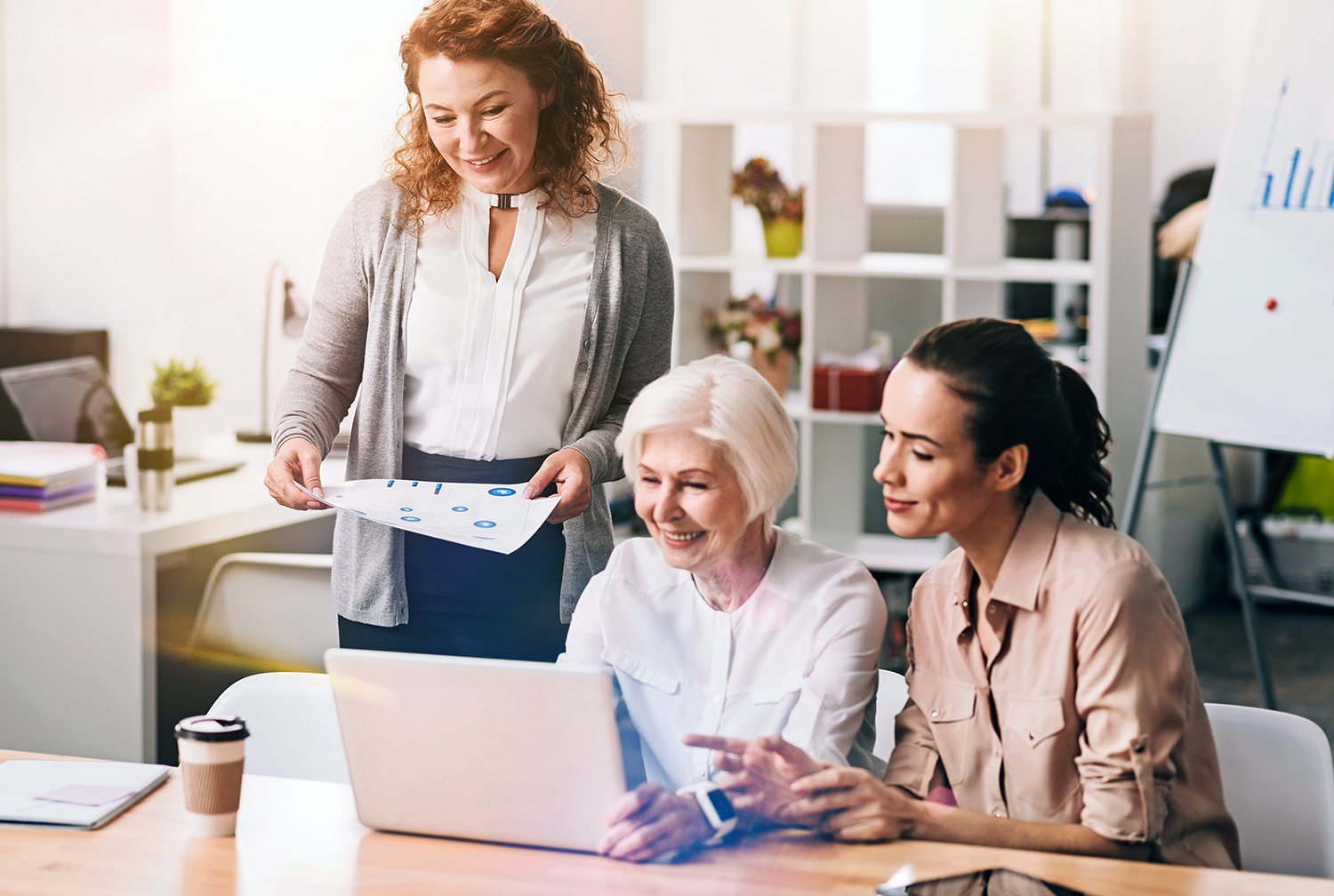 Baby boomers have been leaving the workforce in numbers for years now, and it's a trend that will continue for at least another decade. The eldest Boomers began turning 65 around 2011 and the youngest of them are set to hit that milestone by 2034. In 2016, according to Pew Research Center¹, millennials became the largest segment of the U.S. workforce, with more than a third of working Americans falling into that classification. Generally speaking, those born between 1946 and 1964 are considered baby boomers while those born between 1980 and 1995 are Generation Y, also known as millennials.
As the generational makeup of our workforce shifts, age diversity in the workplace is an issue of growing importance for all businesses. Millennials and baby boomers in the workplace have different work styles, motivations, values, and interests, and it's critical to understand them if we want to effectively manage a team that includes both of these age groups effectively.
Why Study the Work Styles of Millennials Vs. Baby Boomers?
While it can be tempting to write off the needs of older generations in favor of newer, more progressive approaches to work, new research suggests this would be a mistake. Baby boomers are staying in the workforce longer than any other modern generation.
If we look at the younger segment of Boomers, those aged 54 to 64, 66% of them were still going strong in the workforce as of 2018. This is a higher proportion than the two generations before them (the Greatest generation and the Silent generation, as they've been labeled) when they were the same age range.
Covid-19 has exacerbated this trend, with many boomers opting to put off retirement plans they'd had on tap for this year or next. As of late summer 2020, one in four baby boomers said² they were delaying retirement due to the uncertainty surrounding their investment portfolio. For employers, this means that although most baby boomers are hitting retirement age, they're still an important and very active segment of the workforce that can bring a lot of value. So, it's wise to prioritize their needs alongside those of millennials and Gen Z.
Once you understand the differences in expectations and motivations of millennials vs. baby boomers in the workplace, you can tailor your management style to drive greater productivity and engagement. Now, let's cover some of the core differences between millennials vs. baby boomers and tips for the effective management of employees in each group.
Differences Between Millennials and Baby Boomers in the Workplace
Employee motivations for baby boomers vs millennials
Different generations are largely motivated by different things. Effectively managing baby boomers in the workplace requires a different approach than managing their Generation Y counterparts.
According to the study, baby boomers tend to be motivated by monetary rewards, but they "also value nonmonetary rewards such as flexible retirement planning and peer recognition." Boomers tend to have ambitious aspirations motivated by opportunities for professional development and promotions that place them in positions of authority. When it comes to their performance, they have a "no news is good news" mindset, preferring to receive coaching only when something is lacking. They do, however, like to have their expertise valued and recognized by their peers.
The millennial generation, on the other hand, tends to want stock options as a monetary reward and feedback as a nonmonetary reward. When managing millennials in the workplace, it's not enough to simply put them in a position and expect them to do what they're told without question or being asked for input. This group wants to have a greater sense of autonomy, mastery, and purpose for their work earlier in their careers. Millennials also thrive on receiving feedback, mentorship opportunities, skill training, and are looking for workplace cultures that support and encourage these traits.
Culture environment for millennials vs baby boomers in the workplace
According to Forbes³, understanding your employees' motivations and creating a workplace environment or culture that encourages them is not a matter of giving in to millennials:
"Everything you can do inside your organization to facilitate stronger autonomy, mastery and purpose is not about pandering to the millennials. It's about aligning your culture with deep, human motivations — across generations — that makes people more successful."
When managing millennials, embrace age diversity in the workplace by pairing baby boomers with them to serve as mentors—and vice versa. Each generation has something it can learn from the other.
Another critical point to drive home is that it's vital to provide every employee with equal opportunities. Regardless of whether they have no experience or more than 20 years in your industry, every employee can contribute their thoughts and ideas — as well as their concerns — to help improve your workplace. Listening to their diverse viewpoints can help bring your company to the next level (and avoid any potential litigation over age-based discrimination).
Flexibility concerning work hours and locations for baby boomers vs millennials
When it comes to schedules, millennials in the workplace prefer employers who offer flexibility concerning their work hours and remote work opportunities. However, it may be surprising to know that the average telecommuter is older than the average employee.
Citing research from the State of Telecommuting in the U.S. Employee Workforce⁴ report by FlexJobs and Global Workplace Analytics, The Huffington Post reports:
"The older we are, the more likely we are to work remotely. Employees who are 65 or older are 1.7 times more likely to telecommute than the average employee. Those 55 to 64 years old are 1.2 times more likely. And those 35 to 54 years old are 1.1 times more likely."
Of course, this is another area touched by the pandemic, with employees of all generations shifting heavily to remote work. It will be interesting to see the data on how many employees continue working remotely in the coming years based on age group.
Employee pay and benefits for baby boomers vs millennials
We know that baby boomers and millennials value monetary rewards. However, when it comes to employee pay and benefits, there are different preferences when comparing millennials vs baby boomers in the workplace.
According to the SHRM study we mentioned earlier, baby boomers tend to value sabbaticals, 401(k) matching funds, and catch-up retirement funding as their preferred monetary motivators, whereas millennials tend to prefer stock options, flexible schedules, and continued education opportunities.
Usage of technology by millennials and baby boomers
Technology is a huge factor in the decision to take a job for many millennials vs. baby boomers in the workplace.
Millennials continually strive to stay ahead of the curve concerning technology, seeking out new ways to increase the speed and efficiency of tasks. Process automation is significantly important to this generation as they move to adopt more streamlined processes and embrace digital transformation. Furthermore, millennials tend to lean toward digital communication methods such as texting, emails, and chat platforms.
While still important to baby boomers (and critical as a modern workplace skill), technology use is not as much of an influence for this age group in the workplace. Workers of this generation are less likely to report using major technology tools and platforms such as cloud-based word processing or spreadsheet applications. Baby boomers also tend to prefer communicating face-to-face or via phone calls because they feel both methods are more personal than digital communications.
But make no mistake—most boomers are perfectly willing to adapt to new technology if the job requires it. The past decade has seen significant growth of tech adoption⁵ among baby boomers, with 68% owning a smartphone and 52% owning a tablet (the same proportion, interestingly, of millennials who own one). Sixty percent of baby boomers use Facebook.
Hire and Retain the Best Employees With Staffing Experts
As an employer, it's vital to put the right people in place to meet the needs of your company. The right employees can help your business scale and move the needle to keep pace with the competition. Some employers do this through in-house recruiting and hiring while others partner with professional staffing agencies to ensure they are getting the best talent. Working with a reliable and knowledgeable professional headhunter is a proven way to recruit, screen, and hire the best candidate for the job, whether they're a baby boomer, millennial, or part of another generation.
4 Corner Resources is skilled at recruiting top talent across age groups and skillsets. We continually rank among the top Orlando headhunters and staffing agencies, serving large and small businesses throughout Central Florida and around the United States. To learn how we can help your business hire for success and retain more of your workers, schedule your free consultation with our friendly team today. For more information on attracting and retaining talent, like how to effectively recruit millennials and what to expect as Gen Z enters the workforce, check out our blog.
---
Resources and Sources
https://www.pewresearch.org/fact-tank/2018/04/11/millennials-largest-generation-us-labor-force/
https://fox59.com/news/strategic-wealth/baby-boomer-delaying-retirement-because-of-covid-pandemic/
https://www.forbes.com/sites/forbescoachescouncil/2018/03/14/motivating-millennials-and-everyone-else-for-that-matter/?sh=160dcf4b57c1
https://www.flexjobs.com/2017-State-of-Telecommuting-US/
https://www.pewresearch.org/fact-tank/2019/09/09/us-generations-technology-use/