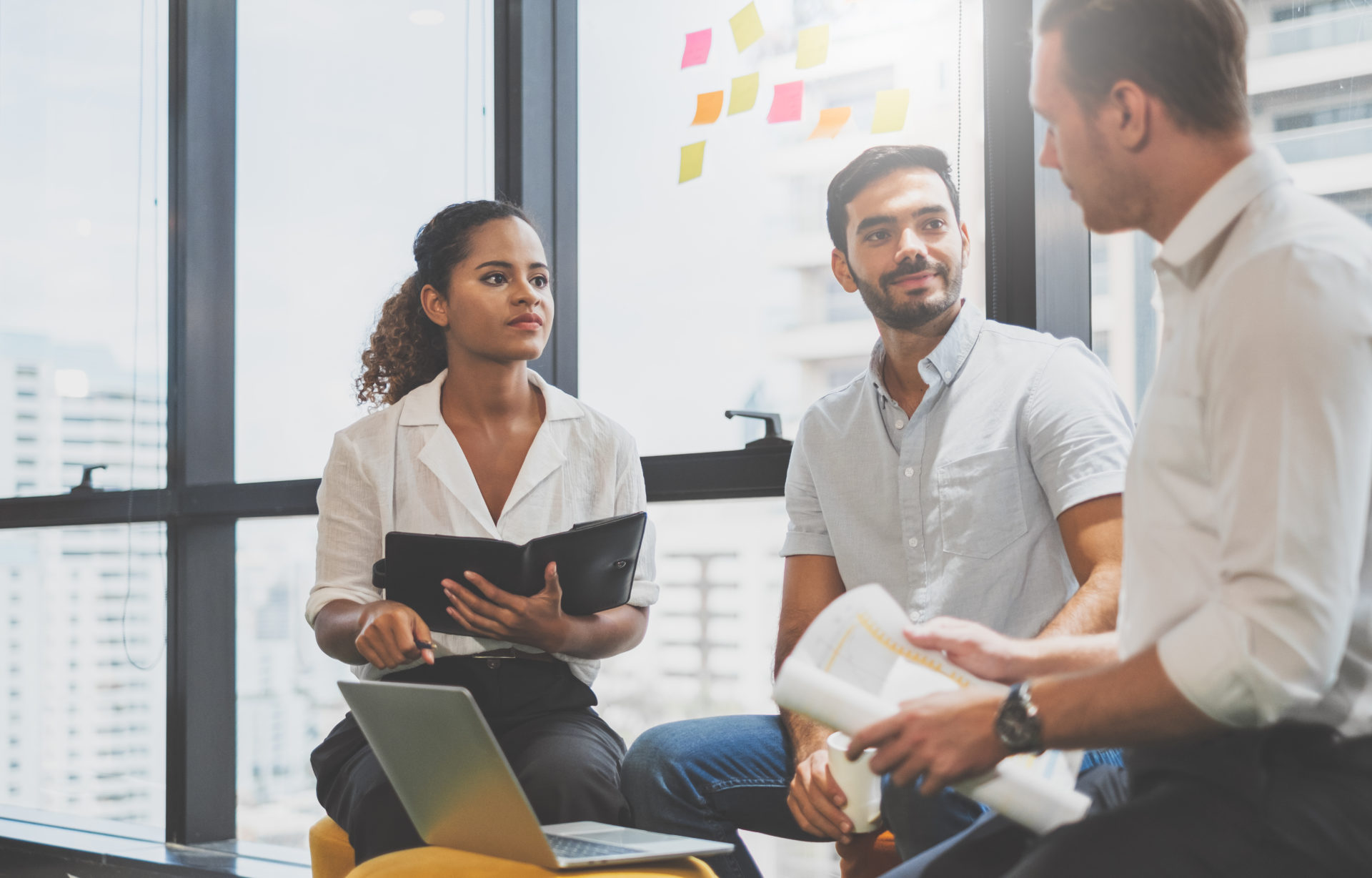 Innovation is valuable to all companies and critical for long-term success. At the root of innovation lies creativity. Thus, hiring creatives is more important than ever, even if you're not in a traditionally "creative" field.
This hits home for 4 Corner Resources as many of our core industries, like legal and healthcare, aren't exactly viewed as a beacon for creative people. However, We'd argue that creatives in these fields are even more valuable, making hiring them a priority.
We also know that creativity is intangible. So, how exactly does it tie into business outcomes? A study by Adobe and Forrester Research set out to investigate just that.
It concluded that companies encouraging a creative culture are 3.5 times more likely to achieve 10% revenue growth goals than companies where creativity is not a priority. Moreover, those organizations were 50% more likely to report a strong market leadership position over their competitors.
If you aspire to emulate the creative innovation industry powerhouses like Google, Apple, and Disney are known for, then you must hire creative professionals.
The Differences Between Hiring for Technical vs. Creative Roles
Hiring for creative roles differs from hiring for technical roles in a few key ways.
Objectivity
When hiring for a technical skill like programming or bookkeeping, you can objectively assess whether a candidate possesses the skill. Either they can write code, or they can't. Either they can document financial transactions, or they can't. It's black and white.
When you're hiring creatives, there's a lot more gray area. For example, what qualifies as "good" writing may differ from one person to the next. There's more subjectivity in the hiring process, which means it's even more essential to have clearly defined requirements the right candidate will be expected to fulfill.
Evaluation
Technical skills can be measured like gauging a candidate's English proficiency on a scale of 1 to 100. Creative skills aren't as easy to measure in this way. Instead, hiring managers must rely more heavily on examples of a candidate's past work, like a portfolio, to judge their capabilities. Also, the interview questions used to assess candidates will differ.
Culture
The importance of company culture varies between technical and creative roles. Creative jobs require more collaboration, which means culture fit may weigh more heavily into your decision-making when hiring for creative roles.
Where to Find Creative Talent
On display
One of the great things about creative people is that they put their work out there for public consumption. This means if you look hard enough, you'll find them. Source creative talent in places where their work is spotlighted, like art galleries, film showings, poetry readings, and musical performances.
Freelance platforms
Creative jobs are some of the most popular for freelancers. It's not uncommon for an artist or writer to take freelance projects on the side, even if they have a full-time job. You can browse thousands of portfolios on platforms like Upwork to discover new talent.
Specialized job boards
Put your job openings where the right candidates can see them by publishing them on websites explicitly dedicated to creative professionals. Creativepool and Coroflot are two options.
Social media
Many creative professionals, especially those who are job searching, have social media profiles dedicated to showcasing their work. You can find them on channels like Instagram with the search function and by clicking through relevant hashtags.
Competitions
Assemble a pool of high-quality creatives by turning your search into a contest. Invite candidates to submit their logo design or product jingle to win a compelling prize. The prospect of employment is an added incentive.
Referrals
As with any role, referrals are a surefire way to find awesome talent. Ask your employees to identify people in their networks with the skills and capabilities you're looking for, incentivizing their referrals with monetary rewards or other perks.
What to Look For When Hiring Creatives
Identifying creativity in a candidate is often the easy part. The challenge is zeroing in on the skills that will enable you to harness that individual's creativity to advance your business goals and drive innovation.
Below, we outline some of the most critical creative skills to look for and suggest interview questions to use when hiring creatives.
1. Ability to collaborate
In the business world, creativity can't exist in a vacuum. To drive growth, it takes many people or even multiple departments working together to see a creative idea come to fruition.
When hiring, seek out candidates with a demonstrated history of collaborating on projects. Look for mentions of working within a group, leading a team, or being a member of professional and industry organizations.
To identify the ability to collaborate, ask this:
Can you share an example of a time you collaborated with a group to achieve a goal? What did you contribute, and what did the group accomplish?
Let's say you had to work with a colleague who wasn't on board with your ideas. How would you approach it?
What's your preferred method for working on a group project? (i.e., everyone takes a piece and works on it separately, works on all parts equally, etc.)
2. Time management
The image of the disorganized, always-late artist may be a cliché, but that doesn't stop it from having some basis in reality. There's a documented link between creativity and lateness; it's what some people would call a 'Type B' personality.
Researchers have surmised that creative people prefer taking their time to feel rushed, leaving plenty of opportunities to explore and find solutions. Creatives are also less likely to see being "busy" as a direct connection to being "productive" the same way their Type A peers might.
For hiring managers, this means taking time (pun intended) to identify creative professionals who are also adept at managing deadlines and setting priorities.
To identify strong time management, ask this:
What's your approach to prioritizing creative work?
If you could arrange your ideal schedule, what would it look like?
What tools do you use for time management and/or organization?
3. Ability to take and give direction
Creative work can be funny because there's often no "right" or "wrong" way of doing things. There is, however, usually one or more ways of doing things that align with the larger strategy of the business and, conversely, ways of doing things that do not.
An effective creative professional must be able to take direction and execute on it rather than needing to steer the ship constantly. For creative professionals in leadership roles, it's doubly important that they're able to give clear direction, even in abstract situations and even when dealing with someone more technical or analytical than creative.
To identify the ability to take or give direction, ask this:
How do you respond to negative feedback?
Tell me about a time you approached a situation one way but were forced to change course halfway through. What happened?
What would you have done differently if you were to change positions with your manager at your last job?
Tell me about a time you had to explain a complex topic to someone unfamiliar with it. How did you approach it?
4. Culture fit
Culture fit is that hard-to-define quality that can make or break a new hire's success within your organization. Simply put, does he or she 'click' with the rest of the staff? It may sound like something that's nice to have but not essential, but the data says otherwise.
According to the Society for Human Resource Management, turnover due to poor culture fit can cost an organization between 50 -60% of a candidate's annual salary. But it can work to your advantage, too. Studies have shown that employees who fit well within their organization are more satisfied with their work, stay longer, and have superior job performance than those who are a weak fit.
When you're recruiting creative professionals, an employee referral program can be a handy tool for identifying prospective candidates who are a strong culture fit.
To identify a strong culture fit, ask this:
Tell me about the best job you've ever had. Why was it your favorite?
We've all had jobs we didn't love. What did you dislike about your least favorite job?
What values are most important to you in an employer?
5. Curiosity
When you're in the trenches working day after day toward your company's goals, it's easy to get stuck in the same old way of doing things. It might not even be something you do by choice but rather out of habit. Though it's safe, it's precisely the opposite of innovation.
Creative professionals can be a massive asset due to their spirit of curiosity. It's an often-overlooked trait, but one that's necessary to ask the innovation-driving question, 'What if we did it this way?' Inc. Magazine describes curiosity as a "Swiss Army knife" that can help you build customer relationships, solve problems, get ahead of industry trends, and more, and we'd have to agree.
To identify curiosity, ask this:
What are you currently reading/watching/listening to?
What's something you learned to do in the last six months? How did you go about it?
What questions do you have for me?
6. Critical thinking
It might sound counterintuitive to label critical thinking as a creative skill. Still, the most influential creative employees can harness their talents to develop concrete, real-world solutions to problems.
Being a critical thinker can take many forms and doesn't manifest the same way in all professionals. While one person might have a knack for analyzing the big picture from the smaller pieces, another might have a skill for coming up with solutions no one else has thought of. The key here is to channel raw creativity into tangible results.
To identify critical thinking, ask this:
Let's say your team disagrees about how to solve a problem. How would you come to a consensus on the best course of action?
When you have to make an important decision, how do you approach it?
7. Passion
Without passion, even the most creative individual will eventually burn out. That's not to say all creatives must be on their A-game 100% of the time. Rather, you're looking for candidates with a spark for what they do -something that keeps them showing up beyond just a paycheck.
Passionate employees are engaged employees, and engaged employees are good for business. According to a Gallup survey of research studies covering 192 organizations, companies that scored the highest in the area of employee engagement were 21% more profitable than companies with the lowest levels of engagement.
'Why' questions are beneficial for eliciting responses that demonstrate passion.
To identify passion, ask this:
Why do you want to work here?
Why did you choose to pursue a career in this field?
If you could have any job in the world, no matter how crazy or unrealistic, what would it be?
Mistakes to Avoid When Hiring Creatives
Relying too heavily on resumes/keywords
Applicant tracking systems, we're looking at you. The fact of the matter is a computer can't identify a creative professional based on the words in their resume. Even a human hiring manager will have trouble trying to go this route!
Stop relying on resumes as your primary screening tool. Look at the portfolio first and supplement it with the resume. This will prevent you from weeding out stellar talent just because their resume doesn't contain arbitrary keywords.
Writing rigid job descriptions
More than specific job postings may deter creative professionals from applying. For positions where creativity is a defining aspect of the job, consider loosening or even eliminating requirements like a certain level of education or a specific number of years of experience.
Related: Tips for Writing Job Descriptions From Scratch
Failing to communicate expectations
Communication is vital, not only when hiring creatives but also when working with them. Because of the subjectivity of creative work, ensuring everyone is on the same page about goals and requirements is of higher importance. This doesn't have to mean stifling creativity; you can define objectives and expected outcomes while still leaving creative freedom for how the work gets accomplished.
Neglecting soft skills
Even the most talented creative professional won't be helpful to your organization if they can't answer an email or complete a project on time. In your quest to identify subjective traits like their creativity, be sure not to bypass other essential skills like time management and communication.
Ignoring cultural fit
Creatives need the right environment to flourish. Someone who thrives on independence might feel suffocated by the constraints of a traditional corporate environment. For this reason, it's important to incorporate culture fit into your assessment criteria when hiring creative people.
Hire Top Creative Professionals With 4 Corner Resources
Whether you're looking to find a niche set of skills, identify the right culture fit, fill a complex position, or combine all three, 4 Corner Resources can help. We work with clients of all sizes to fill permanent roles, contract-to-permanent, and temporary positions nationwide through our network of the best creative professionals in the business.
With a 92% client retention rate and more than 5,300 candidates placed, it's easy to see why we're not another recruiting firm. 
Contact us today to learn how our marketing and creative staffing services can benefit your organization.
Looking to enhance your staffing strategy?
Download our 2023 Hiring and salary guide for access to exclusive staffing insights.