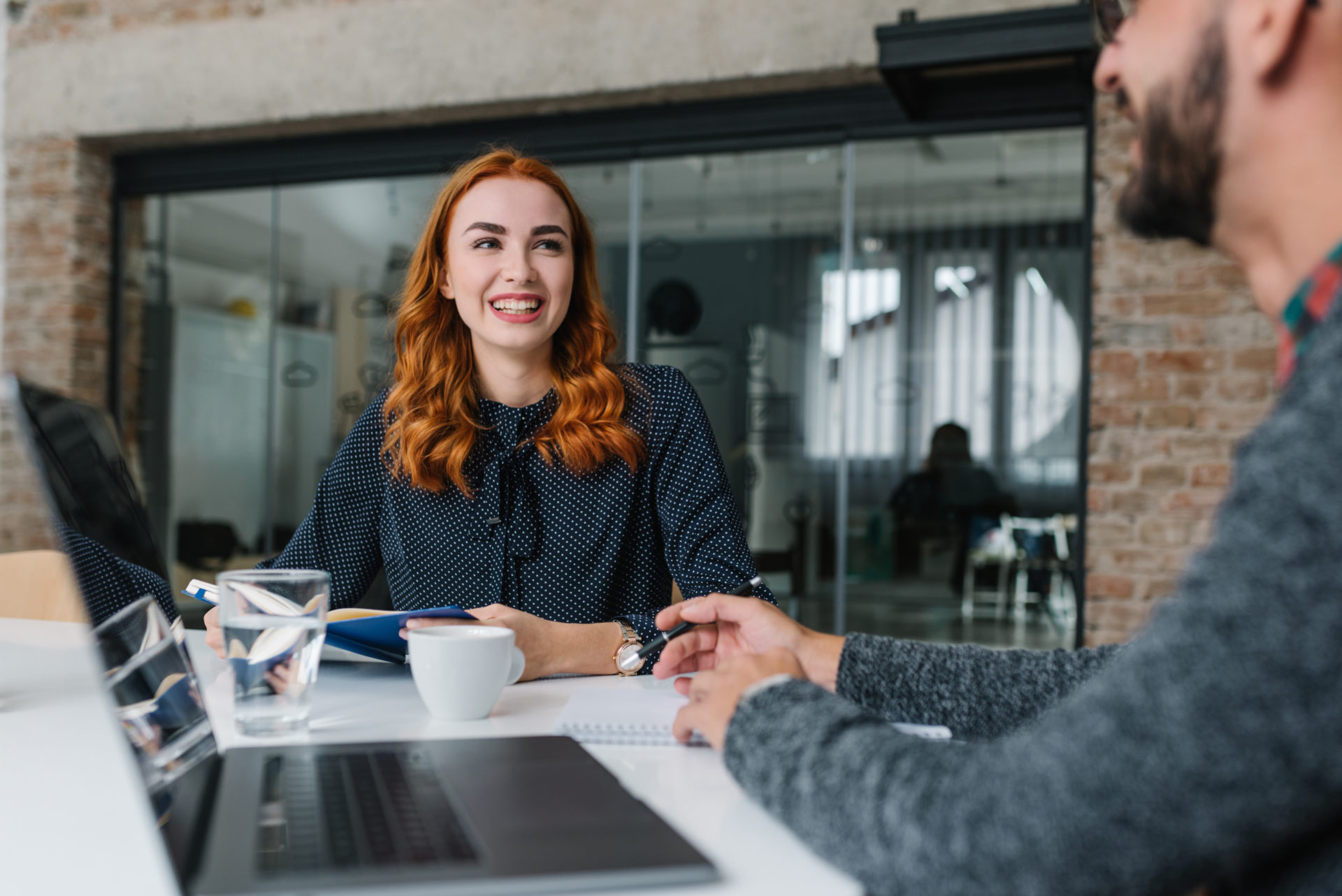 When an organization has an open position, they have two options available to fill it: look for external candidates, or hire from within. The process for hiring outside the organization can be a long one. You have to come up with a job description, including the skills and education you are looking for, and post the job opening on job boards and other sites. When applications start to roll in, you have to sift through the list of potential, yet unknown candidates to find those who meet your basic requirements. Then it's time to conduct phone interviews and in-person interviews to widdle the field down, and finally, you make an offer. All this requires time, effort, and resources.
A much more cost-effective, practical, and often smarter way to fill your open position is to hire someone from within. That's why most hiring in companies is done internally. Yet, the internal interview is often not as in-depth as an external one. Hiring managers who already know the person they want to fill the position might think there isn't much of a point in going through a real interview process. T
hey figure they don't need to know anything else about this candidate. The truth is, you can find out a lot with a well-conducted internal interview that can provide valuable new insight into a known candidate. Here are some great tips on how to conduct an internal interview that will provide useful insight into a candidate you might or might not know well.
How to Hire The Best Internal Candidate
1. Get input from internal sources
When you have an internal candidate applying for your open position, talk to their current manager to make sure they are aware that the candidate is applying for the job and ask them for any input they can give you about the candidate. Even if you know the applicant, you might learn something new about them and their work habits from another manager's perspective.
2. Don't assume anything
It doesn't matter if you've worked closely with a candidate for many years or if you only know that the candidate works on the floor below you and your coworker can vouch for them. You shouldn't gloss over the internal interview process. Knowing someone well isn't the same as knowing that person will be able to perform well in a new role. When you assume that you know everything there is to know about a candidate, including their skillset, capabilities, and potential, you're walking down a potentially dangerous path.
Instead of a surface-level interview where you ask subjective questions and don't really find out anything new about a candidate, you would benefit from digging in and asking the tough questions that can reveal whether the candidate has what it takes to do the job and do it well. Focus the interview questions on the important things you need to know about the candidate. Asking them things you already know about them isn't going to help you.
3. Only interview the candidates you really want
Many times, an internal interview is conducted out of courtesy or because of the protocol. If someone is "next in line" for an open position simply because they've been in their job for the last 10 years, that doesn't mean they're ready for a promotion or even qualified. Likewise, interviewing a candidate because others in the company think you should when you know that person isn't right for the job, is a waste of your time and theirs. When looking internally, prior experience and job performance are key factors to look for.
Predicting future performance is not nearly as reliable when considering whether to interview a candidate or not. The bottom line is, don't interview applicants that you feel are not true candidates for the job. Be mindful that internal applicants who don't get an interview will likely want to know why, and unlike an external candidate, you might not be able to avoid them. Instead, let them know why they weren't selected and maybe give them some helpful advice on what they can do to be ready for future openings.
4. Evaluate past performance
Internal candidates should have an advantage over their external counterparts because they know more about the company, the people, and the culture. And you might know a little or a lot about an internal candidate and their past performance, whereas you probably don't know anything about an external candidate. So, although you would generally try to be fair and strive to evaluate internal and external candidates using the same criteria, many times, the internal candidate will have a better understanding of the role, and you will have a better understanding of them.
Internal candidates will more likely provide better answers, as well as those that are more specific and relevant to the company and the position. When you ask an external candidate about past performance, they most likely will answer in general terms, and you'll have to take their word for it. On the other hand, an internal candidate might be able to give you an example that you are aware of already or that you were involved in. You still should ask the internal candidate the same questions as you would the external one.
You might find that an internal candidate performs poorly in the interview even though they have a good reputation in the company. This makes evaluating past performance especially important. Going with an internal candidate who has an average interview but is consistently an above-average performer might be better than an external candidate with a glowing interview.
Related: Tips for Conducting Successful Employee Performance Reviews
Here are some sample interview questions to evaluate past performance:
I've heard you worked on project X with [name]. Can you tell me about this project? What do you think were the main reasons for its success?
I've been told that you missed a deadline on the Y project. What were the reasons for this?
What is the most challenging project that you worked on in our company? What made it so challenging? How could the project have been run to make it less difficult?
What was your favorite project that you worked on in the company? Why was it your favorite?
Do you think your peers would have anything negative to say about your work?
Can you give me an example of a project where you could have done better in hindsight?
What areas have you grown in the most at our company?
Which areas do you think you still have an opportunity to improve?
5. Assess role readiness
The best questions you can ask an internal candidate are about their motivations. These are generally behavioral and competency-based questions. This is especially true if you already know their past performance. The truth is that some internal candidates just apply for whatever is available to move up in the company and really aren't interested in or ready for the position you have open. The answers you get to motivational questions can give you a good idea as to where the candidate is coming from and if they are ready and able to make an impact in the new role.
Here are some sample interview questions to assess motivations:
Why are you interested in this new role within our company?
What do you like most about working here?
What would you change about our company or department to make it better?
Where do you see yourself next year? 3 years from now? 5 years?
What do you enjoy about your current role? What don't you like about it?
If you could change one thing about your current role, what would it be?
Related: Best & Worst Interview Questions to Ask Candidates
6. Simulate work experience
A good way to assess a candidate's ability to do the job is to incorporate work simulation into the interview process. You can only glean so much from an applicant by asking questions, whether they are internal or external. A candidate who can prove themselves based on doing actual work is a far better indicator of their competency than what they tell you they can do in an interview. Simulations are great for evaluating internal candidates that you don't know, or that you know well, but you still don't know how they would perform in the role you have open. A work simulation can be scheduled on the day of the interview or prior to it so that you can assess how well they did at the time of the interview.
7. Follow up
After you've found your candidate and offered them the job, you'll want to follow up with the others who didn't get the job. A major frustration of external candidates who don't get hired is that they receive no follow-up. Even though it's important to follow up with all serious candidates, external and internal, it's even more critical with internal ones. You don't want an internal candidate to feel frustrated because it could negatively impact their work and their future with the company. They will most likely feel deflated after failing to get the promotion, and you want to avoid them holding a grudge against the company or resenting you for your decision. Always treat them with respect and be honest with them about why they didn't get the position.
Related: How To Give Your Candidate Interview Feedback
4 Corner Resources Can Help You Hire Better
Many employers are inclined to take internal interviews lightly, but the truth is a well-prepared, well-conducted internal interview process can be an effective way to ensure that you hire the best candidate for an open position. Hiring from within can save you time, money, and can be an effective tool in motivating employees to work harder because they see that hard work can open up opportunities to advance in the company. Internal opportunities result in happier, more productive employees and higher retention rates.
Hiring doesn't have to be something you look at negatively. If your company isn't sure where to start, 4 Corner Resources can help. As a dedicated staffing company with decades of experience, we'll be sure that the person you hire is the best person for the job.
Contact us today to see how we can help.