Video interviews have been increasing in popularity for years and from what we can tell, they aren't going away anytime soon. Similar to a phone interview, video interviews allow for more flexibility than in-person interviews. Scheduling is much easier, travel expenses are not incurred, and multi-location companies can have more team members in attendance than ever before.
Since there's no denying that video interviews are here to stay, let's focus on learning how to ace these interviews with 8 simple tips.
We've divided our tips into two straight-forward sections:
Tips on preparing for a video interview
Tips for during a video interview
While most articles only share how to prepare for a video interview, we take it a step further by providing additional tips to be successful during the video interview.
Preparing For a Video Interview
Many job seekers spend countless hours reading about the most common video interview questions.While that type of preparation is not bad, there are a lot of other ways you should be preparing for a video interview. Have you tested your computer's audio/video? Do you know exactly where to conduct the interview? Do you have the proper attire picked out? These are just a few of the ways you can prepare for your upcoming video interview. Keep reading for detailed information on how to prepare for your video interview.
1. Test your device's audio/video
One of the most obvious yet overlooked tips to prepare for a video interview is testing your device's audio and video.To do this, open up the application that will be used for your video interview. Some common video interview software includes Skype, Zoom, GoToMeeting, and Amazon Chime. Whatever software you will be using, take some time to test it out. Reach out to a friend or family member and ask them if you can test your audio and video connection by calling them with the video software.
If you plan to use headphones or a microphone, make sure to test those as well. When you find someone to test this out with, there are a few things you will be looking for.
Is your audio working? Can they hear you clearly without any background noise, static, or muffled voice? Can you hear them clearly?
Is your video working? Can they see you clearly (and can you see them)?
If the answer is yes to the above questions, you are good to go. Now that your audio and video has been tested and is working properly, let's discuss how to find the perfect location for your interview.
Bonus Tip:  We highly recommend that you conduct your video interview using a laptop or desktop computer, rather than a cellular device. Not only do cell phones typically have poorer audio and video quality, but the screen sizes are often too small to see each person in attendance on the interview.
2. Find a distraction-free interview location.
Finding a distraction-free interview location is often easier said than done. Even highly professional interviews that are broadcasted live across the globe experience distractions on occasion. Take this BBB news interview for example. While I am sure the interviewee thought he was in a distraction-free zone, that quickly changed when his young children came barging into his office:
(Embed video clip here – https://www.youtube.com/watch?v=Mh4f9AYRCZY)
Let this be a lesson for all of us. Lock your door while interviewing! On a more serious note, there is more to finding a distraction free location than locking your door. Here are some things you should look out for:
Distracting noise from outside such as dogs barking, cars honking, etc. This can usually be avoided by conducting your interview away from a window.
Distracting noise from pets, children, or roommates who may be in your home. Kindly ask your family or roommates if they can keep it down during the time of your interview.
Distracting imagery such as a television, poster, or other personal objects that may be visible in the background.
Distractions come in all shapes and sizes. While the most common distractions are usually noises, be conscious of visual distractions that may appear during the interview. Also, just because something is not distracting to you, doesn't mean it won't be distracting to the interviewer. Keep that in mind while preparing for your next interview.
3. Pick out the attire you will be wearing.
Knowing what to wear to an interview can seem stressful, especially if you weren't told to wear a specific type of attire. Many companies will recommend that you wear either business casual or business professional attire. If you aren't sure, don't be afraid to ask. However, if you have no idea what to wear, err on the side of caution by wearing business professional attire. It is almost always better to be overdressed than underdressed.
To help, we've created a handful of outfit suggestions for both men and women. Check out this article on Business Casual vs. Business Professional Attire.
4. Additional tips/suggestions.

We discussed how to test your audio & video connection, prepare a distraction free interview location, and select your interview attire. But there's more that you can do to prepare for your video interview.
Research the company you are interviewing with and the associated job description.
Look in the mirror to make sure you don't have food in your teeth or dirt on your face.
Hire a baby or pet sitter to further prevent distractions.
Review your resume and be comfortable speaking about each experience listed.
If you follow the tips above, you will be better prepared than the majority of your competition. You are already a cut above the rest by taking the time to research video interview tips. Keep reading for more tips to impress the hiring manager during the interview.
During a Video Interview
Abraham Lincoln once said, "Give me six hours to chop down a tree and I will spend the first four sharpening the axe." This means that sometimes the preparation is the most important part. You could be an excellent interviewer who would absolutely crush the interview, but if you have distractions in the background or unprofessional attire, you may be passed up. Assuming that you have already prepared for the video interview by following our suggestions above, your interview should start off smoothly. In this next section, we will talk about what to do during the video interview.
5. Remember to smile
As cliché as it sounds, it's extremely important to smile during your video interview. There are many independent studies proving that smiling is not only infectious, but it can actually change your tone of voice. Interview coaches constantly teach their clients to smile, even when they are on phone interviews without video. By smiling, your tone will actually become more positive and friendly. This becomes even more important in video interviews.
Who would you rather work with? The stern and serious man on the left. Or the happy, approachable, team-player on the right?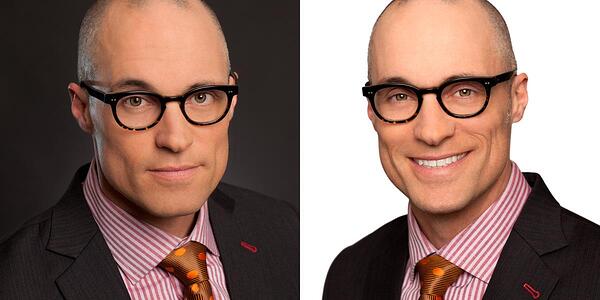 While both images have the exact same professional attire, the image of the man on the right looks much more approachable. Practice smiling in the mirror before your interview. If you have difficulty remembering to smile during your phone interview, put a happy picture in the background that only you can see.
6. Make eye contact
When you are in a video interview, it's important to make eye contact with the speaker. I can't tell you how many times we have conducted video interviews, only to have the candidate looking in a completely different direction. This is usually done on accident by people with more than one monitor. Make sure that you have the video interview on the same screen as your camera. That way, it will actually look like you are looking at the person on the other end of the video. It also becomes pretty obvious if you are doing other things on your computer during the interview. Refrain from surfing the web, checking emails, etc. during your phone interview.
7. Ask impactful questions
Interviewing is two-sided. You should be prepared to ask questions during the interview as well as answer questions. We already talked about preparing interview questions prior to your interview. Now it's time to ask them. While most interviewers will end the conversation by saying "Do you have any questions for me?", this should not be the first opportunity you have had to ask questions. Try asking questions throughout the interview. These may be completely different than the questions you prepared before the interview, but that's ok.
Asking questions during the interview creates a conversation, rather than an interrogation. Interviews are meant to be conversational. After all, you are interviewing for a new career that will come with a commit of 8 hours a day. It's important that you ask questions in order to make an informed, long-term decision. If the interviewer tells you about a new product or service they are developing, show excitement by asking for more details. If the interviewer tells you that there is a ton of room for growth and upward movement, ask for specifics. If the interviewer tells you that he's a big sports fan, ask who their favorite teams are.
You get the idea. In short, it's perfectly fine, and actually recommended, to ask questions throughout the interview, rather than waiting till the end.
8. Close the deal
During any interview, it's important to close the deal and share your appreciation for the interviewer's time. Video interviews provide a great opportunity to not only hear the tone of someone's voice, but also to read their body language.
If you are in a sales role, or you just feel like the interviewer would appreciate someone who is a little assertive, do not end that video interview before closing the deal. Here are some examples of how you can close the deal during your video interview:
Not assertive: "Thank you very much for your time. It was great learning about XYZ Company and the XYZ Team. I look forward to your feedback."
Slightly assertive: "Thank you very much for your time. Before you go, I was interested in learning what the next steps in the interview process would be?"
Moderately assertive: "Thank you very much for your time. After learning a bit more about me, do you have any concerns about my ability to do the job?"
Very assertive: "Thank you very much for your time. After speaking with me, do you see any reason why I should not move forward in the interview process?"
Generally speaking, the "not assertive" and "slightly assertive" examples given above could work for just about any role. The more aggressive examples will be better for sales roles or jobs that require an extraverted professional who may need to be a bit pushy at times.
For more interviewing tips, check out our top interviewing articles.
Still Searching For Your Next Job?
We are here to help! At 4 Corner Resources, we will connect you with one of our Orlando headhunters to determine if you are a perfect fit for one of our job openings. Our recruiters will also share our tips and tricks on improving your resume and interview skills! Contact us today to learn more!