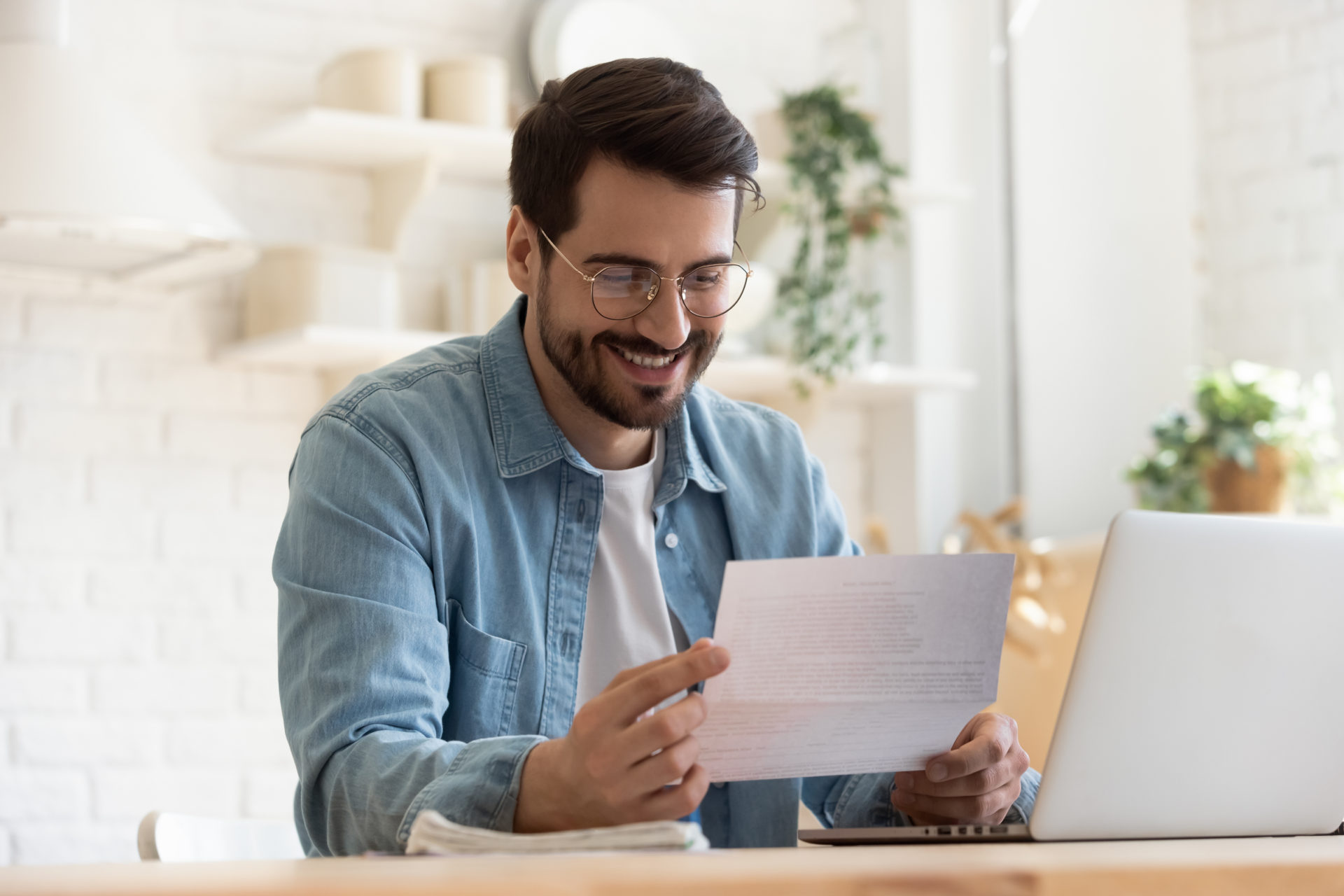 Once you've completed the interview process and found the right candidate for the job, it's time to write an employee offer letter. Typically sent after a hiring manager makes a verbal offer, an employee offer letter is a formal statement of a company's desire to hire a specific applicant. 
An offer letter:
Makes an offer of employment
Outlines the terms of the offer, like the job title and salary
Specifies any contingencies, like a background check or drug test, that must be met before employment can begin
Read on to learn why and how to write an employee offer letter. You'll also find a sample job offer letter and some tips to help use yours to seal the deal with your candidate of choice.
Why Send an Offer Letter?
In a tight labor market, everything you do during the application and interview process contributes to a candidate's decision whether to work for your company. An offer letter is one of the final pieces of the puzzle, laying your proposed deal out on the table and helping win over the candidate once and for all.
There are many reasons you should always send a written job offer.
Give candidates all the information they need
There's only so much information you can cover during the limited time you have with a candidate during the interview process. Sending a written employee offer letter allows you to include everything the candidate needs to know to make an informed and confident decision. 
When you send your offer letters via email, you can add attachments the candidate can review at their convenience. This is a great way to share comprehensive information about benefits packages and other selling points of working for your company without trying to fit it all into the offer letter itself. 
Related: Attract Top Candidates With These In-Demand Perks and Benefits
Ensure everyone is on the same page
One of the most important reasons to send an offer letter is to write the job's details. This helps ensure the applicant and the company are aligned about the role and the offer–it's all right there in black and white for both parties to agree upon. 
Provide your employment contract
In most cases, an offer letter itself would not be considered a legally binding document. However, many jobs come with contracts that are legally binding once signed. If your job requires signing an employment contract, you can send it to your prospective hire at the same time as the offer. 
What Should Be Included In A Job Offer Letter?
To make your job offer letter as effective as possible, ensure it includes these items. 
Job title.
Brief description of job responsibilities.
Work schedule. State whether the position is full-time or part-time and give the general schedule
Start date.
Exempt/non-exempt status. Offer letters to exempt employees (those who receive an annual salary versus hourly pay) should state that they are not eligible for overtime pay
Salary or hourly pay.
Bonus/commissions. If the job comes with any additional means of compensation, briefly outline what they are
Benefits. State which benefits an employee will be eligible for, i.e., medical and dental insurance, paid leave, etc., and provide additional documentation with further details
Contingencies. State that the offer depends upon the fulfillment of certain requirements, like a background check and proof of the employee's right to work in the country
At-will statement. Employment in most states is 'at will,' meaning both the employee and the company have the right to terminate the relationship at any time
Employee Offer Letter Tips
Make a verbal offer first
Whether it's in person, on a video call, or over the phone, it's best to talk live when you first tell a candidate you'd like to hire them. Chances are you've maintained a more formal tone throughout the interview process, allowing you to show enthusiasm and cement a personal rapport with the candidate. Talking live also allows you to answer any immediate questions the candidate has and gauge their reaction, telling you if they're likely to accept the position. 
Related: The Do's and Don'ts of Communicating with Candidates
Think like a candidate
When developing your offer letter, put yourself in the candidate's shoes. What questions might you have, and what would you be looking to hear if you decide between your company and a competitor? Remember, the letter is about more than just making a job offer; it's one more chance to persuade the candidate that your company and role fit them. 
Run it past your legal team
Although a job offer letter is not legally binding (except in a few rare cases), having your lawyers give it a once-over is still a good idea. The good thing about using an employee offer letter template like the one we've included below is that you can have your legal team approve the general language once, then update the specifics as needed for each candidate without reviewing it again each time you hire. 
Sample Offer of Employment Letter
Dear Shirley,
It's my pleasure to offer you the operations manager position with Smith & Co. In this role, you'll oversee our business processes and implement improvements to them as needed to streamline our operations. My colleagues and I feel that your organization, attention to detail, and strong work ethic make you an excellent choice for this important role. 
This exempt position is full-time and reports to the office Monday through Friday from 9 a.m. to 5 p.m. It has a starting salary of $60,000 and allows you to enroll in our employer-sponsored health, vision, dental, and retirement plans. We also offer an exciting range of perks, from education stipends to travel discounts, which are detailed in the documents attached to this email.
This offer is contingent upon a successful background check, drug screening, and driver's license verification. New York is an at-will state, which means employees and employers retain the right to terminate an employment relationship at any time, for any reason.
If you accept this offer, please print, sign, and date this offer letter and email it back to us by February 23. 
If you have any questions, please contact Michael Richards in HR at michael@smithandco.com. Or, you can reach out to me directly. 
We look forward to your response.
Anna Somers
Vice President of Operations
Job Offer Letter Template
Dear [CANDIDATE NAME],
[COMPANY] is thrilled to offer you the position of [JOB TITLE] with an expected start date of [START DATE]. We believe your skills in [LIST SKILLS] would make you an asset to our team, and we'd be delighted to have you onboard. 
This [FULL-TIME/PART-TIME] position has a starting salary of [SALARY AMOUNT] and is eligible for [LIST BENEFITS].
In this position, you will report to [MANAGER NAME AND TITLE] and be responsible for [LIST JOB DUTIES]. Working hours are from [HOURS, DAYS OF WEEK].
This offer is contingent upon [LIST CONTINGENCIES] and is not a binding contract. Employment with [COMPANY] is at will, which means either you or the company are free to terminate your employment at any time, with or without cause.
Attached you'll find [LIST ATTACHED DOCUMENTS]. Please peruse these at your convenience. If you accept the offer, please sign and return the attached employment contract by [DATE].
Sincerely,
[YOUR NAME]
[YOUR JOB TITLE]
Get More Of Your Offers Accepted
Attract top talent and get more of your job offers accepted with help from the team at 4 Corner Resources. Our staffing professionals zero in on candidates with the right blend of qualifications and personality to succeed in your open role.
Contact us today to get started or to learn more about the staffing services we offer.