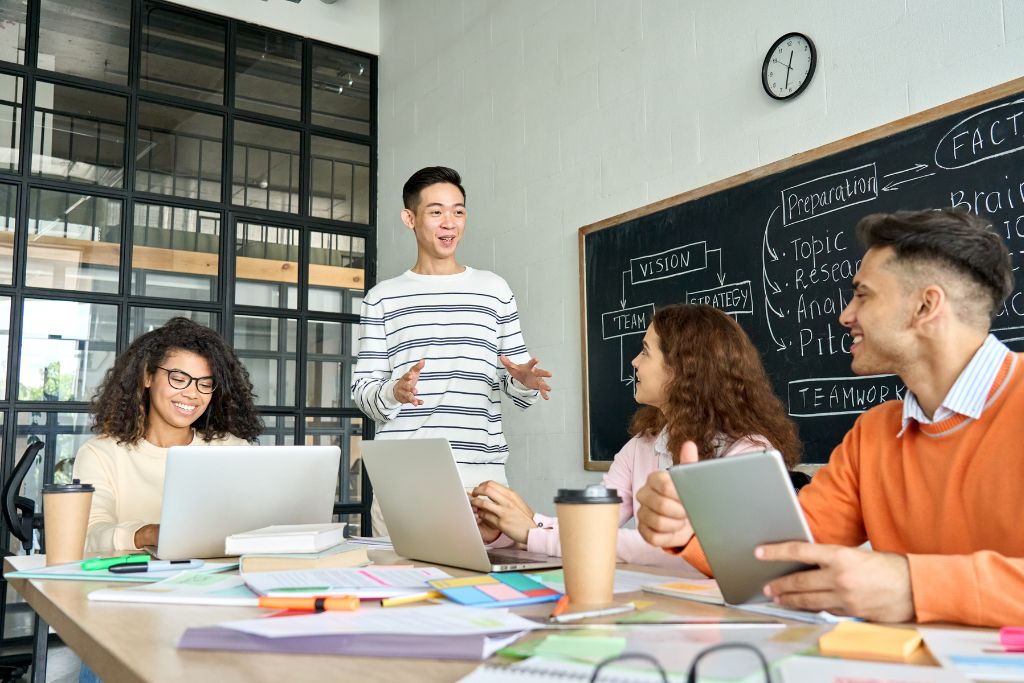 By the year 2030, Generation Z (or Gen Z, for short) will make up about 30% of the U.S. workforce. Combine this group with Millennials, and they'll account for nearly 60% of all employees. Over the remainder of the decade, Gen Z's ideas, values, and perspectives will be of growing importance in the workplace. Thus, it pays to have a firm understanding of their characteristics so you can know how to recruit Gen Z. 
Gen Z Basics
'Generation Z' is the name of the population group that succeeds millennials.
According to the Pew Research Center, Gen Z includes people born from 1997 onward. (In case you were wondering, there's already a name for the generation after Gen Z, too. It's called Generation Alpha, and it's loosely defined as beginning around 2010).
Gen Z Characteristics, Values, and Aspirations
Categorizing groups of people by their birth year helps identify trends and follow the evolution of societal and workplace norms. However, it's important to remember that these groups include millions of individuals, so it's impossible to define them all with a few adjectives.
Still, a few overarching Generation Z trends are supported by research. Those are the ones we'll be discussing here.
Racially and ethnically diverse
Gen Z is the most racially and ethnically diverse generation the United States has ever seen, with the following breakdowns:
52% non-Hispanic white
25% Hispanic
14% black
6% Asian
5% other or two or more races
Twenty-two percent of Gen Z-ers have at least one immigrant parent, compared to 14% of Millennials.
Highly educated
Members of Gen Z are more likely to be enrolled in college than any generation before them, with 57% of 18- to 21-year-olds who were no longer in high school enrolled in a two- or four-year college. This is an increase from Millennials and Gen X-ers, whose college enrollment numbers at the same age were 52% and 43%, respectively.
Gen Z-ers are also more likely to be second-generation college students than prior population groups. In 2019, 44% lived with a parent with a bachelor's degree or higher.
Digital natives
While most Millennials can remember sitting and waiting for dial-up internet to take them to their Netscape Navigator home screen, Gen Z-ers have grown up with tablets and smartphones in hand. They're connected to the internet almost constantly and heavily use multiple social media channels and gaming platforms.
Climate-minded
Like Millennials, members of Generation Z have a high level of concern about the planet. Sixty-seven percent of them say climate should be the nation's top priority to ensure a sustainable world for future generations. This compares with 63% of Gen X-ers and 57% of Baby Boomers.
Collaborative
Growing up with a device in hand means Gen Z-ers are comfortable exchanging ideas freely. They enjoy working collaboratively and expect their input to be valued despite being more junior team members.
Harder to retain
Generation Z displays the lowest level of employee engagement of any generation. It's not that they're not hard workers; rather, they're less worried about job-hopping than prior generations and place a greater value on their lives outside of work.
The older members of this population group were getting their first jobs just as COVID hit and companies laid off workers en masse. As a result, Gen Z-ers feel less of a sense of loyalty to commercial organizations than the generations before them. This starkly contrasts with Baby Boomers, who often worked for one company for the duration of their career.
Pointers for how to recruit Gen Z Talent
Digitize hiring
A clunky, outdated hiring process is a nonstarter for this highly connected group. To engage Gen Z effectively, both your application and onboarding processes should be digital-first.
Use social media to spark inspiration. Maintain communication at all stages of hiring. Offer advance onboarding that can be completed at new hires' convenience. By meeting Gen Z-ers on the platforms they're comfortable with, you'll offer a candidate experience that's both engaging and enjoyable to them.
Build relationships
Despite their advanced technological adoption, members of Gen Z largely say their favorite form of communication is in-person.
As you leverage automation and digitize your hiring processes, don't neglect to incorporate relationship-building opportunities that Gen Z-ers value. This could include things like one-on-one time shadowing prospective colleagues or an invitation to an out-of-office event to get to know would-be teammates.
Offer flexibility
Workers in Generation Z crave the best of both worlds: they want the ability to work remotely without losing the opportunity to build the social connections that in-person work affords. Enter: workplace flexibility. Surveys have shown flexibility is the number one quality Gen Z-ers prioritize when looking for a new job, even over pay.
Offering the ability to work from home some of the time, the option to flex their schedules, and chances to interact meaningfully with coworkers will all help attract the youngest segment of the workforce.
Beef up training
Perhaps in keeping with their elevated level of education, or perhaps driven by their characteristic pragmatism, Gen Z-ers are eager to learn and advance their career opportunities. You can play to this Gen Z characteristic by spotlighting employee development initiatives and other continued education benefits, such as tuition reimbursements or a formal mentorship program. 
Emphasize social activism
The typical Generation Z candidate cares deeply about the well-being of others and wants to associate themself with organizations that follow suit. Companies looking to learn how to recruit Gen Z should feature philanthropic and social initiatives prominently in recruitment materials and showcase this aspect of the company's identity during the hiring process. 
Embrace alternative candidates
While more Gen Z-ers go to college than previous generations, this population group is also less attached to the idea of a formal education being necessary for a strong career.
Remember, Gen Z has come of age in an increasingly volatile world amidst COVID-19, climate emergencies, and soaring student debt. Unsurprisingly, they're not sold on college being the only answer. And, once again, this generation is more comfortable with job hopping.
Forward-thinking companies should adapt their hiring requirements accordingly, loosening rigid criteria like having a college diploma and being more open to nontraditional backgrounds.
Prioritize culture
Members of Gen Z are more likely than any other age group to choose their job based on enjoyment, with about half of the professionals in this age group saying they remain at their job simply because they like it. Forty-five percent of them say work relationships are what's keeping them at their current job.
This tells us culture is of utmost importance in attracting Gen Z-ers. A strong company culture has the added benefit of improving retention, too, so the payoff is multiplied with this youngest segment of the workforce.
Be transparent
It's hard to pull a fast one on Gen Z. This group places a high level of value on authenticity and is less likely to stick around if they feel a job is becoming toxic.
Incorporate transparency into every hiring phase, clearly communicating benefits, spelling out what candidates can expect at each phase, and maintaining an open line of communication from start to finish.
Gen Z's presence in the professional world will only grow, so the sooner you can adopt recruiting practices that appeal to this generation, the better off your organization will be. Not only does a multigenerational workforce promote more diverse ideas, but it also helps keep pace with the continued exit of Baby Boomers from the workforce as they reach retirement age.