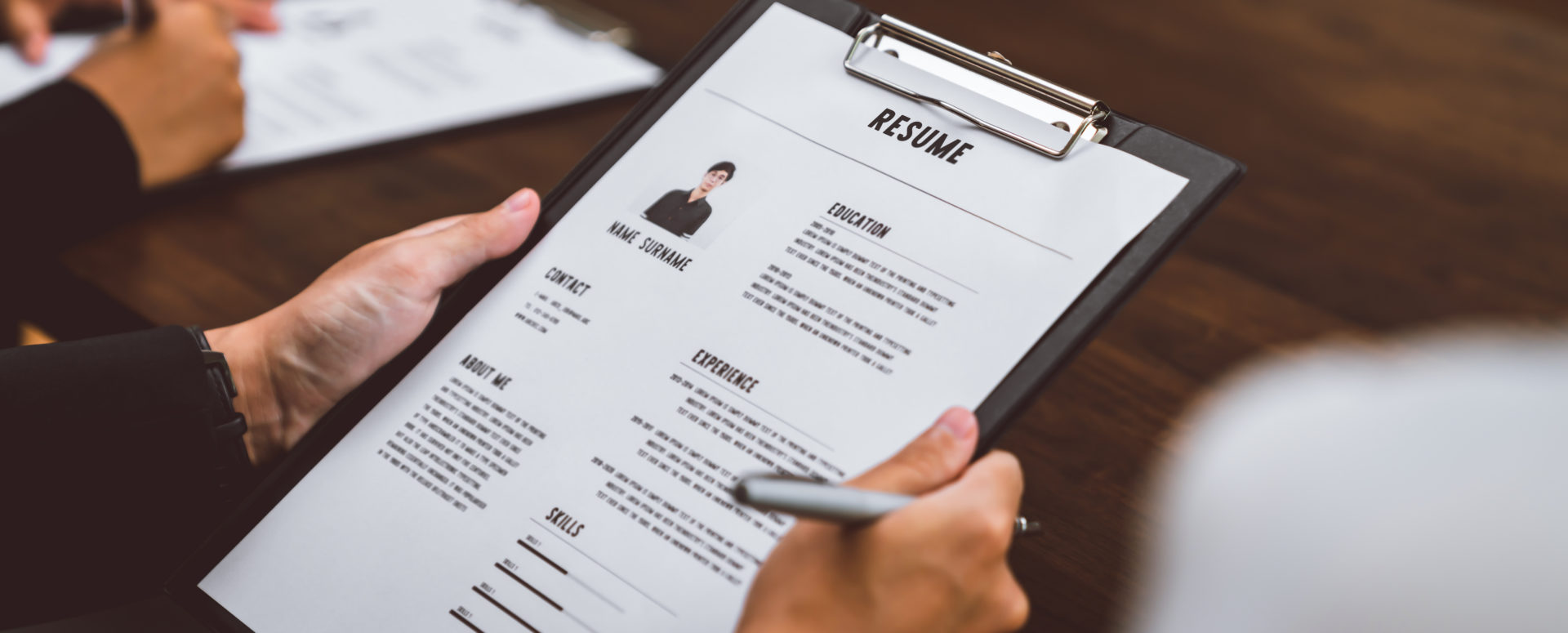 Many job seekers look for things to include in a resume (and what not to include), but when it comes to the employer's perspective, there's not a whole lot out there. Knowing what to look for in a resume as a hiring manager is extremely important. But too many articles bypass this or just give the same advice over and over again.
As a professional staffing and recruiting firm, knowing precisely what matters on a resume and what to look for in a potential candidate is essential to what we do. Our team at 4 Corner Resources (4CR) is dedicated to helping large and small businesses alike find the best candidates in an effort to be a valuable resource and partner for our clients. Because of our years of experience and the knowledge we've learned over the past 16 years, we put together this article about what to look for in a resume.
What Matters on a Resume
Education and qualifications
The first thing you should look for in a resume is the education and qualifications of the candidate. Though this may seem obvious, and not all jobs require a degree or certain qualifications, it should be the first thing you run through. Look at the type of qualifications that your potential candidate may list. Are there any special certifications that they have? Have they shown a desire for continuing their education through online programs or other education? Someone who has gone through special training, especially within your industry, is often better and more of a go-getter than someone who hasn't tried to continue their education.
Organization, functionality, and formatting
An amazing resume should effectively tell a narrative of the candidate's professional history and experience. According to a CareerBuilder¹ survey, job candidates frequently have less than one minute to grab a hiring manager's attention. The survey reports that two in five spend less than one minute reading a resume, and 19% of hiring managers spend less than 30 seconds doing so. This means that a job seeker's resume needs to be written in a way that communicates the most relevant information quickly without making the hiring manager search for it.
A resume that showcases a candidate knows how to write a resume in a way that presents their narrative effectively is a strong indicator of a potentially valuable employee who can advocate successfully for your company.
When reviewing resumes as a hiring manager, ask yourself:
Is each candidate's resume organized and coherent?
Do they tell an engaging story?
Does the candidate provide an executive summary instead of an objective statement?
Is the content scannable? Do they use bulleted lists instead of massive paragraphs?
Is the content concise and honest, or is it full of fluff?
Is the content readable or is it riddled with typos and misspellings?
Does the applicant use engaging action verbs?
Is everything crammed together on a page or does it include sufficient white space?
Do they provide up-to-date contact information?
A demonstrated record of success in the field
While showcasing all of their skills, experience, and expertise is essential, a candidate needs to go beyond including a simple laundry list of responsibilities and skills. They also need to demonstrate success and achievements through examples of their work initiatives. Not only does this mean they should have ample experience in the field they're applying for, but it also means that they should be successful in the field. They don't need to have tons of awards, but a few simple stats while doing their past jobs can help to really set them apart. For example:
A marketing manager who provides statistics of successful campaign outcomes that resulted in increased customer engagement, leads, and conversions demonstrates the value they can bring to your business.
A chief financial officer (CFO) who demonstrates how they increased their company's profitability — such as including an example of how they increased profitability by X% due to reducing operating costs by X% — will be significantly more attractive than one who only provides general statements about their work.
These numbers and statistics help to paint a more vivid picture of a candidate's abilities and value than a simple list of skills and responsibilities ever could. Knowing what makes a good resume can help you separate top-tier candidates from run-of-the-mill applicants.
Tailored resume to your industry
When reviewing resumes, pay attention to how they are written. For example, when looking at a specific resume, does the applicant come across as generic in their approach — writing content that could have been written for a variety of companies or jobs — or do they use language and examples that are specific to your organization or position? Do they use industry-related keywords or key phrases from your job description? And, do they speak to the goals, needs, and culture of your organization?
Though many resumes will look similar when an applicant is applying, an amazing resume is tailored to each specific job application and should demonstrate that the applicant took the time to research and learn about your company. As a hiring manager, look for specific keywords that could relate to your industry within their resume.
Related: How to Write a Job Description to Attract Top Candidates
Red flags
Carefully reviewing a resume is more than knowing what makes a good resume; it's also essential for you to "read between the lines" of the provided information to identify any worrisome (or missing) information.
Related: The Top Resume Red Flags
A stagnant or backtracking career
If a candidate isn't moving forward, there's a good chance that they weren't that great of an employee at their past companies. Someone who will be an outstanding employee will always look to further their career, and they aren't going to make a lot of moves that keep their career stagnant.
employment gaps
Some employment gaps aren't anything to worry about. Someone may have taken time off to care for kids or a relative, been sick themselves, or had another legitimate reason to have an employment gap. However, there are some gaps that can be worrisome. Things like keeping jobs off of their resume or being fired and unable to find something new.
Overlapping employment dates
A surprisingly common red flag on some resumes is listing jobs that overlap in dates. This could be because the candidate simply typed the wrong information (an indication that they may not be good self-editors) and did not catch it during proofing, or it could be an indication of dishonest behavior. While it's possible for some applicants to have worked more than one job at a time, use critical thinking about the type of job, its operating hours, and location to ensure it appears logical. If nothing else, be sure to ask the candidate about the potential discrepancy.
Irrelevant information
Does the job applicant include information that is irrelevant to the position? This could be citing "captain of the high school volleyball team" as one of their accomplishments when they are in their mid-30s. If a candidate does not have any recent accolades or achievements, that is a major red flag.
Inappropriate contact information
Email is an essential method of communication in the business world. How an applicant presents themselves is exceedingly important because they will represent your business if you hire them. If they use an email address such as "ironmanwannabe@gmail.com" or "partyanimal@yahoo.com," it is a warning sign that they may not be the candidate you want representing your company.
Work With Recruiters Who Know What To Look For In A Resume
As part of an award-winning staffing and recruiting firm, our team is dedicated to connecting our clients with the best candidates and vice versa. When reviewing resumes, we evaluate everything from each applicant's specific knowledge and skills, to their level of experience and career progression, to how their values align with each client's company culture. With each job candidate, our technical recruiters provide job candidate feedback to help them learn and grow as professionals.
With a 92% client retention rate after placing more than 5,200 candidates with our clients, we have a proven record of success helping businesses of all sizes, including Fortune 500 companies. This can help you rest assured that your company's recruiting and staffing needs are in the best of hands with our team of staffing professionals.
To speak with one of our technical recruiters by contacting us today!
Resources and Sources
https://press.careerbuilder.com/2017-09-14-75-of-HR-Managers-Have-Caught-a-Lie-on-a-Resume-According-to-a-New-CareerBuilder-Survey