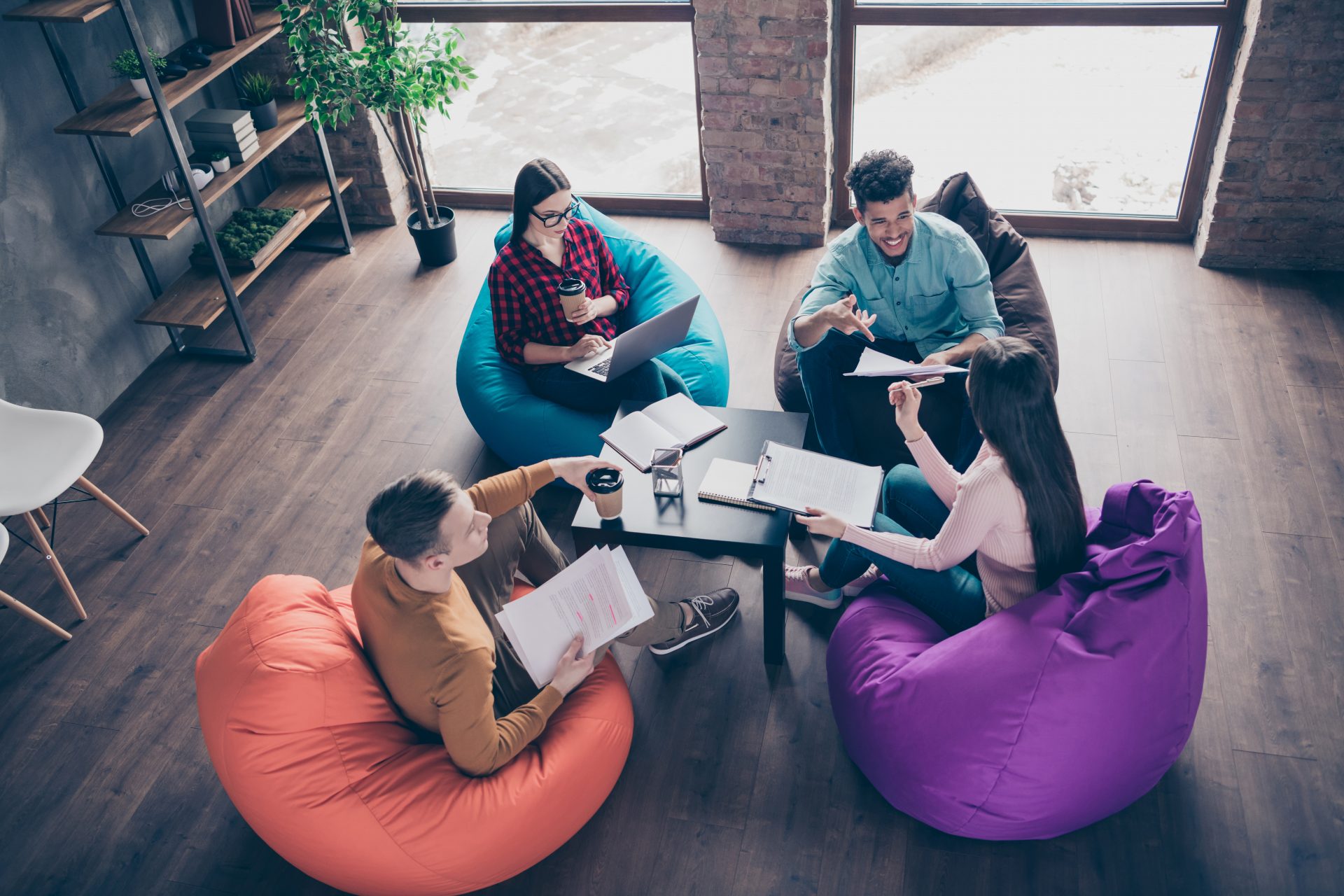 Hiring for any business is challenging, but startup hiring is a different breed entirely. The stakes are high, your cash flow is limited, and the success or failure of your fledgling business hinges on securing the right people to build out your team.
Whether you're totally flying by the seat of your pants when it comes to hiring or you're a seasoned hiring pro taking the reins at a startup for the first time, follow these startup recruiting best practices to attract and win top talent.
How to Attract Candidates to Your Startup
Get Specific About Your Roles and Responsibilities
While early employees at a startup commonly wear many hats out of necessity, don't fall into the habit of looking for unicorns who can do it all. Ever heard the phrase "jack of all trades, master of none?" That's exactly what you don't want.
As a brand new operation, you need candidates with the specific expertise and knowledge that will enable you to grow in different areas of your business. To find them, get ultra-specific about the business need each position will serve. Outline the goals you expect the right candidate to meet within their first 90 days on the job as well as a broader vision for what long-term success will look like in the role.
Establish a Hiring Funnel
It might sound complicated, but a hiring funnel is simply a standardized framework you use to attract, assess, and hire candidates. Just as you have systems for other parts of your business like manufacturing your product, having a system for hiring helps you get the job done consistently each time while optimizing resources like time and money spent.
It's much easier (and more cost-efficient) to think through and establish a hiring funnel early on rather than trying to fix an ineffective system down the road. Remember, you can—and should!—analyze and tweak your hiring funnel often as your business grows to maximize its results.
Employ Automation
The earlier you can incorporate automation into your hiring processes, the better. Automating things like candidate assessments and scheduling will save you time and energy that can be spent on other areas of your business, like operations. Plus, once your hiring team starts to grow, it'll help ensure consistency between multiple team members.
Be Realistic with Staffing Plans
While a goal like "hire ten people in the next 60 days" might sound reasonable on the surface, is it actually achievable? Don't leave it up to chance. Find out whether you're setting realistic staffing goals by taking a microscope to your hiring process and how long each component of it takes.
For example, let's say reviewing applications, screening candidates, and setting up interviews takes you an average of 20 hours for each open position you have. For ten roles, that's 200 hours—or five full work weeks—just to get to the interview phase. At this pace, hiring ten people in 60 days is quite ambitious even if you have a full-time HR manager.
To avoid a staffing snafu, be sure to calculate and factor in your actual hiring metrics as you create your future staffing projections.
Refine Your Elevator Pitch
When you're working to woo investors, your elevator pitch explains in a neat and tidy nutshell what you do and why you're worthy of an investment. You should have an elevator pitch for candidates that works the same way, which will spark interest in working for you.
Lead with your mission—the guiding statement that explains why you're in business—and focus on what sets you apart. As a new company, you'll want to include some version of this elevator pitch in your job listings and other materials you use to reach out to prospective candidates.
Seek the Right Kind of Experience
When it comes to startup hiring, not all experience is created equal. A candidate whose resume boasts 20 years of operations experience at an established industry juggernaut might look great on paper, but that corporate background may bring its own set of pitfalls. In the startup world, agility is key, and someone who's used to doing business at a careful, measured pace may slow you down.
That doesn't mean everyone you hire needs to have previous startup experience; on the contrary, some corporate know-how can come in handy. Yet it's a great asset to have someone on your team who's been there before and knows what it takes to bring a startup from conception to success at scale.
Recruit Your Evangelists
In Keurig's early days, the coffee company was growing so quickly it was hard to maintain a steady stream of high-quality candidates with the right expertise. The company's solution? Recruiting candidates who were similar to its die-hard fans. Then-president Michelle Stacy told Harvard Business Review that the company focused on hiring employees who matched their customers' affinity for coffee.
"That our employees loved a wide variety of coffee like our consumers [did] made it easier to trust they would do the right thing," she said.
Your superfans already know your products well, so they bring authentic ideas drawn from real-world experience. They're likely already onboard with your mission and values, and since they already follow your brand, it may be easier to get in front of which can contribute to lower hiring costs.
Enlist a Support Team
It takes a village to build an all-star team, but as a startup it may not be feasible to have more than one person heavily involved in the hiring process. Still, you can harness the "two heads are better than one" philosophy by enlisting a board of consultants to step in during your interview process. These might be trusted industry colleagues who you call in as a favor or hired consultants who have a more niche knowledge of the type of role you're looking to fill.
Offer Flexibility
How can you compete against industry powerhouses who can easily one-up you in the salary department? By offering something modern candidates find even more valuable than money: flexibility.
Whether it's unlimited time off, the ability to work remotely, or some other non-traditional work arrangement, making flexibility a core selling point can be a shot in the arm for your startup recruiting game.
Sell the Potential
It's important to strive for buy-in among all employees, but it's absolutely critical among your earliest hires. These are the people who will serve as the foundation your company is built upon, and if they're not onboard with the direction you're headed it could quickly throw the whole operation off track.
To hire startup employees who are aligned with your core mission and excited about the work it will take to get there, sell them on the potential of working for you. This might include talking up the ability to tackle challenging projects, pursue work with a deeper impact, play a foundational role in building a company, and so on. As much as you're selling the role you need them to fill today, you're also selling them on the vision of the company you're building for tomorrow.
Build Your Employer Brand
When you're focused on keeping your business running, it can be difficult to think about anything outside your own four walls. But if you want to win at startup hiring, don't neglect the opportunity to build a strong employer brand from day one.
Create a positive image among would-be candidates by having a presence at industry events like conferences and trade shows. Likewise, work to build recognition as a steward of your community by getting involved with social initiatives that are aligned with the company's mission.
Related: How to Elevate Your Employer Branding to Attract Top Talent
Focus on the Candidate Experience
A strong candidate experience is one more way to set your startup apart among the many companies vying for the same top candidates. Remember, the experience a candidate has when applying is often their first impression of your organization and may play a role in their decision to accept or decline an offer.
Work to create a seamless application and interview process, one that moves along steadily, eliminates needless steps and maintains communication with the candidate through every phase. Learn more about how to create a flawless candidate experience in this post.
Hire the Staffing and Recruiting Experts
Your early hires are a fundamentally important part of your organization. If you hire the wrong people, it can cost you precious cash, slow your growth and potentially put the very survival of your business at risk. Don't wing it when it comes to your startup recruiting. Instead, hire the staffing experts at 4 Corner Resources.
4 Corner Resources is your trusted partner for startup hiring. Our headhunters will help you refine your job requirements and harness our proprietary staffing technology to find candidates that are a perfect fit to help you thrive. As your business expands, we'll expand with you, helping you navigate the growing pains of staffing a dynamic, innovative organization.
Ready to get started? Contact us today and get on the fast track to startup recruiting success.