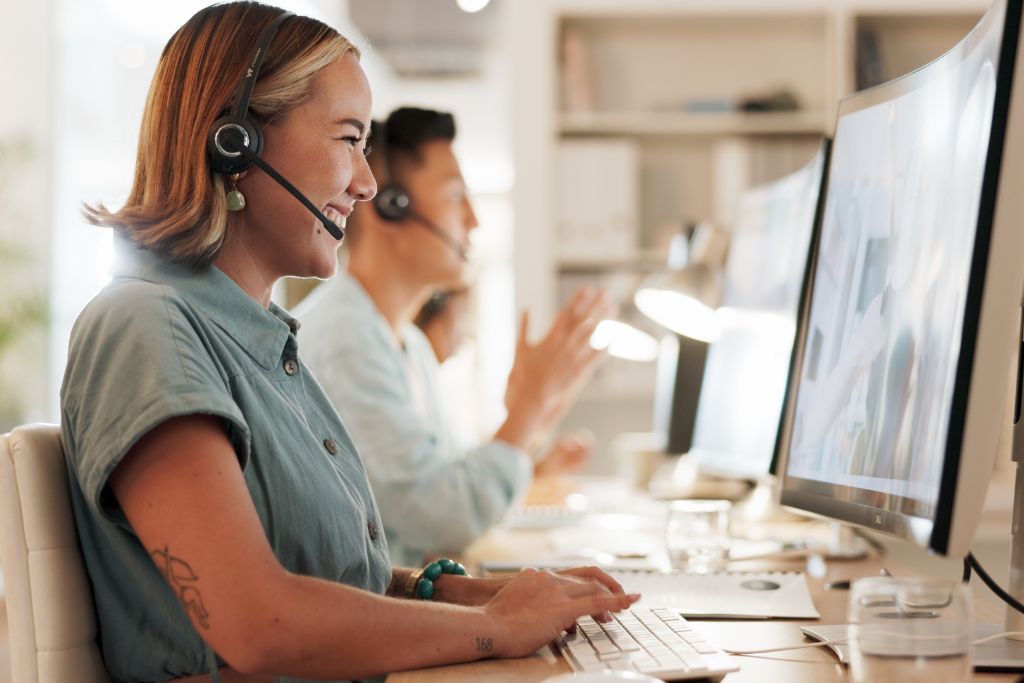 If you're in the market for a new job or seeking the right person to join your company, you're probably interested in exploring all available staffing options. One beneficial option is to work with an employment agency, also called a staffing agency.
What is a staffing agency, exactly? How does an employment agency work? We'll break these answers down in simple terms to help you decide if working with one is the right fit for you and/or your company.
What is an Employment Agency?
An employment agency can go by many names: staffing agency, job agency, temp agency, or recruiting firm, but these terms are interchangeable. Simply put, employment agencies (and the various names they go by) connect job candidates with companies that need their skills.
Employment agencies exist for every industry under the sun, with most specializing in one or more niches, like placing technology candidates or recruiting C-suite executives. Some serve a certain geography, while others only place candidates with a specific job title.
It's important to know that not every employment agency is a good fit for every candidate or company, even if you're in the same area. Finding the right staffing firm is like finding the right job; it can take a few tries, but before you decide to work together, you want to make sure it's a good fit.
How Does it Work?
First, it's important to know that the candidates don't pay a fee to work with an employment agency. Instead, the employer who has the hiring need pays the agency for their professional time and expertise. Agencies invoice their clients in various ways, but the most common scenarios are contract employment and direct (or permanent) placement.
In a contract scenario, the agency's role is to identify, recruit, and provide workers for temporary positions within a client company. The workers remain employees of the agency for the duration of their contract, which may or may not have a set end date. The agency pays the contract worker an hourly rate, and invoices their client at a marked-up amount.
For direct placement, the employment agency is responsible for sourcing candidates, conducting preliminary interviews, and presenting the most qualified applicants. The client company usually carries out the final interview and selection process. When a candidate is selected, they become a direct employee of the client company, not the agency. They are typically offered a full benefits package as part of their permanent employment status. The agency's fee is usually a percentage of the candidate's annual salary, paid once they begin working. 
Why would an employer pay to work with a staffing agency?
Because it often saves the company money in the long run by lowering the upfront cost of hiring and freeing up resources that produce revenue. 
The average cost-per-hire when recruiting a staff-level employee is $4,425. For executives, that number jumps to nearly $15,000. The expenses add up quickly for every day the vacancy remains: hard costs, soft costs, and opportunities lost. Outsourcing this job to an employment agency for a one-time fee upon hire gives you a controlled, direct cost for every position rather than running up an ongoing tab.
The time and effort that goes into hiring must also be considered. Small business owners, for example, spend around 40% of their time working on activities that don't directly produce income, like hiring. Outsourcing these activities can free up more of your time and energy to focus on driving new business. 
Related: Cost of Vacancy: Definition & How to Calculate it
Just how involved is an employment agency in the hiring process?
The simple answer is, as involved as you want them. A full-service staffing agency can tackle every phase of the hiring process, including building the job description, sourcing candidates, conducting pre-interview screenings, and even conducting interviews. 
Once the pool of candidates has been narrowed down, an employment agency will typically deliver the top contenders to the company for review, follow-up interviews, and the final hiring decision. The agency's level of involvement is one of the things you'll want to discuss during your initial meetings to ensure you're both on the same page about roles and responsibilities.
Pros of Using an Employment Agency
Employment agencies like 4 Corner Resources can be a game-changer for companies looking to streamline their hiring process. Agencies bring a wealth of expertise and a vast network of candidates, making finding the right talent much easier and more efficient.
They're adept at understanding a company's specific needs and culture, allowing delivery of candidates with the right combination of hard and soft skills for your team. This approach can save valuable time and resources as the agency handles the heavy lifting in the recruiting process – especially for roles requiring niche skills, where agencies tap into their extensive pool of candidates to reach talent companies might not find on their own. Plus, with options like contract staffing, businesses can flexibly scale their workforce to meet project and seasonal demands without the long-term commitment of hiring an employee directly.
Ideally, the agency becomes an extension of a company's HR department, aligning staffing solutions with business goals.
Cons of Using an Employment Agency
While the benefits of using an agency are many, there are potential drawbacks, with the primary concern being cost. While agencies can save time and effort in the recruitment process, the services aren't free, which can be a barrier for smaller businesses or startups operating on tight budgets.
There's also the aspect of control. Some companies prefer to have direct oversight over every stage of the hiring process, something that's relinquished to an extent when partnering with an agency.
Finally, there is the risk of mismatched expectations. Despite an agency's expertise and thoroughness, there can be instances where the selected candidate doesn't work out. The key to a successful agency relationship lies in choosing a staffing partner with a reputation for diligence and consistent success.
What an Employment Agency Does for Candidates
1. Helps match you for skills AND culture fit
During your initial onboarding session with an employment agency, your recruiter will ask a lot of questions. This is to get a sense of you as a person beyond what is on your resume. Their ultimate goal is to match you with a job that will not only use your skills but one that you'll be happy with over time.
2. Strengthens your chances of landing the job
A staffing agency might help you strengthen your candidacy by polishing your resume. They can also help you prepare for interviews by giving you a deeper sense of what the company is looking for in a candidate. Since they have had direct conversations with the internal hiring team, they will likely have insights that are not listed on the public-facing job listing.
3. Gives you access to more jobs
An employment agency is often in the know about jobs that aren't yet listed publicly (or some that may never be listed). A company looking to hire fast or for a specific position might go straight to a recruiter without ever posting the job online. You'll be privy to these opportunities when you work with a staffing agency.
4. Helps you negotiate
When you're in the advanced stages of interviewing with an employer, your recruiter may help with negotiation and be the go-between for conversations on things like salary. Since the recruiter stays on top of industry norms and market trends, they can be instrumental in ensuring you secure a fair offer. Sometimes, a recruiter will even take care of all the new hire paperwork on your behalf, so all you have to do on your first day of work is show.
What an Employment Agency does for Employers
1. Create stronger job descriptions
For employers, an employment agency can help write a job description that will attract the best candidates and show up in search results—which isn't always the case if you're copying and pasting canned job descriptions. You want a job description that conveys the job's requirements and sells the candidate on your company. Since recruiters tend to focus on a certain industry or type of job, they speak the same language as candidates and know which skills and selling points are most important to communicate. 
2. Source candidates faster
Working with a staffing agency can be a great solution if you need to hire fast. Rather than starting from scratch, they have an established pipeline of candidates and long-standing relationships they can leverage to help deliver talent quickly.
3. Ask the right questions
If you're an HR professional or business owner hiring for a position outside your expertise, knowing what to ask in the interview can be a major challenge. If you don't understand the technical or hard skills necessary to succeed in the role, you might end up with someone underqualified. If you try to cover topics you're not well-versed in, you risk alienating the candidate. An agency recruiter specializing in your industry or type of role can drill down to the skills and qualifications that matter and identify whether a given candidate can do the job sufficiently.
4. Connect you with passive candidates
Passive candidates are those who are not actively looking for a new job; however, they're often high performers excelling in their current role. This keeps them from needing to look for a job elsewhere. These are the kinds of people you want on your team. The catch is that they're hard to reach if they're not searching for open roles or filling out job applications. Part of a recruiter's job is to maintain relationships with these types of candidates so they can put an opportunity in front of them.
Speak Directly With an Employment Expert Today
The easiest way to get a feel for whether a staffing agency is right for you is to open a conversation and decide for yourself. 4 Corner Resources is a nationally recognized employment firm that connects candidates with jobs in technology, finance, marketing, customer service, and healthcare.
Our primary focus is building strong relationships with our clients and candidates, generating the best recruiting results for everyone involved. We're not a massive firm that handles a mountain of positions; each of our recruiters takes on fewer positions to give maximum attention to each one.
We're eager to answer your questions and explore whether working with a staffing firm fits your needs. Contact us to schedule your complimentary consultation today.