4 Corner Resources is a recruiting and staffing agency built on combining performance and effectiveness with unmatched personal client service. Our team of headhunters are guided by four principles which provide the basis for trusted and long lasting partnerships: Relationships, Resources, Responsiveness and Results.

Honesty, integrity, and sincerity constitute the foundation of our business. We get to know our clients and candidates beyond their job descriptions and resumes. Simply put, your success is our business.

An organization is only as strong as its people. Our team combines unparalleled passion with a focus on your hiring needs. Using advanced systems and proprietary tools, we're prepared to exceed your expectations with every interaction.

Our recruiters focus on fewer requisitions so they can spend more time concentrating on yours. At 4 Corner Resources, we pride ourselves on having the best response time in the industry without ever sacrificing quality.

At 4 Corner Resources, your goals and objectives are our top priority. Using time-proven recruiting methodologies which produce consistent results, our ultimate value lies in our ability to perform consistently every time you need us.
The idea of 4 Corner Resources as an Orlando staffing agency came to President and Founder Pete Newsome when he became frustrated by large company policies and procedures that consistently hindered progress and innovation. 4CR was founded with the mission of doing business in a personal way to create an organization with boundless opportunities for advancement and growth.
2005

4 Corner Resources was born as an Orlando staffing agency.

2006

4 Corner opens an office in the heart of downtown Orlando and lands their first Fortune 500 Client.

2009

4CR develops and implements a proprietary recruiting process.

2010

The recruiting and staffing agency expands into the Tampa market.

2012

4 Corner creates an industry-leading training program and methodology.

2013

The company moves into new headquarters location.

2014

Named to the Fast 50, "The Fastest Growing Companies in Central Florida," by the Orlando Business Journal.

2015

Inc. lists 4 Corner Resources among its Inc. 5000 rankings.

2016

4CR voted amongst Central Florida's Best Places to Work (first time) in the Orlando Business Journal; Best of Staffing in Client Satisfaction (first time) by Inavero; and Best of Staffing in Talent Satisfaction (first time) by Inavero.

2017

4CR was recognized on Forbes' list of Best Recruiting and Staffing Companies.

2019

Independently rated as a top staffing firm in both client and candidate satisfaction by ClearlyRated.
4 Corner Resources is a professional recruiting and staffing agency headquartered in Orlando, Florida. Founded in 2005 by a seventh-generation Floridian, our success and reputation as an Orlando staffing agency were built by pairing performance and effectiveness with unmatched personal client service. Our unique ability to combine cultural fit with technical requirements has earned 4 Corner Resources a reputation as a highly trusted recruiting partner to our clients and candidates alike.
Though we are headquartered in the southeastern United States, our team of recruiting and staffing experts work with clients across the country — from Los Angeles to New York City — to ensure they are hiring the right candidate every time. Our headhunters develop relationships with passive candidates and active job seekers alike to maintain a strong and extensive network of candidates.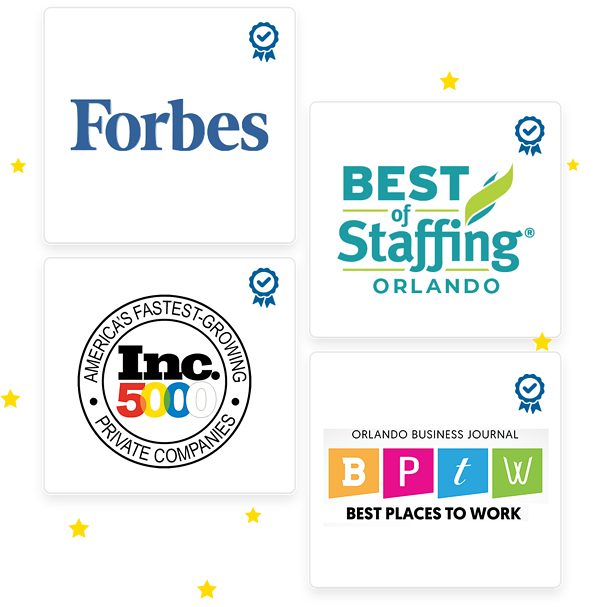 4 Corner Resources Awards and Recognitions
4 Corner Resources is continually recognized among the best recruiting firms in central Florida and beyond. Some of our recent professional staffing agency accolades include: