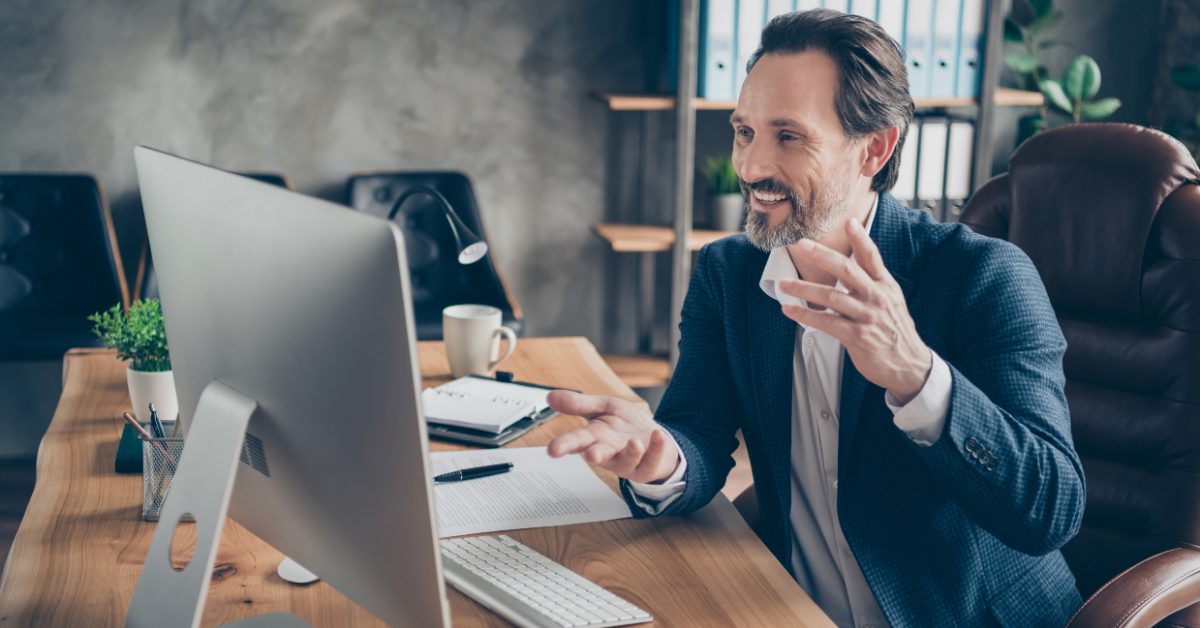 One-way interviews are pre-recorded interviews that allow the hiring process to be sped up. One of the most challenging things about hiring is trying to find times that work for both the company and the interviewee. If the potential hire currently has employment elsewhere, trying to take off time to come in for a video or in-person interview is challenging. As technology becomes easily available and more advanced, companies are looking for ways to make the hiring process easier. And pre-recorded interviews may be the thing that changes hiring for good. But as with anything, one-way interviews come with both benefits and downfalls. There are plenty of pros and cons for pre-recorded interviews, and we'll get into that below.
What is an Asynchronous Interview?
An asynchronous interview is just another word for one-way interviews. These interviews are pre-recorded from the hiring candidates based on questions that are sent to them beforehand. The potential hire will record themselves on video answering the questions in order, simulating a regular interview experience.
Why do Companies Use One-Way Interviews?
Oftentimes, one-way interviews aren't final interviews. They are usually used as a pre-screening move to see who should and shouldn't move forward in the hiring process. It helps get rid of much of the first round of interviews, and it saves time trying to schedule multiple interviews. Pre-recorded interviews are used more as a first step in the hiring process, and they're often like introductions to each potential candidate.
What are the Pros of One-Way Interviews?
There are many benefits to one-way interviews for both the company hiring and the potential hire themselves. If you're considering the use of pre-recorded interviews in your hiring process, here are the pros of one-way interviews:
Saves Time
Perhaps the number one reason people use one-way interviews is that it saves so much time. Trying to hold 20 different interviews with 20 different candidates could take over a week between your schedule and the potential hires' schedules. This delays the hiring process immensely – especially if it's just the first round of interviews.
Instead, pre-recorded interviews save a lot of scheduling and time. You can send out the interview questions to all candidates in under five minutes, and then you just wait for their videos to come back. You might spend a few hours watching the pre-recorded videos, but that's a huge improvement versus the week it could take to interview them all in-person.
Widen your pool of candidates
Another reason to use pre-recorded interviews is that you can widen your pool of candidates. You are able to interview people from multiple areas rather than just nearby. This is especially helpful if you're hiring for a remote position or a position that is currently a work-from-home job due to the lingering effects of the pandemic.
People are able to record this video on their own time, which means they won't miss out on an opportunity due to scheduling conflicts. It allows these candidates who may have been busy during regular interview slots to still participate in the hiring process.
Helps screen candidates
There's nothing worse than having interview after interview only to wonder how these people were qualified for the job in the first place. Simple questionnaire forms can give you a few precursors for candidates to check off, but they still don't do enough. You can't see what these candidates are like until you have them in front of you. Well, until now.
With pre-recorded interviews, you're able to see how they're qualified for the job. It's easier to screen them, and you can ask more about their skillset. If you want them to be fluent in another language, you can ask them to speak it on camera. If you need them to be a skilled customer service rep, a video will allow you to hear what they sound like and how they'll interact with customers.
Gets rid of the nerves
It's no secret that the interviewing process is overwhelming for potential hires. They can get very nervous, and an interview where they record themselves can cut down on their nerves. But, how does this benefit the company hiring? Well, sometimes even the most qualified of candidates can bomb an interview because they are nervous.
By allowing them to record their answers, you get an upfront look at what type of candidate they truly are. This benefits you because a great candidate you may have overlooked in an in-person interview can shine on camera.
Everyone can see them
Oftentimes, it's not just one person who is making the final decision on a potential hire. However, you can't crowd more than two or three people into a conference room to interview a potential hire. That means the rest of the hiring team is reliant upon the debrief that the interviewer gives to them. With pre-recorded interviews, everyone on the hiring team can watch the interview. That means everyone can have an opinion on who is the best pick for the company. It's easier to discuss the candidates and who would fit well on the team when everyone's involved.
Spices up structured interviews
Being objective in interviews is one of the most important things you can do. One way to do this is by using structured interviews. This means you're asking the same questions in the same order to each candidate. However, this often comes across rigid as an interviewer because you're used to going through the motions. But with pre-recorded interviews, you can still have structure without it coming off as monotonous.
Allows for better preparation
While in-person interviews are good for testing a candidate's spontaneity, it also puts them on the spot to come up with examples of their past work that shows their skillset. Often, potential hires will feel rushed in in-person interviews, which makes them blurt out the first example they can think of. It's not always the best example. But, with pre-recorded interviews, they have time to think about their past work and skillset. You end up getting a better picture of who they really are and what they've done in the past.
What are the Cons of Pre-Recorded Interviews?
One-way interviews aren't without their problems. In fact, there are more than a few downsides to them as well. Here are the cons of one-way interviews:
Camera shy candidates
Some people aren't good on camera, and they actually perform worse. While it can help those with social anxiety, it may be bad for those who regularly talk to people but rarely record themselves.
Limited information
With pre-recorded interviews, perhaps the biggest limitation is that you can't respond to them while they're answering the questions. This makes the information you receive a bit limited. With in-person interviews, you can ask to follow up with questions that will help you find out even more about a candidate. Without this ability, you're stuck with just the information that they answer in the interview questions.
Miss out on company promotion
Another thing is it's hard to promote your company in a pre-recorded interview. Sometimes as hiring managers, we forget that the people coming to interview are interviewing our company as well. They may not know enough to decide whether or not the company is the right fit for them. While you can send a company description with the interview questions, it's not the same as being in-person and sharing more company information.
It's not enough to make a decision
Most companies find that there simply isn't enough information to base your decision on when it comes to one-way interviews. While they make a great first-round interview, it's hard to actually hire someone just from watching them respond to a few questions. So, even though they save you time originally, you'll probably still need to schedule interviews regardless.
Some software is stressful
Depending on the software you use for the one-way interview, it could be stressful for the candidate. If you allow them to record everything and send it to you, they can have multiple takes and get their nerves out. But, if you use software for a pre-recorded interview, it can create even more stress than regular because the potential hire only has 30-60 seconds to think of an answer, which doesn't allow for better examples or the ability to really think out what they should say.
It can be dehumanizing
Sometimes, one-way interviews look like just another algorithm to a potential hire, and they may think your company doesn't truly care about anything more than filtering out people based on an algorithm. This is a common complaint.
Should You Use One-Way Interviews?
Though there are both pros and cons to one-way interviews, whether or not you should use them depends on your company and its goals. They're a great first step in screening candidates, and if done right, they can save you time and effort in hiring. Just be aware of the cons going in so you know what to prepare for.
Hit a Staffing Home Run With 4 Corner Resources
Need a hand with talent acquisition and interviews? Our staffing and recruiting experts are here to help! Through our fifteen years of business, we have established an extensive talent pipeline that allows us to match top talent to various employers. We offer a variety of staffing solutions, such as direct-hire placement, contract staffing, and contract-to-hire recruiting.
Schedule your free consultation today to learn more about the ways we can help your staffing efforts.