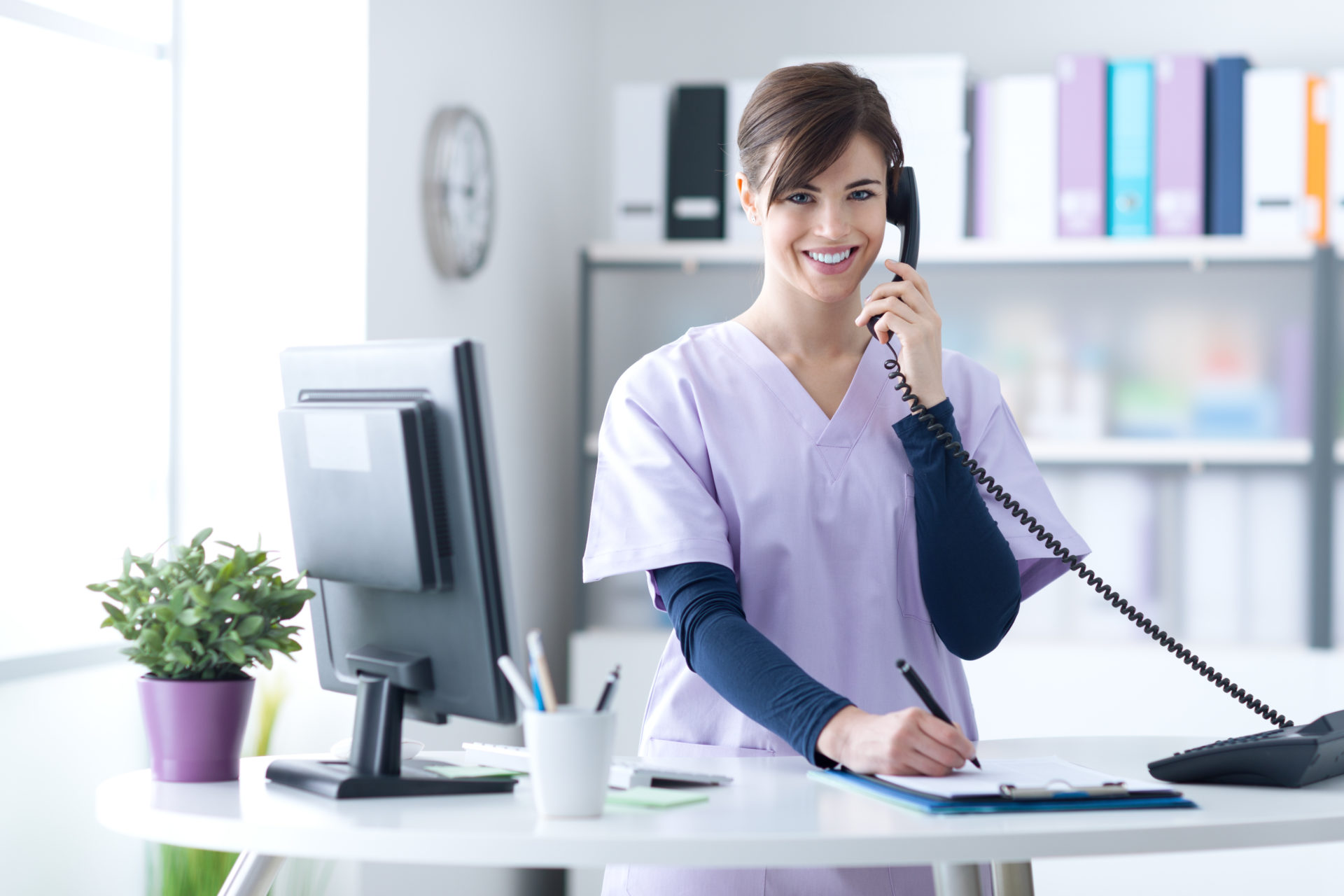 Is your organization looking to hire a healthcare administration professional? We'll break down what you need to know about this important job function and what to look for as you source and screen candidates for your healthcare administration job.
Healthcare Administration Jobs Background
Healthcare administration and management is one of the fastest-growing sectors of the healthcare industry. The Bureau of Labor Statistics predicts 18% job growth in this area by 2028, which is much faster than all industries (the average pace of growth for all occupations is 5%).
The aging baby boomer population is a key contributor to the demand for healthcare administration professionals, with an estimated 100,000 people in the boomer age group turning 65 every day. All of this adds up to a highly competitive market for employers as top candidates have their pick of great companies to work for.
As you hire for this position, you'll be competing primarily against hospitals, which make up roughly 33% of the healthcare administration job market. Other organizations seeking healthcare administrators include private practices, nursing homes, insurance companies, government organizations like the CDC and nonprofits like the Red Cross.
Responsible for planning, executing and analyzing medical services, a healthcare administrator may run a single department or may oversee the operations of the entire organization. The right candidate will possess a combination of business and financial training along with knowledge of healthcare principles and policy.
Though clinical experience is not typically a healthcare administration requirement, success in this role necessitates the ability to communicate effectively with medical personnel. In other words, though the right candidate doesn't need to be a doctor themself, they need to be able to speak a doctor's language.
What Role Will Your Healthcare Administrator Serve?
The primary function of a healthcare administration professional is to make sure the business side of an organization runs efficiently while providing top-notch service to patients. However, the specific responsibilities you need your healthcare administrator to fulfill will vary depending on the nature of your work. Before you begin screening candidates, get clear on the role your healthcare administrator will serve.
Begin by assessing your needs in order to determine what specific expertise is most important to you. If this business is a hospital, for example, the ideal candidate might have more experience in a medical setting (like a nursing background) versus an insurance company where the financial side is the primary area of expertise needed. A governmental job might require prior experience with healthcare policy or even a background in political work.
Additionally, the size and direction of the organization matter. If you're heading for a period of expansion, a business professional with M&A experience might be preferable to someone with a strictly medical background. Much like a city manager maps out a plan that will help the city achieve its goals, the right healthcare administration candidate is someone who can chart the best course for the organization's future—whatever the intentions for that future might be.
Healthcare administration educational requirements
Once you've determined the primary functions you need your healthcare administration professional to serve, consider the academic background your role calls for. At a minimum, seek out candidates with a bachelor's degree in a major like healthcare administration, public health administration, business administration, or health information management. When interviewing, you can inquire about relevant coursework within the candidate's degree that corresponds to the job skills needed (more on this below).
For executive-level healthcare administration positions like CEO or CFO, graduate programs such as a master's degree, doctorate degree, or MBA are often a necessity. There are various specialties within graduate programs that may be relevant to you, like long-term care administration or health information management. When assessing a candidate's graduate degree, look for a program that's accredited by an organization like the Commission on Accreditation of Healthcare Management Education.
In addition to education, consider how your candidates' real-world experience will contribute to their ability to fulfill the duties you require of them. Hospital administration is a unique field in that there's no single path to success; qualified candidates can come from a range of different backgrounds and career paths.
Some examples of prior work experience that may position a candidate for success include:
Nursing
Experience as the assistant to a healthcare administrator
Experience at a family practice
Management roles within a healthcare organization
Identify required healthcare administration job skills
Next, it's time to identify the most important skills required for success in your role. Once again, these will vary based on your organization and the specific job functions. Even so, there are a few fundamental skill areas that nearly all healthcare administration professionals should possess.
Management
A healthcare administrator has to manage the day-to-day and big-picture activities for diverse groups of people, often with competing interests. They must be able to weigh the concerns of various groups to make decisions that will ensure the solvency of the organization. Additionally, they'll need to be skilled in personnel tasks like recruiting, hiring and training, all of which will contribute to building a functional workforce.
Finance
A healthcare administrator oversees the organization's funding and directs the use of those funds to improve business and maintain quality of care. He or she will be responsible for preparing budgets and monitoring costs while simultaneously ensuring that patients receive the best treatment available, so strong financial skills are a must. Additionally, a health care administrator may need negotiation skills to deal with insurance companies over claims and reimbursements to ensure the company's bottom line is met.
Community involvement
Healthcare administrators are viewed as key stakeholders in the community, particularly for hospitals. They are often called upon to weigh in on public health issues and may be involved in public health decisions together with other community leaders. It's not uncommon for healthcare administration professionals to serve on leadership boards and advisory panels that help guide the direction of their city.
Health organizations are often major employers within their cities or even entire regions, so healthcare executives must be sensitive to the responsibilities that come along with that position. They typically serve as the "face" of their organization, commenting to the media and interfacing with the public, so good PR skills are a necessity.
Healthcare policy
Healthcare policy is constantly changing, so success in a healthcare administration job requires, at a minimum, a broad understanding of the healthcare landscape. It will be this person's job to ensure (or oversee someone who ensures) that their organization is up to date and compliant with all current laws and regulations. As such, they must be diligent in enacting the resulting changes and flexible enough to adjust strategy as needed to meet the latest shifts.
If your organization takes an active role in healthcare policy, experience in healthcare lobbying or even political campaigns may be a plus.
Technical knowledge
There are two components to the technical side of healthcare administration. There's the IT side, which deals with the organization's information systems, data storage methods, compliance and reporting, and there's the medical side, which includes staying abreast of the latest advancements in devices and treatments.
There's an entire segment of the health administration field devoted to healthcare data; if this is a priority for your role, look for someone with graduate experience in health information management.
Other nice-to-have credentials
So far we've outlined a wide range of criteria to help you hire the right administrator. There are a few additional credentials that, while not a healthcare administration requirement, may position some candidates above the rest.
The American College of Healthcare Executives (ACHE), for example, offers board certification in healthcare management. As with board certifications for medical staff, completion of the program signifies a professional's expertise in the field and commitment to their continued education.
Similarly, the Professional Association of Health Care Office Management offers certifications in medical management and health information technology, both of which pertain to professionals working in physician practices and ambulatory service centers.
Unlike medical personnel, licensing is generally not required for healthcare administrators. The exception is for administrators in nursing, assisted living or long-term care facilities. In these cases, the licensing requirements vary by state.
Begin Your Healthcare Administrator Search with 4 Corner Resources
If you want to reach the best talent in the healthcare administration field, turn to the staffing professionals at 4 Corner Resources. We specialize in helping hospitals, private practices, and other healthcare organizations zero in on executive-level candidates from across the country. We'll take the hard work out of the screening process, delivering you the top contenders to cut down on your hiring time and labor hours.
We take a consultative, flexible, and individualized approach with all of our clients. We'll work to understand your company culture and strategic objectives and layer that knowledge on top of the job description to match you with candidates who are not only proficient, but more likely to succeed at your organization. We have an intimate knowledge of the healthcare market and more than a decade of experience working with companies small and large. We look forward to creating a staffing plan that meets your unique budget and time frame.
Contact us now to begin the search for your healthcare administration professional today.